Helms Slated to Return to All Star Competition This Weekend at Atomic
Story By: SHAWN MILLER / INSIDELINE MEDIA
Photos By: RACERSGUIDE.COM PHOTO FILES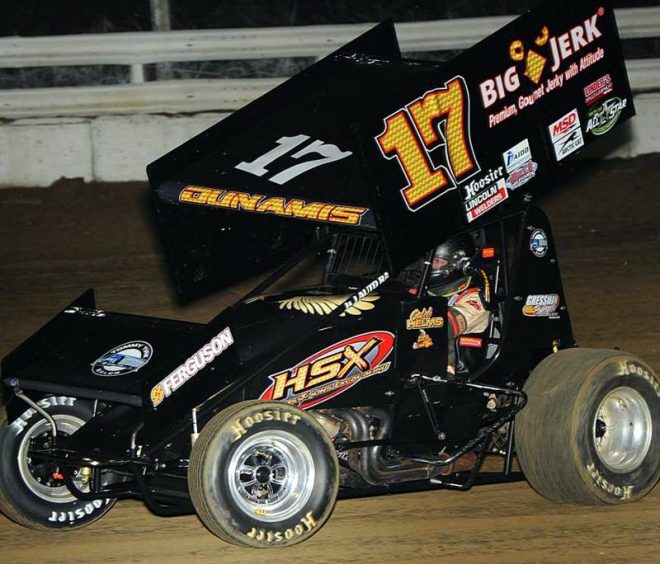 FINDLAY, Ohio – April 6, 2017 – Fresh off two wins in his home state, Caleb Helms tentatively plans to compete this Friday at Attica Raceway Park in Attica, Ohio, before the Arctic Cat All Star Circuit of Champions returns to action on Sunday at Atomic Speedway in Chillicothe, Ohio.
"Really this weekend is completely tentative, but we'd really like to try and make it to Atomic with the All Stars for sure," he said.
Last year, Helms charged from 22nd to a top-10 finish during the Arctic Cat Circuit of Champions season finale at Atomic Speedway.
"I'm not really big on rough race tracks, but we seem to do pretty well on them," he said. "You can't always take the safe side around the track. It's a risk versus reward type of thing and you can't be a real race car driver if you don't take some risks.
"I know Brad (McCown) and the guys at Atomic are working really hard to make Atomic a good place to race. I love the fact that it races like a big half-mile track, but it's not. You're able to get the momentum down the straightaway and carry it into the corners, and you can really race anywhere on that track."
This will mark the first weekend the Arctic Cat Circuit of Champions Series will be back in action since February.
"The competition in Ohio is already tough to begin with so when the All Stars come into town, everybody steps their game up," he said. "It adds to the excitement and makes for some great racing."
Helms plans to open this weekend on Friday at Attica Raceway Park, where he scored a victory two weeks ago during his most recent visit to the track.
"We've got some momentum and we want to make that last," he said. "We just have to stick to the game plan of consistency and putting ourselves in position each and every week."
SEASON STATS –
13 races, 2 wins, 2 top fives, 2 top 10s, 5 top 15s, 9 top 20s
UP NEXT –
Friday at Attica Raceway Park in Attica, Ohio, and Sunday at Atomic Speedway in Chillicothe, Ohio, with the Arctic Cat All Star Circuit of Champions
MEDIA LINKS –
Website: http://HelmsRacing40.wix.com/HelmsRacing
Twitter: https://twitter.com/Caleb_Helms40
Facebook: https://www.facebook.com/Helms.Motorsports
SPONSOR SPOTLIGHT – Ferguson
Ferguson sells quality plumbing supplies, HVAC products and building supplies to professional contractors and homeowners. For more information, visit http://www.Ferguson.com.
"We use the Ferguson water works division for our pipe materials, fittings, water line stuff, etc., with our family business," Helms said. "We are very grateful for their support and look forward to a lot of success together."
Helms would also like to thank Big Jerk, Helms Construction Inc., Helms and Sons Excavating and Tommy Tire for their continued support.
INSIDE LINE PROMOTIONS –
Inside Line Promotions specializes in affordable public relations and media management for motor sports drivers, teams, sponsors, tracks, series, events, organizations and manufacturers. ILP Founder Shawn Miller leverages professional journalism with new media technologies and social networking to improve your exposure and the return on investment for your sponsors.
To meet the media relations needs of your program by joining Team ILP, contact Shawn at 541-510-3663 or Shawn@InsideLinePromotions.com. For more information on Inside Line Promotions, visit http://www.InsideLinePromotions.com.