Criswell cruises to super sportsman win; Chaney wins second straight in Central PA Legends
Story By: Wayne Harper / Lincoln Speedway Media
Photos By: Dan DeMarco / Racersguide.com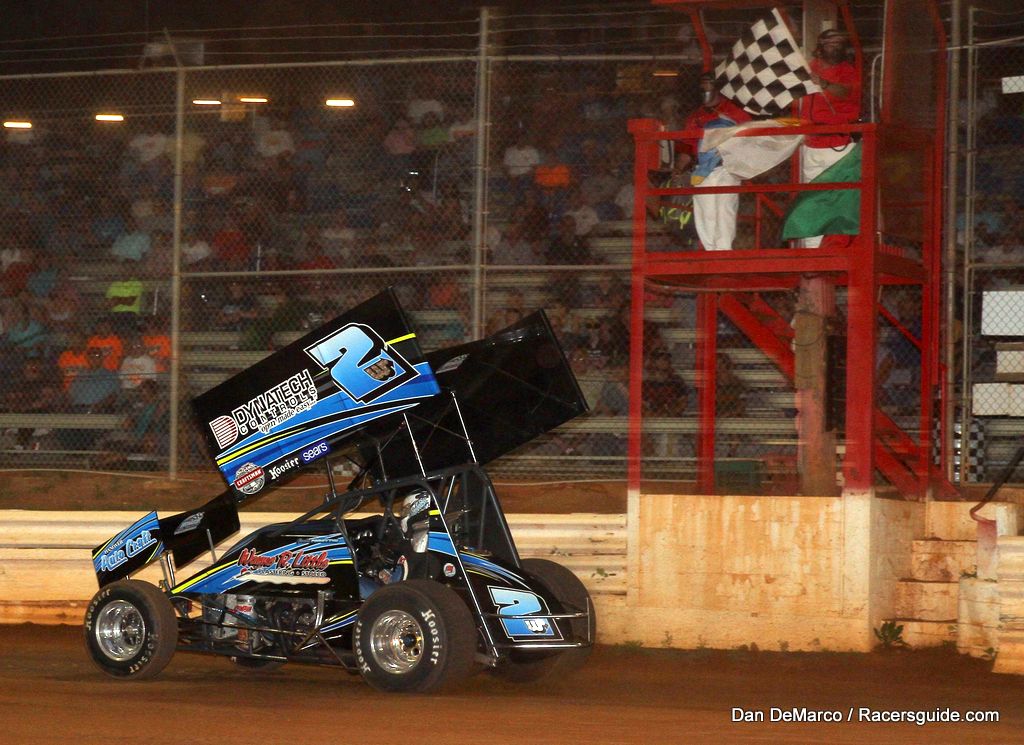 ABBOTTSTOWN, PA – July 16, 2017 – York's Glenndon Forsythe added his name to the 2017 Lincoln winner's list by claiming the John Gleim Excavating 25-lap feature for 410 sprint cars on Saturday night. Handicapping placed Forsythe on the outside of Dwayne Gutshall on the front row for the start. He grabbed the lead entering the first turn and led every lap.
"Obviously, starting spot means a lot, but this is a brand new chassis tonight," said Forsythe upon exiting the Wisner family Dynatech Controls/Livingston Lawn Care #2W in victory lane, "We struggled and struggled with the other one. Art's not with us anymore, but we're still using his set-ups. We appreciate everything he's done for us. I want to dedicate this one to my buddy Jimmy Walker. We weren't able to get it done in his car, but this one's for you, buddy."
Though he led the entire way, lapped traffic and handicapped cars coming up through the field closed the gap over the final laps. A lead of 5.63 seconds on lap 10 was cut to 2.06 seconds at the end. Steve Owings ran second the entire way.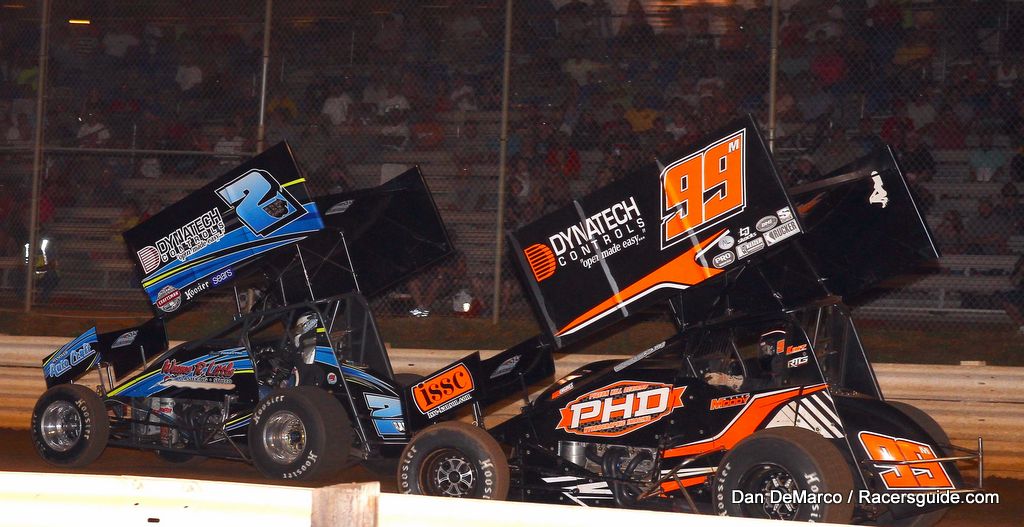 "I knew we were setting a pretty good pace. I hooked the wall going into one the one lap, and struggled getting around the 69 car. Tim Glatfelter was getting around good, and I knew those other guys were going pretty good. Our pace was good, and I didn't want to get too crazy and out of shape unless I saw somebody. I just needed to get back to the top and roll around there."
Eleventh-starting Brian Montieth finished third after a lengthy battle with Cory Haas and Danny Dietrich over the second half of the race. Those three swapped spots several times, with Dietrich crossing fourth and Haas settling for fifth.
Sixth through tenth were Freddie Rahmer, Jim Siegel, Chase Dietz, Gerard McIntyre, Jr., and Gutshall.
Heats for the 24 "410" Sprinters were won by Dietz, McIntyre, and Forsythe.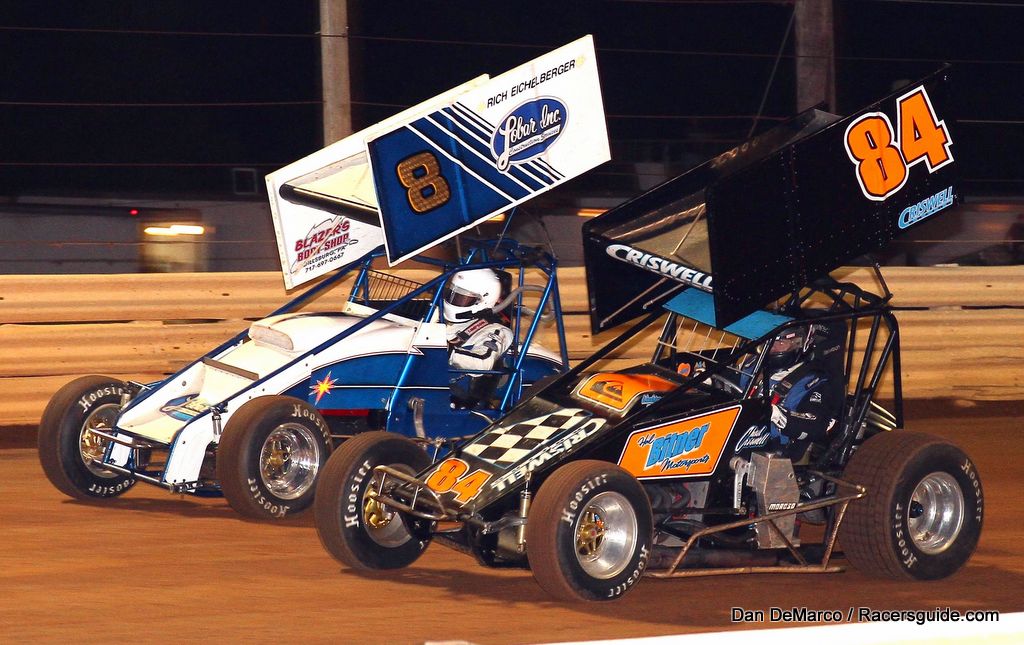 Martinsville, West Virginia's Chad Criswell raced to his third career Lincoln win in the 25-lap super sportsman feature. Criswell started fifth and got around Rich Eichelberger on lap three. He caught polesitter and race-long leader Frankie Herr for the lead on lap 11 and dominated the rest of the way, crossing 2.94 seconds ahead of Mike Enders, who got by Herr on lap 18.
Herr, Kenny Edkin, and Paul Miller completed the top five.
Heats for the 18 Super Sportsman were won by Russ Mitten and Criswell.
Mason Chaney started on the pole and led every lap of the 20-lap Central PA Legends feature despite race-long pressure from Bob Stough and late-race pressure from Scott Houdeshell and Harlon Leppo, who joined the chase but settled for third and fourth. Lucas Montgomery finished fifth.
It was Chaney's second straight Lincoln win and the third of his Lincoln career.
Heats for the 30 Central PA Legends were won by Chaney, Stough, and Cody Haines, with Alex Robinson winning the consolation.
Lincoln Speedway will be dark next Saturday night, July 22nd with Williams Grove headlining the weekend action with the Annual Summer Nationals.
Lincoln will be back in action the following Saturday night, July 29th, with David Webb Tool Company Night AND ARCH Night featuring the 410 Sprints, 358 Sprints, and 358 Late Models. For the 358 Sprinters it will also be Night No.1 of the Lincoln Speedway/Trail-Way Speedway 358 Sprint Car "Shootout" with the Shootout finale at Trail-Way on Friday night, August 4th.
To get all the latest news, results, schedule changes and rule changes, visit Lincoln Speedway's website at http://www.lincolnspeedway.com to stay up-to-date on all the action or pending weather conditions at Central Pennsylvania's "Premier" Saturday night race track – The Fabulous Lincoln Speedway.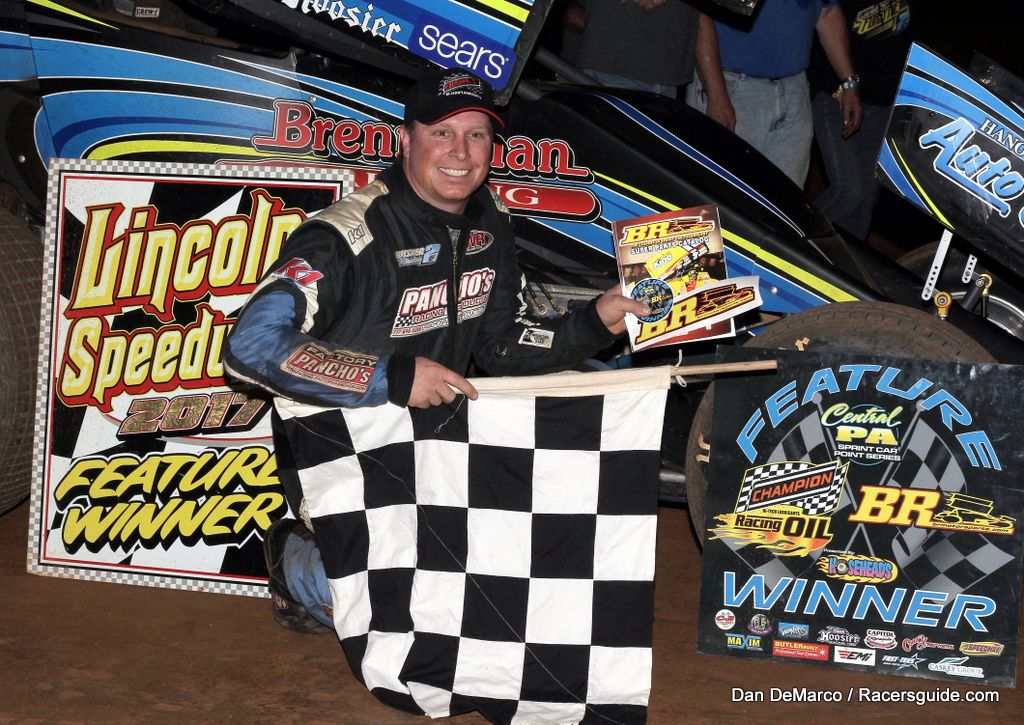 RACE RESULTS
 
Saturday, July 15, 2017
LINCOLN SPEEDWAY
Abbottstown, PA
JOHN GLEIM JR. EXCAVATING NIGHT
LAWRENCE CHEVROLET 410 SPRINTS
410 Sprint Feature Finish (25 Laps) – 1. 2W-Glenndon Forsythe ($3,200); 2. 35-Steve Owings; 3. 21-Brian Montieth; 4. 48-Danny Dietrich; 5. 39-Cory Haas; 6. 51-Freddie Rahmer; 7. 59-Jim Siegel; 8. 5G-Chase Dietz; 9. 16-Gerard McIntyre, Jr.; 10. 74-Dwayne Gutshall; 11. 87-Alan Krimes; 12. 16C-Matt Campbell; 13. 39M-Anthony Macri; 14. 8-Billy Dietrich; 15. 88-Brandon Rahmer; 16. 5-Adrian Shaffer; 17. 99M-Kyle Moody; 18. 69-Tim Glatfelter; 19. 17-Cole Young; 20. 3B-Randy Baughman; 21. 23-Todd Zinn (DNF); 22. 1X-Chad Trout (DNF); 23. 55K-Robbie Kendall (DNF); 24. 21T-Scott Fisher (DNF). No Time
Lap Leaders – Glenndon Forsythe (1-25)
410 Sprint Heat One Finish (10 laps) – 1. 5G-Chase Dietz; 2. 8-Billy Dietrich; 3. 99M-Kyle Moody; 4. 35-Steve Owings; 5. 88-Brandon Rahmer; 6. 1X-Chad Trout; 7. 21T-Scott Fisher; 8. 3B-Randy Baughman (DNF). Time – 2:28.283
410 Sprint Heat Two Finish (10 laps) – 1. 16-Gerard McIntyre, Jr.; 2. 48-Danny Dietrich; 3. 99M-Kyle Moody; 4. 74-Dwayne Gutshall; 5. 5-Adrian Shaffer; 6. 55K-Robbie Kendall; 7. 17-Cole Young; 8. 87-Alan Krimes (DNF). Time – 2:28.517
410 Sprint Heat Three Finish (10 laps) – 1. 2W-Glenndon Forsythe; 2. 21-Brian Montieth; 3. 39-Cory Haas; 4. 51-Freddie Rahmer; 5. 59-Jim Siegel; 6. 16C-Matt Campbell; 7. 69-Tim Glatfelter; 8. 23-Todd Zinn (DNF). Time – 2:28.307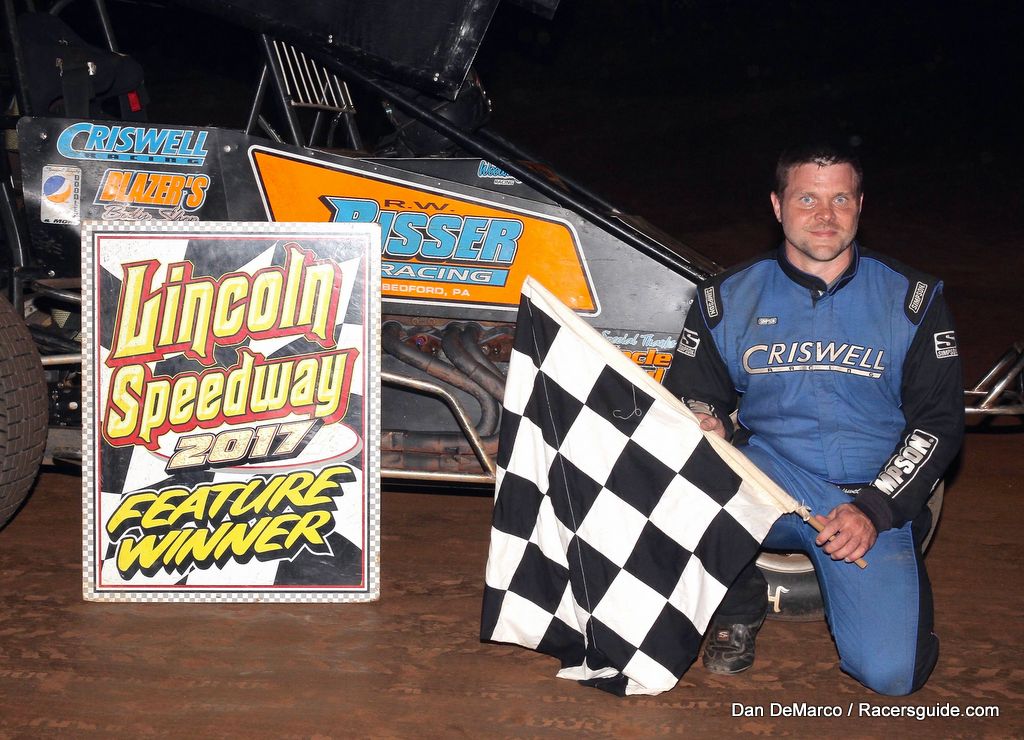 SUPER SPORTSMAN:
Super Sportsman Feature Finish (25 Laps) – 1. 84-Chad Criswell; 2. 3B-Mike Enders; 3. 70D-Frankie Herr; 4. 75-Kenny Edkin; 5. 58-Paul Miller; 6. 8-Rich Eichelberger; 7. 222-Jay Fannasy; 8. 77-Russ Mitten; 9. 30-Scott Dellinger; 10. 18-Steve Wilbur; 11. 99-Chad Smith; 12. 14-Nate Young; 13. 71K-Tyler Wolford; 14. 12-Gary Johnston; 15. 35-Johnny Edkins; 16. 32-Gregg Foster (DNF); 17. 20-Davey Walsh (DNF); DNS – 2m-Matt Ondek. Time – 7:23.09
Lap Leaders – Frankie Herr (1-10), Chad Criswell (11-25)
Super Sportsman Heat One Finish (10 laps) – 1. 77-Russ Mitten; 2. 3-Mike Enders; 3. 75-Kenny Edkin; 4. 222-Jay Fannasy; 5. 58-Paul Miller; 6. 30-Scott Dellinger; 7. 32-Gregg Foster; 8. 20-Davey Walsh; 9. 71-Tyler Wolford. No Time
Super Sportsman Heat Two Finish (10 laps) – 1. 84-Chad Criswell; 2. 70D-Frankie Herr; 3. 8-Rich Eichelberger; 4. 18-Steve Wilbur; 5. 14-Nate Young; 6. 99-Chad Smith; 7. 12-Gary Johnston; 8. 35-Johnny Edkin; 9. 2M-Matt Ondek (DNF). No Time
CENTRAL PA LEGENDS
Legends Feature Finish (20 Laps) – 1. 8CR-Mason Chaney; 2. 0-Bob Stough; 3. 5-Scott Haudeshell; 4. 15H-Harlon Leppo; 5. 15-Lucas Montgomery; 6. 53-Bill Diehl; 7. 93-Rick Hartwig; 8. 59-Chad Earnst; 9. 3AU-Hayden Pascoe; 10. 19-Travis Perry; 11. 21-Cody Haines; 12. 11-Scott Smith; 13. 19L-Donnie Leiby; 14. 83-Jason Gastley; 15. M1-John Kooti; 16. 58Z-Zachary Settle; 17. 79-Ed Trump; 18. 30-Alex Robinson; 19. 7MD-Nate Renfro; 20. 18-Chris Transeau (DNF); 21. 66-Trent Yoder; 22. 00-Bruce McClane, Jr.; 23. 3M-Chris McKinney (DNF); 24. 99-Wayne Welsh (DNF). No Time
Lap Leaders – Mason Chaney (1-20)
Legends Heat One Finish (8 laps/6 to qualify) – 1. 8CR-Mason Chaney; 2. 5-Scott Haudeshell; 3. 15H-Harlon Leppo; 4. 3AU-Hayden Pascoe; 5. 83-Jason Gastley; 6. 59-Chad Earnst; 7. 7MD-Nate Renfro; 8. 58Z-Zachary Settle; 9. 95-Alex Schmiedel; 10. 18J-Jorgie Sweger. No Time
Legends Heat Two Finish (8 laps/6 to qualify) – 1. 0-Bob Stough; 2. 15-Lucas Montgomery; 3. 53-Bill Diehl; 4. 11-Scott Smith; 5. 19L-Donnie Leiby; 6. 19-Travis Perry; 7. 30-Alex Robinson; 8. 00-Bruce McClain, Jr.; 9. 34-Dan Harrison; 10. 75-Chandler Pagnotta (DNF). No Time
Legends Heat Three Finish (8 laps/6 to qualify) – 1. 21-Cody Haines; 2. 93-Rick Hartwig; 3. 18-Chris Transeau; 4. 3M-Chris McKinney; 5. M1-John Kooti; 6. 66-Trent Yoder; 7. 79-Ed Trump; 8. 99-Wayne Walsh; 9. 26-Shaun Abney; 10. 14W-Stephen Wurtzer (DNF). No Time
Legends Consolation Finish (8 laps/6 to qualify) – 1. 30-Alex Robinson; 2. 7MD-Nate Renfro; 3. 58Z-Zachary Settle; 4. 79-Ed Trump; 5. 99-Wayne Walsh; 6. 00-Bruce McClane, Jr.; 7. 75-Chandler Pagnotta; 8. 95-Alex Schmiedel; 9. 26-Shawn Abney; 10. 34-Dan Harrison; 11. 18J-Jorgie Sweger; 12. 14W-Stephen Wurtzer (DNF). No Time
UPCOMING SCHEDULE:
Saturday, July 22, 2017 – NO RACING
Saturday, July 29, 2017 (7:30 PM) – David Webb Tool Company Night – 410 Sprints, 358 Sprints, and 358 Late Models (ARCH Night)(Night #1 of Lincoln/Trail-Way 358 Sprint Car "Shootout" [finale on Fri, 8/4 @ Trail-Way])
Saturday, August 5, 2017 (7:30 PM) – DCS School of Driving Night – 410 Sprints, 358 Sprints, Classic Racing Series, & York Flooring KIDS BIG WHEEL RACES (Night #1 of three-track "Shootout" series for 410 sprints)