Star Studded Field Expected For The Annual Extravaganza
Press Release By: MATT KEITH / ALBANY SARATOGA SPEEDWAY MEDIA
Photos By: DAVE DALESANDRO / RACERSGUIDE.COM

Malta, New York -June 15, 2017-   In less than two weeks the biggest event of the 2017 year will take place at the Albany-Saratoga Speedway.  Brett Hearn's "Big Show 9," part of the Super DIRTcar NE Big Block Modified Series, will take to the historic Malta oval on Tuesday, June 27, presented by  Recovery Sports Grill, Halmar International, VP Fuels, Fox Shox, JMMB, and Cedar Peaks Enterprises
In addition to the already star studded Modified field of weekly competitors at the "Great Race Place, including Hearn, Kenny Tremont Jr, Peter Britten, Ronnie Johnson and defending champion Marc Johnson, a host of the top Modified drivers in the Northeast will be in competition.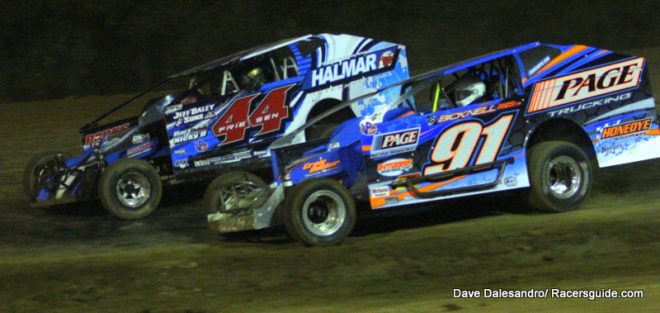 Those names include Matt Sheppard, Jimmy Phelps, Billy Decker, Danny Johnson and Stewart Friesen.  Also scheduled to appear is Watertown, New York's Tim McCreadie, a former World of Outlaw Late Model Champion who currently runs the Lucas Oil Late Model Tour.  McCreadie, son of the legendary Modified star "Barefoot" Bob McCreadie, also runs a dirt Modified when his schedule allows.
Accompanying the Big Block Modifieds for their 100-lap $10,000 to win feature will be the Sportsman division presented by Fox Racing Shox.  Last year Stewart Friesen went to victory lane in "The Big Show 8" with defending Sportsman champion Jeremy Pitts and Joey Scarborough taking home the Sportsman wins.
There will be plenty of fan interaction at "The Big Show 9" including the chance to participate in the "Pick the Quick" contest. Fans must pick the fastest drivers from the each of the time trials that evening in random order.  Any lucky fans who do so will split a $1,000 prize. Picking four out of five will result in a pit pass upgrade.  Deadline for the contest is the night of the "Big Show" at 6 p.m.
Pit gates will open at 3 p.m. Pit admission will be $30 for DIRTcar or Albany-Saratoga members and $35 for all others.
General admission tickets for "The Big Show 9" are $25 with reserved seating in the top two rows of the bleachers $35.  VIP seating is available at $75 or $100.  Tickets can be purchased in advance at www.thebigshow9.com.
Front gates will open at 4 p.m.  Plan to arrive early for pre-race activities including a driver autograph session from 5 to 6 p.m.  Also appearing will be Ms. Motorsports Taylor Albert and former Ms. Motorsports Midi Miller.  In the event of rain, the program will be rescheduled on Wednesday, July 5.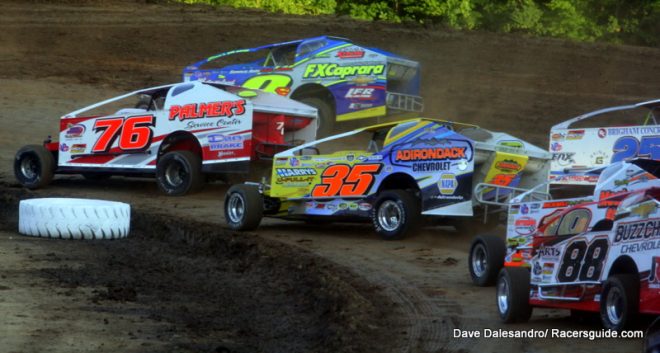 All media members, including those with DIRTcar and Albany-Saratoga Speedway credentials, must complete the "Credential Request" form that may be downloaded at www.thebigshow9.com.   
For more information about the "Big Show 9" log onto www.thebigshow9.com, www.albany-saratogaspeedway.com, or www.bretthearn.com .  For information regarding the Super Dirt Car Series log onto www.superdirtcarseries.com
 For the 2017 schedule and up-to-date Albany-Saratoga Speedway information be sure to visit:        Online at www.albany-saratogaspeedway.com
 Twitter at http://twitter.com/Albany-Saratoga@Albany_Saratoga  Facebook at http://www.facebook.com/Albany-Saratoga Speedway
 Instagram at albany_saratoga
 About Albany-Saratoga Speedway: Conveniently located at 2671 U.S. Route 9, Malta, NY 12020 the 4/10 mile dirt track is approximately one mile North of Exit 12 off I-87.  Racing takes place every Friday night at 7 p.m. from mid-April to mid-September and features  DIRTcar Modifieds (Big Block / Small Block combined), DIRTcar Sportsman, Limited Sportsman, DIRTcar Pro Stocks, Street Stocks and 4-Cylinders.  "The Great Race Place" grandstand gate opens at 5 p.m.; pit gate opens at 4 p.m. The facility provides the ultimate fan-friendly location for motorsports entertainment including free parking and camping