Dylan Hoch Wins Season First in Slingshot Silver Tour Race; Nowatarski Repeats in Junior Slingers
Story By: BARRY ANGSTADT / ACTION TRACK USA MEDIA
Photos By: WALT SMITH / RACERSGUIDE.COM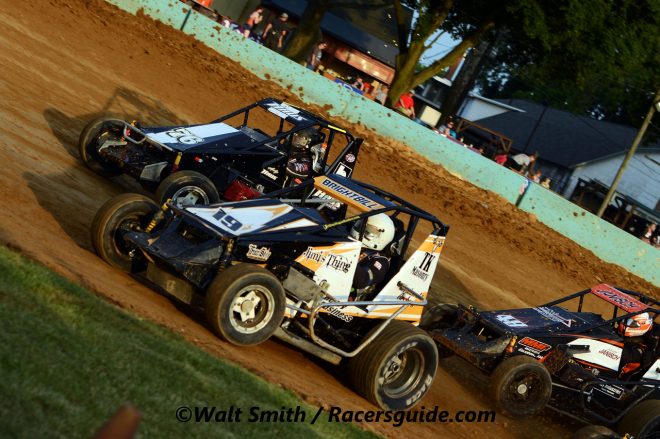 Kutztown, PA –  June 16, 2017- Jeff Hartman though he'd be facing an angry crowd when Victory Lane announcer Michael Batz turned on the microphone after the USAC All Pro SpeedSTR main event on Wednesday night at the JeffreyHogueRealtor.com Action Track USA on the Kutztown Fairgrounds.
"I'm thinking they are all going to hate me and boo me for passing Kenny Brightbill," whispered Hartman, the race winner, prior to Batz firing up the wireless mic.
Instead, much to his relief and surprise, Hartman received a very warm and appreciative response from the fans when Batz welcomed him to Weaknecht Archery Victory Lane.
Hartman, from Belle Meade, NJ, certainly was not the sentimental favorite of the large and passionate audience. That honor went to Brightbill, the dirt Modified legend and the very first SpeedSTR point champion at Action Track USA in 2013, who is marking his 50th (and most likely final) season of racing this year. But the knowledgeable Kutztown racing fans realize that Hartman has struggled and faced major disappointment so far this season, so they acknowledged his exciting drive to victory in a positive manner.
Brightbill started on the pole of the 30-lap SpeedSTR feature on Scout Night at the speedway, and the Sinking Spring ace known as "Mr. Excitement" and "Mr. Outside" throughout his stellar career proceeded to set the pace for the first 20 circuits.
As the opening 11 trips around the progressively banked oval went non-stop, John Bockhorn tried gamely to stay with the leader and defend his runner-up position. Louden Reimert and fifth-starting Jeff Hartman challenged Bockhorn for second. The first yellow flag of the race occurred with 11 laps scored and on the restart, Jeff Hartman screamed past Bockhorn, then set his sights on the leader.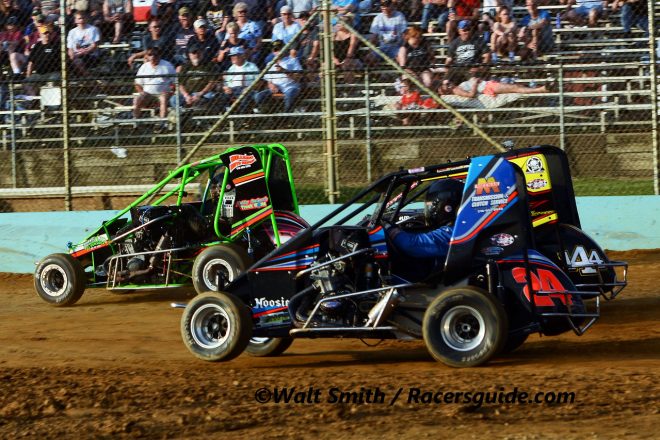 With Brightbill on the top side and Hartman glued to the bottom, the pair of wheel-twisters went nose-to-nose for the lead. Brightbill's momentum on the high side kept him in front with Hartman knocking on the door. Brightbill beat Hartman to the stripe, on most laps, by a foot or two. Pretty soon Billy Pauch Jr. and Tim Buckwalter (they started ninth and 11th, respectively) had motored their way into the top five, with Pauch rumbling into third and Buckwalter claiming the fourth position. Another yellow, this one with ten to go, proved to be the turning point of the race.
"I knew I had to beat him to the first turn, then clear his car and take away his line because he was so good on the top," said Hartman afterward. "I knew the restart was my best shot to get by him."
Hartman's plan worked, as he out-gunned Brightbill to turn one, then squeezed up in front of the No. 19 as the duo prepared to exit turn two. There was a new leader, much to the pro-Brightbill crowd's dismay, but this one was far from over.
The final ten trips around the oval were arguably the most hotly contested and entertaining tours ever produced by the SpeedSTRs at Action Track USA. Hartman went to the high side, partly because he felt it was better than the bottom at that point and to take it away from Brightbill. But Kenny simply moved down a lane and attacked from the middle while Tim Buckwalter, riding a two-race win streak at the Berks County speedway, made his presence known and pressured the leaders from the inside lane.
The trio ran three-wide at times and under a virtual blanket for the entire final-third of the feature, with Brightbill poking the nose of his car in front of Hartman on occasion and Buckwalter harassing both of them, lap after heart-pounding lap.
Brightbill's car seemed to twitch a bit entering turn three on the 29th revolution, allowing Hartman to ease ahead by a car length or two as Buckwalter ducked under the No. 19. Hartman paced the final circuit with a slim advantage over the tussle for second, crossing the finish line by a half-second over his pursuers. Brightbill nipped Buckwalter for second (by 0.090 seconds), much to the delight of the spectators. A late charge by teenager Briggs Danner resulted in a fourth-place finish, and Ohio's Matt Westfall rebounded (after a pit stop to replace a flat tire) to record a fifth-place effort.
"It's nice to finally finish one of these…we haven't been finishing races so far this year," smiled Brightbill afterward. "I tried to stay with him once he got by me and tried to find another line to get by him. But I'm just glad to finish and run well for a change. Thanks to Jimi's Thing, Heavy Business, Weaknecht Archery, and everybody who helps us on this car."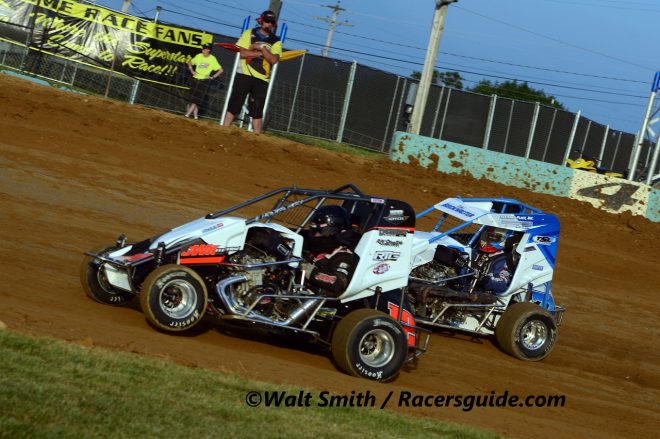 Buckwalter complimented Brightbill and Hartman on their runs. "It's great when you can run side by side with someone like that and know you won't get taken out. I just wasn't very good on the inside tonight, and that's where I had to run because they were up top."
James Morris set quick time – by just .001-seconds – over Briggs Danner. Both drivers locked themselves into the 30-lap feature by virtue of their quick laps in the Timed Warm-ups.
Westfall, Hartman, and Louden Reimert won heat races while Joe Mooney took the checkered in the B-Main.                  This Wednesday, June 21, is the annual Ronnie Tobias Memorial as Action Track USA presents its final racing program prior to the mid-season break when the Kutztown Folk Festival takes over the fairgrounds. There will not be any racing at the facility on June 28 or July 5. The second half of the 2017 campaign at Action Track USA will begin on Wednesday, July 12.
This week's Ronnie Tobias Memorial has a slightly different format than years past…the USAC All Pro SpeedSTRs will compete in Twin 20-lap features, while the Hyper Racing 600 Sprints battle in Twin 17-lap mains. The All Star Slingshots will have a single, 40-lap feature – and all Slingshots who enter the event will qualify for the 40-lapper! The Slingers will also see an increased payout for the top three, with the winner taking home $600, courtesy of Daryl Tillman Team ReMax of Reading. The Bagel Rack is also stepping up to pay the car registration fee for any Slingshot that has not yet competed at Action Track USA this season.
Qualifying for the SpeedSTRs and 600 Sprints will be done through Timed Dashes, which will lock in a specified number of cars. Everyone else will get a second chance in C and B-Mains.
Warm ups begin at 6 p.m. and qualifying – through the Timed Dashes – will be part of the warm up sessions. The C and B-Mains get underway at 7:00.
Action Track Sidebites:
The Hyper Racing Wingless 600 Sprint feature was equally as exciting as the SpeedSTR main on Wednesday, June 14.
Mad Scramble winner Nate Brinker darted from the pole and proceeded to lead the majority of the 25-lap race. He was hounded every step of the way, however…first by Danny Buccafusca, and then by Tim Buckwalter. The competition throughout the field was intense, as Nick Skias defended the third position over a bevy of challengers including Colin White, tenth-starter Buckwalter, Jay Hartman, Billy Pauch Jr., Doug Snyder, James Morris, and the previous week's winner, Eddie Strada.
White was the car on the move early, blasting around the high side and storming his way into fourth – with Buckwalter right behind him. Buckwalter, who hails from Pottstown, slipped past White and Skias to run third just past the halfway point. He finally disposed of Buccafusca to snare the runner-up spot with five to go and set his sights on race leader Nate Brinker.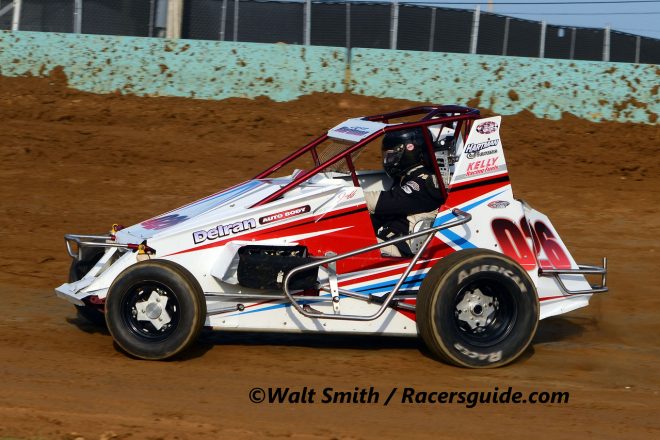 Buckwalter tried high and low to get by Brinker, finally gassing his No. 71 from the top to the bottom on the homestretch as they took the white flag. Buckwalter slid up in front of Brinker in turn one, but Nate was ready and crossed him over, sticking the nose of his No. 14n back in front as they charged onto the backstretch. They ran wheel-to-wheel into three and four, with Buckwalter roaring off the top of the corner and Brinker standing on the gas from the inside lane. Buckwalter barely won the drag race to the checkered flag, edging out Brinker by 0.168-seconds.
It was the first 600 Sprint win for Buckwalter at Action Track USA this season, and it kept alive the 2017 string of no repeat winners in this division. The victory was also Buckwalter's tenth career 600 Sprint triumph at Action Track USA, which is four more than second place Alex Bright in All Time 600 Sprint Wins at the speedway.
Add in Buckwalter's eight career SpeedSTR victories, and Tim has more total wins than anyone else at Action Track USA. Billy Pauch Jr. is second in total career victories with 14.
The 600 Sprint top five on Wednesday were Buckwalter, Brinker, Buccafusca, White, and Skias.
Pole sitter Austin Daniels led the opening laps of the All Star Slingshot Mid-Atlantic Silver Tour feature on Wednesday, with Cole Stangle chasing him. Behind the top two, some of the best Slingers in the business stacked up four-wide for third position, as Brett Bieber, his brother Travis, Dylan Hoch, and Seth Spayd put on an eye-popping show for the fans.
Hoch would go from fourth to second in basically one swoop, powering past Brett Bieber for third, then slicing under Stangle to snatch the runner-up spot, but a yellow flag wiped out his big move.
On the restart, Stangle throttled past Daniels to take the lead, bringing Hoch with him. On the fourth tour, Hoch passed Stangle to take command. The Mertztown, PA wheel-twister maintained his hold on the top spot through several caution periods as Stangle, Brett Bieber, Joe Toth, Alex Yankowski, and Marc Daniels fought for second.
Hoch pulled away as the laps clicked off, winning handily as the checkered waved on lap 25. It was the defending track champion's first victory of the year at Action Track USA, and the sixth of his career at the speedway. That ties him with Brett Bieber and Mark Sensenig for the most career Slingshot wins at AT USA.
Stangle held off Brett Bieber for runner-up honors, with 14th-starting Marc Daniels settling for fourth. Yankowski wound up fifth and Seth Spayd came from the rear not once, but twice, to finish sixth after being collected in two mishaps during the race.
Reese Nowatarski, from Reading, moved past pole sitter and heat race winner Nicho Flammer to take the lead at the beginning of the Junior Slingshot main event. Nowatarski went on to lead every one of the race's 15-laps, winning his second straight Junior Slingshot feature at the Berks County oval.
Tyler Banks finished second with Flammer third, Tommy Stillo fourth, and Tyler Ulsh in fifth.
RESULTS:
USAC All-Pro SpeedSTRs (30 Laps) – 1. Jeff Hartman 2. Kenny Brightbill 3. Tim Buckwalter 4. Briggs Danner 5. Matt Westfall 6. Billy Pauch Jr. 7. Louden Reimert 8. Matt Jansich 9. Steve Buckwalter 10. Brad Brightbill 11. Steven Drevic ki 12. Tim Iulg 13. Dylan Hoch 14. Phil Meisner 15. Joe Mooney 16. Ray Nemeth 17. Andy Haus 18. John Bockhorn 19. Earl Paules 20. TJ Mayberry 21. Mike Bednar 22. Jason Rochelle 23. Brandon Auman 24. James Morris 25. Steve Nederostek.
DNS: JT Brotosky; Keith Prutzman; Tom Mayberry.
600cc Sprint Cars (25 Laps) – 1. Tim Buckwalter 2. Nate Brinker 3. Danyn Buccafusca 4. Colin White 5. Nick Skias 6. Jay Hartman 7. Billy Pauch Jr. 8. Doug Snyder 9. James Morris 10. Eddie Strada 11. Kenny Miller 12. Matt Roselli 13. Tommy Kunsman 14. Joey Kay 15. Jimmy Glenn 16. Damon Paul 17. Tim Bauer 18. Jared Lilly 19. Greg Stevens 20. Logan Snyder 21. Jason Swavely 22. Steve Bull 23. Dan Schumaker 24. Shelby Harper 25. Sam Kravitsky.
DNQ: John Willman, Jacob Severn, Jacob Balliet, Tyler Ulrich, Nick Havens, Will Butler, Tyler Kehs, Jake Roberts, Rob Pajauis, Billy Koch, Shawn Rooney, Eric Ankiewicz, Joe Plunkett.
All-Star Slingshots (25 Laps) – 1. Dylan Hoch 2. Cole Stangle 3. Brett Bieber 4. Mark Daniels 5. Alex Yankowski 6. Seth Spayd 7. Joe Toth 8. Travis Bieber 9. Austin Daniels 10. Taylor Schoenly 11. Joey Vaccaro 12. Zac Kistler 13. Jonathan Swift 14. Ryan Conrad 15. Natasha Henn 16. Dave Carraghan 17. Samantha Muller 18. Austin Stufflet 19. Kyle Smith 20. Blaire Schoenly 21. Dakota Kohler 22. Troy Langendoerfer 23. Aidan Svanda 24. Ryan Davey 25. Matt Miller 26. Tanner VanDoren.
Junior Slingshots (15 Laps) – 1. Reese Nowatarski 2. Tyler Banks 3. Nico Flammer 4. Tommy Stilo 5. Tyler Ulsh 6. Austin Homer 7. Trevor Bixler 8. Kevin Fitzpatrick 9. Decker Swinehart 10. Peyton Fasnacht 11. Logan Bauman.
Pioneer Pole Buildings 600cc Sprints Mad Scramble (10 Laps) –  1. Nate Brinker (Transferred to Feature & $25 from Hosensack Poker Club), 2.Tim Bauer (Hoosier RR Tire), 3.Greg Stevens (10 gal. Methanol from Roadrunner Race Fuel/VP Fuels), 4.Steve Bull (RTS Gift Certificate), 5. Shawn Rooney(4-FK Rod Ends), 6.Jared Lilly  (TSL Shocks Gift Certificate), 7.Jacob Balliet (Saldana Racing Products Gift Certificate), 8.Daniel Schumaker (Free Reg. @ AT USA), 9.Jake Roberts (Free Reg. @ AT USA), 10.Joe Plunkett (Pyrotect Racing Cells Gift Certificate), 11.Logan Snyder.