Home Team Ready to Battle at 11th Annual Firecracker 100
Story By: CLAYTON JOHNS / WOO LATE MODEL SERIES MEDIA
Photos By: TOMMY HEIN / RACERSGUIDE.COM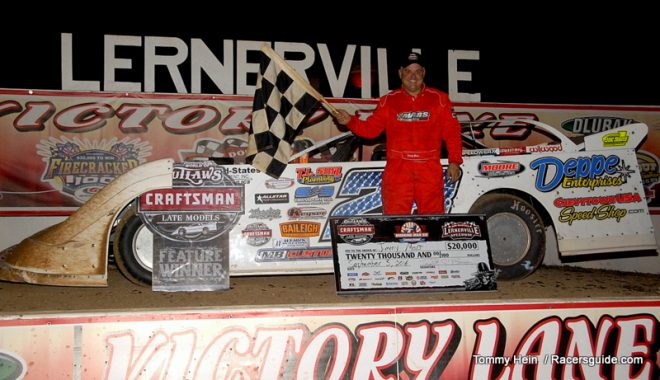 SARVER, PA – June 21, 2017 – The upcoming 11th annual Firecracker 100 promises to deliver the goods when it comes the cream of the crop among Dirt Late Model's finest drivers, as it does every year. The star-studded drivers' list is once again choc-full of big names who have found Victory Lane in the sport's biggest crown jewels. Many of those have done so on multiple occasions, including recent Dream 100 winner Scott Bloomquist – the only three-time winner of the Firecracker 100 – and two-time winner Jimmy Mars.
And as always, they'll be among the favorites to take home the lion's share of the $42,000 of top prize money as well, including the $30,000 winner's share on Saturday, June 24.  Throw in the current stars of the World of Outlaws Craftsman® Late Model Series, including previous winners Shane Clanton and Rick Eckert, and Series points leader Brandon Sheppard, who has two Dirt Track World Championship trophies under his belt, and a big-name, money sweep looks all but certain coming into the festivities.
But the home team might have some other ideas, and the notion that they could make some serious noise on any or all of the nights of racing is not farfetched at all. Three prominent drivers indigenous to the hills and speedways of Western Pennsylvania, who currently call or formerly called Lernerville Speedway their home track will be in action.
Points leader Michael Norris and former track champions Alex Ferree and Jared Miley will be looking to make history in front of their home track fans June 22-24. Norris perhaps comes in with the hottest hand, having ended the 2016 campaign on a high note that included his first career start in the World 100 at Eldora Speedway, where he opened the eyes of many that had not seen him before. He backed that performance up with a 10th-place finish at the Pittsburgher 100 at Pittsburgh Pennsylvania's Motor Speedway in October, and has won three of the first four feature events at Lernerville this season.
"We put a new car together halfway through 2016, and everything started clicking as a team, and myself as a driver just started picking up momentum, and we started to get confident," Norris said recently. He also spoke about his time trialing performance and its improvement of late. The Sarver, PA-based wheelman managed to set quick time at the World 100 and Pittsburgher 100 in 2016. "I definitely wasn't naturally good at it. I struggled with it a lot in my earlier years, and my dad was giving me a hard time about it. He told me to go out there and let it eat, and that's kind of the mindset I've had going into them lately; just count every lap as your last. You work on the car all week to run it as hard as you can, so that's what you have to do, go out there and try to hit your marks and go as fast as you can."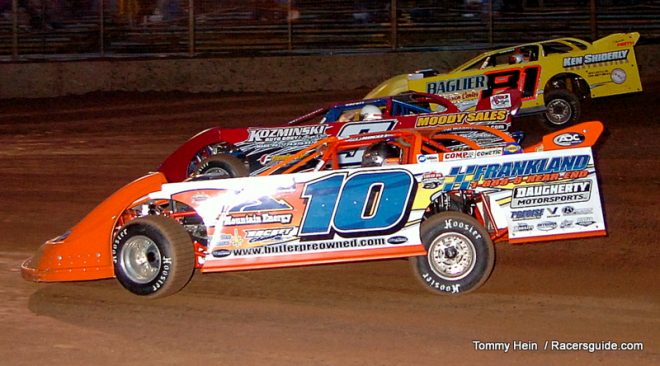 But beyond the time trial performances, Norris's recent experiences in races of a longer duration have helped him gain confidence in how to manage and pace his car for the 100-lap events. "Running those 100 lappers has definitely helped. It's tough. The 25 lappers at Lernerville are pretty much a sprint. You can run it as hard as you need to, to get where you need to go. But in 100 laps you have to be easy on your stuff. And at the same time these cars are so bolted down and make so much traction that you can search around too. At the Pittsburgher last year, we led for a while, and I felt like I didn't search around enough. I felt like I tried to conserve too much and I got passed. I'm not the most experienced at the 100 lappers, but to finish first you must finish, and that's our goal coming into it, to make the race and have a good show. You want to make a good showing for the local racers in this area because I think we do have a really good bunch. To be able to get a preliminary- or final-night podium spot would be a dream come true. You wouldn't be able to get the smile off my face."
Jared Miley will also come into the weekend with a sense of confidence, and for good reason. The 2012 track champion has had the greatest amount of success at the Firecracker among local drivers, scoring two podium finishes in 2015. One of those came to pass on a preliminary night, and then Miley almost pulled one of the biggest upsets in modern Dirt Late Model racing as he bolted out to an early lead in the 100-lap finale and kept it for over 60 laps before eventual winner Shane Clanton managed to make his way around him in lapped traffic. Miley has big race experience and has not shied away from stiff challenges, competing with the World of Outlaws on several occasions as well as with the Lucas Oil Late Model Series in Florida earlier this season while adding a ULMS Series championship to his resume in 2015 as well.

The World of Outlaws Craftsman® Late Model Series is brought to fans across the country by many important sponsors and partners, including: Arizona Sport Shirts (Official Apparel Company), Textron Off Road (Official Side-by-Side Vehicle), Craftsman (Official Tool), Extended Stay America (Official Hotel), Hoosier Racing Tire (Official Tire), Morton Buildings (Official Building), Sears (Official Home Store),  The Kenny Wallace Dirt Racing Experience (Official Racing Experience, VP Racing Fuels (Official Racing Fuel) and DirtonDirt.com (Hard Charger Award); in addition to contingency sponsors, including: Cometic Gasket, Comp Cams, Edelbrock, JE Pistons, JRI Shocks, MSD, Penske Shocks, QA1, QuarterMaster, Superflow Dynos and Wrisco Aluminum (Exclusive Racing Aluminum); along with manufacturer sponsors, including: Capital Race Cars, Integra Shocks, Impact Racing Products, Intercomp, Racing Electronics, Rocket Chassis and TNT Rescue.
Founded in 1978, the World of Outlaws®, based in Concord, N.C., is the premier national touring series for dirt track racing in North America, featuring the most powerful cars on dirt, the World of Outlaws Craftsman Sprint Car Series and the World of Outlaws Craftsman Late Model Series. Annually, the two series race nearly 140 times at tracks across the United States and Canada. CBS Sports Network is the official broadcast partner of the World of Outlaws. DIRTVision® also broadcasts all World of Outlaws events over the Internet to fans around the world. Learn more about the World of Outlaws.