Arnold first repeat winner in "358" sprints; Cullum two-for-two in All American Outlaws
Story By: Bill Meyer / Lincoln Speedway Media
Photos By: Dan DeMarco / Racersguide.com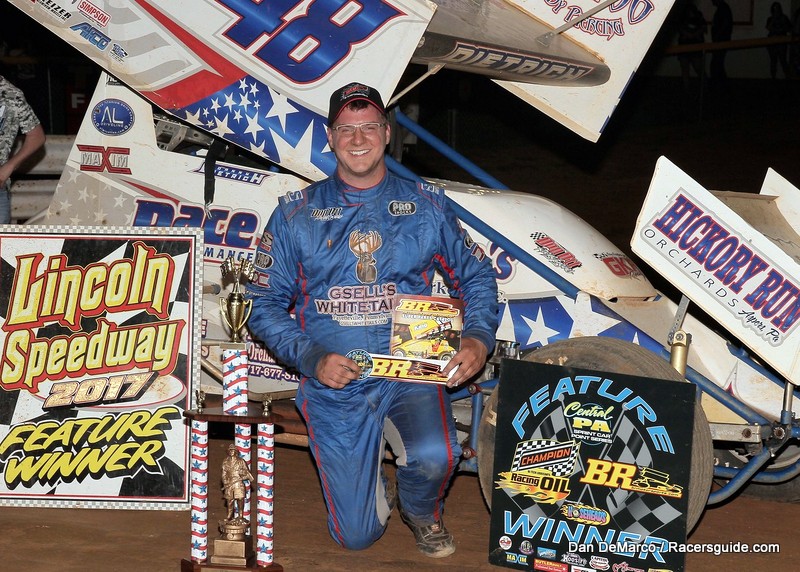 ABBOTTSTOWN, PA – June 26, 2017 – It was a big night for the Dietrich family in a thriller Saturday at Lincoln Speedway.
In the end, Danny Dietrich claimed his fifth win of the year over brother Billy and Freddie Rahmer in a three-car battle that went down to the finish.
"That was freakin' awesome! That's some good racing there, ain't it?," said Dietrich after scoring his 36th career Lincoln win, "I used the wall to not run into somebody else, so we're glad to be standing here."
The winner started ninth, with brother Billy starting fourth, and Freddie Rahmer starting sixth. Polesitter Tim Glatfelter grabbed the lead at the drop of the green was immediately challenged by Billy.
The red flag came out on lap five when points leader Brian Montieth spun in turns three and four, collecting Jim Siegel and Matt Campbell, who rolled onto his side. Those three were battling for seventh place at the time. That was the only break in the 25-lap event, with Billy Dietrich claiming the lead from Glatfelter on the restart.
Freddie Rahmer got by Glatfelter for second on lap eight, and Danny Dietrich moved past Glatfelter to enter the top three on lap ten. That set up a 15-lap battle for the lead through lapped traffic which saw Rahmer and Danny swap second several times. Danny officially took over the runner-up spot on lap 15, with Rahmer reclaiming second on lap 17. Danny reclaimed second on 19, and began to pressure brother Billy.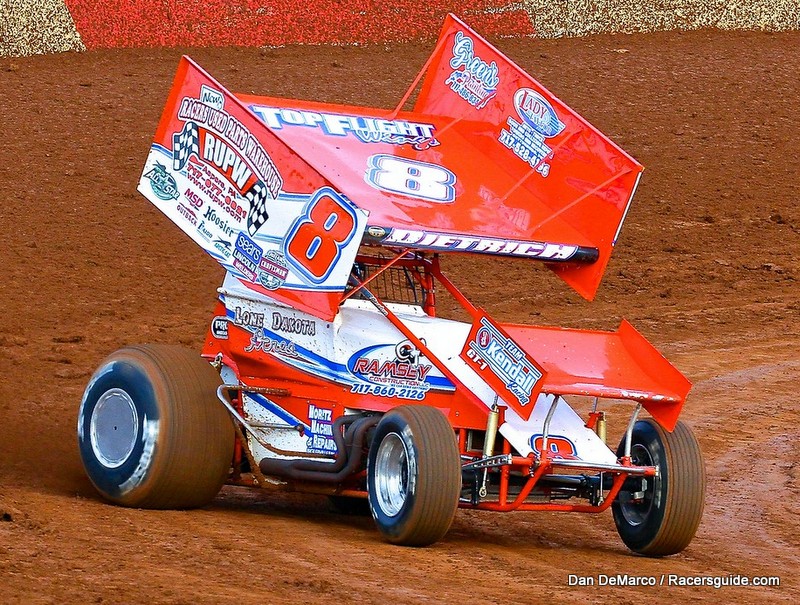 He drove around Billy with a slider on lap 22, and led the rest of the way, finishing 1.47 seconds ahead of Billy, with Freddie crossing a close third.
"I drove harder than everybody else," said Dietrich, "My brother ran hard, too. It looked like he just went away at the end. He was so good early and took the lead from Freddie. We just caught up the last five laps. The car got free and we could run the top. I was running the bottom early on, and thought I was pretty good around there. I was hoping it was still there at the end, and it was. Once I got the lead, I moved back to the bottom and was hoping that no one could take the long way around me."
11th-starting Kyle Moody finished fourth, and Cory Haas completed a spectacular run to come from 22nd starting spot to finish fifth. Sixth through tenth were Glatfelter, Campbell (returning from the early-race crash), Gerard McIntyre, Jr., Tyler Ross, and Chad Trout.
Heats for the 23 "410" Sprints were won by Campbell, Montieth, and Glatfelter.
Dillsburg's Chris Arnold came from 12th starting spot to score his second win in a row and become the first repeat winner in 11 feature events in the 20-lap "358" sprint car feature.
Arnold was already up to fifth by the end of the fourth lap, got around both Todd Gracey and Brie Hershey to move into third on lap eight, caught Matt Findley for second on lap 11, and then took the lead from polesitter and race-long leader Jake Eldreth on lap 12. Brie Hershey and Findley got together while battling for third on lap 15, but Eldreth couldn't catch Arnold over the final six laps, crossing one full second behind for the runner-up spot.
In a late-race charge, Chase Dietz (driving the Roger McKeehan #4R) advanced to third at the finish, with C.J. Tracy and Ashley Cappetta crossing fourth and fifth.
Heats for the 30 "358" Sprints were won by Findley, Tracy, and Gracey, with Troy Wagaman, Jr. winning the consolation.
Justin Cullum came from ninth starting spot to win the 20-lap All American Outlaw feature event. He advanced quickly through the field and caught race-long leader Jim Minter for the lead on lap nine. He crossed 1.03 seconds ahead of eventual runner-up Jeff McCauley, with Randy Doty, John Holmes, and Joe Davis rounding out the top five.
Minter pulled up lame late in the race, ending his night.
Heats for the 11 All American Outlaws were won by Cullum and Minter.
Lincoln Speedway is back in action twice next week as PENNSYLVANIA SPEEDWEEK gets underway with Lincoln Speedway hosting a pair of SPEEDWEEK shows.
Next Saturday night, July 1st, Lincoln Speedway will host night 2 of Pennsylvania Speedweek with the 18th Annual Kevin Gobrecht Memorial. The 410 sprinters will be going after the 30-lap $7,000 winner's check . The Central PA Legends will round out the evening's action. Gates will open at 5:30 PM, with time trials scheduled to begin at 7:30 PM
Lincoln will then get back to PENNSYLVANIA SPEEDWEEK action 2 days later on Monday night, July 3rd, with night 4 of the scheduled Speedweek series. Night 4 of the series will have the 410 sprinters going after the $5,000 winner's check. The 358 Sprinters will round out the evening's action. Gates will open at 5:30 PM, with time trials scheduled to begin at 7:30 PM.