SUPER DIRTCAR SERIES FOR MODIFIEDS, EMPIRE SUPER SPRINT SPEEDWEEK FINALE, SPORTSMAN, AND FIREWORKS ALL PART OF HUGE SHOW THIS SUNDAY AT UTICA-ROME SPEEDWAY
Press Release By: John Tiff / Utica Rome Speedway Media
Photos By: Jeff Clemons / Racersguide.com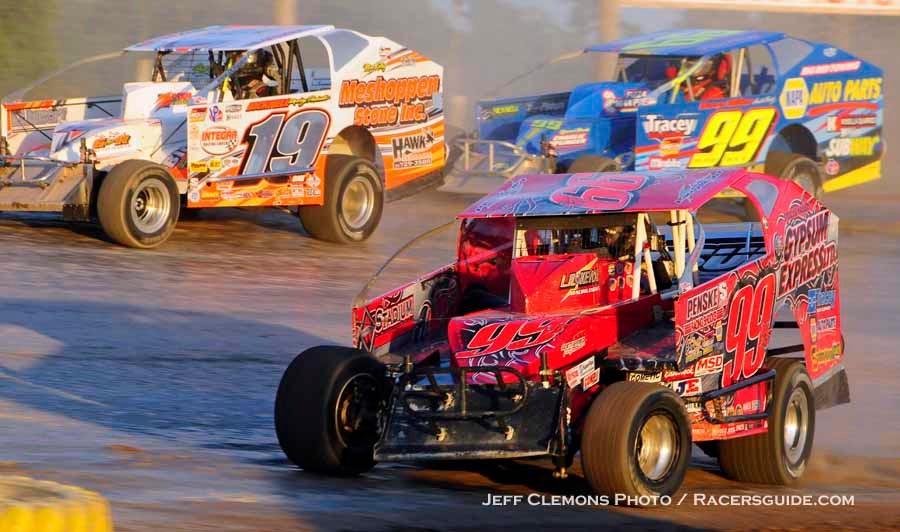 VERNON, NY- June 29, 2017- This Sunday, July 2, a huge holiday triple header is scheduled at Utica-Rome Speedway when two of the premier series in the northeast visits the Vernon oval when the Super DIRTcar Series for the Big Block Modifieds and the Lucas Oil Empire Super Sprints join a weekly program of Broedel Energy Sportsman.  The ESS event is final stop of the 5th Annual ESS Central New York Speedweek, and the champion of the five-day series will be crowned.  The action-packed evening will be presented by our friends at Clinton Tractor and Wilber-Duck Chevrolet, night that will also include a fireworks show to cap off the evening.
Coming into Sunday's New Yorker 100, defending Super DIRTcar Series and Utica-Rome Speedway champion Matt Sheppard leads the SDS points, as well as the UR standings, as he looks to repeat as the victor in this event.  Last season, Sheppard put on a dominant performance as he beat Danny Johnson, Danny Varin, Larry Wight, and Rob Bellinger to the checkered.  Several Utica-Rome Speedway regulars who also follow the SDS tour that are looking for strong performances on home turf include Pat Ward, Tim Fuller, Mike Mahaney, Alan Johnson, and Mike Maresca.  Other track regulars in the Gates-Cole Auto Insurance Modifieds that are looking to make their presence known, and possibly pull of an upset, include Danny Varin, Bobby Varin, Marc Johnson, Rob Bellinger, and Claude Hutchings, Jr.  The top 12 in the Super DIRTcar Modified Series standings, at press time, are Sheppard with Billy Decker, Brett Hearn, Larry Wight, Jimmy Phelps, Max McLaughlin, all-time UR feature winner Stewart Friesen, Johnson, Keith Flach, Ward, Fuller, and Billy Whittaker.
The Lucas Oil Empire Super Sprint CNY Speedweek presented by Donath Motorworx has become a highly anticipated series in only it fifth year.  Many of the top 360 Sprint drivers in the northeast gather to etch their name into Speedweek history books.  Each year the finale is held at the Utica-Rome with the title of Speedweek champion handed out to the top driver of the week.  Michael Parent, Jason Barney, and Steve Poirier (twice) have all earned their title at Utica-Rome.  Drivers such as Barney, Coleman Gulick, Paul Kinney, Matt Billings, Paulie Colagiovanni, Matt Tanner, Jeff Cook, Chad Miller, Shawn Donath, and Brett Wright are just some of the drivers expected to try their hand at the $3,000 payday that comes with the 25 lap A Main victory.  Other drivers that could make their way to the Vernon oval include Steve Poirier, Chuck Hebing, Kelly Hebing, Brandon Kidd, Dylan Westbrook, Jonathan Preston, Dave Axton, and more.  Modified drivers Danny Varin, Larry Wight, Mike Mahaney, and Bobby Varin could also be part of the field.  A solid field of 30 plus cars is expected to be in the pit area.
The Broedel Energy DIRTcar Sportsman are also in action for a weekly point show with Matt Janczuk the current point leader.  He leads Chris Mackey, Kyle Inman, AJ Filbeck, Brent Joy, AJ Miller, Stephen Denton, Tyler Thompson, Jason Rood, and Dave Marcuccilli.  So far this season, 80 different drivers have signed in for action in the four events completed.
When the action settles on the track, all eyes will turn to the skies above the Vernon oval as the traditional huge fireworks display will take place.  Every year, fans are delighted to one of the best fireworks in the area at the completion of this event.

Pit gates will open at 2 p.m. with grandstands opening at 3:30 p.m.  Time trials for the Modifieds is tentatively set for 5:30 p.m. with racing at 6 p.m.
For more information including complete event information, point standings, season schedule, and more be sure to log on to www.uticaromespeedway.com.  We also can be found on Facebook and Twitter.  The speedway office can be contacted by calling (315) 829-4557.