The Sandlake Slingshot Caulks Up Another High Banks Score
Story By: Phil Allaway / Lebanon Valley Speedway Media
Photos By: Mark Brown / Lebanon Valley Speedway Photo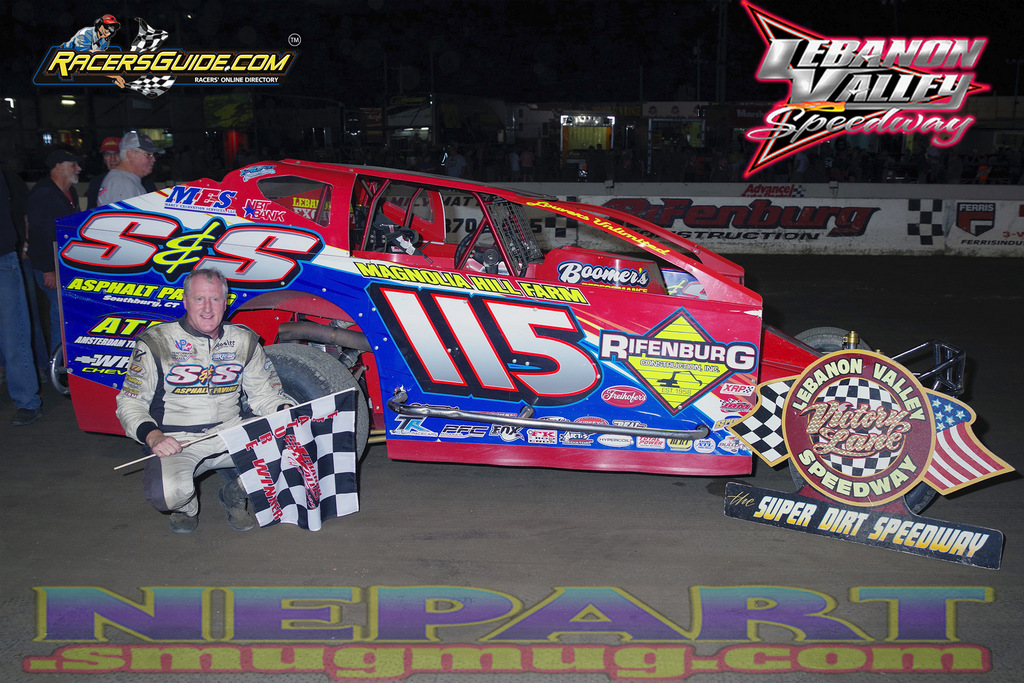 West Lebanon NY.- June 26, 2017- On Saturday night, the night of racing started under sunny skies.  But by the time the Modifieds came out, rain was imminent.  The result was a clean feature with a difficult climb to the front for the main contenders.
Mike King scored the pole and quickly opened up a decent advantage over Chad Jeseo.  Further back in the back, Brett Hearn started 15th and slowly made his way forward.  J.R. Heffner started 13th and went nowhere, while Kenny Tremont Jr. had the best starting spot (fifth) and room to move.
Despite that room to move, it was difficult to make passes.  It was nearly a third of the way into the race before Tremont moved up even one position.  However, once he accomplished, he could pick drivers off.
By halfway, Tremont was third, but way behind King, who had a late-night Friday getting his PMC Chassis back together.  Once Tremont took second from Jeseo on lap 19, he had nearly a straightaway to make up in order to catch King.  From there, Tremont pulled him in a little bit at a time.
With a couple of laps to go, Tremont caught King and did everything he could to get by.  Finally, on the final lap, Tremont got to King's inside in turn 2 and cleared the Nassau-based veteran.  From there, Tremont held on to take his record 129th career Big Block Modified win at Lebanon Valley.
Afterwards, Tremont still thought his car could be a little better.
"[The car] was a little loose to start, but we got it tightened up and made it better," Tremont said.  "I thought it needed to be better yet, but it was still good enough to win it."
King ended up second, his best run in a number of years.  Keith Flach was third, followed by Eddie Marshall.  Hearn was able to get to up fifth.
The Pro Stock race was likely the most competitive race of the night.  Todd Hoffman started from the pole and led early.  At the beginning of the second lap, all heck broke loose.  Rick Dempsey and Tom Dean had contact on the frontstretch, resulting in Dempsey spinning out.  A chain reaction incident occurred involving multiple cars, including points leader Rob Yetman.  Yetman was able to continue, but Dempsey and Henry Warner were forced to retire.
On the restart, Rick Duzlak got by Hoffman for the lead and opened up an advantage.  Chuck Towslee avoided the big wreck and moved up to sixth from his 14th starting spot.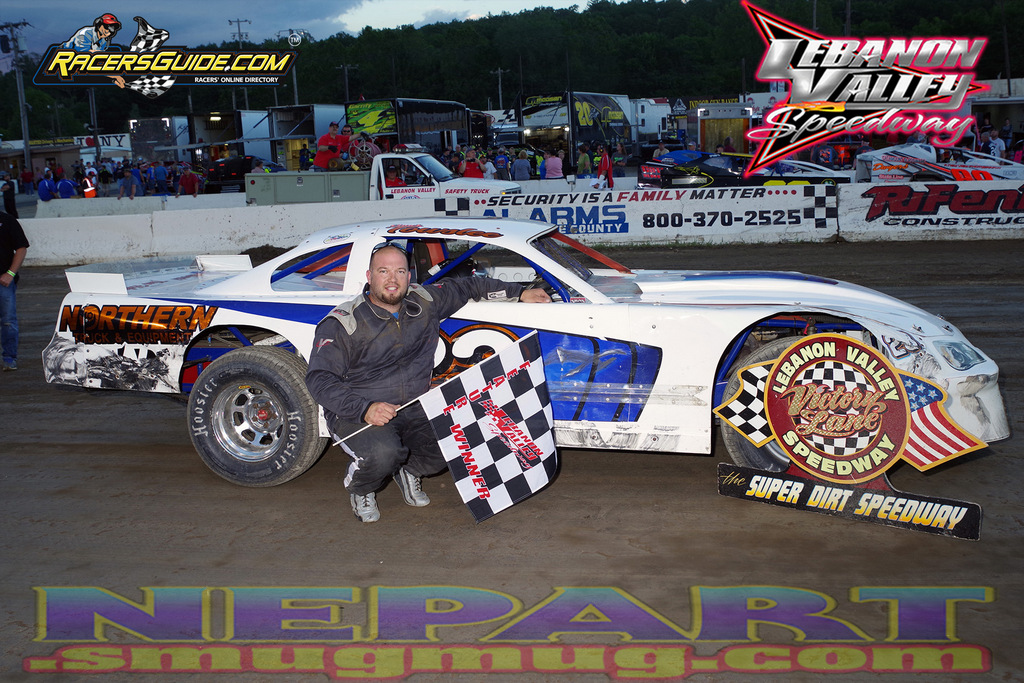 Following a hard crash for Rich Crane exiting turn 4 that brought out another yellow, Towslee moved up to second and began a long side-by-side battle for the lead with Duzlak.  The two drivers fought for nearly half the feature.  Towslee had the advantage on lap 8, but Duzlak got it back just as a collision between Jeff Kelmel and Brian Keough brought out another yellow.
The yellow brought Yetman back into the mix. On the restart, Yetman effectively pushed Duzlak back out front, but Towslee appeared to be faster.  On lap 14, Towslee finally cleared Duzlak. Yetman followed into second.  From there on, the top two drivers in points battled hard, but Towslee held on for his second win of 2017.
Yetman was second, followed by Duzlak.  Jason Meltz was fourth, while Jon Routhier was fifth.
In Sportsman, Cody Ochs started from the pole and was able to show off improved form in pulling away from the field.  Alan Houghtaling started second and kept tabs on the young racer in the PMC Chassis.
Behind the two leaders, John Virgilio was starting to move forward.  Starting sixth, he quickly moved up to third.  However, Ochs and Houghtaling already had a big lead by that point.  It took quite a few laps for Virgilio to run down Houghtaling.  Once he did, a fierce battle erupted.  Eventually there was slight contact between the two on lap 12.  Virgilio was able to get past, while Houghtaling dropped to fourth.
Virgilio then ran down East Greenbush's Ochs and battled him for the lead.  On lap 15, the lead was Virgilio's.  From there, Virgilio pulled away to take his first win of the year.
Ochs finished in second, followed on track by Lem Atkins.  Unfortunately, Atkins had an unapproved distributor and was disqualified.  As a result, Houghtaling inherited third.  Frank Hoard Jr. was fourth and Milton Mann finished in a career-best fifth.
In Pure Stock, Jesse Murphy and Jeff Meltz Sr. each won features.  For Meltz, it was his second victory in five days after winning the Pure Stock race at the Eve of Destruction.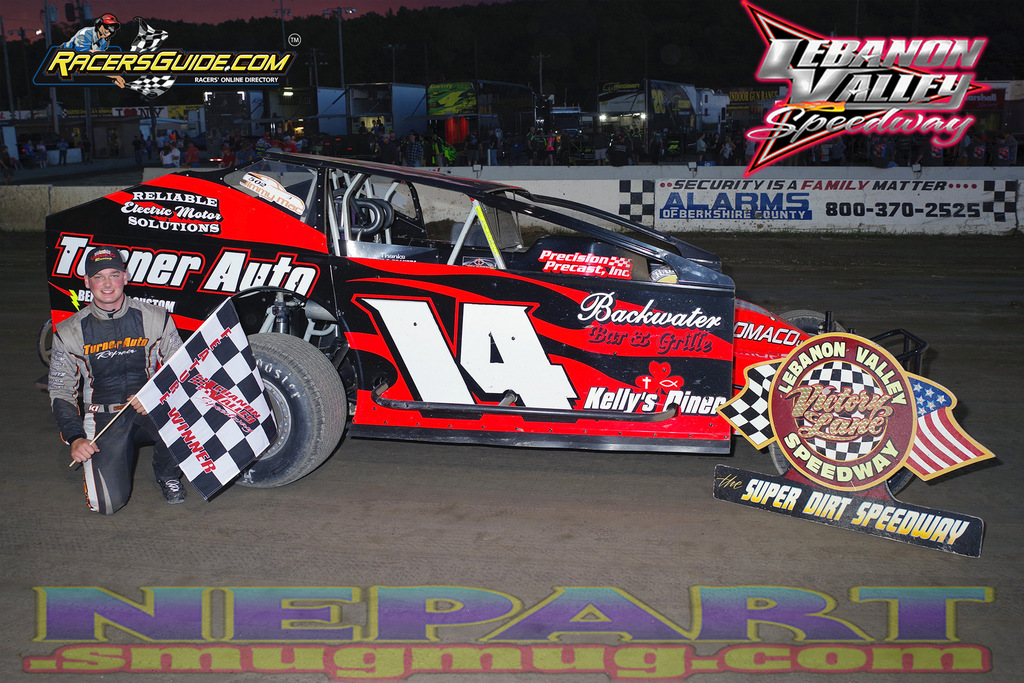 Gendron's Truck & Auto Center/CompuWorks Modified Feature Results (30 laps): 1) Kenny Tremont Jr., 2) Mike King, 3) Keith Flach, 4) Eddie Marshall, 5) Brett Hearn, 6) Chad Jeseo, 7) Elmo Reckner, 8) Andy Bachetti, 9) Paul Gilardi, 10) Matt Pupello, 11) Kolby Schroder, 12) J.R. Heffner, 13) L.J. Lombardo, 14) Kyle Armstrong, 15) Wayne Jelley, 16) Kyle Hoffman, 17) Brian Berger, 18) Rob Pitcher, 19) Kyle Sheldon, 20) Olden Dwyer, 21) Kenny Aanonsen Jr., 22) Ken McGuire, 23) Mike Keeler, 24) Denny Soltis, 25) John Ruchel
Sportsman Feature Results (20 laps): 1) John Virgilio, 2) Cody Ochs, 3) Alan Houghtaling, 4) Frank Hoard Jr., 5) Milton Mann, 6) Robby Knipe, 7) Nikki Ouellette, 8) Michael Sabia, 9) Chris Lynch, 10) Whitey Slavin, 11) Kevin Ward, 12) Rob Maxon, 13) Chris Curtis, 14) Bobby DeLeon, 15) David Schilling, 16) Mike Block, 17) Jacob Volpi, 18) Harold Robitaille, 19) Zeb Catlin, 20) Matt Burke.  DQ: Lem Atkins
Pro Stock Feature Results (20 laps): 1) Chuck Towslee, 2) Rob Yetman, 3) Rick Duzlak, 4) Jason Meltz, 5) Jon Routhier, 6) Steven LaRochelle, 7) Ed Bishop, 8) Jay Corbin, 9) Joe LaFlamme, 10) Hugh Page, 11) Tom Dean, 12) Brian Keough, 13) Jeff Kelmel, 14) Rich Crane, 15) Tom O'Connor, 16) Nick Hilt, 17) Don Collins, 18) Todd Hoffman, 19) Rick Dempsey, 20) Henry Warner
Pure Stock Feature No. 1 Results (10 laps): 1) Jesse Murphy, 2) Clifford Booth, 3) Chris Murphy, 4) Evan Denue, 5) Wuggie Burdick, 6) Karen Verhagen, 7) Brian Walsh, 8) Lou Gancarz, 9) Rich Roger, 10) Mike Arnold, 11) Larry Perez, 12) Adam Schneider, 13) Nick Reilly, 14) Mark Dwyer. DQ: Jordan Miller
Pure Stock Feature No. 3 Results (12 laps): 1) Jeff Meltz Sr., 2) Ed Hatch, 3) Jeff Meltz Jr., 4) Ray Hall Sr., 5) Bill Deak Jr., 6) Gary O'Brien, 7) Dave Stickles, 8) John Devine, 9) Zach Seyerlein, 10) Zach Sorrentino, 11) Jeff Kreutziger, 12) Tim Thompson, 13) Dom Denue, 14) Jay Casey, 15) Shawn Perez