BRIAN WEAVER BECOMES SEVENTH DIFFERENT MODIFIED FEATURE WINNER IN SEVEN RACES AT FIVE MILE POINT SPEEDWAY IN AWESOME MODIFIED MAIN.
Story By: ANDREW HARPELL / FMP SPEEDWAY MEDIA
Photos By: D&J PHOTO / FMP
KIRKWOOD, NY.- June 19, 2017- Over the three decades that Brian Weaver has raced he has recorded victories all over the northeast on Saturday he added to that win total by capturing the 30 lap Modified main event at Five Mile Point Speedway.  With the victory, Weaver became the seventh different feature winner in seven events this season at the speedway.
The 30 lap Modified feature event was another outstanding race as the division has put on fantastic displays weekly at the speedway.  Entering the evening Kevin Bates and Tyler Siri were tied for the Modified point lead.  It looked early as if Bates would emerge in command of the point lead.  The drop of the green found Jesse Kline and Glenn Knapp battling for the lead.  Kline took the point and looked strong as Knapp remained within striking distance.  Bates started tenth but found himself fifth by lap 3 as he powered around the outside of the quarter mile oval.  Mike Butler ran in third with P.J. Goodwin in fourth during the early laps.
On lap 7 the caution would fly inadvertently as two cars got crossed up but managed to keep on going in turns three and four.  During the caution Bates began to show smoke from the 42b but continued on.  On the restart Kline again held the lead with Knapp in second and Bates now up to third.  The top three battled three wide for the race lead until the caution would fly again on lap 11.  This time four drivers spun collectively in turn four but all were able to continue.  The smoke continued to pour out of the Bates machine during the caution but again he continued on.
On the restart Kline kept control of the lead with Bates running on the outside now in second place and now Butler up to third place.  The final caution of the race flew on lap 13 when several cars go together resulting in P.J. Goodwin, Mike Dougherty and Brad Shafer coming to a stop high in turn 2.  All three were able to continue but during the caution Bates went pit side with what wound up being a power steering issue.  When racing resumed Kline had a new challenger in Butler.  As Butler ran the top Kline remained in the middle of the speedway and Knapp renewed his efforts on the bottom as the three put on a great display for the race lead.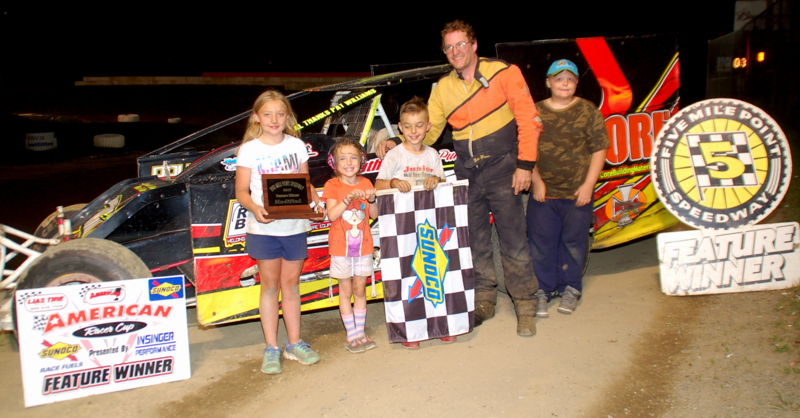 Suddenly Brian Weaver sprang to life as he took his act to the extreme outside of the speedway and pounded the cushion lap after lap.  Weaver pulled in to third place around the top with Nick Rochinski now joining the battle.  On lap 23 Weaver made his way in to second place as Butler and Rochinski battled for third.  Kline began to protect his line as Weaver did not waiver on his outside line around the quarter mile.  This again allowed Butler to make a bid on the bottom of the speedway for the race lead at the same time.  On lap 26 Weaver was scored as the race leader and now Kline had to contend with Butler for second place.  With Weaver maintaining his outside line Butler took to the inside and overtook Kline for second on lap 29.  At the finish it would be Weaver, Butler, Kline, Tyler Siri and Rochinski.
Siri emerged the evening as the point leader despite not having a win this season.  On Saturday he continued his trend of late race charges to capture fourth.  For Weaver, the win was overdue as on back to back weeks the team had blown motors at the speedway.  In the northeast Modified landscape Weaver has managed to remain relatively over looked during his tremendous career.  Weaver has won Modified events at no less than 8 different speedways including outside of the southern tier at places like Hagerstown, MD, New Egypt, NJ and Albany Saragota, NY.  He also recorded the majority of his victories in race cars that certainly weren't leading the way in team budgets.
Kyle Rohner backed up his Sunday night GRIT Series Crate Sportsman win at Five Mile Point Speedway with a victory on Saturday night in the 20 lap feature.  Rohner started seventh on the grid and entered the evening second in the point standings behind Matt Cole.  Rohner took over the race lead from Todd Titus on lap 10 and never looked back.  Titus had a great run for the first half of the race but began to develop a push in his car during the second half.  Randy Gates chased Rohner during the final ten laps but could not make a serious bid for the win. Devon Zona rebounded from a tough night last Sunday for third.  Matt Cole raced from tenth to fourth at the stripe with Tanner Harpell also rebounding from substantial damage on Sunday to finish fifth.
Ricky Davis Sr., raced out to the early lead in the 20 lap Street Stock feature event.  Davis had recorded a win earlier in the season but Saturday it wasn't to be.  Doug Polhamus took over the point on lap 5 after starting in third and led the remainder of the way for the victory.  Polhamus was followed across the line by Shane Wolf, Jr., Doug Stack, Sr., Ray Lindquist and Charlile Gilbert.  After three early race cautions the final 14 laps went caution free.
Mike Wilmot, Jr. brought the field to the green in the 15 lap Lightning Cat Expert feature event.  Defending Track Champion Adam Gilbert took over on lap 2 and was looking for win number one on the season.  Nick Kennedy raced from eighth to make his way past Gilbert on lap 6.  For Gilbert the night would end similar to most of his season to this point.  Gilbert developed mechanical problems and went pit side on lap 13.  Kenny Underwood chased down Kennedy during the final laps but could not make a serious bid for the lead.  At the stripe it was Kennedy, Underwood, Trevor Williams, Dave Simms and Wilmot.
The 15 lap Factory Stock feature event was a wild event as five cautions slowed the action with three of those coming on lap 2.  When the race had ended there was enough sheet metal collected to start a scrap yard.  Kevin Skelly raced out to the early lead but was sent to the pit area on lap 3 when his trunk lid came unfastened.  During the lap 2 and 3 caution periods several teams went to the pits to have sheet metal torn off or refastened.  Even Modified driver Brian Weaver got in on the action assisting a couple of teams that had pitted as his hauler was parked along pit road.  Eric Beach took over the point when Skelly pitted and would never relinquish it.  Buck Mills, Sr. remained close throughout as did Steve Simpson as the three leaders put on a great show up front.  Beach would go on for the victory with Mills holding off Simpson.  Skelly rebounded to take fourth at the wire with Jason Rinker finishing in fifth.
Dalton Maynard was the 15 lap Slingshot feature winner again on Saturday.  Blaine Klinger was again the runner-up finisher as that duo has set the pace all season long.  The victory was the sixth consecutive for Maynard.  Klinger was second for the third time this season.  Bob Boughton, Shane Lewis and Alex Boughton rounded out the top five.  The win for Maynard helped to open up his point lead over Shane Lewis who entered the evening in second.
Walter Decker was the winner of the 12 lap Lightning Cat Novice feature event.  It was his first ever victory in the division.  John Maynard, Brian Salamini, Mike Stark and Randy Lane completed the top five.
COUNTER POINTS…The racing again on Saturday was outstanding in all of the classes…Track conditions were excellent and provided for three and four wide racing all night long…All of the racing was completed at 9:55 p.m…The speedway is idle this Saturday but will roar back to action on Saturday, July 1st for the first event of a huge month of July of action at the quarter mile oval…
MODIFIED OFFICIAL FEATURE FINISH (30):  BRIAN WEAVER, Mike Butler, Jesse Kline, Tyler Siri, Nick Rochinski, Glenn Knapp, Brad Szulewski, Mike Colsten, Mike Loney, Mike Dougherty, Alan Kellogg, Joey Colsten, Dan Solomon, Aleia Geisler, P.J. Goodwin, Brad Shafer, Kevin Bates.
CRATE SPORTSMAN OFFICIAL FEATURE FINISH (20): KYLE ROHNER, Randy Gates, Devon Zona, Matt Cole, Tanner Harpell, Leo McGurrin, Kyle Pierce, Carl Bittenbender, Joe Guastella, Ranndy Fox, Brad Cicio, Tom Hampton, Gregg Turner, Tim Howell, Bryce Martin, Mike Senecal, Del Howell.  DQ – Todd Titus (tires).
STREET STOCK OFFICIAL FEATURE FINISH (20):  DOUG POLHAMUS, Shane Wolf, Doug Stack Sr., Ray Lindquist, Charlie Gilbert, Matt Bowman, Ricky Davis Sr., Dan Force, Doug Stack Jr.
FACTORY STOCK OFFICIAL FEATURE FINISH (20):  ERIC BEACH., Buck Mills Sr., Steve Simpson, Kevin Skelly, Jason Rinker, Phil Clapper, Alan Komar, Matt Millard, Steve Mower, William Manuel, George Miller, Ryan Brockner, Josh Wilber.
LIGHTNING CAT EXPERT OFFICIAL FEATURE FINISH (15): NICK KENNEDY, Kenny Underwood, Trevor Williams, Dave Simms, Mike Wilmot Jr., Sheldon Whitman, Jimmy DiFulvio, Mike Travis, Dave Bainbridge, Mat Mather, Jeremy Warren, Jason Colwell Sr., Frank Smith, Rick Lunn, Adam Gilbert, Josh Amatuccio, Josh Wilder.
LIGHTNING CAT NOVICE OFFICIAL FEATURE FINISH (12):  WALTER DECKER, John Maynard, Brian Salamini, Mike Stark, Randy Lane, Edward Jones, Clifford Levison, Pat Everitt, Marisel Torens.  DNS – Jason Colwell Jr., Cory Brown.
TOBIAS SLINGSHOT OFFICIAL FEATURE FINISH (15):  DALTON MAYNARD, Blaine Klinger, Bob Boughton, Shane Lewis, Alex Boughton, Shane Lewis Sr.