Brian Malcolm Picks Up First Mountain Win For 2017
Story By: CRAIG DECKER / THUNDER MOUNTAIN SPEEDWAY MEDIA
Photos By: DARYL CANFIELD / MOJO PHOTOS
Center Lisle, NY.-June 19, 2017- Saturday night at the fast track was all about the fans! The competitors and race teams certainly put forth an outstanding effort to honor the fans from bicycle giveaways to free cash drawings, ice cream, candy, chips, and over 20 boxes of Little Caesars Pizza. It was what you would call a grand gesture to honor the ones that make it happen, the fans in the grandstands.
With the power being down on the mountain and surrounding areas, we started the night with fan appreciation. Over a hundred cars took to the infield and we released the crowd to meet their favorite cars and stars. A good time was had by all.
The Spoonhowers had the track in pristine condition. With no hot laps and straight to the heat racing after fan appreciation we saw the best racing to date at the Lisle, N.Y. facility. When the mighty modifieds took center stage it was the making of a cinderella story for the veteran racer out of Melrose, Pa., Mike Nagel Sr. as he steered his 7M to a commanding lead over the first half of the race. I don't believe there was anybody fan or competitor that wasn't cheering for the veteran racer.
The 2nd and final caution on lap 4 was the scariest and really, the hardest impact we've seen at Thunder Mountain thus far in 2017. Mertztown Pa.'s Barry White jumped the right rear tire of Alan Barker's 35 on the entry of turn 3. White's Deka batteries 131 went airborne and he couldn't get it slowed down causing him to hit the concrete wall full bore. It was a sudden impact that destroyed his brand-new ride and broke the wall.
When ambulance arrived on scene White was shaken but walked away without injury. Racing resumed after a short repair to the concrete wall during the red flag. It was all Nagel out front by lap ten he had a straight away on Brian Malcolm.
The race was closing in on the halfway point and Creeden was advancing from his deep starting position without any help from yellows and the pace being torrid the fans got to see every inch of the super racy 3/8 clay oval being used. Malcolm was inching closer to Nagel and finally grabbed the lead with an inside pass through lap traffic on the 21st circuit. It was the first win of the year for Brian Malcolm and his team. Followed by Nagel who just nipped Colton Wilson at the line. Creeden was in for fourth and Triangle N.Y. Jeremy Smith rallied late for a charge into the top five.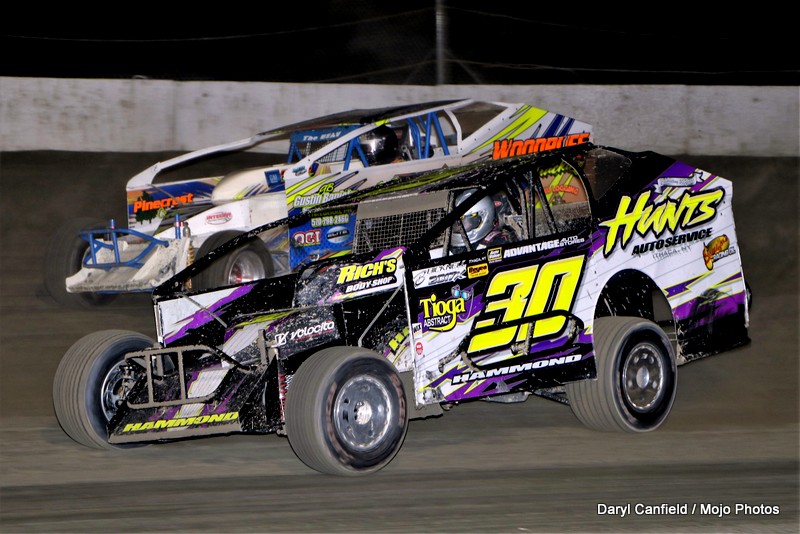 Kenny Hammond went back to back in the crate sportsman. A dominant performance seemingly just driving around the competitors. After a two-year hiatus from victory lane the driver of the Hunts Auto #30 has been a stand out the last two weeks.
Paul DeRuyter spent 8 years chasing the checkers at Thunder Mountain Speedway in his 600 mod with a limited race schedule. On this night with 23 600's in the field the wait was over as he blistered the field with a near perfect performance in his Buzz Chew Chevrolet backed ride. Other winners on the night included 14year old Tighe Sherlock who picked up his second win in just 3 starts with his rookie sportsman. Brian White went back to back in the open sportsman. Jon Carpenter drove from 15th to the win in the street stocks. Dan Searles scored his 2nd Imca win of the year. First time 4cyl winner was Justin LaDue.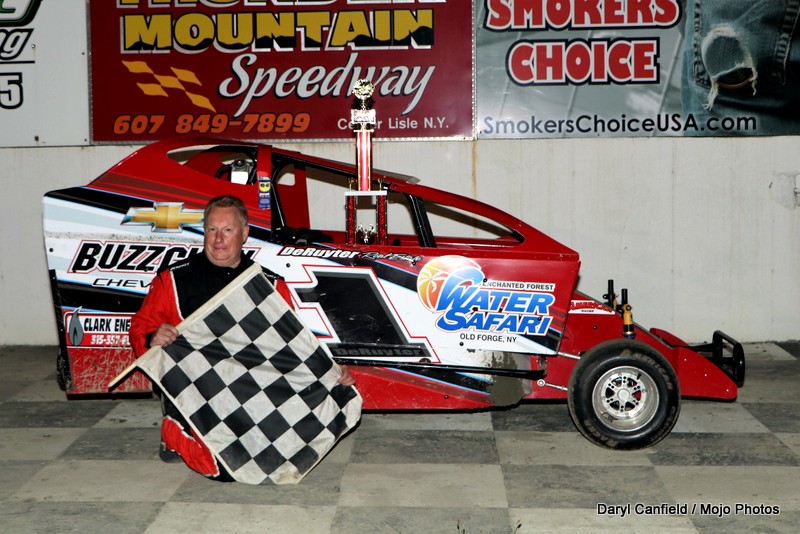 Modified – Brian Malcolm, Mike Nagel Sr., Colton Wilson, Dan Creeden, Jeremy Smith, Alan Barker, Brent Wilcox, Cory Costa, Byron Worthing, Sam Allen, Rick Wilk, Bob Stahl, Randy Brokaw, Nick Nye, Barry White.
Sportsman – Brian White, Billy Spoonhower, Eddie White, Larry Mekic, Chris Jordan, Larry Hillis, Tom Eiklor, Chance Spoonhower, Nate DeGraw, Dayton Coney, Landon Cummings
Crate Sportman – Kenny Hammond, Brenton Miller, Tom Collins, Mike Nagel Jr., Pat Jordan, Mike Austin, Isaiah Forward, Dustin Jordan, Kailee DiMorier, Corey Cormier, Pat Parker, Shayne Spoonhower, Scott Torbitt, Tyler Keener, Kimberlee Morgan, James McIntyre, Darren Smith
Street Stock – Jon Carpenter, Damon Decker, Lanson Albanese, Jake Fowlston, Matt Spencer, Trever Dudley, Earl Zimmer, Don Russell, Jack Holcomb, Jeff Wilcox, Jonathan Fowlston, Rich Fife, Austin Nikerson, Lance Brunick, Guy Farrow, Mike Wilbur Sr.
600 Xcel Modified – Paul DeRuyter, Damon Henry, Dana Davis, Eric Boyd, Byron Worthing, Will Eastman, Jamie Frantz, Tom Shiner, Dakota, Anderson, Justin Shiner, John Burnside, Doug Windhausen, Bailey Boyd, Kyle Harrington, Josh Kithcart, Jared Green, Bob Rowback, Chris Jordan, Joe McCabe, Rich Gardiner, Jake Waibel.
IMCA Modified – Dan Searles, Will Ward, Mike Stoddard, Brad Smith, Bob Maynard, Doug McKane, Don Alvordi, Beau Ballard, Keith Lamphere, Gary Roberts, Tyler Stoddard, Ray McClure.
Rookie Sportsman – Tighe Sherlock, Landon Spoonhower, A.J. Williams, Anthony Rundell, Jordan Torbitt.
4cyl Stock – Justin LaDue, Mark Atutis, Chris Taylor, Rick Sinsabaugh, Michael Brown, David Kellicut, Vinnie Losaw, Rich Wagner, Jeremie Hale. DQ- Clint Kadaronak.