MODIFIED ELIMINATION RACE TO HONOR BILL ANAGNOSTOPULOS THIS SATURDAY JUNE 24 AT FONDA
Story By: Ron Szczerba / Fonda Speedway Media
Photos By: Jane Cella / Racersguide.com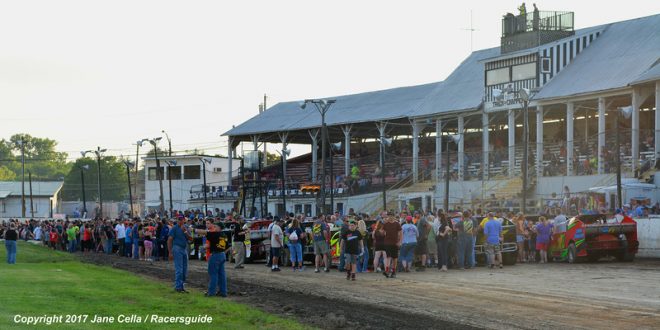 Fonda, NY –June 22, 2017-  On the Fonda Speedway website www.newfondaspeedway.com it states that the "Track of Champions" is where history is made on Saturday nights. That statement couldn't have been more accurate as last Saturday Tim Fuller won the first modified feature of his illustrious career making him the 128th different driver in 1322 feature events held at Fonda to achieve that feat.
Earlier this season on opening day, Justin Boehler was also a first time winner in the division in 2017.
This Saturday, June 24 the Fonda Speedway will honor a great friend of racing that we lost a few years ago that being Bill Anagnostopulos who owned the Winners Circle Restaurant just around the corner from the "Track of Champions".
Dirt Track Digest will sponsor the racing program at Fonda this Saturday.
Bill always took time out from his busy restaurant on Saturday evenings to come to the track and watch the racing activities while meeting all of his friends at the track, many of which were drivers that competed there.
Bill sponsored some of those drivers and sponsored many events at the Fonda Speedway over the years. His restaurant was a museum for local racing in itself as many pictures past and present currently hang on the walls at the Winners Circle Restaurant.
This Saturday at Fonda the Third Annual Elimination Race "In Honor of Bill Ag of the Winners Circle" will take place for the top five drivers in modified points along with one other driver who is in points position six through 10 chosen by a random draw to take part in the event for a total of six drivers.
Past winners of the event were Bobby Varin in 2014 who walked away with $500 for two laps of racing while last year in 2016 Ronnie Johnson swept the event and took home over $2,000 for 10 laps of racing!
This year the Elimination Race will be five races in total with the first race payout being $350 from sponsors Greg Duesler of Trackside Body Works donating $100, Tadd Parks of Parks Companies donating $200, and Chrissy Anagnostopulos donating $50.
The second race will have a $275 payout with Eric & Sherry Gifford donating $125, Tadd Parks of Parks Companies donating $100, and Chrissy Anagnostopulos donating $50.
Race 3 features a $350 payout with Harry & Shelly Shaffer donating $150, Tadd Parks of Parks Companies donating $100, and Chrissy Anagnostopulos donating $100.
Race four will have a payout of $612.12 with Camp CanOpener (Pat Rose, Bill Rose, James Yesse, Brad Scanlon, and Chris Brown) donating $412.12 which includes a $100 donation in memory of Vern Wagoner, Tadd Parks of Parks Companies donating $100, and Chrissy Anagnostopulos donating $100.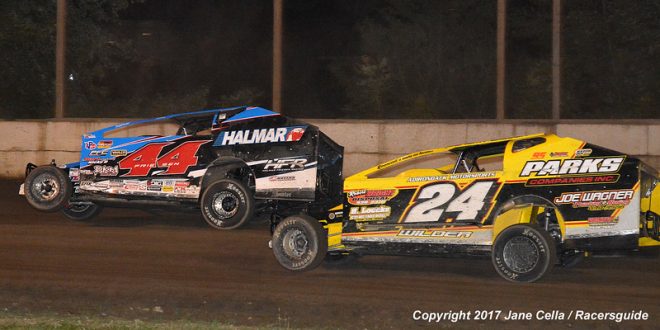 The final race will be for a $1,000 payout with $500 and a pair of custom racing gloves donated by Michael Jackson/Swagger Factory Apparel, and $500 donated by Dirttrackdigest.com (George Smith, GT Smith, and Mike Mallett)
Total payout for this event as of the date of this release will be $2,587.12!
Tadd Parks/One Small Step for Layne Parks has also donated money for the final elimination round, the exact amount to be determined which will add to the total listed above.
In addition to sponsoring the Final Elimination Round, Swagger Factory Apparel will also donate a pair of custom racing gloves to anyone winning an elimination round.
Drivers not winning an elimination round will receive $125 courtesy of Brian Murray/Glenridge Farm and Pete Demitraszek of Fonda Speedway.
The Winners Circle Restaurant will also be donating a minimum of $150 to each of the modified heat race winners.
The organizers of this event want to thank all of the sponsors for their support as if it weren't for sponsors like all of the ones listed above this event would not be possible.