B.HIRTHLER LEADS SPORTSMAN, SCHUTZ STILL TOPS IN BRC LATE MODELS; 20 DIFFERENT FEATURE WINNERS OUT OF 24 FEATURE RACES RUN
Story By: ERNIE SAXTON / GRANDVIEW SPEEDWAY MEDIA
Photos By: GEOTGE STEIGERWALT / RACERSGUIDE.COM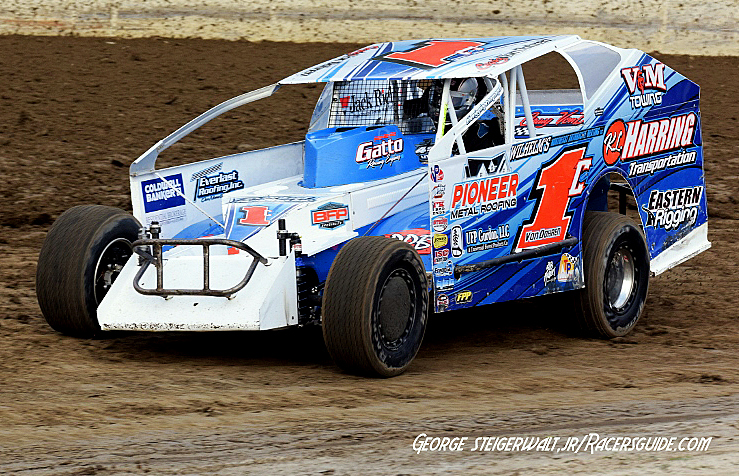 BECHTELSVILLE, PA -June 20, 2017 – Ten time TP Trailers NASCAR 358 Modified champion Jeff Strunk is working toward his eleventh at Grandview Speedway. This past Saturday night Strunk was able to grab a fifth place finish while Craig VonDohren came home 9th giving Strunk the top spot in the Modified standings. Strunk now sits at the top of the standings with 2226 counters while VonDohren is just 14 points behind. Duane Howard is third with 2036 points. Out of the three only Strunk has visited victory lane in a Saturday night feature race this season.
Strunk, VonDohren and Howard have shared the Modified title between them since Terry Meitzler won the title in 1999.
Brian Hirthler continues to lead the Sportsman standings with 1667 tallies. Ryan Lilick is second with 1488 and rookie talent Louden Reimert sits third having 1367 points.
And veteran racer Chuck Schutz, an eight time Late Model champion, sits on top of the point chase for the BRC Late Models with 1851 points. Ron Kline, with benefit of four feature wins, is closing in with 1824 counters and Kyle Merkel holds third with 1768 points.
In eight weeks of Saturday night NASCAR racing, 24 feature races, 20 drivers have won feature races making this season one of the most competitive seen at the Bechtelsville, PA clay oval.
The chase for the championship points continues this Saturday for the Modifieds and Sportsman while the Late Models are replaced by the Mid-Atlantic Sprint Series in the Bechtelsville Car Wash three division show starting at 7:30 p.m. Added to the night is a Modified Cash Dash.
This will be a first time appearance for the MASS Sprinters. Heading up the expected strong contingent of Sprints will be Doylestown's Tim Tanner who is coming off a big win at Delaware Int'l Speedway. Other popular Sprint racers planning to run on Saturday include Tommy Carberry, Rick Stief, Eddie Wagner, Jeff Geiges, Dave Graber and a host of others.
Fans will be anxious to see the Sprints in action plus find out if there will be new feature winners to add to the already long, 20 winners, list of Saturday night NASCAR feature winners.
Adult admission is $18 with youngsters 11 and under admitted FREE.
BRC Late Model racers will be using their week off to get ready for their biggest event of the season, the Firecracker 40, coming up on July 1st. The Modifieds and Sportsman will also be a part of that night of racing excitement.
For the latest information check in at www.grandviewspeedway.com or Facebook.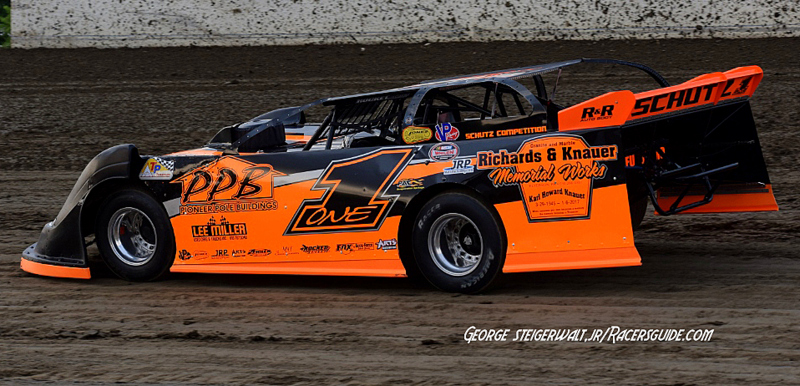 UNOFFICIAL POINT STANDINGS FOR NASCAR
MODIFIEDS AS OF JUNE 17, 2017
1. Jeff Strunk, Boyertown, PA  #126 2226*
2. Craig VonDohren, Oley, PA  #1C 2212
3. Duane Howard, Oley, PA #357H 2036
4. Mike Gular, Harleysville, PA #2 1926
5. Doug Manmiller, Shoemakersville, PA #44M 1908*
6. Kevin Hirthler, Boyertown, PA  #117 1887*
7. Jared Umbenhauer, Richland, PA  #19 1878
8. Kyle Borror,  Peach Bottom, PA  #B4 1745
9. Ryan Grim, Laury's Station, PA  #17 1645
10. Brian Krummel,  Middletown, NY  #17Z 1471*
11. Ray Swinehart, Perkiomenville, PA  #33 1319
12. Frank Cozze, Wind Gap, PA  #4 1295*
13. Ryan Watt, Boyertown, PA  #14W 1126
14. John Willman, Birdsboro, PA  #81 997
15. Justin Grim, Orefield, PA  #61 931
16. Kyle Weiss, Hamburg, PA  #21K 855*
17. Addison Meitzler, Kutztown, PA  #21 825
18.   Kenny Gilmore, Fleetwood, PA  #M7 817
19. Danny Erb, Boyertown, PA  #44 810*
20. Dan Waisenpacher, Riegelsville, PA  #01 720
21. Mike Kellner, Lansdale, PA  #57 719
22. Brian Houseknecht, Bechtelsville, PA  #323 694
23. Kory Fleming, Milford, NJ, #704 693
24. Chris Gambler, Whitehall, PA#77 678
25. Chris Esposito, Hatfield, PA  #31 674
26 Brett Kressley, Orefield, PA  #19K 652*
27. Joe Fanelli, Exton, PA  #22 587
28. Brett Gilmore, Fleetwood, PA  #7 573
29. Mike Laise, Pottstown, PA #49 508
30. Blaine Bracelin, Gilbertsville, PA  #79 505
UNOFFICIAL POINT STANDINGS FOR NASCAR
LATE MODELS AS OF JUNE 17, 2017
1. Chuck Schutz, Pottstown, PA  #1/28 1851*
2. Ron Kline, Salford, PA  #3 1824****
3. Kyle Merkel, Green Lane, PA  #26 1728
4. Bryon Sipe, Shoemakersville, PA  #33S 1713
5. Steve Todorow, Trumbauersville, PA  #93 1654
6. Wayne Pfeil, Mohnton, PA  #72 1612*
7. Steve Wilson, Green Lane, PA  #15 1607
8. Brian Shuey, Shoemakersville, PA  #177/#2D 1350*
9. Jordan Knepp, Pottstown, PA  #108 1093
10. Blaine Emery, Boyertown, PA  #12 1085*
11. Todd Ravel,  Shoemakersville, PA  #88 1082
12. Shawn Horning Blandon, PA  #8M 1048
13. Andy Cassell,  Boyertown, PA  #28 992
14. Lou Egrie,  Willow Grove, PA  #X4 970
15. Dirk Rimrott, Phoenixville, PA  #92 620
16. Dan Hoffman,  Hatfield, PA  #19D 608
17. George Irwin,  Chester Springs, PA  #2D/177 387
18. Damon Neff,  Souderton, PA  #79 374
19. Dan Ogin,  Bechtelsville, PA  #12 237
20.   Cory Merkel   Gilbertsville, PA  #16 146
 UNOFFICIAL  POINT STANDINGS FOR NASCAR
SPORTSMAN AS OF JUNE 17, 2017
1. Brian Hirthler, Green Lane, PA  #4* 1667*
2. Ryan Lilick, Collegeville, PA  #142 1488**
3. Louden Reimert,  Oley, PA  #58 1367
4. Brad Grim,  Coplay, PA   #23 1314
5. Ryan Beltz, Barto, PA  #221 1263
6. Mike Mammana, Allentown, PA  #44E/31 1200
7. Jim Housworth, Reigelsville, PA  #72 1176
8. Craig Whitmoyer, Hamburg, PA  #99 1171*
9. Mark Kemmerer, Green Lane, PA , PA  #F10 1149
10.. Dylan Swinehart, Fleetwood, PA  #38 1124*
11. Mike Lisowski,  Minersville, PA  #15 1119*
12. Dean Bachman, Emmaus, PA  #65 1117
13. Brad Arnold, Sinking Springs, PA   #830 1106
14. Kyle Lilick,  Collegeville, PA  #104 1102*
15. Ryan Higgs, Nazareth, PA  #16 1051*
16. Kurt Bettler  Hellertown, PA  #54 931
17. Joe Funk, Coopersburg, PA  #14 899
18. Nathan Mohr,  E. Greenville, PA #17M 794
19. Jack Butler, Phillipsburg, PA   #5 739
20. Jeromy Guistwite, Orwigsburg, PA  #29G 723
* denotes feature win (Feature wins listed are only those that are
NASCAR point events.)