Devin Moran And Brandon Sheppard Round Out The Podium
Story By: COLBY GORNIEWICZ / WOO LATE MODEL SERIES MEDIA
Photos By: KIRK SCHROLL / RACERSGUIDE.COM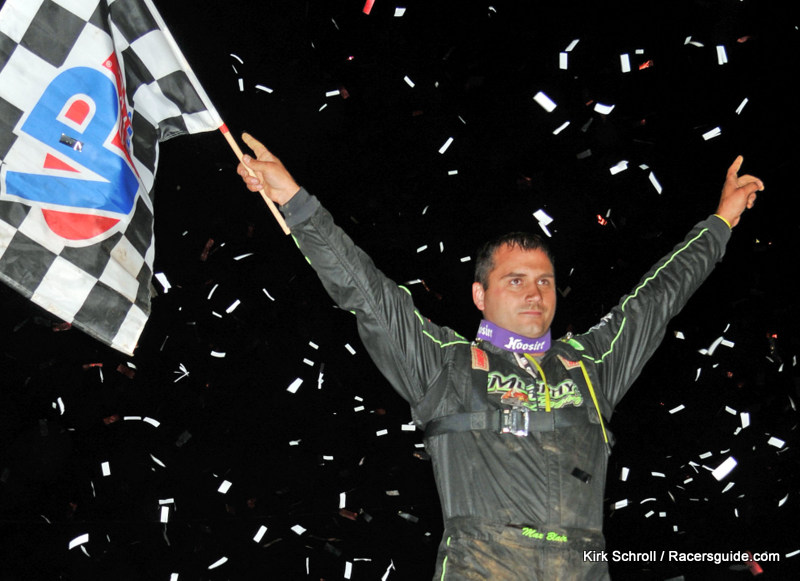 SMETHPORT, P.A.- June 21, 2017- Max Blair defended his home state by maneuvering his way to his first-ever World of Outlaws Craftsman® Late Model Series win at McKean County Raceway in Smethport, PA during the Hamlin Lake 50.
The Pennsylvania-native was joined in Victory Lane by a fan club of family and friends who rushed the track for the celebration. After embracing the moment under a shower of confetti, Blair was seemingly at a loss for words trying to describe his first Outlaw win.
"I never would've dreamed this would have happened to me," said Blair. "I don't even know what to say. I am so pumped up. We destroyed our car a couple of weeks ago and we've been working really hard this week to get this thing turned around and ready. We were pretty excited to come here tonight but I didn't really know what to expect. I can't believe it. I really can't."
Blair started second in the feature and was able to pass pole-sitter, Morgan Bagley, on lap 16 for the lead. The pair battled earlier in the evening during the heat race but at that time Bagley was able to fend off Blair's charges to win his first heat of the season.
Devin Moran was next to find his way to Bagley's door and then around him by lap 31. Moran then showed how powerful his Tye Twarog/ DMR machine was by steadily reeling in leader, Blair.
"This is our first time here and to get a top-five is pretty good," said Moran. "We have to keep working. I feel like we had the best car out there all night but Max did a good job. I have to give him props."
By the time the checkers fell, Blair only held .987 over Moran. The two had the fastest cars during qualifying followed by Brandon Sheppard who coincidentally rounded out the podium.
"For starting fifth on a track that is pretty hard to pass on we will take a top three tonight and go on to Lernerville where we have three nights there," said Sheppard. "That seems like a pretty fun track.
The 11th Annual Firecracker 100 at Lernerville Speedway is the next stop for the World of Outlaws Craftsman Late Model Series. The event is a three day show from June 22-24. Single day tickets as well as a three day package for the event are available here.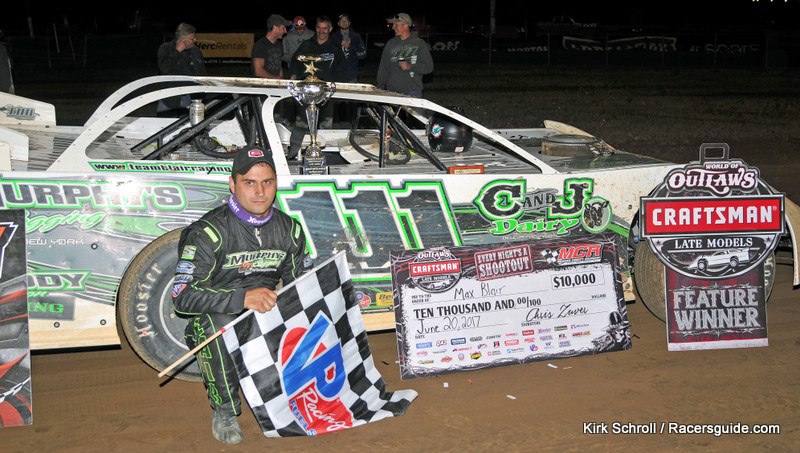 Additional Race Notes:
•Moran typically travels the tour with his father Donnie and his brothers, but tonight was a little different as it marked the first time in four years that Donnie wasn't able to spearhead the team at the track.
•Chub Frank found his way to sixth (from his twelfth-position start) where he battled Frank Heckenast Jr. for several laps. On lap 39, Frank got into Heckenast spinning him around in turn four. The no. 99jr machine didn't fully stop, so rather than being sent to the back of the field he was blended in to the field at position 14. He ultimately finished there.
McKean County Raceway Results:
Craftsman Club Feature: 1. 111- Max Blair[2]; 2. 9- Devin Moran[4]; 3. 1- Brandon Sheppard[5]; 4. 7- Rick Eckert[4]; 5. 14m- Morgan Bagley[1]; 6. 1*- Chub Frank[12]; 7. 91- Tyler Erb[7]; 8. 157- Mike Marlar[11]; 9. 25- Shane Clanton[14]; 10. 44- Chris Madden[8]; 11. 2c- Joey Coulter[15]; 12. 18- Eric Wells[10]; 13. 3- David Scott[13]; 14. 99jr- Frank Heckenast Jr[6]; 15. 7Teen- Damian Bidwell[20]; 16. 4-Ds- Chad Hollenbeck[17]; 17. 2- Dan Stone[16]; 18. 99B- Boom Briggs[9]; 19. 19- Bob Dorman[21]; 20. 18m- Mike Wonderling[24]; 21. 22- Greg Oakes[19]; 22. 44s- Dave Hess[18]; 23. 22jr- Michael Oakes[23]; 24. 11- Bobby Rohrer[22]

The World of Outlaws Craftsman® Late Model Series is brought to fans across the country by many important sponsors and partners, including: Arizona Sport Shirts (Official Apparel Company), Textron Off Road (Official Side-by-Side Vehicle), Craftsman (Official Tool), Extended Stay America (Official Hotel), Hoosier Racing Tire (Official Tire), Morton Buildings (Official Building), Sears (Official Home Store),  The Kenny Wallace Dirt Racing Experience (Official Racing Experience, VP Racing Fuels (Official Racing Fuel) and DirtonDirt.com (Hard Charger Award); in addition to contingency sponsors, including: Cometic Gasket, Comp Cams, Edelbrock, JE Pistons, JRI Shocks, MSD, Penske Shocks, QA1, QuarterMaster, Superflow Dynos and Wrisco Aluminum (Exclusive Racing Aluminum); along with manufacturer sponsors, including: Capital Race Cars, Integra Shocks, Impact Racing Products, Intercomp, Racing Electronics, Rocket Chassis and TNT Rescue.
Founded in 1978, the World of Outlaws®, based in Concord, N.C., is the premier national touring series for dirt track racing in North America, featuring the most powerful cars on dirt, the World of Outlaws Craftsman Sprint Car Series and the World of Outlaws Craftsman Late Model Series. Annually, the two series race nearly 140 times at tracks across the United States and Canada. CBS Sports Network is the official broadcast partner of the World of Outlaws. DIRTVision® also broadcasts all World of Outlaws events over the Internet to fans around the world. Learn more about the World of Outlaws.