12TH ANNUAL HONDO CLASSIC TAKES CENTER STAGE AT FONDA ON SATURDAY, JULY 1
Story By: Ron Szczerba / Fonda Speedway Media
Photos By: Harry Cella / Racersguide.com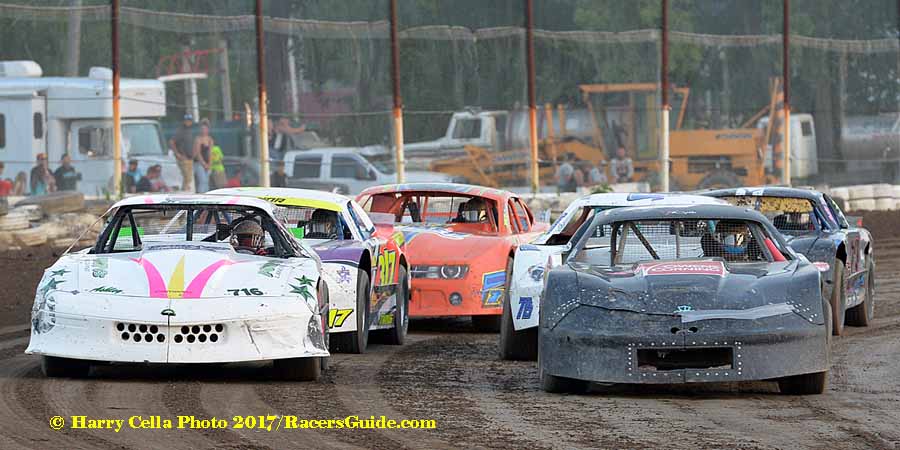 Fonda, NY – June 29, 2017- On Saturday, July 1 the pro stocks will take center stage at the "Track of Champions" Fonda Speedway as they pay tribute to one of their own. The Hondo Classic is named for Hondo Carpenter, a popular competitor in the division who lost his life in an ATV accident on July 4, 2005.
Each year dozens of supporters of this event contribute to the bonus money that is awarded along with the track purse. This year those bonuses total over $3,300.00 and will likely climb some more before the cars take to the track on Saturday.
According to the competitors, the money is always welcome but the big draw is the bragging rights. Commemorative shirts are made each year and the Friends of Hondo Memorial Society provides each competitor with one. Those shirts list all the names of the previous winners on the back and we all want to know if we will be seeing a new name on next year's edition or if it will be a repeat winner. T-Shirts will also be available for purchase at the track the day of the race.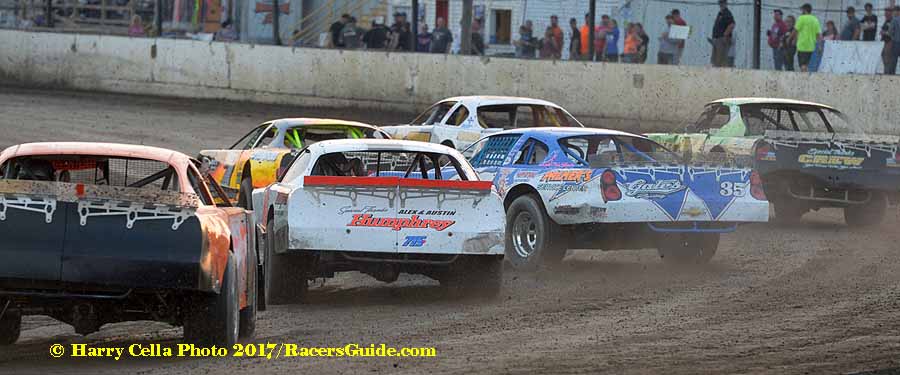 The First Annual Hondo Classic was won by Jim Burton in 2006. Nick Stone is a three-time winner of the event in 2007, 2008, and 2016 while Kenny Gates (2009, 2015) and Pete Broderson (2012, 2014) have two wins apiece. Chip Smith (2010), Rob Yetman (2011), and Kenny Martin, Jr (2013) each have one win along with Burton.
Some of the major sponsors of the event are The Wheel People Show with Ed Lamberton, Kelly's Pharmacy, Bulldog Concrete & Supply, Midtel Communications, Bobco Racing Video, and the New York State Stock Car Association (NYSSCA). Many race teams contribute to the bonus money as well. Without such support, this event would not be possible.
Each year, the organizers Kelley & Kaitlyn Keefe are asked when the last Classic will be and they respond with "as long as there is interest from the racers and support from the sponsors, we will keep it going". "We still miss Hondo every day. He loved the pro stock division and so do we. I guess that means no end is in sight."
For more information on the event, or to see how you can get involved, contact Kelley Keefe at (518) 527-8667 or email kellkeefe@aol.com
Also in action on Benjamin Moore Night at Fonda on Saturday, July 1 will be all regular divisions along with the CRSA Sprint cars. In one previous visit this year at Fonda by the CRSA Sprints, Brett Jaycox was the winner for his first career win at the "Track of Champions". Starting time for the action packed show at Fonda on Saturday, July 1 will be 7:00 p.m.
For more information about the Fonda Speedway you can go to their website www.newfondaspeedway.com and for more information about the CRSA Sprint cars you can go to their website crsa.myracepass.com
2017 HONDO CLASSIS SPONSORS
Winner                                 Derak & Christine Covey                                                                                                                                                       $199.00
Winner                                 Irwin & Sons Farm BBQ Cooler                                                                                                                                             $75.00
Winner                                 Bobco Racing Video Gift Certificate                                                                                                                                      $20.00
Winner                                 Karma Motorsports Magic Hat #9                                                                                                                                         $15.00
2nd Place                             Bulldog Concrete                                                                                                                                                                       $99.00
2nd Place                             Cindy LaRoe In Memory of David Rohs and his friend Harry Peek #27                                                                       $27.00
2nd Place                             Karma Motorsports Magic Hat #9                                                                                                                                         $15.00
3rd Place                              Edwards Food Service & Michelle Sweet In Memory of Charlie Fox                                                                           $100.00
4th Place                              Bernie Heald                                                                                                                                                                               $50.00
4th Place                              Ivan Joslin In Memory of Dave Joslin                                                                                                                                   $20.00
4th Place                              Kennedy Racing Team #22K In Memory of Jeff Taber                                                                                                      $22.00
5th Place                              Super Suds, Glenville                                                                                                                                                                 $50.00
6th Place                              Endress & Hauser                                                                                                                                                                       $50.00
7th Place                              A-1 Installers & Hollner Racing                                                                                                                                                $50.00
8th Place                              Endress & Hauser                                                                                                                                                                        $50.00
9th Place                              Mike Fritz – The Ranch #85                                                                                                                                                       $50.00
9th Place                              Ivan Joslin In Memory of Dave Joslin                                                                                                                                     $20.00
9th Place                              Jim Ellis                                                                                                                                                                                         $20.00
10th Place                           Jen & Joe Prindle                                                                                                                                                                         $20.00
10th Place                           Casey Racing                                                                                                                                                                                 $30.00
11th Place                           Jen & Joe Prindle                                                                                                                                                                          $20.00
11th Place                           Casey Racing                                                                                                                                                                                  $30.00
12th Place                           The Wheel People Show WSPDDB Maverick Radio                                                                                                             $50.00
13th Place                           Tom Coughlin In Honor of Dave Lape; In Memory of Tim Coughlin                                                                               $20.00
13th Place                           Casey Racing                                                                                                                                                                                 $40.00
14th Place                           Cosselman Racing                                                                                                                                                                        $50.00
15th Place                           A-1 Installers & Hollner Racing                                                                                                                                                 $50.00
16th Place                           Rocky Warner In Memory of Don "The Silver Fox" Warner                                                                                               $20.00
17th Place                           Bobco Racing Video                                                                                                                                                                        $9.00
18th Place                           Bobco Racing Video                                                                                                                                                                        $9.00
19th Place                           Bobco Racing Video                                                                                                                                                                        $9.00
20th Place                           Bobco Racing Video                                                                                                                                                                        $9.00
21st Place                            Bobco Racing Video                                                                                                                                                                        $9.00
22nd Place                          Tom Coughlin In Honor of Dave Lape; In Memory of Tim Coughlin                                                                                $20.00
23rd Place                           Bobco Racing Video                                                                                                                                                                        $9.00
24th Place                           Bobco Racing Video                                                                                                                                                                        $9.00
25th Place                           Bobco Racing Video                                                                                                                                                                        $9.00
26th Place                           Bobco Racing Video                                                                                                                                                                        $9.00
28th Place                           Bobco Racing Video                                                                                                                                                                       $9.00
29th Place                           Bobco Racing Video                                                                                                                                                                        $9.00
Heat Race 1 Winner        J&J Racing and INOC DataCenters                                                                                                                                             $75.00
Heat Race 1 2nd Place    J&J Racing and INOC DataCenters                                                                                                                                             $50.00
Heat Race 1 3rd Place     J&J Racing and INOC DataCenters                                                                                                                                             $25.00
Heat Race 2 Winner        J&J Racing and INOC DataCenters                                                                                                                                             $75.00
Heat Race 2 3rd Place     J&J Racing and INOC DataCenters                                                                                                                                             $25.00
Heat Race 2 2nd Place    J&J Racing and INOC DataCenters                                                                                                                                             $50.00
Heat Race 3 3rd Place     J&J Racing and INOC DataCenters                                                                                                                                             $25.00
Heat Race 3 Winner        J&J Racing and INOC DataCenters                                                                                                                                              $75.00
Heat Race 3 2nd Place    J&J Racing and INOC DataCenters                                                                                                                                              $50.00
Lap 1 Leader                       Mortensen 1M Racing                                                                                                                                                                     $20.00
Lap 2 Leader                       Catalytic Recovery                                                                                                                                                                           $20.00
Lap 2 11th Place                Andrew Millard In Memory of his Uncle Robert Sparks                                                                                                          $20.00
Lap 2 Leader                       Luke Horning                                                                                                                                                                                   $22.00
Lap 3 Leader                       Gates Racing                                                                                                                                                                                    $35.00
Lap 4 Leader                       Bernie Heald                                                                                                                                                                                    $30.00
Lap 4 Leader                       NYSSCA In Memory of Jim Langenback                                                                                                                                  $25.00
Lap 5 Leader                       NYSSCA In Memory of Jim Langenback                                                                                                                                  $25.00
Lap 5 Leader                       Gates Racing                                                                                                                                                                                   $35.00
Lap 6 Leader                       Billy Peek                                                                                                                                                                                        $20.00
Lap 7 Leader                       Stitched Creations Gift Certificate                                                                                                                                            $50.00
Lap 8 Leader                       Leeann Achzet                                                                                                                                                                              $35.00
Lap 9 Leader                       B&H Automotive In Memory of Mike Budka, Sr.                                                                                                                 $50.00
Lap 9 Leader                       J&J Racing and INOC DataCenters                                                                                                                                          $50.00
Lap 10 Leader                    Morrison Auto Repair & Towing                                                                                                                                                $25.00
Lap 11 Leader                    Pepicelli 11A Racing                                                                                                                                                                       $25.00
Lap 12 Leader                    Morrison Auto Repair & Towing                                                                                                                                                $25.00
Lap 13 Leader                    Haslun Racing                                                                                                                                                                                $50.00
Lap 14 Leader                    Duell Family Facing                                                                                                                                                                      $20.00
Lap 15 Leader                    Edwards Food Service In Memory of Charlie Fox                                                                                                                 $25.00
Lap 15 Leader                    Gates Racing Halfway Bonus                                                                                                                                                     $35.00
Lap 16 Leader                    Brian Goss, Jr. In Memory of his dad Brian Goss, Sr.                                                                                                          $20.00
Lap 17 Leader                    Dave Horning Sr. & Dave Horning, Jr.                                                                                                                                    $20.00
Lap 18 Leader                    Morrison Auto Repair & Towing                                                                                                                                               $25.00
Lap 19 Leader                    Williams Auto Parts                                                                                                                                                                     $25.00
Lap 19 Leader                    Tom Czaban                                                                                                                                                                                  $25.00
Lap 20 Leader                    Rick LaGrange                                                                                                                                                                             $25.00
Lap 21 Leader                    In Memory of Jeff Taber                                                                                                                                                            $25.00
Lap 21 Leader                    Betty Filkins In Memory of her dad Charlie Peck                                                                                                                $20.00
Lap 22 Leader                    Luke Horning                                                                                                                                                                              $20.00
Lap 22 Leader                    Kennedy Racing Team #22K In Memory of Jeff Taber                                                                                                      $22.00
Lap 22 Leader                    Tom Coughlin In Honor of Dave Lape; In Memory of Tim Coughlin                                                                             $20.00
Lap 23 Leader                    Fox23 Fast Track Alumni                                                                                                                                                          $23.00
Lap 24 Leader                    Speed's Garage                                                                                                                                                                            $20.00
Lap 25 Leader                    Brian Goss, Jr. In Memory of his dad Brian Goss, Sr.                                                                                                        $20.00
Lap 26 Leader                    Aaron Burton                                                                                                                                                                               $26.00
Lap 27 Leader                    Stone Motorsports                                                                                                                                                                     $27.99
Lap 28 Leader                    Morrison Auto Repair & Towing                                                                                                                                            $25.00
Lap 29 Leader                    Thirty One by Melanie                                                                                                                                                              $20.00
Hondo's Lunch Last Place Finisher Joe Achzet                                                                                                                                                                $25.00
NYSSCA Bonus 1st NYSSCA Member In Memory of Jim Langenback                                                                                                                       $54.00
Fastest Lap in Feature The Wheel People Show WSPDDB Maverick Radio                                                                                                              $99.00
Fastest Lap in Heats Vehicle Maintenance and Vehicle Operations at 109th Stratton Air National Guard Base                                              $50.00
Hard Charger The Wheel People Show WSPDDB Maverick Radio                                                                                                                               $99.00
Hard Luck (to a driver that doesn't make the show) The Wheel People Show WSPDDB Maverick Radio                                                           $50.00
Highest Finishing Rookie Cosselman Racing                                                                                                                                                                      $50.00
Total $3,317.99