Racing Action Includes 410 Sprints, Super Late Models, 305 Sprints And Xtreme Stocks
Press Release By: SHAWN BROUSE/ PORT ROYAL SPEEDWAY MEDIA
Photos By: DAN DEMARCO / RACERSGUIDE.COM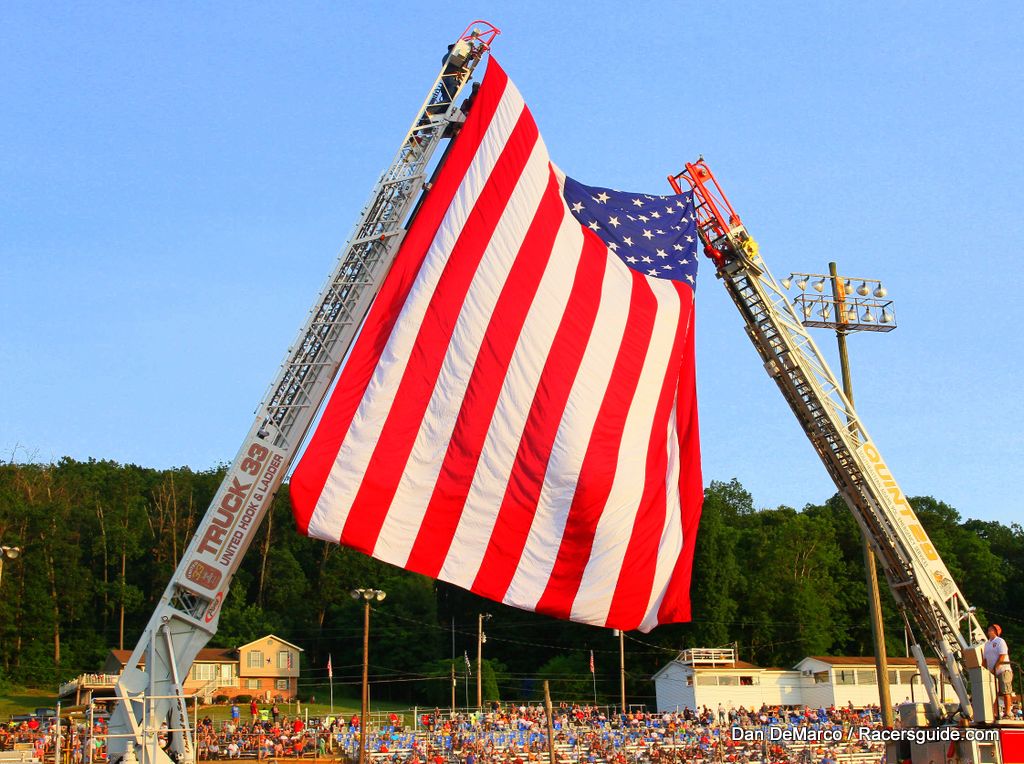 Port Royal Pa.- June 20, 2017-  Presented by Glick Fire Equipment, PinnacleHealth and The Firestore, Port Royal Speedway will host Juniata County Fire and Rescue/EMS Night this Saturday, June 24 at 7 pm, honoring all Juniata County first responders.
June 24 will also be another Camera & Autograph Night with fans who purchase a general admission ticket granted access to the pit area from 5 – 6 pm.
Racing action will include the Weikert's Livestock 410 sprints, the River Valley Builders super late models, the Creasy Signs 305 sprints and the Juniata Junction xtreme stocks.
All emergency response EMS and fire companies in Juniata County are expected to have numerous pieces of apparatus on display for the night along with a half dozen pieces of equipment from Glick Fire Equipment of Bird In Hand.
Kids ages 12 and under will be given fire truck Rides on speedway grounds from 5 – 6 pm.
And a parade of all units on display will take place around the speedway during intermission.
The speedway rescue crew will host a kids candy scramble at 6:15 in the infield for ages 12 and under.
Event sponsors Glick Fire Equipment, PinnacleHealth and The Firestore are proud to partner with Port Royal Speedway to again present this special night at the track.
"PinnacleHealth is dedicated to maintaining and improving the health and quality of life for people in our region. We recognize EMS practitioners and the important work they do in responding to medical emergencies," says Leigh-Ann Reitze of PinnacleHealth.
"They are often the first step in helping a patient reach our doors. We are proud to honor the accomplishments of the men and women who perform life-saving services every day. We share their dedication to continued service to our community, and celebrate each EMS practitioner's individual effort and the personal sacrifices each makes to serve others."
Glick Fire Equipment is one of the areas leading fire and rescue equipment suppliers and dealers, specializing in Pierce brand fire engines and returns for a second year to put on the show.
Serving Pennsylvania and Virginia, The Firestore was founded in 1996 and provides public safety professionals an outlet to purchase the most up to date and state of the art gear made by the biggest names in the public safety industry.
Visit all three company websites to learn more at www.thefirestore.com, www.glickfire.com, and www.pinnaclehealth.com.
Adult general admission for the show is $15 with students ages 12 – 18 admitted for $7.
Stay up to date with all the latest Port Royal news and information by visiting the oval's official website at www.portroyalspeedway.com or by following the track on Facebook or Twitter.