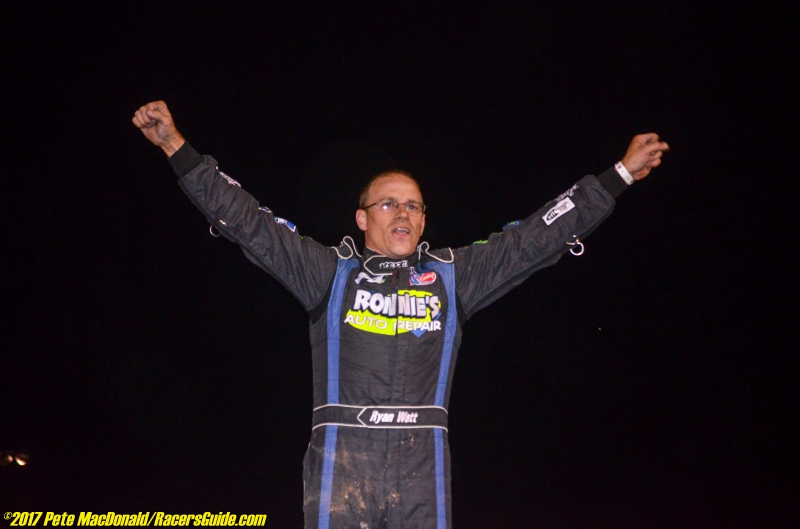 Ryan Watt Earns Delaware First In 'Diamond State 50' Short Track Super Series Conquest After Late-Race Dramatics
Story By: BRETT DEYO / STSS MEDIA
Photos By: Pete MacDonald/RacersGuide.com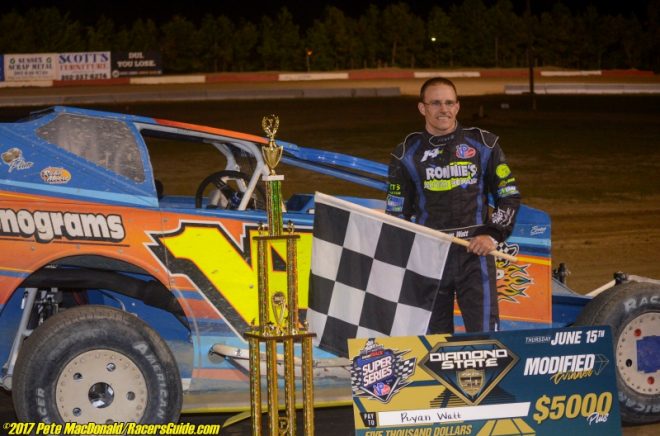 DELMAR, DE – June 16, 2017- For the first time in the First State, Ryan Watt found Victory Lane.
Watt, of Boyertown, Pa., scored a thrilling Thursday night win at Delaware International Speedway, topping the 'Diamond State 50' Bob Hilbert Sportswear Short Track Super Series Fueled By VP big-block/small-block Modified event.
Watt pocketed $5,000-plus for his efforts in the Ron Roberts-owned car in Round No. 3 of the STSS Velocita South Region.
"We've wanted to win one down here (in Delaware) bad," Watt said after climbing to the roof of his No. 14W before an appreciative crowd. "I always run well here and at Georgetown (Del.), I like the size and shape of these tracks. We've been close but we finally got one."
Watt started 11th via a redraw of top heat-race qualifiers. During the early portions of the 50-lap main, however, he had dropped back to 17th! Meanwhile, pole starter David Van Horn Jr. and Duane Howard traded the lead in the very early portions of the program.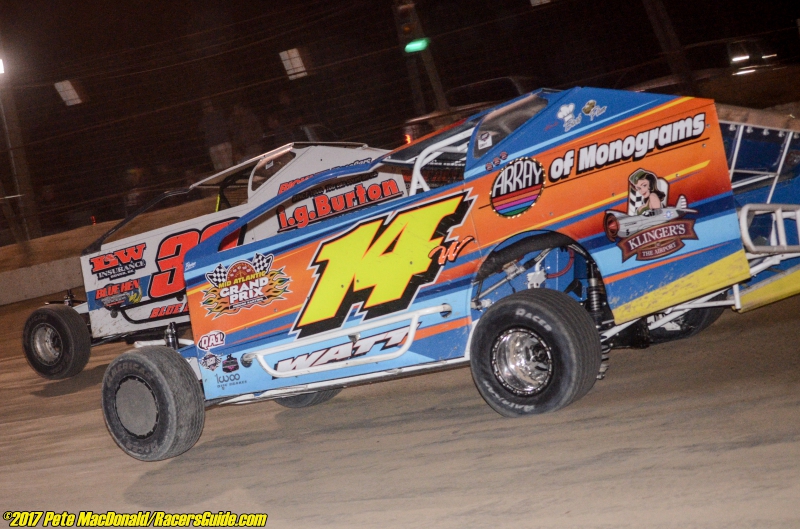 From eighth on the grid, Stewart Friesen throttled into third by the fourth tour of the half-mile oval as Howard established his position out front in Norm Hansell's No. 357.
On lap 18, Friesen throttled past Van Horn for second. After three laps of side-by-side racing, Friesen's Halmar International small-block took over the top spot.
Through a series of mid-race restarts, PA star Howard kept Friesen on his toes – at times pulling even with the leader.
As time wound down and the extreme outside lane of the track came to life, Watt saw his time to shine.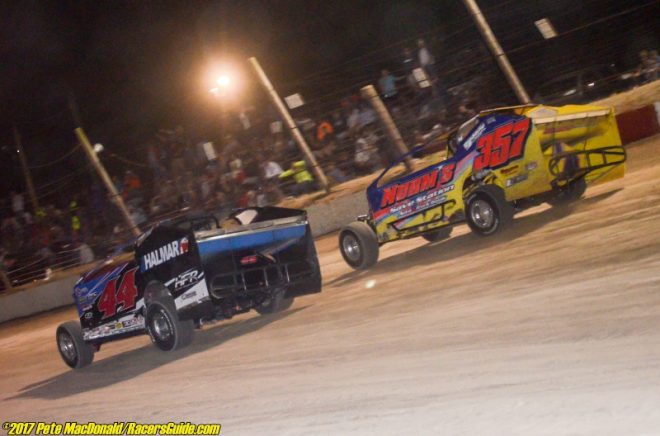 On lap 38, Watt sat sixth. Two laps later, he had sliced through the top-five to run second, behind only Friesen.
On lap 42, Watt appeared to have the momentum to sweep by Friesen. However, Friesen moved up the track in turns three and four to block the advance, causing Watt to hop the cushion.
A caution on lap 44 changed the race's complexion.
On the double-file restart, Friesen surged off the bottom to lead down the frontstretch. When Friesen went to the top in turn one, his car caught the cushion and momentarily pushed. Watt darted to the inside and ended up the leader over Howard, with Friesen shuffled to fourth as a rim-riding Frank Cozze entered the top-three.
Unfortunately for Cozze, the front-end gave way on the Adirondack Auto No. 35 on the 47th tour and he spun off the backstretch, drawing the race's final yellow.
Watt was able to outdistance the field to etch his name on the list of Delaware International feature winners. Watt now owns two career STSS victories, the first coming on May 17, 2016 at Big Diamond Speedway in Minersville, Pa.
Howard, of Oley, Pa., settled for runner-up pay ($3,000) after contending for the entire distance. Sprakers, N.Y.'s Friesen ended up third, with Brett Kressley of Orefield, Pa., completing a strong drive in fourth spot. Jordan Watson of Milford, Del., climbed from 21st on the grid to fifth in his No. 1W small-block, earning the $200 Hard Charger Award from Hurlock Auto & Speed Supply.
Completing the top-10, respectively, were Jeff Strunk of Boyertown, Pa., in the Keystone Racing No. 126; Rick Laubach of Hellertown, Pa., back in the Ryan Kerr No. 1K after starting 19th; Billy Pauch Jr. of Milford, N.J., from 15th in the Daniel Sommeling No. 51; Jamie Mills of Milford, Del., recovering from a pair of spins; and Anthony Perrego of Montgomery, N.Y., in his first STSS South start of the season.
A talent-laden 34-car field of STSS Modifieds signed in at the series' southernmost stop. Heat winners were Friesen, Dale Hawkins, Kressley and Strunk. Watson topped the 14-car consolation.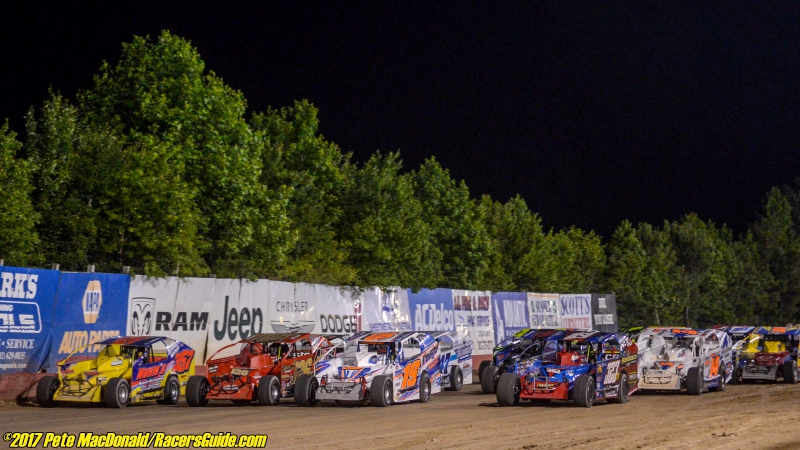 The accompanying 20-lap Crate 602 Sportsman main saw red-hot Matt Stangle of Neshanic, N.J., take home the $1,000 payday. Much of the race saw a series of slide jobs involving Mike Hough and Jordn Justice. After Justice got command, Stangle followed into second.
One slight bobble by Justice was all Stangle needed to take a lead he wouldn't relinquish. Justice, the defending track champion, turned his luck around in second, followed by Dwayne Crockett, Scott Hitchens (after an opening-lap tangle) and Hough.
The Delmarva Chargers saw Scott Calhoun earn a 12-lap victory and Robert Smith earned the 12-lap Delaware Super Truck nightcap.
Next up for the STSS is a visit to Afton Motorsports Park in Afton, N.Y., for the 'Afton Action 50' paying $5,000 to the big-block/small-block Modified racers of the Halmar International North Region and $400 to take the green. Also on the card: Crate 602 Sportsman (American Racer Cup Challenge) and FWD Four Cylinders.
To learn more about the Short Track Super Series Fueled By VP or BD Motorsports Media LLC, visit www.shorttracksuperseries.com or www.bdmotorsportsmedia.com, call 845.728.2781 during business hours, e-mail bdmotorsportsmedia@gmail.com, "like" Short Track Super Series on Facebook or follow @ShortTrackSS on Twitter.
DIAMOND NUGGETS: A late-arriving, but strong crowd took in the 'Diamond State 50' which was originally scheduled as a Thursday night kick-off to Memorial Day weekend but fell to rain. The event also served as the second round of the 'Full Throttle' series….
Billy Pauch Sr. was done before qualifying with apparent driveline issues on his retro No. 15….
Kenny Brightbill returned to Modified racing in the Keith Coulbourne No. 55. Brightbill's wife, Carol, was active with 50th anniversary apparel sales, while Kenny reminisced with fellow racers and fans….
Danny Johnson transferred to the redraw with the Jeff Brown orange No. 27J. However, the team needed a back-up car for the main. Starting last, 'the Doctor' had climbed to just outside the top-five before retiring to the pit area….
An incident during the Delmarva Charger feature required outside medical attention. Despite the delay of nearly an hour, the Modified feature was completed by 10:30 p.m. in a fast-paced program….
The 2017 Short Track Super Series is presented by American Racer/Lias Tire, VP Racing Fuel, Bob Hilbert Sportswear, Halmar International, Allstar Performance, ATL Racing Fuel Cells, Behrent's Performance Warehouse, Bicknell Racing Products, Dirt Track Digest, Fast Axle, Fox Racing Shocks, Hig Fab, Henry's Exhaust, HyperCo, Keizer Wheels, Kirkey Racing Fabrication, K&N, QA1, Race Pro Weekly, Racing Optics, Speed51.com, Teo-Pro Car, Velocita, Weld & Wilwood.
'DIAMOND STATE 50' RESULTS SUMMARY – DELAWARE INTERNATIONAL SPEEDWAY JUNE 15, 2017
Bob Hilbert Sportswear Short Track Super Series Fueled By VP Velocita South Region Event No. 3 Modified Feature Finish (50 laps): RYAN WATT, Duane Howard, Stewart Friesen, Brett Kressley, Jordan Watson, Jeff Strunk, Rick Laubach, Billy Pauch Jr., Jamie Mills, Anthony Perrego, Jesse Hill, Jim Britt, Brad Trice, David Van Horn Jr., Frank Cozze, Danny Johnson, Ryan Godown, Craig Von Dohren, Jimmy Horton, Ron Roberts, Scott Van Gorder, H.J. Bunting, Danny Bouc, Joseph Watson, Matt Jester, Dale Hawkins, Robert Dutton, Shawn Ward.
Did Not Qualify: Kevin Sockriter, Howard O'Neal, T.J. Williams, Kenny Brightbill, Billy Pauch Sr., Michael White.
American Racer/Lias Tire Bonuses (FREE Tire): Billy Pauch Jr. (eighth) & David Van Horn Jr. (14th)
ATL Fuel Cell Bonus ($200 Certificate): Jordan Watson (fifth)
Behrent's Performance Warehouse Bonuses: Brett Kressley (fourth) & Jamie Mills (ninth)
Chesapeake Paving Halfway Leader Bonus ($100): Stewart Friesen
DTM Motorsports Fastest Hot Lap DNQ ($400 Starting Spot): Ron Roberts
Fast Axle Bonus ($50 Certificate): Jeff Strunk (sixth)
Hurlock Auto & Speed Hard Charger ($200): Jordan Watson (21st to fifth)
K&N Filters Bonuses (Air Filter): Duane Howard (second) & Brett Kressley (fourth)
Keizer Wheels Bonus (FREE Wheel): Ryan Watt (winner)
QA1 Hard Charger Bonus ($50 Certificate): Jordan Watson (21st to fifth)
VP Racing Fuels Makin' Power Positions ($50 Certificates): Duane Howard (second), Jim Britt (12th) & H.J. Bunting III (22nd)
Weld Wheels Bonus ($50 Certificate): Danny Johnson (16th)
Wilwood Brakes 'Lucky 7' Bonus ($50 Certificate): Rick Laubach (seventh)
Crate 602 Sportsman Feature Finish (20 laps): MATT STANGLE, Jordn Justice, Dwayne Crockett, Scott Hitchens, Mike Hough, Jason Rush, David Jenkins, Matt Smith, Nick Alberti, Brandon Dennis, Ryan Riddle, David Crossman, Trent Van Vorst.
Delaware Super Truck Feature Winner (12 laps): ROBERT SMITH, Jerry Hill, David Smith, Thomas LeCates, Mike Kennedy, Dale Elliott, Rocky Whitley, Billy Lockwood, Tim Quay, Kirk Miles, Dick Beauchamp, Action Jackson, Dylan Reed, Bobby Reed, Brian Meisenholder, Matt Esham.
Delmarva Charger Feature Finish (12 laps): SCOTT CALHOUN, Jay Sipple, Tanner Marvel, Robert Paczkowski, Ashley Merritt, Bud Sipple, Randy Merritt, Earl Truitt, Ben Knotts.