THIS SUNDAY, JUNE 18, WITH KING OF DIRT SPORTSMAN AND PRO STOCK SERIES, CRSA SPRINTS, AND GATES-COLE AUTO INSURANCE MODIFIEDS ALL IN ACTION
Press Release By: JOHN TIFF / UTICA ROME SPEEDWAY MEDIA
Photos By: MATT NOLES / RACERSGUIDE.COM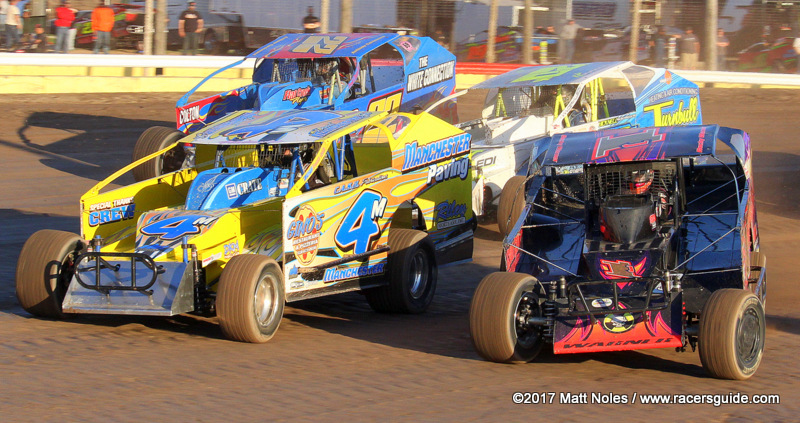 VERNON, NY- June 15, 2017- After a two-week hiatus due to a rainout and the speedway's first ever motocross event, action is set to return to the spacious half-mile oval at the Utica-Rome Speedway this Sunday, June 18, in a big way.  Community Car Wash and Bill Herrig Auto Parts will present the King of Dirt Series for both the Sportsman and Pro Stocks plus the headlining Gates-Cole Auto Insurance Modifieds along with the CRSA Sprints.  Bring you Dad or Grandfather to the races for an exciting night of short track DIRTcar racing action.
Matt Sheppard lead the point standings over an extremely talented field of Gates-Cole Auto Insurance Modifieds over Danny Varin, Pat Ward, Bobby Varin, Tim Fuller, Mike Mahaney, Marc Johnson, Rob Bellinger, Claude Hutchings Jr., and Alan Johnson.  Sheppard has found victory lane in the past two events, will his streak end this Sunday or will someone take home the checkered flag?
The King of Dirt Sportsman Series will invade Utica-Rome Speedway this Sunday for a 30 lap $1,000 to win affair.  Many of the top Sportsman teams in the region are expected to be attendance looking for the big payday.  Track regulars in the Broedel Energy Sportsman division such as Matt Janczuk, Chris Mackey, Kyle Inman, AJ Filbeck, and Brent Joy are just some of the weekly drivers looking to defend their home turf.  The King of Dirt Sportsman standings show Chad Edwards as the current series point leader with Tim LaDuc, Cody Bleau, Adam Pierson, Andrew Buff, David Schilling, Kevin Chaffee, Jackie Brown Jr., Justin Severance, and Jeff Watson filling out the top ten.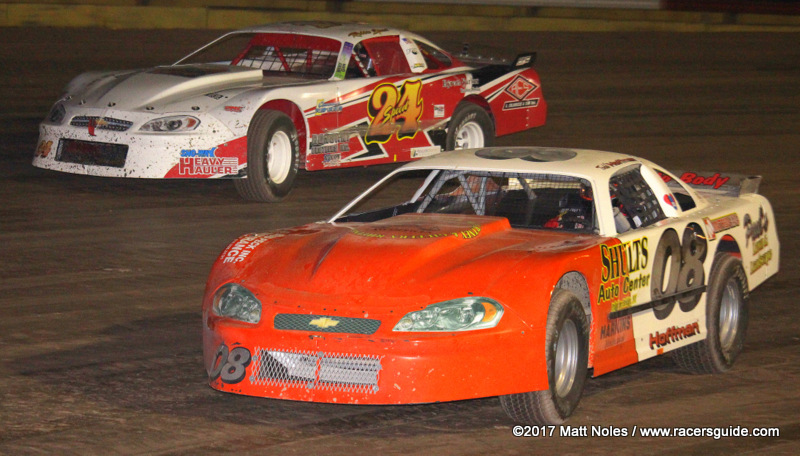 The King of Dirt Pro Stock Series will also on hand with many of the Utica-Rome Speedway weekly drivers in the top ten.  Track point leader Mike Welch along with Luke Horning, Nick Stone, Todd Hoffman, and Shane Henderson will lead the Utica-Rome banner against the visiting Pro Stock teams.  A quick look at the King of Dirt Pro Stock standings shows Kenny Martin Jr., Horning, Robbie Speed, Rob Yetman, Brandon Emigh, Stone, Dave DePaulo, Dan Older, Jason Casey, and Norm Loubier holding down the top ten spots.  The Pro Stocks will also compete in 30 lap event which will pay $700 to the victor.
The CRSA Sprints will make their only visit to the Utica-Rome Speedway this Sunday, and if their past show at the Vernon oval are any indication, it should be another thrilling show.  Their past several visits have been decided in the late stages of their main event with three or more drivers swapping the lead spot looking for the win.  Last season, Eddie Strada III and Mike Kiser earned hard fought wins during their visits.  So far, Thomas Radivoy leads the CRSA standings over Brett Jaycox, Jeff Trombley, Eddie Strada, Christian Rumsey, Dustin Purdy, Sydney Prince, Dana Wagner, Jerry Sehn, and Dalton Herrick.
Gates for this exciting show open at 3:30 p.m. with racing set to begin at 6 p.m.  Grandstand admission is set at $16 for adults while kids 16 and under are free.  Pit admission is $27 with a license and $30 without a license.
For more information on upcoming events plus full point standings, news, and more, be sure to visit us at www.uticaromespeedway.com, or look for on various social media platforms such as Facebook, Twitter, or Snapchat.  The speedway office can be contacted by calling (315) 829-4557.