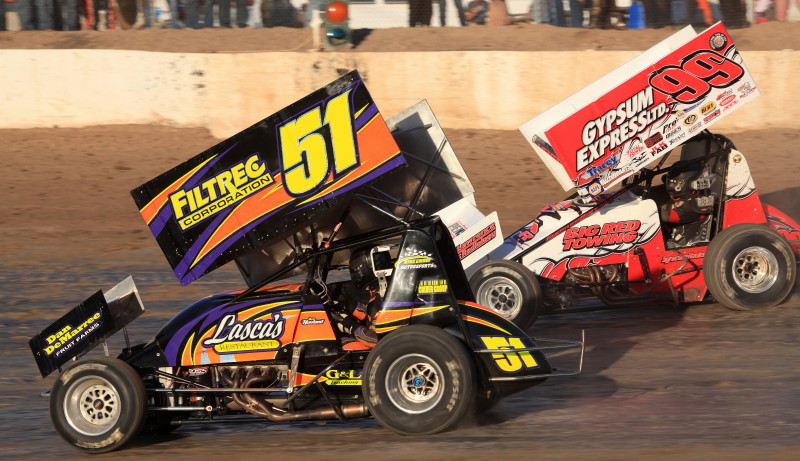 Sprint Cars, Big Block Modifieds, Fireworks Headline Fulton Speedway Saturday, July 1 Racing
Story By: Dave Medler/Fulton Speedway
Photos By: Jay Fish/RacersGuide.com
FULTON, NY – June 28, 2017 – Fireworks on the track and in the sky will kick off the month of July this Saturday, July 1 on NAPA Auto Parts night.
The winged beasts of the Lucas Oil Empire Super Sprints will be at the speedway for night #4 of Donath Motor Worx Speedweek. Annually Speedweek attracts some of the best 360 Sprint Car drivers in the Northeast as they do battle for A-Main wins and the overall champion.
Joining the Sprint Cars will be the 800 horsepower, ground pounding Tracey Road Equipment Big Block Modifieds, SUNY Canton Sportsman, Billy Whittaker Cars & Trux Late Models, E&V Energy Novice Sportsman and a huge Fireworks display.
Coming into Saturday ESS Speedweek the question is can anyone stop Quebec's Steve Poirier two-race win streak?
July 6, 2013 – Bryan Howland
July 5, 2014 – Jason Barney
July 4, 2015 – Steve Poirier
July 2, 2016 – Steve Poirier
Adult grandstand admission is $20 with everyone 18 years old and younger FREE. Pit admission is $35. Grandstands open at 5:00 with racing at 7:00.
The Fulton Speedway is excited to welcome major marketing partner NAPA Auto Parts.
From the NAPA Know How Pit Area to a weekly presence of NAPA Auto Parts employees, think of your Syracuse area NAPA Auto Parts for your track, highway, industrial or off-road needs.
Since 1936, NAPA continues to serve auto service professionals, do-it-yourselfers and everyday drivers with quality parts and supplies to keep cars, trucks and equipment performing safely and efficiently.
In the U.S., NAPA now includes over 60 distribution centers, 15,000 NAPA Auto Care Centers and more than 6,000 independently-owned and company-owned stores. NAPA carries an extensive inventory of more than 400,000 parts for automotive and industrial applications.
To find a NAPA near you please visit www.napaonline.com and also like the Syracuse area NAPA Facebook page at www.facebook.com/NAPA.NewYork.Pennsylvania . Remember to support those who support racing.
Any questions you might have and for marketing opportunities please contact Cory Reed at cory@fultonspeedway.com. For the latest news visit www.fultonspeedway.com. Like the track Facebook page www.facebook.com/FultonSpeedway.