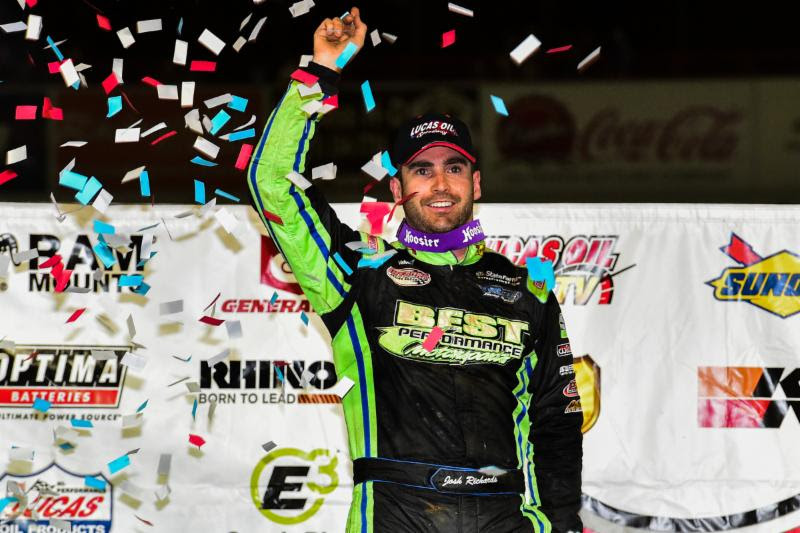 Richards Takes Second Straight Lucas Oil Victory
Story By: Jeremy Shields/LOLMDS
Photos By: Heath Lawson/LOLMDS
WHEATLAND, MO (July 15, 2017) – Current Lucas Oil Late Model Dirt Series points leader, Josh Richards extended his lead over his competitors as he won the CMH Diamond Nationals on Saturday night at Lucas Oil Speedway. For the 29-year-old driver in his first season of following the tour, it was his seventh series win of the year and his first ever at the Wheatland, MO facility.
Jimmy Owens looked to be on his way to another victory at the track, but Richards, tracked him down and took the lead with 8 laps to-go. Owens then got too high in turn four while trying to get back around Richards and his car stalled with three laps remaining in the race. Richards then went unchallenged for the win.
"We weren't very fast in hot laps or qualifying. We basically went with the same set-up as last night, and then we made some adjustments. We weren't that great at the beginning, but the longer the race went, the tires on the car felt good; I hate it for Jimmy though. I saw that he tried to get back by me on the outside and he got up close to the wall and the car must have stalled or something."
The race went the first 57 laps caution-free until Owens brought out the only caution of the race. The long green-flag conditions helped Richards out he said. "Jimmy was pretty good early, and he was so far out there, but he eventually came back to us. We just have to focus on being fast, the last two nights helped a lot. It can turnaround in a heartbeat."
The Eric and Kelly Brock-owned Best Performance Motorsports Rocket is powered by a Durham Racing Engine and sponsored by Bulk Material Lift.com, Peoples National Bank, Corey Frazier-State Farm Insurance, Valvoline, Keyser, Riggs Motorsports, Integra, Sunoco, and Alexander Lawn and Garden.
Hudson O'Neal started on the outside of row number one and trailed Owens for the first 37 laps of the race until Richards went by him. At one-point Hudson O'Neal had pulled to within two car lengths of Owens in traffic, but Owens pulled out to a straightaway lead after that.
Don O'Neal made a late-race charge, passing his son to move into third-place. After the caution for Owens, O'Neal fought off challenges from his son and his Clint Bowyer Racing-teammate, Darrell Lanigan, who came home in third.
"We still have some work to do to catch the number 1 car, but we are getting there," said the 2014 LOLMDS National Champion, Don O'Neal. "We have a third last night and a second tonight, so we are getting close to having this Peak Antifreeze and Coolant and Cometic Gasket car back to Victory Lane.
"We keep coming up short, but we have got to keep digging. We were good out in the open and with traffic. This was a new car last night and we are happy to keep getting these podium finishes. If we keep running like this, the wins will come."
Lanigan commented on his podium finish as well. "Tonight was a good night for the Clint Bowyer team. On that final restart, I thought I could roll the top and go by those guys ahead of me, but it just didn't work out as I had planned."
Completing the top ten were Tim McCreadie, Dennis Erb Jr., Jake O'Neil, Earl Pearson Jr. and Steve Francis.
Lucas Oil Late Model Dirt Series
Race Summary
Saturday, July 15th, 2017
11th Annual CMH Diamond Nationals
Lucas Oil Speedway – Wheatland, MO
Miller Welders Fast Time Group A: Will Vaught / 15.555 seconds
Miller Welders Fast Time Group B: Don O'Neal / 15.505 seconds
Eibach Springs Heat Race #1 Finish (10 Laps, Top 4 Transfer): Jimmy Owens, Will Vaught, Earl Pearson, Jr., Scott Bloomquist, Jeremy Grady, Gregg Satterlee, JC Wyman, Al Humphrey, Austin Rettig, Cody Holtkamp
FK Rod Ends Heat Race #2 Finish (10 Laps, Top 4 Transfer): Steve Francis, Payton Looney, Jason Papich, Tim McCreadie, Clay Daly, Randy Timms, Brantlee Gotschall, Raymond Merrill, Bob King
Simpson Performance Products Heat Race #3 Finish (10 Laps, Top 4 Transfer): Hudson O'Neal, Don O'Neal, Jesse Stovall, Brian Shirley, Logan Martin, Scott Crigler, Tony Jackson, Jr., Rodney Sanders, Boom Briggs
QA1 Heat Race #4 Finish (10 Laps, Top 4 Transfer): Darrell Lanigan, Josh Richards, Dennis Erb, Jr., Jacob Magee, Jake O'Neil, Kolby Vandenbergh, Terry Phillips, Cole Wells, Will McMillen
Penske Racing Shocks B-Main #1 Finish (12 Laps, Top 3 Transfer): Randy Timms, Gregg Satterlee, Clay Daly, Brantlee Gotschall, JC Wyman, Raymond Merrill, Jeremy Grady, Al Humphrey, Bob King, Austin Rettig-DNS, Cody Holtkamp-DNS
Fast Shafts B-Main #2 Finish (12 Laps, Top 3 Transfer): Jake O'Neil, Logan Martin, Terry Phillips, Rodney Sanders, Boom Briggs, Kolby Vandenbergh, Scott Crigler, Cole Wells, Will McMillen, Tony Jackson, Jr.
Feature Finish (60 Laps):
FINISH
START
CAR #
DRIVER NAME
HOMETOWN
EARNINGS
1
8
1R
Josh Richards
Shinnston, WV
$12,800
2
6
5
Don O'Neal
Martinsville, IN
$6,400
3
4
14
Darrell Lanigan
Union, KY
$4,200
4
2
71
Hudson O'Neal
Martinsville, IN
$3,550
5
10
00
Jesse Stovall
Billings, MO
$2,250
6
15
39
Tim McCreadie
Watertown, NY
$2,500
7
12
28E
Dennis Erb, Jr.
Carpentersville, IL
$2,200
8
18
2T
Jake O'Neil
Tucson, AZ
$1,300
9
9
1
Earl Pearson, Jr.
Jacksonville, FL
$2,000
10
3
15
Steve Francis
Bowling Green, KY
$1,800
11
5
1V
Will Vaught
Crane, MO
$1,075
12
13
0
Scott Bloomquist
Mooresburg, TN
$2,050
13
26
20x
Rodney Sanders
Happy, TX
$1,025
14
7
15P
Payton Looney
Republic, MO
$1,000
15
1
20
Jimmy Owens
Newport, TN
$1,900
16
14
3s
Brian Shirley
Chatham, IL
$1,000
17
21
32B
Clay Daly
Salinas, CA
$1,000
18
20
36
Logan Martin
West Plains, MO
$1,000
19
17
5T
Randy Timms
Wheatland, OK
$1,000
20
19
22
Gregg Satterlee
Rochester Mills, PA
$1,700
21
23
99B
Boom Briggs
Bear Lake, PA
$1,700
22
11
91P
Jason Papich
Nipomo, CA
$1,000
23
16
10m
Jacob Magee
Caney, KS
$1,000
24
24
43
Jeremy Grady
Story City, IA
$1,000
25
22
75P
Terry Phillips
Springfield, MO
$1,000
26
25
56
Tony Jackson, Jr.
Lebanon, MO
$1,000
Race Statistics
Entrants: 37
Lap Leaders: Jimmy Owens (Laps 1 – 51); Josh Richards (Laps 52 – 60)
Cautions: Jimmy Owens (Lap 57)
Lucas Oil Late Model Dirt Series Provisionals: Boom Briggs
Miller Welders Fast Time Provisional: Jeremy Grady
Lucas Oil Midwest Latemodel Racing Association Provisionals: Tony Jackson Jr.; Rodney Sanders
Lucas Oil Late Model Dirt Series Emergency Provisionals: n/a
Wrisco Feature Winner: Josh Richards
Optima Batteries Hard Charger of the Race: Rodney Sanders (Started: 26th; Finished: 13th; Advanced Positions)
Midwest Sheet Metal Spoiler Challenge Point Leader: Josh Richards
Allstar Performance Power Move of the Race: Darrell Lanigan
Sunoco Race for Gas Highest Finisher: Josh Richards
Hot Rod Processing Rookie of the Race: Hudson O'Neal
COMP Cams Engine Builder of the Race: Durham Racing Engines
Ohlins Shocks Chassis Builder of the Race: Rocket Chassis
Outerwears Crew Chief of the Race: Anthony Burroughs (Don O'Neal)
Fastest Lap of the Race: Jimmy Owens (Lap #1 – 16.7414 seconds)
Safecraft Most Laps Led: Jimmy Owens
PFC Brakes Pole Award: Jimmy Owens
Time of Race: 21 minutes 35 seconds