Mark Smith is Once Again The King of the 360's
Story By: BRYAN HULBERT / ASCA SERIES MEDIA
Photos By: TOMMY HEIN / RACERSGUIDE.COM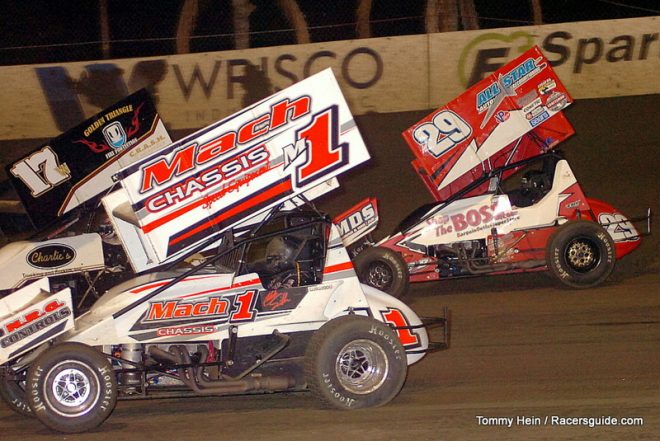 TAMPA, Fla. – February 26, 2017- For the second time, Pennsylvania's Mark Smith ended his weekend at Tampa's East Bay Raceway Park as the King of the 360's with the Lucas Oil ASCS Southern Outlaw Sprints.
While Smith gave chase early on, the race on the start saw outside pole starter, Shawn Donath, taking the early advantage over Travis Rilat. Slowed on Lap 3, Rilat was not to be counted out as the No. 29 stole the advantage by just over two tenths before the caution flew again.
Slowed again with five laps compete, Rilat had company on the restart as fourth starting, Mark Smith, began his run on the point. Giving chase and challenging until Lap 13, the following revolution saw the No. M1 advance into the top spot.
Keeping pace with Smith, the race for the lead came quickly as the top two ran to slower traffic. Trading slide jobs at both ends of the East Bay Raceway Park, Smith was able to return the favor for every pass by the No. 29.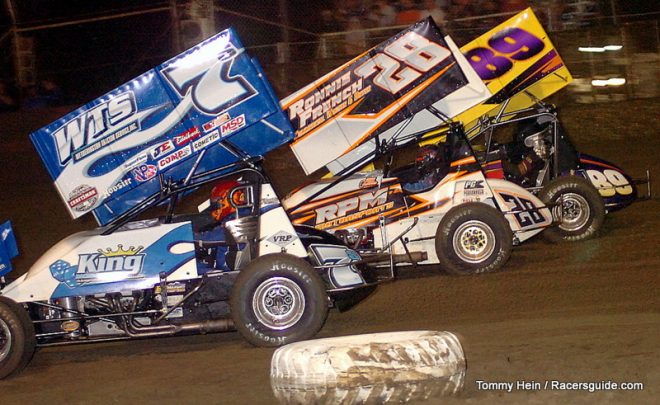 With varying slower traffic in play, that allowed Smith to gain a small advantage before the red lights blinked on for Caleb Helms on Lap 31. Helms was able to walk away unhurt. Two attempts at the restart, and both times Travis Rilat railed the cushion to a side-by-side race with Smith. Retaking the lead on the second attempt, Travis peddled hard on the high side with Smith patiently working the hub.
With the run on the thirty-fourth round, Smith rocketed back to the lead the following lap and would not be contested for his second King of the 360's title. Battling in the closing laps with a hard charging, Thomas Kennedy, the No. 21k advanced to the runner-up spot with Travis Rilat completing the night's podium.
Falling back in the early goings, Terry McCarl was able to rebound to finish fourth with Tampa's A.J. Maddox coming from 16th to complete the top-five. Chad Kemenah came home sixth with Danny Martin, Jr. seventh. Jason Sides was eighth with Tim Shaffer and Rico Abreu completing the top-ten.
East Bay Raceway Park begins their regular season on March 3, 2017. The full lineup of events can be found at http://www.eastbayraceway.com.
The Lucas Oil ASCS Southern Outlaw Sprints returns to action at Southern Raceway in Milton, Fla. on March 11, 2017. For continued updates on the American Sprint Car Series, log onto http://www.ascsracing.com.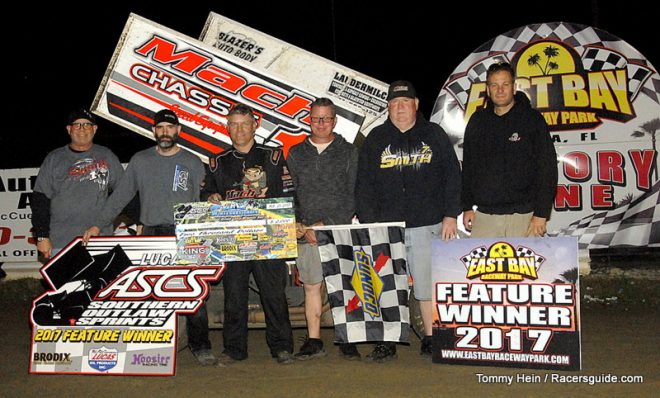 Race Results:
ASCS Southern Outlaw Sprints
 East Bay Raceway Park – Tampa, Fla.
 King of the 360's – Finale
 Saturday, February 25, 2017
Event Car Count: 63
Heat 1 (8 Laps): 1. 27-Greg Hodnett[2]; 2. 2C-Wayne Johnson[1]; 3. 87-Aaron Reutzel[3]; 4. 01-Shane Morgan[5]; 5. 26-Marshall Skinner[6]; 6. 19G-Todd Gracey[4]; 7. 88-Brandon Blenden[7]; 8. 99-Tanner Witherspoon[8]; (DNS) 29-Kyle Amerson; (DNS) 07-Jacob Wilson
Heat 2 (8 Laps): 1. 17W-Harli White[1]; 2. 28X-Phil Gressman[3]; 3. 6-Carson McCarl[2]; 4. 95-Matt Covington[4]; 5. 15H-Sam Hafertepe Jr[5]; 6. 43-Terry Witherspoon[6]; 7. 83-Mark Ruel Jr[8]; 8. 38-Ryan Moore[7]; 9. 00-Tristan Lee[9]; (DNS) 116-Nick Snyder
Heat 3 (8 Laps): 1. 23B-Brian Bell[2]; 2. 28FM-Steve Poirier[5]; 3. 14C-Coleman Gulick[1]; 4. 43H-Derek Hagar[3]; 5. 47X-Dylan Westbrook[4]; 6. 77X-Alex Hill[7]; 7. 6S-Robbie Smith[6]; 8. 61-Parker Evans[8]; 9. 9-Lane Whittington[9]; (DNS) 10-Terry Gray
Heat 4 (8 Laps): 1. 24M-Danny Martin Jr.[1]; 2. 4-Danny Smith[3]; 3. 2-Parker Price-Miller[4]; 4. 17-Caleb Helms[2]; 5. 10J-C.J. Jones[6]; 6. 22-Shawn Murray[7]; 7. 4M-Michael Miller[5]; 8. 09-Timmy Thrash[8]; (DNS) 21B-Brandon McLain
Heat 5 (8 Laps): 1. 21K-Thomas Kennedy[2]; 2. 24R-Rico Abreu[1]; 3. 28-Tommy Bryant[4]; 4. 5W-Lucas Wolfe[3]; 5. 1-Freddie McCall[6]; 6. 49-Shawn Dancer[5]; 7. 22G-Johnny Gilbertson[8]; 8. 59-Johnny Petrozelle[7]; 9. 52-Cody Karl[9]
Heat 6 (8 Laps): 1. 7S-Jason Sides[1]; 2. 49X-Tim Shaffer[2]; 3. 84-Brandon Hanks[4]; 4. 3A-A.J. Maddox[5]; 5. 10B-Mitch Brown[6]; 6. 82-Matt Kurtz[3]; 7. 14-Tony Stewart[8]; 8. 67-Steve Collins[7]; (DNS) 24D-Danny Sams III
B Feature 1 (12 Laps): 1. 49X-Tim Shaffer[2]; 2. 3A-A.J. Maddox[5]; 3. 2-Parker Price-Miller[3]; 4. 28FM-Steve Poirier[1]; 5. 87-Aaron Reutzel[4]; 6. 43H-Derek Hagar[6]; 7. 15H-Sam Hafertepe Jr[8]; 8. 10B-Mitch Brown[10]; 9. 10J-C.J. Jones[7]; 10. 22-Shawn Murray[9]; 11. 22G-Johnny Gilbertson[11]; 12. 38-Ryan Moore[14]; 13. 99-Tanner Witherspoon[13]; 14. (DNF) 00-Tristan Lee[15]; 15. (DNF) 88-Brandon Blenden[12]; 16. (DNF) 52-Cody Karl[16]; (DNS) 10-Terry Gray
B Feature 2 (12 Laps): 1. 2C-Wayne Johnson[2]; 2. 6-Carson McCarl[4]; 3. 14C-Coleman Gulick[5]; 4. 28-Tommy Bryant[3]; 5. 28X-Phil Gressman[1]; 6. 1-Freddie McCall[7]; 7. 14-Tony Stewart[11]; 8. 49-Shawn Dancer[10]; 9. 47X-Dylan Westbrook[8]; 10. 6S-Robbie Smith[12]; 11. 61-Parker Evans[13]; 12. 59-Johnny Petrozelle[14]; 13. (DNF) 82-Matt Kurtz[9]; 14. (DNF) 5W-Lucas Wolfe[6]; 15. (DNF) 9-Lane Whittington[15]; (DNS) 24D-Danny Sams III; (DNS) 07-Jacob Wilson
B Feature 3 (12 Laps): 1. 24R-Rico Abreu[2]; 2. 4-Danny Smith[1]; 3. 95-Matt Covington[5]; 4. 01-Shane Morgan[4]; 5. 26-Marshall Skinner[6]; 6. 84-Brandon Hanks[3]; 7. 17-Caleb Helms[7]; 8. 77X-Alex Hill[8]; 9. 4M-Michael Miller[12]; 10. 83-Mark Ruel Jr[10]; 11. 67-Steve Collins[15]; 12. 43-Terry Witherspoon[9]; (DNS) 19G-Todd Gracey; (DNS) 09-Timmy Thrash; (DNS) 29-Kyle Amerson; (DNS) 21B-Brandon McLain; (DNS) 116-Nick Snyder
A Feature (40 Laps): 1. M1-Mark Smith[4]; 2. 21K-Thomas Kennedy[11]; 3. 29T-Travis Rilat[1]; 4. 24-Terry McCarl[5]; 5. 3A-A.J. Maddox[16]; 6. 10H-Chad Kemenah[6]; 7. 24M-Danny Martin Jr.[10]; 8. 7S-Jason Sides[12]; 9. 49X-Tim Shaffer[13]; 10. 24R-Rico Abreu[15]; 11. 23B-Brian Bell[9]; 12. 27-Greg Hodnett[7]; 13. 4-Danny Smith[18]; 14. 53-Shawn Donath[2]; 15. 2-Parker Price-Miller[19]; 16. 89-Robbie Stillwaggon[3]; 17. 14C-Coleman Gulick[20]; 18. (DNF) 17W-Harli White[8]; 19. (DNF) 17-Caleb Helms[22]; 20. (DNF) 95-Matt Covington[21]; 21. (DNF) 2C-Wayne Johnson[14]; 22. (DNF) 6-Carson McCarl[17]; 23. (DNF) 4M-Michael Miller[23]
Lap Leader(s): Shawn Donath 1-3; Travis Rilat 4-13, 32-34; Mark Smith 14-31, 35-40;