Terry McCarl Stands Tall On Night 2 of the King of the 360's with the ASCS Southern Outlaw Sprints
Story By: BRYAN HULBERT / ASCS MEDIA
Photos By: TOMMY HEIN / RACERSGUIDE.COM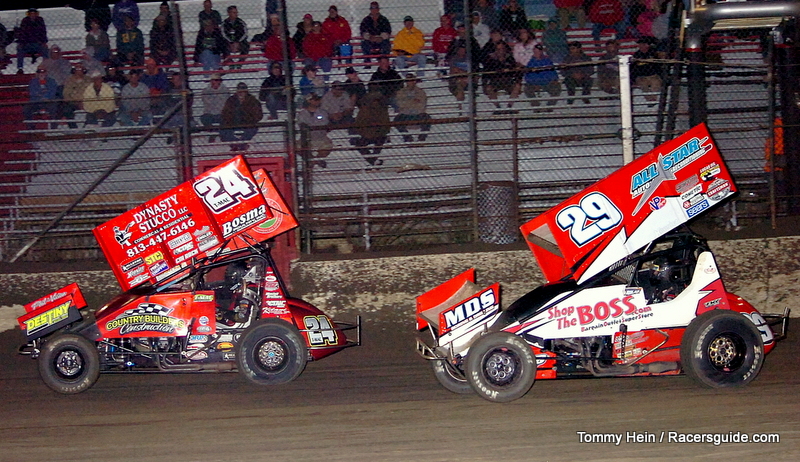 TAMPA, Fla. -February 25, 2017- The second night of competition at East Bay Raceway Park's King of the 360's and Ronald Laney Memorial ended with the defending champion in Victory Lane as Iowa's Terry McCarl mastered the low line to claim the win with the Lucas Oil ASCS Southern Outlaw Sprints.
Robbie Stillwaggon from the pole out dueled the No. 24 of Terry McCarl on the start. With the track locked to the bottom groove, the field was quick to find the tail with traffic coming into play on Lap 8.
Having fallen to third in the early laps, the race into traffic proved just what McCarl needed as Terry raced around the No. 53 of Shawn Donath on Lap 9. With Stillwaggon directly to his front wing, the No. 24 made quick work of Robbie to grab the lead on the tenth round.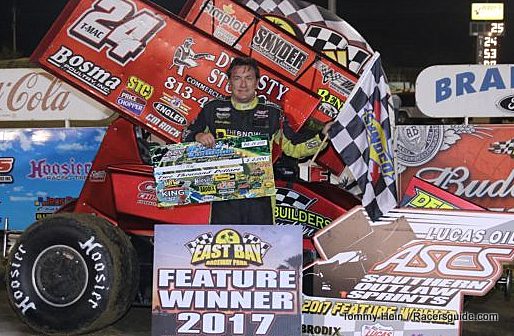 With the track clearing as the field ran to Lap 15, McCarl held a half straightaway advantage over Shawn Donath who followed McCarl to second as he passed for the lead; but the field would again find Terry.
Into the closing laps, the top-five all ran nearly nose to tail with each waiting for the other to bobble. Presenting the chance for the field to pounce, McCarl found an infield tire with six laps to run. Putting a kink in his mojo for just a moment, Terry held pace as the laps counted down, and tires began to chatter.
Crossing under the checkered flag with a small amount of Hoosier to spare, Terry was chased to the line by Shawn Donath with Robbie Stillwaggon in tow. Derek Hagar crossed fourth with Wayne Johnson completing the top-five.
Tim Shaffer found himself in sixth with Chad Kemenah seventh. Harli White, Mark Smith, and Colman Gulick made up the top-ten.
With each night counting for event points, the Top 6 in combined points locked into Saturday's $10,000 to win A-Feature and Terry McCarl, with 420 points, is the high point driver. The remaining five locked in drivers include Mark Smith (414), Shawn Donath (408), Chad Kemenah (407), Robbie Stillwaggon (407), and Travis Rilat (406). The drivers locked in will redraw for the starting position inside the first three rows.
The remainder of the field will enter with a new chance to advance to the A-Main.
The King of the 360's and Ronald Laney Memorial concludes on Saturday, February 25, 2017 with Hot Laps at 6:00 P.M. (ET). For more information on East Bay Raceway Park, log onto http://www.eastbayracewaypark.com.
For continued updates on the Lucas Oil ASCS Southern Outlaw Sprints, log onto http://www.ascsracing.com.
Race Results:
ASCS Southern Outlaw Sprints
 East Bay Raceway Park – Tampa, Fla.
 King of the 360's – Night 2
 Friday, February 24, 2017
Car Count: 62
Event Count: 63
Heat 1 (8 Laps): 1. 17-Caleb Helms[2]; 2. 84-Brandon Hanks[1]; 3. 23B-Brian Bell[4]; 4. 27-Greg Hodnett[6]; 5. 28-Tommy Bryant[8]; 6. 4M-Michael Miller[3]; 7. 21B-Brandon McLain[5]; 8. (DNF) 22-Shawn Murray[7]; 9. (DNF) 95-Matt Covington[9]
Heat 2 (8 Laps): 1. 21K-Thomas Kennedy[1]; 2. 10H-Chad Kemenah[7]; 3. 43-Terry Witherspoon[3]; 4. 28FM-Steve Poirier[6]; 5. 29-Kyle Amerson[4]; 6. 10J-C.J. Jones[8]; 7. 6S-Robbie Smith[5]; 8. 07-Jacob Wilson[2]; (DNS) 83-Mark Ruel Jr
Heat 3 (8 Laps): 1. 89-Robbie Stillwaggon[2]; 2. 6-Carson McCarl[3]; 3. 87-Aaron Reutzel[6]; 4. 24-Terry McCarl[9]; 5. 4-Danny Smith[7]; 6. 61-Parker Evans[1]; 7. 01-Shane Morgan[5]; 8. 9-Lane Whittington[4]; 9. 00-Tristan Lee[8]
Heat 4 (8 Laps): 1. 29T-Travis Rilat[1]; 2. 17W-Harli White[4]; 3. M1-Mark Smith[6]; 4. 19G-Todd Gracey[8]; 5. 77X-Alex Hill[2]; 6. 38-Ryan Moore[5]; 7. 99-Tanner Witherspoon[3]; 8. (DNF) 52-Cody Karl[9]; 9. (DNF) 67-Steve Collins[7]
Heat 5 (8 Laps): 1. 49X-Tim Shaffer[2]; 2. 2C-Wayne Johnson[4]; 3. 24M-Danny Martin Jr.[5]; 4. 14C-Coleman Gulick[8]; 5. 7S-Jason Sides[7]; 6. 2-Parker Price-Miller[6]; 7. 24D-Danny Sams III[3]; 8. 09-Timmy Thrash[1]; (DNS) 116-Nick Snyder
Heat 6 (8 Laps): 1. 53-Shawn Donath[2]; 2. 5W-Lucas Wolfe[1]; 3. 47X-Dylan Westbrook[3]; 4. 24R-Rico Abreu[7]; 5. 3A-A.J. Maddox[4]; 6. 49-Shawn Dancer[6]; 7. 10B-Mitch Brown[5]; 8. 59-Johnny Petrozelle[8]
Heat 7 (8 Laps): 1. 82-Matt Kurtz[1]; 2. 43H-Derek Hagar[8]; 3. 88-Brandon Blenden[2]; 4. 28X-Phil Gressman[5]; 5. 1-Freddie McCall[3]; 6. 26-Marshall Skinner[7]; 7. 15H-Sam Hafertepe Jr[6]; 8. 22G-Johnny Gilbertson[4]
B Feature 1 (12 Laps): 1. 6-Carson McCarl[1]; 2. 27-Greg Hodnett[3]; 3. 28X-Phil Gressman[5]; 4. 84-Brandon Hanks[2]; 5. 47X-Dylan Westbrook[4]; 6. 4M-Michael Miller[9]; 7. 49-Shawn Dancer[8]; 8. 26-Marshall Skinner[7]; 9. 01-Shane Morgan[11]; 10. 10J-C.J. Jones[6]; 11. 22G-Johnny Gilbertson[13]; 12. 00-Tristan Lee[14]; 13. 99-Tanner Witherspoon[12]; 14. 09-Timmy Thrash[15]; 15. (DNF) 52-Cody Karl[10]
B Feature 2 (12 Laps): 1. 24M-Danny Martin Jr.[1]; 2. 7S-Jason Sides[5]; 3. 5W-Lucas Wolfe[2]; 4. 28FM-Steve Poirier[3]; 5. 2-Parker Price-Miller[8]; 6. 29-Kyle Amerson[6]; 7. 61-Parker Evans[9]; 8. 43-Terry Witherspoon[4]; 9. 83-Mark Ruel Jr[14]; 10. 10B-Mitch Brown[10]; 11. 6S-Robbie Smith[11]; 12. 1-Freddie McCall[7]; 13. 59-Johnny Petrozelle[12]; 14. 9-Lane Whittington[13]; (DNS) 07-Jacob Wilson
B Feature 3 (12 Laps): 1. 24R-Rico Abreu[1]; 2. 23B-Brian Bell[2]; 3. 15H-Sam Hafertepe Jr[9]; 4. 28-Tommy Bryant[3]; 5. 4-Danny Smith[5]; 6. 3A-A.J. Maddox[4]; 7. 38-Ryan Moore[6]; 8. 77X-Alex Hill[7]; 9. 22-Shawn Murray[10]; 10. 24D-Danny Sams III[11]; 11. 67-Steve Collins[12]; 12. 21B-Brandon McLain[8]; 13. 95-Matt Covington[13]; (DNS) 116-Nick Snyder; (DQ) 88-Brandon Blenden[15]
A Feature (25 Laps): 1. 24-Terry McCarl[2]; 2. 53-Shawn Donath[4]; 3. 89-Robbie Stillwaggon[1]; 4. 43H-Derek Hagar[3]; 5. 2C-Wayne Johnson[6]; 6. 49X-Tim Shaffer[5]; 7. 10H-Chad Kemenah[8]; 8. 17W-Harli White[9]; 9. M1-Mark Smith[11]; 10. 14C-Coleman Gulick[16]; 11. 21K-Thomas Kennedy[12]; 12. 87-Aaron Reutzel[10]; 13. 17-Caleb Helms[7]; 14. 29T-Travis Rilat[14]; 15. 27-Greg Hodnett[20]; 16. 24M-Danny Martin Jr.[18]; 17. 24R-Rico Abreu[19]; 18. 7S-Jason Sides[21]; 19. 23B-Brian Bell[22]; 20. 19G-Todd Gracey[15]; 21. 6-Carson McCarl[17]; 22. 82-Matt Kurtz[13]
Lap Leader(s): Robbie Stillwaggon 1-9; Terry McCarl 10-25;
Total Event Points:
1.(420)Terry McCarl (Altoona, IA), 2. (414)Mark Smith (Sanbury, Pa), 3. (408)Shawn Donath (South Onondaga, NY), 4. (407)Chad Kemenah (Alvada, OH), 5. (407)Robbie Stillwaggon (Burlington, NJ), 6. (406)Travis Rilat (Forney, TX), 7. (404)Wayne Johnson (Oklahoma, OK), 8. (399)Harli White (Lindsay, OK), 9. (398)Coleman Gulick (Binghamton, NY), 10. (398)Danny Martin Jr (Tampa, FL), 11. (398)Rico Abreu (Rutherford, CA), 12. (398)Jason Sides (Bartlett, TN), 13. (395)Greg Hodnett (Spring Grove, PA), 14. (393)Carson McCarl (Altoona, IA), 15. (392)Brian Bell (Arlington, TN), 16. (391)Caleb Helms (Findlay, OH), 17. (390)Thomas Kennedy (Winnipeg, MB), 18. (389)Tim Shaffer (Aliquippa, PA), 19. (389)Aaron Reutzel (Clute, TX), 20. (388)Phil Gressman (Fremont, OH), 21. (386)Derek Hagar (Marion, FL), 22. (382)Danny Smith (Chillicothe, OH), 23. (376)Lucas Wolfe (Mechanicsburg, PA), 24. (367)Matt Kurtz (Jacksonville, FL), 25. (360)Todd Gracey (Glenvile, PA), 26. (359)Matt Covington (Glenpool, OK), 27. (357)Dylan Westbrook (Scotland, ), 28. (356)Parker Price Miller (Kokomo, IN), 29. (355)Tommy Bryant (Montgomery, TX), 30. (354)Brandon Hanks (Burlison, TN), 31. (351)Shane Morgan (Biloxi, MS), 32. (351)Sam Hafertepe Jr. (Rockwall, TX), 33. (350)Steve Porier (St Mathieu de Beloeil, QC), 34. (350)Michael Miller (Pascagoula, MS), 35. (348)Shawn Dancer (Delphos, OH), 36. (347)AJ Maddox (Brandon, FL), 37. (346)Marshall Skinner (Marion, AR), 38. (346)Terry Witherspoon (Jacksonville, FL), 39. (346)Robbie Smith (Tampa, FL), 40. (345)CJ Jones (Lake Milton, OH), 41. (344)Freddie McCall (Brewton, AL), 42. (343)Mitch Brown (Brantford, ON), 43. (343)Kyle Amerson (Mathews, AL), 44. (343)Ryan Moore (Moss Point, MS), 45. (341)Alex Hill (Wilsonville, ON), 46. (340)Shawn Murray (Jacksonville, FL), 47. (340)Johnny Petrozelle III (Denton, NC), 48. (339)Steve Collins (Belfast, NY), 49. (338)Jacob Wilson (Crawfordsville, IN), 50. (338)Mark Ruel Jr. (Jacksonville, FL), 51. (337)Parker Evans (St. Owego, NY), 52. (336)Brandon Mclain (Indian Trail, NC), 53. (336)Johnny Gilbertson (Dover, FL), 54. (336)Danny Sams III (Englewood, FL), 55. (335)Brandon Blenden (Gulfport, MS), 56. (334)Tristan Lee (Biloxi, MS), 57. (332)Lane Whittington (Denham Springs, LA), 58. (331)Timmy Thrash (Gulfport, MS), 59. (327)Cody Karl (Gulfport, MS), 60. (178)Tony Stewart (Brownsburg, IN), 61. (167)Tanner Witherspoon (Jacksonville, FL), 62. (163)Nicholas Snyder (Marco Island, FL), 63. (163)Nick Snyder (Marco Island, FL), 64. (162)Terry Gray (Bartlett, TN),