Brotherly Battle: Ian Wins Battle of Madsen Brothers on opening night of 39th Annual AGCO Jackson Nationals
 Story By: TONY VENEZIANO / WOO SERIES MEDIA
Photos By: PAUL ARCH / RACERSGUIDE.COM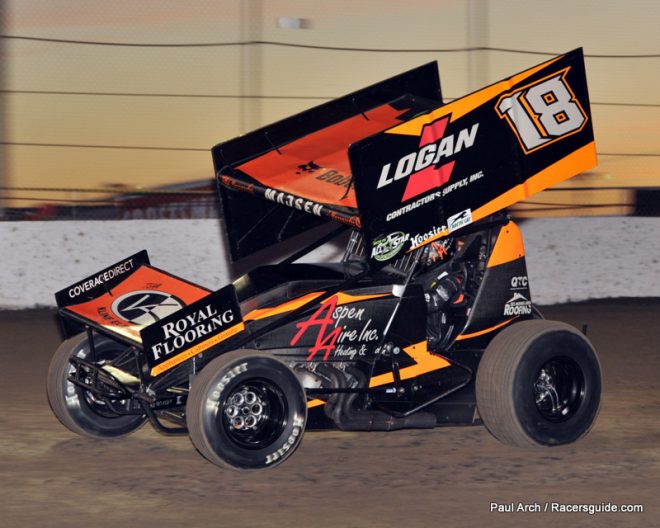 JACKSON, MN – June 2, 2017 – The Madsen brothers are nothing short of exciting every time they strap into a sprint car. The intensity level is often ratcheted up even more when they are racing each other for a win. They lived up to this moniker Thursday on the opening night of the 39th Annual AGCO Jackson Nationals for the World of Outlaws Craftsman® Sprint Car Series. While younger brother Ian led all 25 laps of the main event, older brother Kerry gave him a run for his money, especially on a late-race double file restart.
Ian fended off Kerry on that restart, which saw the elder brother get a monster run on the high side of the track heading down the front straightaway. As the laps wound down, the leaders encountered lapped traffic, with Kerry closing back in on Ian, nearly stealing a win on the last lap. The finale margin of victory was a scant three-tenths-of-a-second.
"When you come to race with the World of Outlaws, the double-file restarts are always tough," said Ian Madsen. "It's pretty cutthroat and can go either way. You have to give it your all. I'm really thankful we could get the job done tonight. We've had an awesome car lately and have been strong with the World of Outlaws all years. It's great to finally get one."
The race started with I. Madsen on the pole, quickly jumping out to a lead before a caution with four laps in the books. On the ensuing double-file restart, I. Madsen chose the low side of the track. David Gravel actually took the lead in turns one and two on that restart, but a red flag, before that lap was completed, kept I. Madsen in the lead for the next restart, which was single-file.
The win was Madsen's second with the World of Outlaws Craftsman Sprint Car Series, with the first coming in 2013 at Deer Creek Speedway, also in Minnesota.
"Jackson is kind of like a home track for us," said Ian Madsen. "We gave a lot of friends, fans and supporters of the KPC team here tonight. I can't thank my team enough. This is awesome. Minnesota is kind of close to home and I really like the tracks. Thanks to Tod (Quiring) and everyone for putting this event on. Hopefully it gets bigger and bigger each year."
Kerry Madsen, the defending winner of the AGCO Jackson Nationals, started third and had a torrid battle in the early going with David Gravel, before moving into second behind his brother. Kerry had a strong car on the top side of the half-mile and used this to his advantage to keep pace with brother as the laps wound down.
"That last restart, I was thinking, 'You gave me the top' and I got a good run," said Kerry Madsen. "I thought I was going to get him, but just didn't quite have it. That last corner, the last lap, I thought I had position and kind of wished I had gone in there a little harder and maybe was a little forceful. I just didn't get it done, but the Go Muddy/AGCO car was great. This car is a rocket ship right now and it's fun to drive and I am enjoying every minute of it."
Brad Sweet finished third aboard his No. 49 NAPA machine for Kasey Kahne Racing. Sweet lined up sixth and worked his way into the top-five in the early going. He used a couple of strong restarts to gain spots on his way to a podium finish.
"It's fun watching the Madsen brothers up there," said Sweet. "Kerry definitely gave his brother a run for his money. I guess he had to make his little bro work for it. The key was to get through this first night. Our NAPA car has been fast, so we'll come the next two nights and hopefully can get a win."
Current series point leader Donny Schatz finished fourth in the Arctic Cat machine for Tony Stewart Racing, while Danny Lasoski rounded out the top-five. David Gravel, who ran among the lead pack in the early going, ended up sixth, after nearly getting into the wall coming off turn four, battling for the second spot. Jason Sides was seventh, with Tim Kaeding eighth, while Sheldon Haudenschild came from 16th to ninth. Shane Stewart rounded out the top-10.
The 39th Annual AGCO Jackson Nationals continues on Friday, June 2, with another complete race program for all three sprint car classes.
Tickets for the remaining two nights of the 39th Annual AGCO Jackson Nationals, featuring the World of Outlaws Craftsman Sprint Car Series, along with the Upper Midwest Sprint Car Series (UMSS), Midwest Sprint Touring Series (MSTS), Nebraska 360 Sprint Series and the RaceSaver IMCA Sprint Cars at the Jackson Motorplex can be purchased online at slspromotions.ticketforce.com or at the track.
Jackson Motorplex Results
Feature (25 Laps): 1. 18-Ian Madsen [1][$8,000]; 2. 2M-Kerry Madsen [3][$4,000]; 3. 49-Brad Sweet [6][$2,500]; 4. 15-Donny Schatz [5][$2,200]; 5. 33-Danny Lasoski [9][$2,100]; 6. 5-David Gravel [2][$2,000]; 7. 7S-Jason Sides [4][$1,800]; 8. 3-Tim Kaeding [14][$1,600]; 9. 93-Sheldon Haudenschild [16][$1,500]; 10. 2-Shane Stewart [12][$1,300]; 11. 13JT-Mark Dobmeier [8][$1,200]; 12. 9-Daryn Pittman [24][$1,100]; 13. 41-Jason Johnson [13][$1,000]; 14. 17-Joey Saldana [10][$700]; 15. 19-Brent Marks [25][$]; 16. 82-Cap Henry [11][$600]; 17. 4-Paul McMahan [17][$600]; 18. O9-Matt Juhl [18][$600]; 19. 21-Brian Brown [22][$600]; 20. 17B-Bill Balog [20][$600]; 21. 12-Lynton Jeffrey [15][$600]; 22. 1S-Logan Schuchart [23][$600]; 23. 87-Aaron Reutzel [7][$600]; 24. 11K-Kraig Kinser [19][$600]; 25. 1A-Jacob Allen [21][$600]; Lap Leaders: Ian Madsen 1-25; KSE Hard Charger Award: 9-Daryn Pittman[+12]
The World of Outlaws Craftsman® Sprint Car Series is brought to fans across the country by many important sponsors and partners, including: Craftsman (Official Tool), Arctic Cat (Official Side-by-Side Recreational Vehicle), Extended Stay America (Official Hotel), Hoosier Racing Tire (Official Tire), Morton Buildings (Official Building), Sears (Official Home Store), The Kenny Wallace Dirt Racing Experience (Official Racing Experience) and VP Racing Fuels (Official Racing Fuel); in addition to contingency sponsors, including: Cometic Gasket, COMP Cams, Edelbrock, JE Pistons, KSE Racing Products, MSD, Penske Shocks, and Superflow Dynos; along with manufacturer sponsors, including: Impact Racing Products, Intercomp, Racing Electronics, and TNT Rescue.
Founded in 1978, the World of Outlaws®, based in Concord, N.C., is the premier national touring series for dirt track racing in North America, featuring the most powerful cars on dirt, the World of Outlaws Craftsman Sprint Car Series and the World of Outlaws Craftsman Late Model Series. Annually, the two series race nearly 140 times at tracks across the United States and Canada. CBS Sports Network is the official broadcast partner of the World of Outlaws. DIRTVision® also broadcasts all World of Outlaws events over the Internet to fans around the world. Learn more about the World of Outlaws.