ASCS Southern Outlaw Sprints Opener At East Bay Raceway's King of the 360's
Story By: BRYAN HULBERT / ASCS SERIES MEDIA
Photos By: TOMMY HEIN / RACERSGUIDE.COM
TULSA, Okla. – February 17, 2017- The first nights of competition of the 2017 season for the American Sprint Car Series are just days away as the 154 plus race schedule that makes up the ASCS Nation kicks off at East Bay Raceway Park, located just outside Tampa, Fla., with the King of the 360's and Ronald Laney Memorial.
The race is sanctioned with the Lucas Oil ASCS Southern Outlaw Sprints, which will see their second season of competition under the ASCS banner in 2017.
Taking place February 23 through February 25, the annual $10,000 to win event is attracting a stout list of competition. Among the entered is Terry McCarl.
Making the haul from Altoona, Iowa, McCarl emerged victorious over a field of 44 in the 2016 edition. The second time Terry has captured the coveted crown, he is slated to again be behind the wheel of his own TheSnowPlow.com No. 24. Another past champion set to be in attendance is Mark Smith who overcame an onslaught of slide jobs from eventual National Tour Champion, Aaron Reutzel, to pick up the win in 2015.
Set to be in attendance, but not yet entered, is Wayne Johnson who topped the King of the 360's in 2010 and 2014.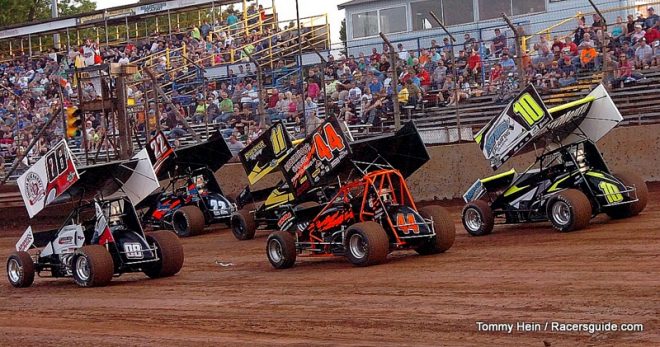 With the entry list still growing, a field of 34 from 14 states and three countries have already entered to compete in the 16th annual King of the 360's. Rumored to be racing is Chad Kemenah who grabbed the win in 2005. The opening weekend of competition for the Lucas Oil ASCS Southern Outlaw Sprints, Michael Miller enters the season as the defending champion.
The King of the 360's and Ronald Laney Memorial will be preceded by Practice on Wednesday, February 22. Each of the three nights of competition will get underway 7:00 P.M. (ET). Live online PPV is available for fans who cannot attend at https://portal.stretchinternet.com/xsan.
For updates, or to purchase tickets to the King of the 360's log onto http://www.eastbayracewaypark.com or call 1-877-457-5611.
The 2017 season is the 26th year of sanctioning Sprint Car racing across the United States for the American Sprint Car Series. This year includes a lineup of over 150 races that span the Lucas Oil American Sprint Car Series National Tour presented by the MAVTV Motorsports Network, as well as seven Regional Tours to help make up the ASCS Nation.
For more information, including point standings, schedules, and history, log onto http://www.ascsracing.com.
Event Information:
Who: Lucas Oil ASCS Southern Outlaw Sprints
 Where: East Bay Raceway Park – Tampa, Fla.
 When: February 23-25, 2017
 What: 16th annual King of the 360's and Ronald Laney Memorial
Track Contacts:
Address: 6311 Burts Rd. Tampa, FL 33619
 Phone: 813-677-7223 or 1-877-457-5611
 Email: eastbayraceawypark@aol.com
 Website: http://www.eastbayracewaypark.com
 Social Media: https://www.facebook.com/eastbayracewaypark/
King of the 360's Ronald Laney Memorial Champions: Terry McCarl (2006 and 2016), Wayne Johnson (2014 and 2010), Mark Smith (2015) Danny Holtgraver (2013), Glenn Styres (2012), Daryn Pittman (2011), Jesse Hockett (2009), Jason Johnson (2008), Gary Wright (2007 and 1999), Chad Kemenah (2005), Sport Allen (2003), Jason Sides (2002), Jeff Sheppard (2001), Ronald Laney (2000)