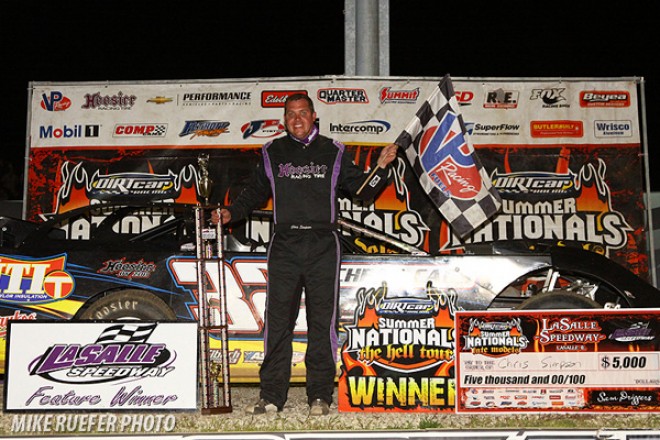 [xyz-ihs snippet="Horizontal-Google-Banner-Series"]
LA SALLE, Ill. – July 2, 2015 – Chris Simpson charged from fourth to victory on Thursday night at La Salle Speedway to earn the second DIRTcar Summer Nationals win of his career.
Simpson, of Oxford, Iowa, stalked Jason Feger for the first half of the race and eventually surged to the lead in traffic on lap 29 then powered the remaining 11 laps to the $5,000 checkered flag.
"We've had a rough start to the year so it feels good," said Simpson, who is only a week removed from a fire in his car during a heat race. "We had an awesome car. The track couldn't have been prepared any better. We had soft tires on, me and Feger had the same thing on. And it all worked out for us."
Shannon Babb finished third with Michael Kloos and Ryan Unzicker rounding out the top five. Points leader Bobby Pierce raced from 19th to finish 8th.
The DIRTcar Summer Nationals tour invades Fayette County Speedway in Brownstown, Ill., on Friday night and then races to Highland (Ill.) Speedway on Saturday and Tri-State Speedway in Haubstadt, Ind., on Sunday.
Follow the Summer Nationals and DIRTcar Summit Modified Nationals on Twitter @SummerNationals or on Facebook at www.facebook.com/SummerNationals, or visit the series' websites at www.TheHellTour.com and www.ModifiedNationals.com.
DIRTcar Summer Nationals Statistical Report; La Salle (Ill.) Speedway; July 2, 2015
A-MAIN (40 LAPS) – 1. (32S) Chris Simpson, Oxford, IA ($5,000); 2. (25) Jason Feger, Bloomington, IL; 3. (18) Shannon Babb, Moweaqua, IL; 4. (6K) Michael Kloos, Trenton, IL; 5. (24) Ryan Unzicker, El Paso, IL; 6. (99JR) Frank Heckenast Jr, Frankfort, IL; 7. (21JR) Billy Moyer Jr, Batesville, AR; 8. (32) Bobby Pierce, Oakwood, IL; 9. (21) Billy Moyer, Batesville, AR; 10. (3S) Brian Shirley, Chatham, IL; 11. (10S) Scott Schmitt, Tonica, IL; 12. (89) Mike Spatola, Manhattan, IL; 13. (54) Matt Westfall, Pleasant Hill, OH; 14. (C8) Timothy Culp, Sheridan, AR; 15. (12B) Kevin Weaver, Gibson City, IL; 16. (58R) Ray Guss Jr, Milan, IL; 17. (9R) Curtis Roberts, Coleman, MI; 18. (4G) Bob Gardner, East Peoria, IL; 19. (21B) Rich Bell, Sheffield, IL; 20. (29) Spencer Diercks, Davenport, IA; 21. (75D) Billy Drake, Lincoln, IL; 22. (7) Mike Mataragas, Dekalb, IL.
HEAT RACE WINNERS: Shannon Babb, Chris Simpson, Jason Feger and Billy Moyer Jr.
2015 DIRTcar Summer Nationals Schedule
June 10
Wednesday
Brownstown Speedway
Dennis Erb. Jr.
June 11
Thursday
Kankakee Co. Speedway
Frank Heckenast Jr.
June 12
Friday
Cedar Lake Speedway
Jimmy Mars
June 13
Saturday
Cedar Lake Speedway
Jason Feger
June 14
Sunday
Wilmot Speedway
Rain
June 15
Monday
Off
June 16
Tuesday
Jacksonville Speedway
Bobby Pierce
June 17
Wednesday
Farley Speedway
Billy Moyer Jr.
June 18
Thursday
Spoon River Speedway
Rain
June 19
Friday
Tri-City Speedway
Rain
June 20
Saturday
Fairbury Speedway
Shannon Babb
June 21
Sunday
Quincy Raceways
PPD rain to June 22
June 22
Monday
Quincy Raceways
Rain
June 23
Tuesday
Peoria Speedway
Shannon Babb (2)
June 24
Wednesday
Belle-Clair Speedway
Bobby Pierce (2)
June 25
Thursday
Clarksville Speedway
Levi Kissinger
June 26
Friday
Paducah Int. Raceway
Rain
June 27
Saturday
Federated I-55 Raceway
Rain
June 28
Sunday
Lincoln Speedway
PPD rain to July 6
June 29
Monday
Off
June 30
Tuesday
I-96 Speedway
Rain
July 1
Wednesday
Daugherty Speedway
Jason Feger (2)
July 2
Thursday
LaSalle Speedway
Chris Simpson
July 3
Friday
Fayette Co. Speedway
Brownstown, IL
July 4
Saturday
Highland Speedway
Highland, IL
July 5
Sunday
Tri-State Speedway
Haubstadt, IN
July 6
Monday
Lincoln Speedway
Lincoln, IL
July 7
Tuesday
Vermilion Co. Speedway
Danville, IL
July 8
Wednesday
Florence Speedway
Union, KY
July 9
Thursday
Macon Speedway
Macon, IL
July 10
Friday
Farmer City Raceway
Farmer City, IL
July 11
Saturday
Oakshade Raceway
Wauseon, OH
The DIRTcar Summer Nationals "Hell Tour" is brought to fans across the country by many important partners including: Arizona Sport Shirts (Official Apparel Provider), Hoosier Racing Tires (Official Racing Tire), Racing Electronics (Official Communications Provider), VP Racing Fuel (Official Fuel); in addition to these fine Contingency Partners: Beyea Headers, Comp Cams, Edelbrock, Fox Shocks, JE Pistons, JRI Shocks, Mobil 1, MSD, QuarterMaster, Superflow Dynos, Summit Racing Equipment and Wrisco Aluminum; Promotional Partners include: Chevy Performance Parts, Indiana Decal and Petroff Towing.