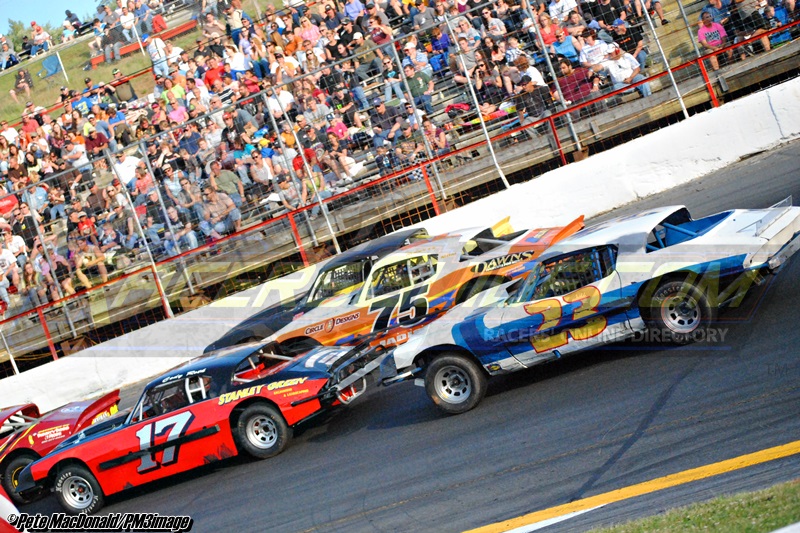 [xyz-ihs snippet="Posts-Ad"]
Aug. 1 CSMGS Race # 3 & #4 Modified Twin 50s $1800 to win each + all regular divisions
Aug. 15 Hobby Stock 35 laps $400 to win + all regular track classes
Aug. 22 Xcel 600 Mods + all regular divisions
Eric Beers and Austin Kochenash Share In Mahoning Modified Laurels
By DINO OBERTO
(LEHIGHTON, Pa. 7-25-15) On a hot and humid night at Mahoning Valley Speedway, Eric Beers exited his DeLange Racing No. 45 a bit exhausted but elated none-the-less after winning the make-up Modified feature from July 18. As for runner-up Austin Kochenash, the 19-year old was not as much bothered by the heat and noted that "I'm still a kid so it's easy and I'm ready to go again."
In an outstanding drive he did just that, returning later in the evening to capture the regular 35-lap feature and just like the first race Kochenash seemed fresh at the conclusion, considering too that this was the third feature he ran in less than 24 hours. He raced to a fourth place finish the night before in a RoC event at Spencer Speedway in upstate New York.
In the make-up feature Beers started seventh and slipped by early leader and Terry Markovic on lap 16 and then had to fight off Kochenash the rest of the distance.
When the race started T. Markovic led over Paul Frantz and John Markovic. On lap two Frantz was just about to make a strike at the lead when the caution waved for a spin by Eric Kocher. On the restart T. Markovic stayed strong while younger brother J. Markovic tailed in second.
Beers, then fourth, made haste of Frantz, passing him on lap eight and went into a great side-by-side battle with J. Markovic while running inches behind the leader.
Making good use of the outside groove, Beers eased by J. Markovic on lap 12 and went to work on the front-runner. He needed just four laps before vaulting ahead.
At the same time Kochenash had been picking his way forward and was in second one lap after Beers attained the lead. From then on it was a remarkable battle of two-wide racing. Kochenash came close in advancing to the front on several tries but Beers always held tight.
The steamy action was then slowed five laps from the finish when the caution waved for a spun car. Thanks in part to a single file restart, Beers held on for the win, his second of 2015 and 42nd at Mahoning Valley.
"Austin (Kochenash) continues to get better and better and he's a force to be reckoned with the rest of the year. He is good," said Beers.
"We were just a hair off and we usually don't run 35 laps feature in the sun like this. But it feels great to get another win and we'll be looking for a few more of them over the second half of the season."
In the regular scheduled feature, Kyle Strohl jumped out front early but a speedy Chip Santee went topside on lap six to take control. Within a few laps J. Markovic and Kris Graver where breathing all over the back of Santee.
Santee was very busy protecting his spot as he was being pursued from both sides. And, as J. Markovic and Graver continued to made attacks at the leader, Kochenash and Earl Paules lunged into the fray as well, making for one very energizing race.
As laps where clicking off Santee kept firm. Graver, who had a solid third in the opening race of the night, was now second but at the same time Kochenash was making a charge as well and dueled for the runner-up spot. And, not only did he succeed in reaching the spot by the 27th tour, he used the same surge of momentum to carry him straight past Santee and into the lead.
The rest of the way Kochenash would hold the position and take the victory, his second of the season. Santee claimed second with new point leader Paules in third.
"We ran well tonight and we finally got the car working real good," said Kochenash. "It was close out there and we had to force the issue a little but that's racing for the win. Chip (Santee) drove a great race but we were able to get in the right lanes at the end."
In the Late Model main the race lead was swapped back and forth several times by Tony Hilliard, Jacob Nemeth and Kenny Hein. After Hein was in front he was doing well enough that victory seemed certain.
However, the Ford powered No. D11 of Mike Sweeney was making one heck of a push towards the front and with 10 laps to go powered his way by Hein. From there on he was smooth and steady, scoring his second straight win and fourth of the season.
Hein held on for a season best second with point leader Paul Koehler Jr., third.
Talk about exciting, the Street Stock race was plenty of that. In a wild finish to the 30-lap feature, Aaron Kromer eked out an stirring win with a last lap, three-wide pass on Steven Steigerwalt and Gene Bowers.
Steigerwalt had led from the outset but was immersed in very tight confines. With the laps winding down, Kromer and Corey Edelman ran side-by-side behind the leader with Bowers and Lonnie Behler Sr., in tow.
Then as the white flag was waving, Bowers shot high while Kromer dove to the bottom, sandwiching Steigerwalt. It was then a very thrilling dash to the checkers with Kromer taking the verdict by a scant .222-second margin of victory over Bowers.
Once Jack Ely raced by Scott Adams for the lead in the Dirt Mod event, there was no stopping him as he cruised to a decisive third win of the season. Point leader Ricky Yetter fought a tough battle with Adams in securing second.
In the special 35-lap Pro 4 race, Gene Bowers scored an upset win. Making his first start with the class, Bowers drove among the lead pack from early on. It wasn't until two laps to that he that he would get out front, that coming after then leader Jake Kibler spun in turn two. Bowers wisely dove low and into the top spot and ultimately went on the claim the popular win.
In the Hobby Stock main a legendary name was back in Victory Lane as Tiffany Wambold, granddaughter of past track Modified champion George Wambold, won for the very time at Mahoning Valley.
Wambold blasted by Daniel Hargan on lap four and then withstood numerous attempts by Cody Geist. The determined Wambold, however, would not give in and went on to notch the victory and extend to the family legacy.
Ken Dengler Jr., won in a non-stop white-knuckle 20-lap Micro Stock feature, earning his career first win at Mahoning Valley over point leader Alex Greenzweig.
Rained-out Modified Feature from 7/18 (35 Laps): 1. Eric Beers, 2. Austin Kochenash, 3. Kris Graver, 4. Earl Paules, 5. Terry Markovic, 6. Paul Frantz, 7. John Markovic, 8. Kevin Rex Jr., 9. Eric Kocher. 10. Rick Reichenbach, 11. Don Wagner, 12. DJ Wagner, 13. Chip Santee, 14. Mike Quinn, 15. Wayne Szerencsits, 16. Kyle Strohl DNS: Zane Zeiner
Regular Modified Feature Finish (35 Laps): 1. Kochenash, 2. Santee, 3. Earl Paules, 4. Beers, 5. Graver, 6. Don Wagner, 7. Bobby Jones, 8. Todd Baer, 9. John Markovic, 10. Strohl, 11. Rex, 12. Reichenbach, 13. Quinn, 14. Frantz, 15. Danielle Paules, 16. Matt Higgins, 17. Terry Markovic, 18. Kocher, 19. Szerencsits, 20. DJ Wagner
Late Model Feature Finish (25 Laps): 1. Mike Sweeney, 2. Kenny Hein, 3. Paul Koehler Jr., 4. Frankie Althouse, 5. Jacob Nemeth, 6. Tony Hilliard, 7. Jeremy Miller, 8. Jason Zatsko, 9. George Ramos, 10. Scott Kotran, 11. Broc Brown, 12. Barry Kutz, 13. Darryl Bruenig, 14. Jacob Kerstetter
Street Stock Feature Finish (30 Laps): 1. Aaron Kromer, 2. Gene Bowers, 3. Lonnie Behler Sr., 4. Randy Ahner Sr., 5. Corey Edelman, 6. Jason Frey, 7. TJ Gursky, 8. Steve Steigerwalt, 9. Randy Schlenker, 10. Brian Labar, 11. Jared Ahner, 12. Kristy Arthofer, 13. Jillian Long, 14. Zach Graver, 15. Todd Ahner, 16. Josh Mooney, 17. George Ramos, 18. Joe Mooney, 19. Jamie Smith, 20. Jonathan Tracey DNQ: Jason Kuhn, Joe Stangle, Bernie Uphold, Logan Boyer, Stacey Brown
Dirt Mod Feature Finish (25 Laps): 1. Jack Ely, 2. Ricky Yetter, 3. Scott Adams, 4. Dave Gorbatuk, 5. Aleia Geisler, 6. Lorin Arthofer II, 7. Billy Lasko, 8. Mike Stofflet, 9. JP Curry, 10. Bill Sittler Jr., DNS: Ray Deemer, Steve Shultz, Frank Parastino
Pro 4 Feature Finish (35 Laps): 1. Gene Bowers, 2. Bobby Kibler Sr., 3. Bobby Kibler Jr., 4. Joe Stangle 5. Cody Kohler, 6. Jake Kibler, 7. Kailyn Beers, 8. Harvey Keiper, 9. JD Light, 10. Johnny Bennett, 11. Nick Baer, 12. Chad Miller, 13. Lou Gara, 14. Joe Lane
Hobby Stock Feature Finish (15 Laps): 1. Tiffany Wambold, 2. Cody Geist3, 3. Seth VanFossen, 4. Eddie Reeder, 5. Tim Oswald, 6. Ron Heeter, 7. Shayne Geist, 8. Kyle Krempasky, 9. Bob Azarowitz, 10. Daniel Hargan, 11. Dean Strohl, 12, Sam Ryan, 13. Rich Mutarelli, 15. Ken Reeder, 16. Colin Bollinger