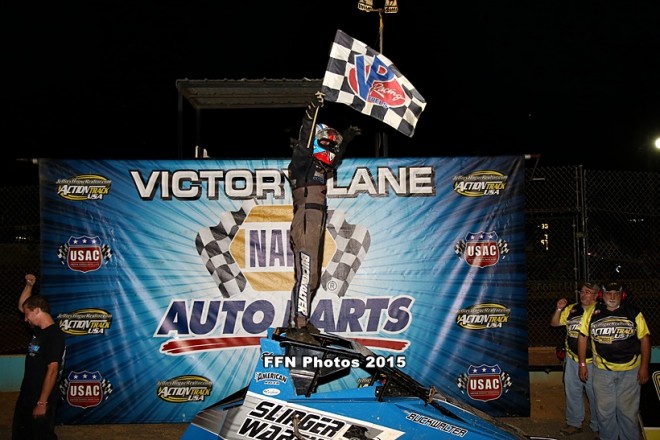 Kutztown, PA –  After a three-week break, Kutztown's JeffreyHogueRealtor.com Action Track USA opened its gates once again on Wednesday, July 8 to the enthusiastic response of a large crowd and a pit area full of anxious race teams.
[xyz-ihs snippet="Horizontal-Google-Banner-Series"]
  Utilizing a new handicapping procedure for the USAC All Pro SpeedSTRs – instituted during the break – did not deter Tim Buckwalter from picking up his second victory of the season in the division's 30-lap main event.
  Joining Buckwalter in
Wednesday's
winner's circle were Brandon Azzalina, who broke through for his first triumph in the Pioneer Pole Buildings Wingless 600cc Sprints powered by Engler Injection, and Chris Kurtz, who notched his second win of the season in the 20-lap feature for the NAPA Auto Parts All Star Slingshots.
  Earl Paules set the pace during the opening laps of the USAC All Pro SpeedSTR main while Mike Bednar, Ryan Smith, Frank Yankowski, and Jeff Strunk wrestled for the runner-up position. Smith finally secured the spot, then ducked under Paules in turns one and two to snare the lead on lap 12.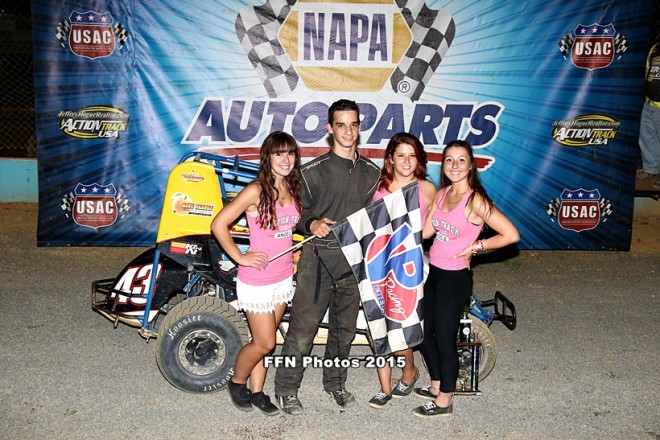 Douglassville's Tim Buckwalter, who started 12th, was steadily moving forward along with point leader and defending champion Billy Pauch Jr. Buckwalter zipped into second place on lap 13 and Pauch motored into fourth as the halfway signal was displayed to the field.
  With 11 circuits remaining, Buckwalter slipped past Smith to grab the top spot, then held off the 410 Sprint Car ace from Kunkletown to win his first SpeedSTR feature since the season opener on
May 13
.
  "Guess it just goes to show that it doesn't matter if they use a handicapping system for the line-up," smiled Buckwalter in victory lane. "We just proved you can start 12th and win in these things. I have to thank Paul Lotier for giving me a great car each week; this thing was really dialed in
tonight
."
  Pauch Jr. wound up third, with Mike Bednar and Jeff Strunk completing the top five.
  All season long, Saylorsburg, Pa. driver Brandon Azzalina has been knocking on the door to his first Action Track USA victory and he finally kicked in that door
on Wednesday
, throttling to a convincing triumph over Jason Swavely and Pauch Jr.
  Two-time and defending track champ Jay Hartman led the early laps as a terrific four-car tussle ensued behind him. Alex Bright, Tim Buckwalter, Swavely, and the fifth-starting Azzalina waged a ferocious battle for the runner-up slot, going four-wide a few times before Azzalina prevailed and began to track down the race leader.
  An eighth lap restart produced the defining moment of the 30-lap Tri-Track Challenge event for the wingless 600's as Hartman and Azzalina raced side by side around the progressively banked oval. Hartman washed up the track in turn four, allowing Azzalina to blast into the lead.
  Swavely, who entered the evening trailing Kyle Lick by just two points in the Tri-Track Challenge, soon charged into second while Bright, Buckwalter, Kyle Spence, and Pauch Jr. diced for positions three through six. Several restarts offered opportunities for Swavely to stick the nose of his Heffner Construction, RTS Chassis No. 14 under the leader, but Azzalina consistently shut the door on Swavely to repel each attack.
  The final ten trips around the clay saw an entertaining battle for second between Swavely, Bright, and Pauch that permitted Azzalina to pull away and drive to the win by nearly one-second over Swavely. Pauch Jr. finished third with Buckwalter staging a late race charge to place fourth. Hartman wound up fifth as Bright fell out with a couple of laps to go.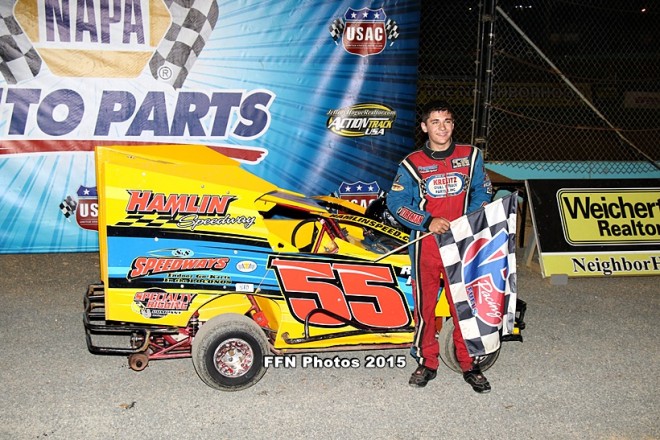 With his runner-up effort, Swavely, from Fleetwood, earned his second straight Tri-Track Challenge point title. Lick, who started deep in the field (16th), climbed to sixth at the finish but came up a few points short in his bid to win the three race series that began at Linda's Speedway on July 3rd. The second race was held on the Fourth of July at Lanco's Clyde Martin Memorial Speedway.
  Saylorsburg's Chris Kurtz drove the S&S Speedways No. 55 to his second win of the season in the 20-lap main for the NAPA Auto Parts All Star Slingshots. Kurtz started on the pole and led all the way, winning by a comfortable margin because a large number of cars engaged in a crowd pleasing battle royale behind him, enabling Kurtz to dash out to a healthy advantage over the entire distance.
  Austin Stufflet, Seth Spayd, Travis Bieber, Anthony Raisner, point leader Brett Bieber, John Gilroy, and Kassidy Kreitz engaged in door rubbing, position swapping, side by side action throughout the 20-lapper. Travis Bieber eventually claimed second place, but it was much too late to try and run down the leader as Kurtz had long since checked out on the field.
  Kurtz flashed under the checkered flag by more than two-seconds over Travis Bieber, with Raisner, Kreitz, and Stufflet rounding out the top five.
Action Track Sidebites…
Wednesday
was Checkered Flag Fan Club Night at the speedway, and the One Wish Foundation was also in the spotlight along with its efforts to support the South Mountain YMCA Camp.
  Another outstanding field of 31 SpeedSTR's, 41 Wingless 600cc Sprints, and 36 All Star Slingshots made up the entries as the track endured some late afternoon rain. Fortunately, the precipitation did not hamper the racing program, as the final checkered flag waved at
10:17 p.m.
  Ms. Motorsports 2015, Shelby Harper, was involved in a nasty flip with seven tours complete in the Wingless 600 feature. Harper was forced into the homestretch wall, where her car launched into a series of rollovers. Shelby was uninjured in the crash, but the damage incurred prevented her from restarting the race.
  Jeff Hartman earned the Pioneer Pole Building Hard Charger Award in the Wingless 600cc feature. Hartman, a three-time track champion at the Kutztown Fairgrounds, advanced from 23rd to eighth in the 30-lap main.
  This
Wednesday, July 15
, is Boy Scout and Girl Scout Night at Action Track USA. Scouts who wear their uniform will receive free admission and there will be a bicycle giveaway at intermission.
  In addition to this week's competition for the USAC All Pro SpeedSTRs, Pioneer Pole Building Wingless 600 Sprints Powered by Engler Injection, and the NAPA Auto Parts All Star Slingshots, the speedway will present a Wheelie Contest for the Wingless 600's.
  Come get your Midweek Motorsports Adrenaline Rush at the JeffreyHogueRealtor.com Action Track USA on the Kutztown Fairgrounds…where the Superstars come to race!
RESULTS:
USAC All Pro SpeedSTR Feature, 30 laps: 1.Tim Buckwalter, 2.Ryan Smith, 3.Billy Pauch Jr., 4.Mike Bednar, 5.Jeff Strunk, 6.Kevin Graver Jr., 7.Brad Brightbill, 8.Steven Nederostek, 9.Mike Mahaney, 10.Earl Paules, 11.Matt Janisch, 12.Brandon Grosso, 13.Kenny Brightbill, 14.Frank Yankowski, 15.Jared Umbenhauer, 16.Dale Planck, 17.Jason Miller, 18.John Bockhorn, 19.Jay Hartman, 20.Nick Baer, 21.Joe Vacarro, 22.Larry Solomon, 23.Phil Meisner, 24.Damon Paul, 25.Kyle Lick, 26.Bob Trapper.
Pioneer Pole Building Wingless 600cc Sprint Feature, 30 laps: 1.Brandon Azzalina, 2.Jason Swavely, 3.Billy Pauch Jr., 4.Tim Buckwalter, 5.Jay Hartman, 6.Kyle Lick, 7.Eric Heydenreich, 8.Jeff Hartman, 9.Eddie Strada, 10.Jermain Godshall, 11.Austin Bishop, 12.Doug Snyder, 13.Nate Brinker, 14.Joey Jarowicz, 15.Alex Bright, 16.Molly Chambers, 17.Jacob Severn, 18.James Morris, 19.Shawn Rooney, 20.Kyle Spence, 21.Jordan Mohr, 22.Heath Hehnly, 23.Sam Kravitsky, 24.Jarid Kunkle, 25.Rob Adams, 26.Tommy Kunsman Jr., 27.Shelby Harper, 28.Zach Bealer.
NAPA Auto Parts All Star Slingshot Feature, 20 laps: 1.Chris Kurtz, 2.Travis Bieber, 3.Anthony Raisner, 4.Kassidy Kreitz, 5.Austin Stufflet, 6.Brett Bieber, 7.Dylan Hoch, 8.Seth Spayd, 9.John Gilroy, 10.Joe Bodenshatz, 11.Matt Miller, 12.Louden Reimert, 13.Dakota Kohler, 14.Joe Nemeth, 15.Tayllor Schoenly, 16.Jordan Knepp, 17.Taylor Eccles, 18.Tyler Ulrich, 19.Jeff Kemp, 20.Taylor Santee, 21.Erik Jones, 22.Aiden Svanda, 23.Andrew Kreis, 24.Dylan Swinehart, 25.Brittany Earlston. DNS: Dave Carraghan.