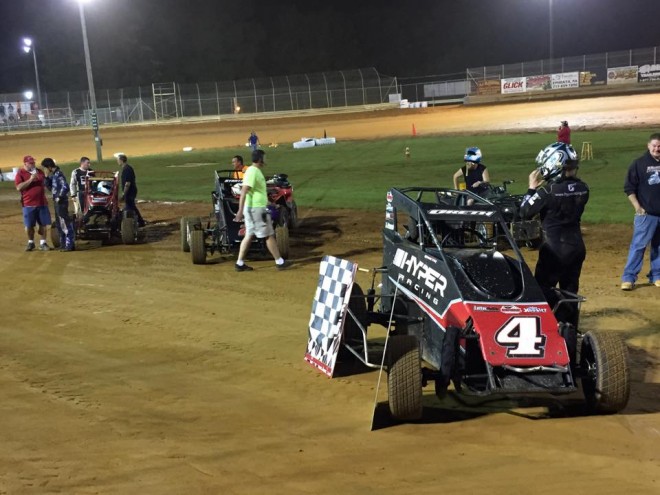 [xyz-ihs snippet="Horizontal-Google-Banner-Series"]
Photo Courtesy of Michael Fry
Newmanstown, PA –  They said it couldn't be done.
  "It's just too small for the Midgets," they said.
  "It won't be a good race, and it could turn into a crash fest," they said.
  Boy, were "they" wrong.
  On the Fourth of July, the cars and stars of the American Racing Drivers Club made their first ever appearance at Lanco's Clyde Martin Memorial Speedway, competing in the Hyper Racing Star Spangled Havoc 30-lap main event. Racing in front of a full house of enthusiastic spectators, the ARDC Midgets produced an exciting, action packed feature that left the crowd and drivers anxious for a return visit.
  Ryan Greth will go down in the history books as the winner of ARDC's debut at the Clyde. Driving one of the Hyper Racing Midgets that he's helping to develop, Greth notched his second triumph of the season aboard the Wayne Lesher owned No. 4.
  The Bud's Spring Service Firecracker Frenzy 30 lapper for Wingless 600cc Sprints had a surprise victor, as Kyle Spence of Bear, DE, picked up a ride in one of Mike Dicely's Hyper house cars, picked up the win in just his second start in a 600 and his first wingless 600cc race.
  In the evening's nightcap, Spence was a close runner-up to Mike Rutherford in the Dayton Parts Wingless 270cc Clash at the Clyde.
  New Cumberland's Ryan Greth started fourth in the Hyper Racing Star Spangled Havoc feature for the ARDC Midgets, but quickly maneuvered his way to second as the 16 starters utilized every inch of the ultra-racey banked oval, running the first dozen circuits in non-stop fashion.
  Former Lanco racer Brett Wanner led the first lap, but Greth executed a nifty slide job in turns one and two on the second revolution and grabbed the top spot as they throttled down the backstretch. Winner of some big 600cc Micro-Sprint races at Clyde Martin in the past, Greth proceeded to lead the rest of the way, but lapped traffic and a fast-closing Danny Stratton made things very interesting over the final 28 tours.
  Just one yellow flag (with 12 laps complete) and a red for Jim Radney's flip in turn four with 18 circuits in the books (Radney was uninjured) slowed the pace of the event.
  On each restart, Greth would pull away from his pursuers, but some tremendous two and three-wide racing took place behind him. Stratton, who started eighth, was steadily working his way forward  as Radney (prior to the flip), Trevor Kobylarz, Tony DiMattia, Bruce Buckwalter Jr. – who won the previous night at Linda's Speedway – and Wanner all diced for position. And right behind that hornet's nest, point leader and defending ARDC Champion Steve Drevicki and Alex Bright were trading sliders at both ends of the speedway.
  Stratton eventually climbed to the runner-up spot and began to cut into Greth's advantage. While he closed the gap in the final laps, Greth expertly sliced his way through lapped traffic and maintained a safe lead, crossing under the checkered flag by a margin of just over two-seconds in front of Stratton.
  Kobylarz wound up third, with DiMattia and Buckwalter completing the top five.
  "The cushion was all the way out to the fence, and that's where I like to run," commented Greth afterward. "But I scared myself a couple of times because I kind of grazed the guardrail from running so high. I had to take some chances to get through lapped traffic, too, but that's short track racing. It was a lot of fun tonight. My experience here helped, but you drive these cars differently than a 600."
  Seventeen of the ARDC Midgets signed in for competition, with heat race victories going to Kobylarz, Radney, and Stratton.
  Greth also picked up a $100 bonus, courtesy of Weiser's Markets in Lititz and Akron.
  Kyle Spence started seventh in the Bud's Spring Service Firecracker Frenzy for Wingless 600cc Sprints, then blasted his way into the top three in the early laps. Spence, already a three-time winner in Clyde Martin's winged 270cc division this season, slipped past Heath Hehnly for second, then wrestled the top spot from polesitter Kyle Lick on the ninth trip around the clay.
  As Spence motored away to a big lead, a fantastic battle ensued for positions two through six among Lick, Hehnly, Eddie Strada, 22nd-starter James Morris, and Jarid Kunkle. Hehnly finally emerged with the runner-up slot, but the next four positions were hotly contested right down to the checkered, with Jason Swavely – who went to the rear after an early spin – joining the mix.
  Hehnly made a big run on the last lap but couldn't get close enough to offer a serious challenge to Spence, who dashed across the stripe with a cushion of 0.351-seconds over Hehnly.
  Lick held on for third and by doing so, took the point lead in the Tri-Track Challenge, a series of races that began on July 3rd at Linda's, continued at Clyde Martin
on Saturday
, and will wrap up on
Wednesday, July 8
, at the JeffreyHogueRealtor.com Action Track USA in Kutztown. Lick currently holds a slim two-point lead over Jason Swavely, with James Morris just nine points behind in third.
  Strada, making a very infrequent Clyde Martin appearance, ran a strong race and finished fourth with Morris roaring from the 11th row to place fifth.
  A terrific field of 49 wingless 600's took part in Firecracker Frenzy, with Jason Sechrist, Swavely, Lick, Strada, and Jared Esh claiming heat race triumphs. Dan Jones won the C-Main and Greg Stevens copped the B-Main.
  The top four finishers earned cash bonuses from the Quality Shoppe in Kutztown, while Morris also picked up some extra money for being the Hard Charger of the 600cc main event (22nd to fifth).
  Dan Lane Jr. darted from third to first on the opening lap of the Dayton Parts Wingless 270cc Clash at the Clyde, leaving Bradley Brown and Mike Rutherford to fight for second.
  Kyle Spence and Nick Skias were the big movers in the first half of the 30-lapper; Spence bolting from tenth to third by the time ten circuits were scored and Skias threading his way from 12th on the starting grid to run fourth as the crossed flags were displayed.
  Rutherford eventually won out in the slide job trading tussle with Brown, as the Lititz driver secured the runner-up position and began his pursuit of race leader Dan Lane Jr. After he ran down the leader, the duo raced around the superbly prepared clay in side-by-side fashion for a few laps before Rutherford shoved the nose of his Kaylor Petro No. 5k in front to lead lap 21 by a half-car length. He cleared Lane as they accelerated off turn two and onto the backstretch, but the West Chester College student was not going to let Rutherford waltz away with this one. Lane switched to the high line and kept pace with Rutherford as Spence joined the fray to make it a three-car shootout for the win.
  With Spence glued to Rutherford's rear bumper in the low groove, both the leader and he were able to clear Lane's No. 25x after several laps. Spence did everything he could to try and get the nose of his car under Rutherford, but the veteran and four-time point champion of Lanco's 270cc Class did not make a mistake or move off the bottom lane.
  "I was hanging on for deaf life; the car was so loose," revealed Rutherford in victory lane. "But somehow it worked out for us. Danny moved up there and we were able to get by him for the lead. Then it was all about protecting the bottom."
  Rutherford scored the wingless 270cc victory over Spence by 0.201-seconds, with Brown getting by Lane to finish third. Tyler Ulrich, who started 13th, improved to fifth at the conclusion of the competitive race.
  There were 35 of the wingless 270's in action
on Saturday
. Cameron Bellinger, Brown, Tyler Reinhardt, and Spence won heat races and Jesse Maurer was victorious in the Hurst Exteriors B-Main.
  This
Saturday, July 11
, the five weekly divisions are back in action as the point battles resume. The evening will start with a couple of make-up features that were postponed by rain on June 20.
  The remainder of the 125cc feature from June 20 and that night's 270cc main event will kick off Hickory Run Campground Night. Those postponed features will be followed by a complete program of qualifying heats, consolations, and 25-lap main events for the winged 600cc, 270cc, Sportsman, 125cc, and 250cc Four-Stroke Micro-Sprints.
  Gates open at
3:30
with warm-ups getting underway at
5 p.m.
The first make-up feature will take the green flag at
6:00
.
  You've gotta come out and LIVE the excitement that is Lanco and see SEVEN feature races for the price of five!
RESULTS:
Hyper Racing Star Spangled Havoc ARDC Midgets, 30 laps: 1.Ryan Greth, 2.Danny Stratton, 3.Trevor Kobylarz, 4.Tony DiMattia, 5.Bruce Buckwalter Jr., 6.Brett Wanner, 7.Steve Drevicki, 8.Alex Bright, 9.Nick Wean, 10.Brett Arndt, 11.Shawn Jackson, 12.Troy Betts, 13.Brian Gilmore, 14.Jim Radney, 15.Eric Heydenreich, 16.Mark Gilmore. DNS: PJ Gargiulo.
Bud's Spring Service Firecracker Frenzy for Wingless 600cc Sprints, 30 laps: 1.Kyle Spence, 2.Heath Hehnly, 3.Kyle Lick, 4.Eddie Strada, 5.James Morris, 6.Jason Swavely, 7.Jarid Kunkle, 8.Jay Hartman, 9.Jared Esh, 10.Jack Conover, 11.Austin Bishop, 12.Austin Quick, 13.Dan Jones, 14.Matt Carr, 15.Jason Sechrist, 16.Joey Jarowicz, 17.Chris Panczner, 18.Bruce Ginther Jr., 19.Bruce Buckwalter Jr., 20.Shaun Brandel, 21.Chris Gerhart, 22.Greg Stevens, 23.Alex Bright, 24.Chris Oraschin, 25.Craig Fox, 26.Dale Arnold.
DNQ: Brittany Brown, Jacob Severn, PJ Williams, Will Butler, Tony DiMattia, Mike Rutherford, Amber Oraschin, Zach Light, Ryan Groff, Luke Thomas, Rebecca LaMothe, Bret Cronrath, Josh Conover, Hunter James, Corry Roth, Shawn Rooney, Jerry Seabridge, Cale Mutter, Ben Earnst, Tim Howell, Mike Dicely, Bobby Scherff, Brent Shearer.
Dayton Parts Wingless 270cc Clash at the Clyde, 30 laps:
1.Mike Rutherford, 2.Kyle Spence, 3.Bradley Brown, 4.Dan Lane Jr., 5.Tyler Ulrich, 6.Toby Blumenshine, 7.Ross Perchak,
8.TJ
Greve Jr., 9.Brian Sholley, 10.Jesse Maurer, 11.Nick Skias, 12.Angelo Mercado, 13.Dylan Adams, 14.Devin Adams, 15.John Davis, 16.Tyler Reinhardt, 17.Brent Shearer, 18.Heath Hehnly, 19.Richie Hartman, 20.Keith Holiday, 21.Ava Bellinger, 22.Rob Pajauis, 23.Cameron Bellinger, 24.Josh Schaffer.
DNQ: William Manotti, Dustin Fox, Corey Schmuck Jr., Mike Kalman, Will Federowic, Louden Reimert, Kenny Miller III, Brandon Heist, Damon Bomgardner, Brandon Gibble, Adam Harnish.
[END]