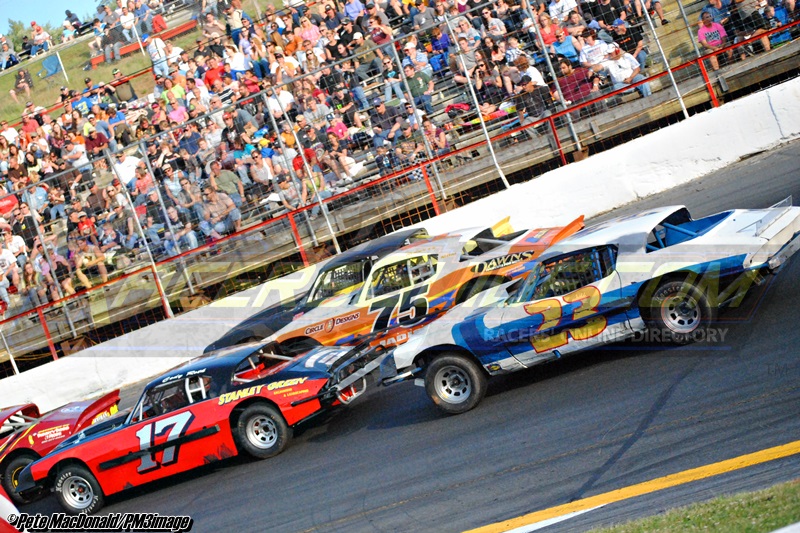 [xyz-ihs snippet="Horizontal-Google-Banner-Series"]
July 18 All Regular track classes + Small Car Enduro + Hobby Stock 5/30 make-up
July 25 Pro 4 35 laps $400 to win + all regular track classes + Micro Stocks
Aug. 1 CSMGS Race # 3 & #4 Modified Twin 50s $1800 to win each + all regular divisions
As the weather heats up so does Kris Graver…Reigning Mahoning Modified champ earns second win of '15
By DINO OBERTO
(LEHIGHTON, Pa. 7-11-15) After three straight weeks of no racing due to weather related issues, cars and fans where back on track in full force at Mahoning Valley Speedway.
It was hot July night too and so was Kris Graver of Lehighton, driving to a solid win in the Modified feature. The defending track champion made a pass on early leader Kevin Rex Jr., just prior to mid-race and from there the 22-year old sailed on to his 40th overall track win.
It was the same time of the season last year during this month that Graver was setting the stage for his championship run, winning several times as July rolled around.
"For some reason whenever this time comes around the hotter it is the better it is for me. We made a few adjustments between the heat and feature and it made a big difference," said Graver.
"My pap, (Kevin Graver Sr.,) and the crew did an awesome job of making this car fast and I can't thank them enough."
Terry Markovic and Rex would led the field to the green and no sooner did chief starter Bob Stull wave the start, Rex shot ahead to take the opening lap lead. Three laps in and John Markovic was second to Rex while T. Markovic stayed close in third.
Rex was on a steady course, holding a solid lead while J. Markovic followed from a few car lengths back. Meanwhile T. Markovic, Kyle Strohl and Paul Frantz where fighting for third spot.
Seventh starting Graver was not making himself known all this while as he was content in bidding his time behind the front pack, that was until he power moved his way frontward, snagging two spots to third place on lap 13. He was then trapped briefly behind J. Markovic for two more laps at which time he zipped by and was now second.
At the same time the caution waved after Eric Kocher took a spin in turn four. It would be on that restart that Graver advanced by Rex and into the lead. The rest of the way it was all him as Rex could only watch from his vantage of a few intervals back.
"Kevin (Rex) is always one of the cleaner guys to race with. He is a lower budgeted team much like we are and you know he'll not do anything out of line. It's always good to race up-front with him and to see teams like ours finishing one-two," said Graver.
"To get my 40th win – that's the icing on the cake. That should be a good selling point for my car because we plan to sell it at the end of the year and take a different route next year."
As Graver was cruising to the win, the battle for second became hot as Earl Paules stormed his way up to third with eight laps to go and afterward began a sizzling battle with Rex. The fight was tooth and nail as Paules was alongside Rex as the checkers fell.
Late Model point leader Paul Koehler Jr., of Northampton had one thing in mind on this night, score for a second time in the 4th Annual George Ramos Jr. "Pineapple 50." He won the inaugural race in 2012 and was hyped to add another "Pineapple 50" trophy to his mantle. 
A field of 19, the largest in several years for a regular Saturday night feature, came out to participate but for the perennial king of Late Models, the more the merrier as it was virtually trouble-free in his quest.
Koehler was able to grab the lead after a restart on lap 13 and then had a handful of laps in which Frankie Althouse would apply pressure to him. However, within the final 15 laps he was far too much for Althouse let alone anyone else and cruised to a decisive $1200 victory.
Althouse held on for second with Jacob Kerstetter a season best third.
After a run of ten straight races, the Street Stocks got there first repeat winner as Jonathan Tracey of Lehighton became the first driver this season to revisit Victory Lane with the class.
Jamie Smith was the pole sitter and set the early pace. Tracey, who started fourth, needed only one lap to make his way up to second. He then followed closely behind Smith. With eight laps complete Tracey had the momentum going and pulled to the outside of Smith, by the time the lap was counted he was in the lead.
The strong running Tracey would not relinquish from there on, despite a well-fought effort by Zach Graver. 
Lorin Arthofer II of Bath was declared the winner of the 25 lap Dirt Mod feature after Scott Adams was unable to pass postrace inspection, due to a weight infraction.
Adams was very stout, taking the lead from the get-go. Several times early on Arthofer would challenge but in the waning circuits the No. 68 of Adams was no match. However, after he went through the scale house it was determined that his percentages where not in accordance with the rulebook and the win unfortunately was taken away. For Arthofer is would mark his second victory over the past three races.
In the Pro 4's current point leader Cody Kohler of Schnecksville and defending class champ Nick Baer staged a great dogfight for the win with Kohler coming out the victor, his second this year.
In the make-up Pro 4 feature from May 30, Bobby Kibler Jr., took the lead on lap eight and was never headed the rest of the way.
16-year old Kyle Krempasky of Lehighton picked up his career first stock car win in the Hobby Stock main. Krempasky did it in solid fashion too, leading all laps en route to the unforgettable night.
Modified Feature Finish (35 Laps): 1. Kris Graver, 2. Kevin rex Jr., 3. Earl Paules, 4. John Markovic, 5. Austin Kochenash, 6. Don Wagner, 7. Rick Reichenbach, 8. Terry Markovic, 9. Paul Frantz, 10. Eric Beers, 11. DJ Wagner, 12. Kyle Strohl, 13. Eric Kocher, 14. Tom Wanick, 15. Barry Callavini, 16. Chip Santee
Late Model Feature Finish (50 Laps): 1. Paul Koehler Jr., 2. Frankie Althouse, 3. Jacob Kerstetter, 4. Pat Hargan, 5. Jacob Nemeth, 6. Geno Steigerwalt, 7. Earl Paules, 8. Jeremy Miller, 9. Tony Hilliard, 10. Kenny Hein, 11. Jason Zatsko, 12. Barry Kutz, 13. Darryl Bruenig, 14. Todd Ahner, 15. Mike Sweeney, 16. Broc Brown, 17. Georg Ramos, 18. Rich Cooper, 19. Dave Imler
Street Stock Feature Finish (30 Laps): 1. Jonathan Tracey, 2. Zach Graver, 3. Jason Frey, 4. Randy Ahner Jr., 5. Corey Edelman, 6. Jamie Smith, 7. Todd Ahner, 8. Kristy Arthofer, 9. Joe Stangle, 10. Jared Ahner, 11. Randy Schlenker, 12. Josh Mooney, 13. Gene Bowers, 14. Jason Kuhn, 15. Justin Mooney, 16. Brian Labar, 17. TJ Gursky, 18. Aaron Kromer, 19. Lonnie Behler Sr., 20. Stacey Brown DNQ: Bernie Uphold, George Ramos, Logan Boyer Jillian Long, Steven Steigerwalt, Stephanie Moyer
Dirt Mod Feature Finish (25 Laps): 1. Lorin Arthofer II, 2. Mike Stofflet, 3. Ray Deemer, 4. Ricky Yetter, 5. Aleia Geisler, 6. Dave Gorbatuk, 7. Billy Lasko, 8. Steve Shultz, 9. Jack Ely, 10. Ryan Green DNS: John Banashefski DQ: Scott Adams
Pro 4 Feature Finish (20 Laps): 1. Cody Kohler, 2. Nick Baer, 3. Bobby Kibler Sr., 4. TJ Kemmerer, 5. Chad Miller, 8. Kailyn Beers, 9. Johnny Bennett, 10. Lou Gara, 11. Tyler Stangle, 12. Bobby Kibler Jr. DNS: JD Light
Pro 4 5/30 Make-up Feature Finish (20 Laps): 1. Bobby Kibler Jr., 2. Kohler, 3. Baer, 4. Stangle, 5. Bobby Kibler Sr., 6. Light, 7. Kemmerer, 8. Beers, 9. Bennett DNS: Alton Snyder Jr., Jake Kibler
Hobby Stock Feature Finish (15 Laps): 1. Kyle Krempasky, 2. Eddie Reeder, 3. Tim Oswald, 4. Collin Bollinger, 5. Thomas Hunsicker Jr., 6. Hen Reeder, 7. Gunner Yost, 8. Michael Wambold, 9. Daniel Hargan, 10. Kyle Sisco, 11. Dean Strohl, 12. Tiffany Wambold, 13. Lyndsay Buss, 14. Seth VanFossen