[xyz-ihs snippet="Posts-Ad"]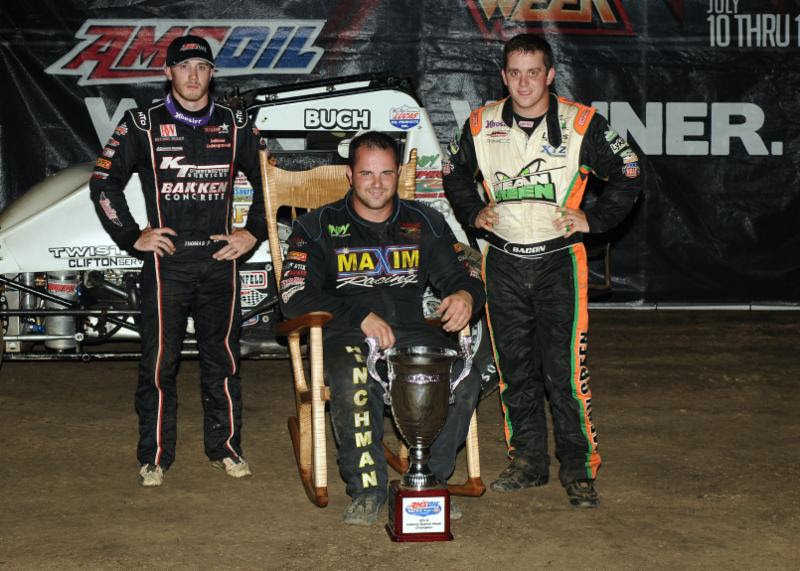 Robert Ballou (middle) of Rocklin, Calif. rests easy in his new rocking chair courtesy of John Youngs after winning the "Indiana Sprint Week" points title.  Kevin Thomas, Jr. (left) finished second in points while Brady Bacon (right) held on for third.
David Nearpass Photo
Brady Short of Bedford, Ind. does a cage stand after capturing

Saturday

night's "Indiana Sprint Week" USAC AMSOIL National Sprint Car feature at Tri-State Speedway in Haubstadt.
David Nearpass Photo
Haubstadt, Indiana…….Brady Short ended an over-four-year winless streak in the AMSOIL National Sprint Car Series by closing "Indiana Sprint Week" with the victory in Saturday's 30-lap feature at Tri-State Speedway, and Robert Ballou charged from tenth to finish fourth to clinch his first Sprint Week title.
Short started from the pole, but Chris Windom took the lead from the outside at the onset. He opened up a lead in the first few laps, as Ballou quickly pressured Brady Bacon for position, one which would decide the Sprint Week title, as the duo came into the feature separated by just two points.
Windom was out front and still pulling the front wheels on lap nine before encountering traffic just two laps later, as Kevin Thomas, Jr. and Brady Short began to close the gap along with Chase Stockon.
Thomas reeled Windom in and went side-by-side with him on lap twelve and stayed in his shadow until lap sixteen, when they again battled wheel-to-wheel down the backstretch before Thomas cleared him for the lead.
As the lead pack stayed bottled in traffic, Short disposed of Windom on lap twenty for second. He put himself just a few car lengths back of Thomas on lap 22 as they raced into turn-one, with Thomas up higher and getting caught behind a slower car getting sideways in front of them. Short darted past on the bottom, going on to win by 1.157 seconds aboard the Sipe's Body & Glass – Indiana Stone Works #11P Maxim/SPEC in a race that took just over seven minutes to complete. It was the first USAC win for car owner Cam Pottorff.
"It's huge to get a win again in USAC. It's so tough out here. It's no secret, I've buried myself a lot in qualifying. I knew if I hit my marks tonight and gave us a decent spot, we'd have a good shot. Traffic is huge here, and you've got to know how to maneuver around them. If you can get your car to pin and run off the bottom, you're a lot better off. The motor was getting way hot the last few laps and starting to lose power, but luckily it made it to the end. Coming down here is always a blast and we have some great races with those guys, and it feels good to come out on top of them," Short said.
Ballou finally entered the top-five on lap 26, as he passed Josh Hodges, who had a strong run going but was visibly overheating. He then ran down Stockon in the closing laps to take fourth in the Blakesley Auto – TwisterX #12 Maxim/Ott, joining the list of "Indiana Sprint Week" titlists by a final margin by 17 points. In addition to the $5,000 winner's share for the week, he took the coveted Bridgeport rocking chair supplied by John Youngs.
"I never really paid attention to points much, but I've figured it out this week and realized you've got to get every one you can, even in qualifying and heats. I've always said you shouldn't win a championship if you don't win a race, but I guess we kept our consistency and did what we had to do to get it done. We had a couple things, specifically the two rainouts, kinda play in our favor to help us. This is a tough place, and I know all the races we run here helps us a lot. Brady is fast and good, and I knew he'd fight us hard if he could, so to get by him early was kind of a relief. We were just a bit off tonight, but got up through there a bit to get the job done. As always, I have to thank Derrick Bye for all the work he puts into this operation, along with all the people on this race car who help us," Ballou said.
Thomas came home second and showed the heartbreak of a close miss on the week-long championship, as he also finished as runner-up for the week in the Bakken Concrete – Indiana Underground Construction #17RW Maxim/Fisher.
"That was everything we had, laid out there, since we ran 12th at Terre Haute and knew we had a lot to make up. We did everything we could the last couple nights, but it wasn't enough. Once again, we had some bad luck with the weather taking away some great opportunities this week. You gotta have some luck and be on your game every night this week to get the rocking chair, and we just had those small bad breaks. This week is so mentally straining and try to get every single point every time you're out there. Tonight, we were really good but just caught a couple lappers a little wrong being out front. It's a tough place to get around, and traffic can be a real headache. This place is hell on wheels for 30 laps, and tonight we came up just short," Thomas said.
Windom's fine run closed on the podium as he steered the Rick Pollock – Bates Commodities #21x Maxim/Advanced to a seventh-place overall finish for the week.
"To be honest, I wouldn't expect this when we first came here. Rick and I tried some different things here, and it was actually really good. Leading laps here and lapping cars is something I'm not used to in a while. It's nice to finish off with a good night to end Sprint Week. We had some good nights and could have had some really good ones, but rain stopped those. Once we got to traffic tonight, I just didn't quite have the grip and they could hustle the middle harder than me, and that's when they got me," Windom said.
Chase Stockon finished up fifth in the Superior Tank & Trailer – Crescent Electric Supply #32 DRC/Fisher, with Hodges sixth and Kyle Cummins finishing up 7th after starting 16th to earn the B&W Auto Mart "Hard Charger Award," worth $300 on the night in the memory of sprint car fan and former official Larry Williams, who died while traveling to the Sprint Week event at Terre Haute on Wednesday.
Justin Grant took the night's ProSource "Fast Time Award" before finishing eighth in the feature.
Brady Bacon finished up third in Sprint Week points after coming into the night as the leader before finishing 11th in the feature.
Thomas Meseraull earned the night's American Racing Ministries "Perseverance Award" as the last transfer from the Semi-Feature.
 —————————-
AMSOIL USAC SPRINT CAR NATIONAL CHAMPIONSHIP RACE RESULTS: July 18, 2015 – Haubstadt, Indiana – Tri-State Speedway – 28th Annual "Indiana Sprint Week"
QUALIFYING: 1. Justin Grant, 5, Baldwin-13.421; 2. Josh Hodges, 74x, Hodges-13.429; 3. Chase Stockon, 32, 32/TBI-13.436; 4. C.J. Leary, 30, Leary-13.444; 5. Kevin Thomas, Jr., 17RW, Dutcher-13.454; 6. Chris Windom, 21x, Pollock-13.520; 7. Brady Short, 11P, Pottorff-13.523; 8. Brady Bacon, 69, Dynamics-13.525; 9. Tyler Courtney, 4, THR-13.535; 10. Robert Ballou, 12, Ballou-13.539; 11. Jarett Andretti, 18, Andretti Autosport Short Track-13.555; 12. Jon Stanbrough, 81, Stanbrough-13.579; 13. Chad Boespflug, 66, Amati-13.585; 14. Aaron Farney, 15F, Farney-13.587; 15. Hunter Schuerenberg, 2E, Epperson-13.645; 16. Kyle Cummins, 3c, Cummins-13.653; 17. Max McGhee, 17, McGhee-13.687; 18. Dave Darland, 71P, Phillips/Curb-Agajanian-13.706; 19. Donny Brackett, 4B, Brackett-13.830; 20. Zach Daum, 5D, Daum-13.843; 21. Scotty Weir, 11, Walker-13.870; 22. Carson Short, 21, Short-13.871; 23. Jake Swanson, 92, Sertich-13.893; 24. Jeff Bland, Jr., 04, Burton-13.917; 25. Dakota Jackson, 3, Jackson-13.948; 26. Casey Shuman, 2x, Barnhill-13.948; 27. Kurt Gross, 1x, Gross-14.227; 28. Kent Schmidt, 5K, Schmidt-14.233; 29. Aric Gentry, 10, GBR-14.493; 30. Mitch Wissmiller, 1w, Wissmiller-14.571; 31. Thomas Meseraull, 39, Goodnight-14.685; 32. Clyde Knipp, 13, Korte-15.659; 33. Robert Bell, 71, Bell-15.663; 34. Lee Dakus, 75, Dakus-NT.
FIRST HEAT: (10 laps) 1. Darland, 2. Thomas, 3. Boespflug, 4. Grant, 5. Courtney, 6. Shuman, 7. C. Short. NT
SECOND HEAT: (10 laps) 1. Farney, 2. Ballou, 3. Hodges, 4. Windom, 5. Swanson, 6. Meseraull, 7. Gross, 8. Brackett. NT
THIRD HEAT: (10 laps) 1. B. Short, 2. Stockon, 3. Bland, 4. Schuerenberg, 5. Daum, 6. Andretti, 7. Schmidt, 8. Knipp. NT
FOURTH HEAT: (10 laps) 1. Jackson, 2. Cummins, 3. Bacon, 4. Stanbrough, 5. Leary, 6. Weir, 7. Gentry, 8. Bell. 2:18.92
SEMI: (12 laps) 1. Leary, 2. Courtney, 3. Weir, 4. Andretti, 5. Swanson, 6. Meseraull, 7. Schmidt, 8. Shuman, 9. Gentry, 10. Knipp, 11. Bell, 12. Daum, 13. C. Short. NT
FEATURE: (30 laps) 1. Brady Short, 2. Kevin Thomas, Jr. 3. Chris Windom, 4. Robert Ballou, 5. Chase Stockon, 6. Josh Hodges, 7. Kyle Cummins, 8. Justin Grant, 9. Jon Stanbrough, 10. C.J. Leary, 11. Brady Bacon, 12. Dave Darland, 13. Scotty Weir, 14. Jarett Andretti, 15. Hunter Schuerenberg, 16. Jeff Bland, Jr., 17. Aaron Farney, 18. Chad Boespflug, 19. Thomas Meseraull, 20. Tyler Courtney, 21. Dakota Jackson, 22. Jake Swanson. 7:31.50
—————————-
**Brackett flipped during the second heat.
FEATURE LAP LEADERS: Laps 1-15 Windom, Laps 16-21 Thomas, Laps 22-30 B. Short.

UPCOMING EVENT INFO
DATE:
Friday, August 7, 2015
SERIES:
USAC AMSOIL Sprint Car National Championship
TRACK:
AMSOIL Speedway (Superior, Wisconsin) – 1/2 mile dirt oval
EVENT:   
USAC Sprint Series, Super Stocks, Pure Adrenaline (PS)
TRACK ADDRESS:
4700 Tower Ave, Superior, WI 54880
TRACK WEBSITE:
DATE:
Saturday, August 8, 2015
SERIES:
USAC AMSOIL Sprint Car National Championship
TRACK:
Cedar Lake Speedway (New Richmond, Wisconsin) – 3/8 mile clay oval
EVENT:   
USAC SPRINT CAR SPECIAL along with Midwest Modifieds and Vintage Cars.
TICKET PRICES:
Adults – $25
Students 6-16 are half price.
5 and under FREE!
Pits: $35
STARTING TIMES:
Grandstands open at 5:00pm
Racing starts at 6:00pm
TRACK ADDRESS:
2275 County Road Cc, New Richmond, WI 54017
TRACK PHONE:
(715) 248-7119

TRACK WEBSITE:
DATE:
Sunday, August 9, 2015
SERIES:
USAC AMSOIL Sprint Car National Championship
TRACK:
Angell Park Speedway (Sun Prairie, Wisconsin) – 1/3 mile dirt oval
TRACK ADDRESS:
315 Park St, Sun Prairie, WI 53590
TRACK PHONE:
(608) 837-5252

TRACK WEBSITE:

2015 AMSOIL USAC SPRINT CAR NATIONAL CHAMPIONSHIP SCHEDULE & RESULTS
| | | | |
| --- | --- | --- | --- |
| DATE | LOCATION | TRACK | WINNER |
| | Ocala, FL | Bubba Raceway Park | Robert Ballou |
| | Ocala, FL | Bubba Raceway Park | Brady Bacon |
| Feb. 22 | Ocala, FL | Bubba Raceway Park | Dave Darland |
| Feb. 26 | Gibsonton, FL | East Bay Raceway Park | Kevin Thomas, Jr. |
| Feb. 27 | Gibsonton, FL | East Bay Raceway Park | Robert Ballou |
| Feb. 28 | Gibsonton, FL | East Bay Raceway Park | Rained Out |
| April 4 | Lawrenceburg, IN | Lawrenceburg Speedway | Logan Jarrett |
| | | | |
| --- | --- | --- | --- |
| April 17 | Bloomington, IN | Bloomington Speedway | Bryan Clauson |
| April 18 | Haubstadt, IN | Tri-State Speedway | Brady Bacon |
| April 24 | Eagle, NE | Eagle Raceway | Dave Darland |
| April 25 | McCool Junction, NE | Junction Motor Speedway | Rained Out |
| April 26 | Kansas City, KS | Lakeside Speedway | Robert Ballou |
| May 8 | Rossburg, OH | Eldora Speedway | Robert Ballou |
| May 9 | Rossburg, OH | Eldora Speedway | Justin Grant |
| | Gas City, IN | Gas City I-69 Speedway | Brady Bacon |
| | | | |
| --- | --- | --- | --- |
| | Terre Haute, IN | Terre Haute Action Track | Rained Out |
| | #Bechtelsville, PA | Grandview Speedway | Rained Out |
| | #New Oxford, PA | Lincoln Speedway | Canceled |
| | #New Egypt, NJ | New Egypt Speedway | Robert Ballou |
| | #Port Royal, PA | Port Royal Speedway | Robert Ballou |
| | #Newberrytown, PA | Susquehanna Speedway Park | Robert Ballou |
| July 4 | Putnamville, IN | Lincoln Park Speedway | Jerry Coons, Jr. |
| July 10 | @Gas City, IN | Gas City I-69 Speedway | Chase Stockon |
| | | | |
| --- | --- | --- | --- |
| July 12 | @Lawrenceburg, IN | Lawrenceburg Speedway | Brady Bacon |
| July 15 | @Terre Haute, IN | Terre Haute Action Track | Aaron Farney |
| July 16 | @Putnamville, IN | Lincoln Park Speedway | Brady Bacon |
| July 17 | @Bloomington, IN | Bloomington, IN | Rained Out |
| July 18 | @Haubstadt, IN | Tri-State Speedway | Brady Short |
| | Superior, WI | AMSOIL Speedway | |
| | New Richmond, WI | Cedar Lake Speedway | |
| | | | |
| --- | --- | --- | --- |
| | Sun Prairie, WI | Angell Park Speedway | |
| | Kokomo, IN | Kokomo Speedway | |
| | Kokomo, IN | Kokomo Speedway | |
| | Kokomo, IN | Kokomo Speedway | |
| | Kokomo, IN | Kokomo Speedway | |
| | Haubstadt, IN | Tri-State Speedway | |
| | Rossburg, OH | Eldora Speedway | |
| | Lawrenceburg, IN | Lawrenceburg Speedway | |
| | Calvert City, KY | Kentucky Lake Motor Speedway | |
| | | | |
| --- | --- | --- | --- |
| | Perris, CA | Perris Auto Speedway | |
| | Perris, CA | Perris Auto Speedway | |
| | Perris, CA | Perris Auto Speedway | |
| | Tucson, AZ | USA Raceway | |
| | Tucson, AZ | USA Raceway | |
| | Tucson, AZ | USA Raceway | |
#=Eastern Storm
@=Indiana Sprint Week
**=Special Event – Feature Points Only

2015 USAC AMSOIL SPRINT CAR NATIONAL CHAMPIONSHIP POINT STANDINGS
RANK

DRIVER/HOMETOWN

POINTS

1