[xyz-ihs snippet="Horizontal-Google-Banner-Series"]
Lawrenceburg, Indiana…Brady Bacon benefited from some Hoffman Auto Racing home-cooking
on Sunday
night as he captured his first-ever "Indiana Sprint Week" feature win and the 90th win in the history of the famous Cincinnati-based team at nearby Lawrenceburg Speedway. He tracked down early leader Aaron Farney and held off the late advances of Robert Ballou to take his fourth win of the season in the Hoffman Auto Racing – Mean Green #69 Triple X/Williams Mopar.
"To win a USAC race here at Lawrenceburg, the Hoffmans' home track, is really great. It seemed like a really long race, being a sitting duck there out front in traffic for so long. It's so easy to get behind in these races this week, and so many good cars to make it tough on you, so you gotta grab them when you can. I woulda liked to gone to the outside in traffic, but they were racing pretty hard, and Landon (Simon) got a little bottled up there and I got in the back of him, but luckily we were able to get in the race track and get back by both of them. It was a tough race, and I'm glad we came out on top," Bacon said.
Kevin Thomas, Jr. led from the pole but Farney was charging on the high side right off the bat, and he pulled Thomas down the fronstretch to lead lap-two, as Thomas bounced and lost brakes early in the event.
Farney was running the high side as Bacon sliced from his row-three starting spot to challenge for the lead, taking command on lap six. Meanwhile, Ballou took third from Thomas. A lap later, the only caution after the initial start appeared with 23 laps to go.
From there, Bacon took off and Ballou worked past Farney for the second spot. The lead duo ran away from the field, while Thomas fought for a top-five spot with Justin Grant.
Inside the final ten laps, the leaders encountered thick traffic, with cars racing side-by-side. Ballou tried the high side, but he couldn't take his momentum past Bacon. On lap 23, Bacon entered turn-three on the bottom behind Simon, who bobbled slightly as Bacon got into his back bumper. Those two scattered as Ballou grabbed the lead on the high side, but Bacon squared off turn-four and powered back to the lead as they hit the stripe.
Bacon then went to the high side to clear a couple lapped cars and distance himself from Ballou, who regained the National Sprint Car point lead with his runner-up finish aboard the Blakesley Auto – Twister X #12 Maxim/Ott.
"Nights like tonight, as bad as I want to win, you also don't want to do something stupid. This week-long deal puts a lot of pressure on people, but you just have to put yourself in good positions. We want to win all the races we can this week and this year, so if we can get that done, everything should take care of itself. Brady was running pretty hard up there and wanted that one pretty bad – we had a shot but had to take second. I'm glad to get tonight in with all the rain we've had, and luckily they worked hard to get it ready so we could race," Ballou said.
On the final lap, Justin Grant slipped underneath Farney for the third spot in the Mark Hery Motorsports – Dick's Paint & Body #40 DRC/Claxton.
"We kinda found something there in the middle to work and get around guys. I don't think we had anything for those top-two guys, but were were solid. You start legging it pretty hard in the closing laps, and I saw Farney up there. He's a young kid and doing a great job, but you know going into traffic that you can capitalize on his inexperience. A couple bad lane choices cost him some, and we were able to squeak by him. He'll learn from those and figure it out next time," Grant said.
Darland edged Farney at the line in a photo finish for the fourth spot, as Darland's drive from 11th earned him the B&W Auto Mart "Hard Charger Award." Farney claimed the final top-five position in the DCT Racing – Brettnacher Farms #15F Maxim/Ott.
Shawn Westerfeld won the night's ProSource "Fast Time Award" to start the night. Chase Stockon, who came in as the National & Sprint Week point leader, flipped after bouncing through turn-three while in a transfer spot in the Semi-Feature. He was forced to use a provisional to start the feature, which did not earn him Sprint Week points.

———————————–
AMSOIL USAC SPRINT CAR NATIONAL CHAMPIONSHIP RACE RESULTS: July 12, 2015 – Lawrenceburg, Indiana – Lawrenceburg Speedway – 28th Annual "Indiana Sprint Week" QUALIFYING:
1. Shawn Westerfeld, 89, Westerfeld-14.115; 2. Brady Bacon, 69, Dynamics-14.116; 3. Jon Stanbrough, 81, Stanbrough-14.217; 4. Jerry Coons Jr., 10E, Edison-14.252; 5. Justin Grant, 40, Hery-14.263; 6. Robert Ballou, 12, Ballou-14.264; 7. Jarett Andretti, 18, Andretti-14.264; 8. Aaron Farney, 15F, Farney-14.267; 9. Kevin Thomas, Jr., 17RW, Dutcher-14.336; 10. Chase Stockon, 32, 32/TBI-14.363; 11. Hunter Schuerenberg, 2E, Epperson-14.421; 12. Josh Hodges, 74x, Hodges-14.429; 13. Jake Swanson, 92, Sertich-14.438; 14. Dave Darland, 71P, Phillips/Curb-Agajanian-14.501; 15. Chris Windom, 21X, Pollock-14.504; 16. Scotty Weir, 11, Walker-14.528; 17. Thomas Meseraull, 18X, Keen-14.535; 18. Tracy Hines, 4, THR-14.553; 19. Logan Jarrett, 29, Jarrett-14.597; 20. C.J. Leary, 5, Baldwin-14.625; 21. Chad Boespflug 66, Amati-14.646; 22. Kyle Cummins, 3R, Byram-14.661; 23. Kody Swanson, 41, SST-14.680; 24. Casey Shuman, 2X, Barnhill-14.731; 25. Travis Hery, 21H, Hery-14.781; 26. Landon Simon, 24, LSR-14.859; 27. Tony DiMattia, 50, DiMattia-14.992; 28. Bill Rose, 6, Rose-15.003; 29. J.J. Hughes, 76, Hughes-15.006; 30. Lee Dakus, 75, Dakus-15.010; 31. Brady Short, 11p, Pottorff-15.018; 32. Joss Moffatt, 5J, Moffatt-15.091 ;33. Garrett Abrams, 32a, Abrams-15.332; 34. Dallas Hewitt, 16, Pearson-15.399; 35. Michael Fischesser, 4F, Fischesser-15.825; 36. Matt Goodnight, 39, Goodnight-15.964; 37. Riley VanHise, 96, VanHise-16.093; 38. Robert Bell, 71, Bell-16.684; 39. Shane Cottle, 57, Hazen-NT.
FIRST HEAT: (10 laps) 1. Meseraull, 2. Boespflug, 3. K.Thomas, 4. Grant, 5. J.Swanson, 6. Westerfeld, 7. Hery, 8. Abrams, 9. Hughes, 10. VanHise. 2:27.90
SECOND HEAT: (10 laps) 1. Cummins, 2. Darland, 3. Bacon, 4. Ballou, 5. Simon, 6. Stockon, 7. D.Hewitt, 8. Dakus, 9. Hines, 10. Bell. NT
THIRD HEAT: (10 laps) 1. Jarrett, 2. Andretti, 3. K.Swanson, 4. Windom, 5. Schuerenberg, 6. Short, 7. Fischesser, 8. DiMattia, 9. Stanbrough. 2:26.39
FOURTH HEAT: (10 laps) 1. Leary, 2. Weir, 3. Farney, 4. Rose, 5. Coons, 6. Hodges, 7. Moffatt, 8. Goodnight, 9. Shuman. 2:26.22
SEMI: (12 laps) 1. Stanbrough, 2. Schuerenberg, 3. Westerfeld, 4. Simon, 5. Hodges, 6. Abrams, 7. Dakus, 8. Hughes, 9. DiMattia, 10. J.Swanson, 11. Hery, 12. D.Hewitt, 13. Fischesser, 14. VanHise, 15. Bell, 16. Shuman, 17. Moffatt, 18. Stockon, 19. Hines, 20. Goodnight, 21. Coons. NT
FEATURE: (30 laps) 1. Brady Bacon, 2. Robert Ballou, 3. Justin Grant, 4. Dave Darland, 5. Aaron Farney, 6. Kevin Thomas Jr., 7. Jarett Andretti, 8. Jon Stanbrough, 9. Chris Windom, 10. Hunter Schuerenberg, 11. Scotty Weir, 12. Shawn Westerfeld, 13. Chad Boespflug, 14. Thomas Meseraull, 15. Logan Jarrett, 16. Chase Stockon, 17. Landon Simon, 18. C.J. Leary, 19. Garrett Abrams, 20. Kyle Cummins, 21. Kody Swanson, 22. Josh Hodges, 23. Bill Rose. —————————-
**Cottle flipped during qualifying. Hines, Stockon and J.Swanson all flipped during the semi. Rose flipped on lap 1 of the feature.
FEATURE LAP LEADERS: Lap 1 K.Thomas, Laps 2-6 Farney, Laps 7-30 Bacon.

UPCOMING EVENT INFO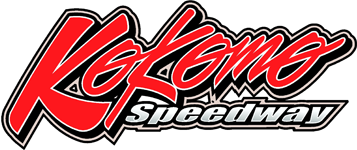 DATE:
Monday, July 13, 2015
SERIES:
USAC AMSOIL Sprint Car National Championship
TRACK:
Kokomo Speedway (Kokomo, Indiana) – 1/4 mile, high-banked dirt oval
EVENT:   
28th Annual "Indiana Sprint Week"
TICKET PRICES:
Adult General Admission: $25
Pit Pass: $30
Your wristband from Saturday, July 11, will get you in the gate.
STARTING TIMES:
Gates Open: 5PM
Hot Laps: 7pm with Semi and Feature to follow.
TRACK ADDRESS:
2455 N Davis Rd, Kokomo, IN 46901
TRACK PHONE:

TRACK WEBSITE:

2015 AMSOIL USAC SPRINT CAR NATIONAL CHAMPIONSHIP SCHEDULE & RESULTS
| | | | |
| --- | --- | --- | --- |
| DATE | LOCATION | TRACK | WINNER |
| | Ocala, FL | Bubba Raceway Park | Robert Ballou |
| | Ocala, FL | Bubba Raceway Park | Brady Bacon |
| Feb. 22 | Ocala, FL | Bubba Raceway Park | Dave Darland |
| Feb. 26 | Gibsonton, FL | East Bay Raceway Park | Kevin Thomas, Jr. |
| Feb. 27 | Gibsonton, FL | East Bay Raceway Park | Robert Ballou |
| Feb. 28 | Gibsonton, FL | East Bay Raceway Park | Rained Out |
| April 4 | Lawrenceburg, IN | Lawrenceburg Speedway | Logan Jarrett |
| | | | |
| --- | --- | --- | --- |
| April 17 | Bloomington, IN | Bloomington Speedway | Bryan Clauson |
| April 18 | Haubstadt, IN | Tri-State Speedway | Brady Bacon |
| April 24 | Eagle, NE | Eagle Raceway | Dave Darland |
| April 25 | McCool Junction, NE | Junction Motor Speedway | Rained Out |
| April 26 | Kansas City, KS | Lakeside Speedway | Robert Ballou |
| May 8 | Rossburg, OH | Eldora Speedway | Robert Ballou |
| May 9 | Rossburg, OH | Eldora Speedway | Justin Grant |
| | Gas City, IN | Gas City I-69 Speedway | Brady Bacon |
| | | | |
| --- | --- | --- | --- |
| | Terre Haute, IN | Terre Haute Action Track | Rained Out |
| | #Bechtelsville, PA | Grandview Speedway | Rained Out |
| | #New Oxford, PA | Lincoln Speedway | Canceled |
| | #New Egypt, NJ | New Egypt Speedway | Robert Ballou |
| | #Port Royal, PA | Port Royal Speedway | Robert Ballou |
| | #Newberrytown, PA | Susquehanna Speedway Park | Robert Ballou |
| July 4 | Putnamville, IN | Lincoln Park Speedway | Jerry Coons, Jr. |
| July 10 | @Gas City, IN | Gas City I-69 Speedway | Chase Stockon |
| | | | |
| --- | --- | --- | --- |
| July 12 | @Lawrenceburg, IN | Lawrenceburg Speedway | Brady Bacon |
| July 13 | @Kokomo, IN | Kokomo Speedway | |
| | @Terre Haute, IN | Terre Haute Action Track | |
| | @Putnamville, IN | Lincoln Park Speedway | |
| | @Bloomington, IN | Bloomington, IN | |
| | @Haubstadt, IN | Tri-State Speedway | |
| | Superior, WI | AMSOIL Speedway | |
| | New Richmond, WI | Cedar Lake Speedway | |
| | | | |
| --- | --- | --- | --- |
| | Sun Prairie, WI | Angell Park Speedway | |
| | Kokomo, IN | Kokomo Speedway | |
| | Kokomo, IN | Kokomo Speedway | |
| | Kokomo, IN | Kokomo Speedway | |
| | Haubstadt, IN | Tri-State Speedway | |
| | Rossburg, OH | Eldora Speedway | |
| | Lawrenceburg, IN | Lawrenceburg Speedway | |
| | Calvert City, KY | Kentucky Lake Motor Speedway | |
| | | | |
| --- | --- | --- | --- |
| | Perris, CA | Perris Auto Speedway | |
| | Perris, CA | Perris Auto Speedway | |
| | Perris, CA | Perris Auto Speedway | |
| | Tucson, AZ | USA Raceway | |
| | Tucson, AZ | USA Raceway | |
| | Tucson, AZ | USA Raceway | |
#=Eastern Storm
@=Indiana Sprint Week
**=Special Event – Feature Points Only

2015 USAC AMSOIL SPRINT CAR NATIONAL CHAMPIONSHIP POINT STANDINGS
RANK

DRIVER/
HOMETOWN

POINTS

1

Robert Ballou
(Rocklin, CA)

1096
2

Chase Stockon

(Elizabethtown, IN)

1079
3

Dave Darland
(Lincoln, IN)

1050
4

Brady Bacon
(Broken Arrow, OK)

971
5

Jon Stanbrough

(Avon, IN)

961
6

Kevin Thomas, Jr.
(Cullman, AL)

898
7

Tracy Hines
(New Castle, IN)

818
8

C.J. Leary
(Greenfield, IN)

774
9
661
10

Chris Windom

(Canton, IL)

648