Mike Sweeney Ready To Defend Mahoning Valley Late Model Title
Story By: DINO OBERTO / MAHONING VALLEY SPEEDWAY EDIA
Photos By: WALT SMITH / RACERSGUIDE.COM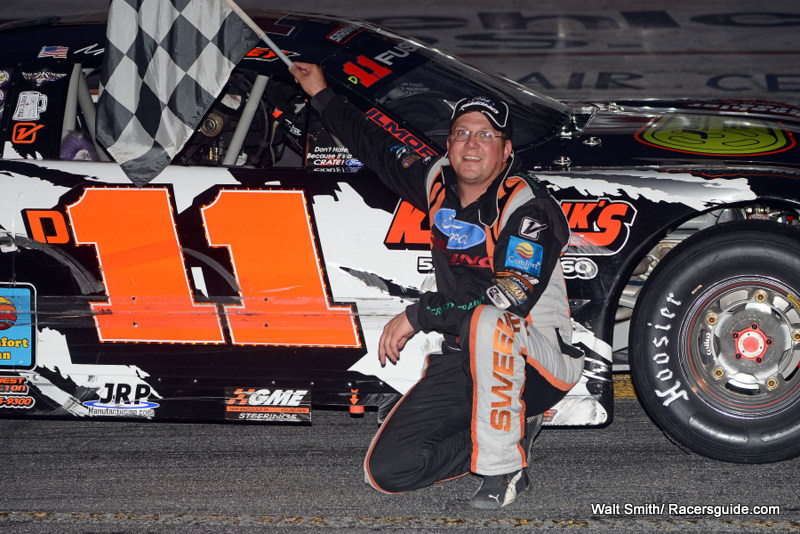 NESQUEHONING, PA. – March 20, 2017- When it comes to asphalt Late Model racing throughout the Northeast, perhaps no driver can boast the kind of numbers reeled off as that of Mike Sweeney over the past two seasons.
Sweeney, who hails from Nesquehoning, has collected nearly 20 feature wins with over 50% of those being top two finishes, has led more laps and over that period in his home state of Pennsylvania has sailed by some of the all-time greats in career wins including the likes of Todd Stehle, Todd Geist, John Markovic and Larry Fisher to name a few.
"The win list is something we definitely keep our eye on and it's pretty cool that we passed those names because they weren't only the guys that I watched growing up I also got to race against most of them and to this day I still turn to them for advice," said Sweeney, who with 44 victories, is now second in wins behind Paul Koehler Jr., at 71.
"To win that many races the last couple years is a dream come true but it always comes back to the testament of our team's hard work and dedication. All winter long we rarely took a break. Not soon after the final race of 2016 we went to it and have been picking at the car and making sure that when Opening Day rolls around we'll have our game faces on and we can hopefully pick up and repeat the success we've enjoyed."
For Sweeney, the icing on the cake to all those accolades was winning the 2016 Late Model championship at his home track Mahoning Valley Speedway in Lehighton. He also has a pair of titles at Evergreen Raceway.
"We really needed to scratch that off out bucket list. We ran numerous seasons were we finished second or third in the championship. We even had a few seconds at Evergreen before we took the titles there," said Sweeney.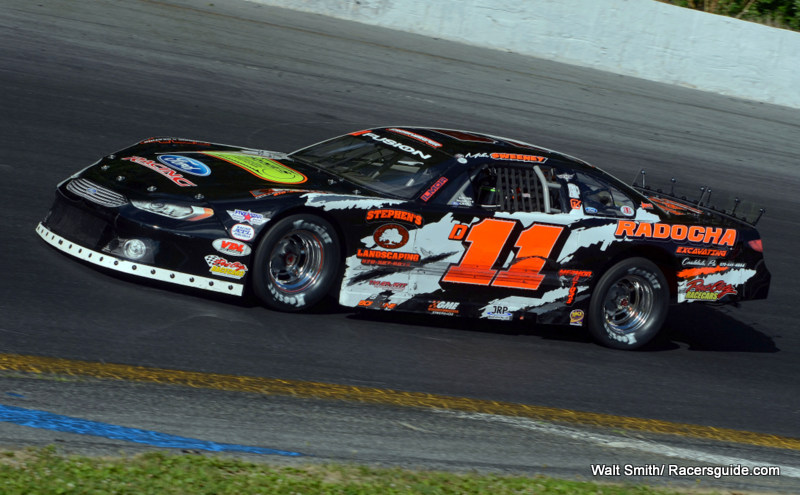 "In 2015 we won 10 races and finished second in points. That was just a head-scratcher. We would tell people at the end of that year we won 10 races and they automatically think that we were the champion but it came down to a few bad weeks," he continued.
"Last year that's what our focus was. To gain as many points every single week so it didn't hurt us as bad when those bad weeks would happen. We knew that would take place. Everyone has bad weeks no matter who you are."
Sweeney beat out Frankie Althouse and Koehler en route to the Mahoning title.
As a driver, Sweeney has nurtured into a smooth yet hard charger that is always focused on the big picture – winning, and he has the numbers to back him up.  He has learned to make the best of a bad situations over the years which like any champion driver has made all the difference when it comes to victories and solid finishes.
"Years ago I would be pounding on the steering wheel when something went wrong and it would take a good three or four laps before I had my focus back in the game," he explained.
"I had to realize that when something happened it happened. I had to deal with the decision of the officials and not concern myself with arguing with them. Now I just reset and get right back to the job at hand. At that point the race may now have turned into a 12 lap feature instead of a 25 lap feature and you have to go from there. You have to pass as many cars in that short amount of time and make the best of it. That's where the points really make or break you when you're running for a championship."
Not surprising Sweeney and company have not rested on their laurels. Like any championship caliber team they have been working continuously throughout the offseason. The thing it when you have such a well-oiled operation what can you possible do to do to improve on?
"We did make some chassis improvements on what we felt maybe the car not lacked but just those minor adjustments. But for the most part it has been just keeping everything fresh and in tack. We had the car stripped down and went over every nut and bolt and everything in between. Some things that were close last year we're looking to get them a little better," said Sweeney.
Despite all the time in the shop in preparation for the soon-to-start 2017 season, Sweeney has one very important item that has yet to be tested – tires.
This year Mahoning Valley has made a switch from Hoosier to American Racer tires. For Sweeney and everyone else who runs the ¼-mile oval, it will be a whole new learning process in that facet of set-up.
"We've talked to their (American Racer) technician a few times and got in touch with some people who race those tires and have been gathering as much input as we can. We've read numerous articles just to gain as much knowledge as possible so we know how the grip will be and it's effect to the car," said Sweeney.
"We are one of the few that do the double tracks (Mahoning and Evergreen) so I have to keep everything in check. Mahoning will be our main focus and we will do what it takes to get our car to handle on the American Racer but we will have Hoosier's on as well for those times we run Evergreen.
"When preseason practice starts we always used that time to make sure there are no leaks and basically to make sure all is ready to go for the opener. But now it will be that added element that we and everyone else will have to get to practice to see what the tires are all about. Maybe everything will be fine but then again we may have to completely change over everything."
At Mahoning Swweney knows that it won't just be about Koehler and Althouse in his title defense. The field of Late Model racers come out each week loaded for bear.
"The win records of Paul (Koehler) and Frankie (Althouse) speak for themselves. Paul's numbers may never be touched and Frankie (Althouse) has been next to us it seems at the end of every race and yes those are the guys to beat week in and week out but you can't count out anyone else and that races at Mahoning," he noted.
"That's why we have to work so hard in the shop all winter long because we know it's not going to be a cakewalk, we know it won't be easy to just go in and repeat. Everyone one of those guys are tough and we have be prepared and know that we're tougher than them."