Dale Earnhardt Jr. Edges Teammate Chase Elliott for Coke Zero 400 Pole
Story By: Reid Spencer / NASCAR Wire Service
Photos By: Getty Images / NASCAR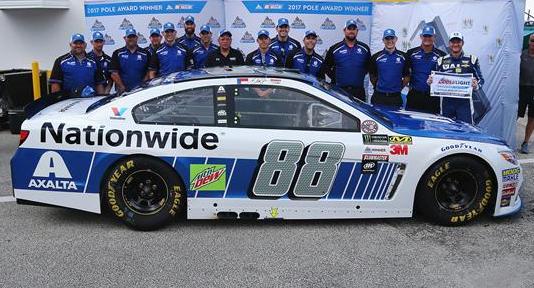 DAYTONA BEACH, Fla. – July 1, 2017– Dale Earnhardt Jr. may have just extended his Monster Energy NASCAR Cup Series career by one exhibition race with Friday's pole-winning effort at Daytona International Speedway.
The driver who will step away from the No. 88 Hendrick Motorsports Chevrolet at the end of the season will start first in that car in Saturday's Coke Zero 400 Powered by Coca-Cola (7:30 p.m. ET on NBC), after edging teammate Chase Elliott by .044 seconds for the top spot on the grid.
The Coors Light Pole Award was Earnhardt's first of the season, his second at Daytona and the 14th of his career.
In touring the 2.5-mile speedway in 47.127 seconds (190.973 mph), Earnhardt also qualified for the 2018 Advance Auto Parts Clash at Daytona, and that's what raised the prospect of another race at "The Birthplace of Speed" for NASCAR's most popular driver.
"Yeah, I'll talk to my boss man Rick (Hendrick) and see if we can make some arrangement and come back and have some fun," Earnhardt said after climbing from his car. "I'll see what he's got in the shed."
Elliott (190.795 mph on Friday) has won the last two poles for the Daytona 500, knocking Earnhardt out of the top spot this past February. On Friday, it was turn-about for Earnhardt, who credited Elliott and his No. 24 team for pushing the No. 88 group to the limit.
"I have to give Hendrick Motorsports a lot of credit," Earnhardt said. "Particularly for me personally, it's been the No. 24 bunch. We've been kind of pushing each other over the last several years in qualifying at Talladega and Daytona. It's been a healthy competition. That's why we win poles and qualify so well at some of these race tracks, healthy competition within the company.
"(Crew chief) Greg (Ives) and all the guys deserve all the credit for the car. I don't do anything in qualifying except hold the wheel and make sure I don't hit the apron. The car does everything. A lot of credit to the power and the body man back at the shop. All that stuff is so critical, and they did a great job today."
Brad Keselowski qualified third, followed by Kasey Kahne and Kevin Harvick, last Sunday's winner at Sonoma Raceway. Ricky Stenhouse Jr., Joey Logano, Jamie McMurray, Ryan Blaney and Danica Patrick claimed the sixth through 10th starting positions, respectively, as Fords and Chevrolets froze Toyota drivers out of the top 12.
Elliott's disappointment at qualifying second was moderated somewhat by Earnhardt's success, but that doesn't mean Elliott won't be trying to beat his teammate on Saturday night.
"It was definitely close," Elliott said. "I'm happy for those guys. It's so hard to tell when you're out there making laps how it's going to be or if you could do anything any better. But I'm proud of our NAPA Chevy team. We improved a little bit, I think, from Round 1 to Round 2, which was nice. We just didn't improve enough.
"So we'll go to work tomorrow. I'm excited for this race. It's such a cool race here at Daytona under the lights. If you've never been here, this is one to come and watch, for sure. I think it's going to be exciting. That guy (Earnhardt) starting on the pole is obviously fast, and I've just got to get in front of him."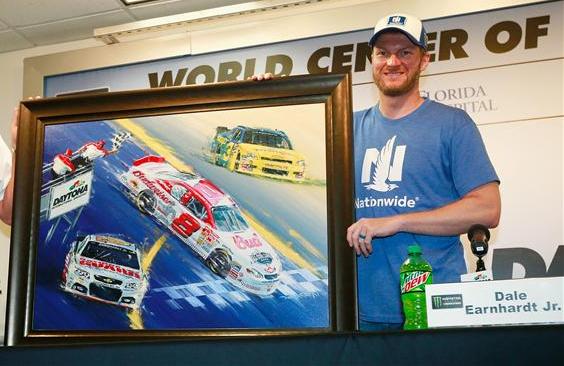 Monster Energy NASCAR Cup Series Qualifying – Coke Zero 400 Powered by Coca-Cola
Daytona International Speedway
Daytona Beach, Florida
Friday, June 30, 2017
1. (88)  Dale Earnhardt Jr., Chevrolet, 190.973 mph.
2. (24)  Chase Elliott, Chevrolet, 190.795 mph.
3. (2)  Brad Keselowski, Ford, 190.287 mph.
4. (5)  Kasey Kahne, Chevrolet, 190.050 mph.
5. (4)  Kevin Harvick, Ford, 190.046 mph.
6. (17)  Ricky Stenhouse Jr., Ford, 190.006 mph.
7. (22)  Joey Logano, Ford, 189.921 mph.
8. (1)  Jamie McMurray, Chevrolet, 189.849 mph.
9. (21)  Ryan Blaney, Ford, 189.785 mph.
10. (10)  Danica Patrick, Ford, 189.633 mph.
11. (14)  Clint Bowyer, Ford, 189.530 mph.
12. (48)  Jimmie Johnson, Chevrolet, 189.450 mph.
13. (20)  Matt Kenseth, Toyota, 189.302 mph.
14. (6)  Trevor Bayne, Ford, 189.223 mph.
15. (41)  Kurt Busch, Ford, 189.199 mph.
16. (18)  Kyle Busch, Toyota, 189.060 mph.
17. (77)  Erik Jones #, Toyota, 188.980 mph.
18. (11)  Denny Hamlin, Toyota, 188.885 mph.
19. (3)  Austin Dillon, Chevrolet, 188.842 mph.
20. (19)  Daniel Suarez #, Toyota, 188.561 mph.
21. (42)  Kyle Larson, Chevrolet, 188.513 mph.
22. (31)  Ryan Newman, Chevrolet, 188.458 mph.
23. (95)  Michael McDowell, Chevrolet, 188.419 mph.
24. (27)  Paul Menard, Chevrolet, 188.273 mph.
25. (78)  Martin Truex Jr., Toyota, 188.225 mph.
26. (34)  Landon Cassill, Ford, 188.218 mph.
27. (47)  AJ Allmendinger, Chevrolet, 187.758 mph.
28. (32)  Matt DiBenedetto, Ford, 187.668 mph.
29. (37)  Chris Buescher, Chevrolet, 187.621 mph.
30. (38)  David Ragan, Ford, 187.340 mph.
31. (43)  Darrell Wallace Jr.(i), Ford, 186.935 mph.
32. (75)  Brendan Gaughan(i), Chevrolet, 186.726 mph.
33. (7)  Elliott Sadler(i), Chevrolet, 186.718 mph.
34. (13)  Ty Dillon #, Chevrolet, 186.158 mph.
35. (72)  Cole Whitt, Chevrolet, 185.628 mph.
36. (23)  Corey LaJoie #, Toyota, 185.456 mph.
37. (55)  Reed Sorenson, Toyota, 184.627 mph.
38. (83)  Ryan Sieg(i), Toyota, 183.438 mph.
39. (33)  Jeffrey Earnhardt, Chevrolet, 181.496 mph.
40. (15)  DJ Kennington, Toyota, 0.000 mph.