HOSSFELD, STEFFENHAGEN, SHARPE & WOCH WIN AT LANCASTER
Story By: DAVE BUCHANAN / LANCASTER SPEEDWAY MEDIA
Photos By: MARK RANALLETTA / RACERSGUIDE.COM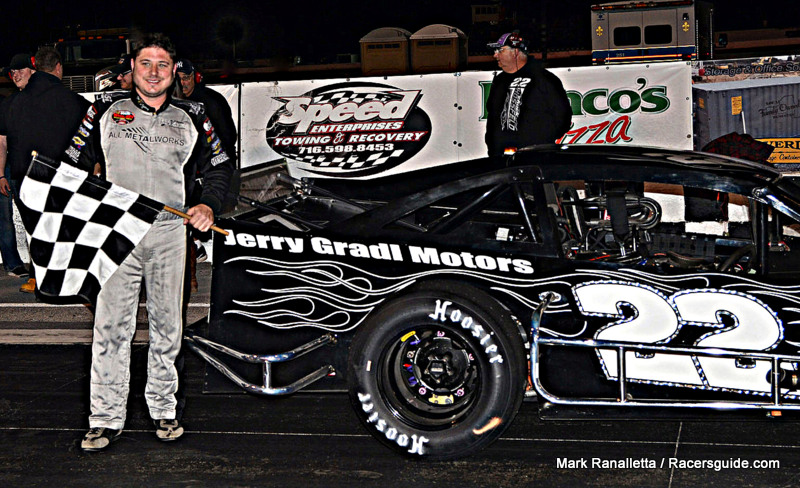 LANCASTER, N.Y. -May 14, 2017 – Lancaster National Speedway's X-Press Signs Stock Car Series returned to action on Saturday night following a one week interruption courtesy of Mother Nature.
Chuck "The Hotshoe" Hossfeld of Ransomville, N.Y. returned to victory lane in the Sunoco Sportsman as he captured the 35-lap feature. Jim Steffenhagen of Rochester won the 50-lap Mike Julicher Tribute Race for the New York Super Stock Series. Rich Sharpe of Lancaster picked up his second win in a row in the Advance Auto Parts Street Stocks. Bobby Woch of Amherst, N.Y. earned his first win of the season in the Roaming Buffalo 4-Cylinders.
Shawn Nye and Tony Carbone led the field of 16 Sunoco Sportsman to the initial green flag for their 35-lap feature. Nye grabbed the early from the pole position.
Chuck Hossfeld made his first Sportsman start at Lancaster since winning last year's U.S. Open Sportsman feature. He lined up fourth at the drop of the green flag, but Hossfeld quickly made his way into the runner-up position. That gave him a front row starting spot for restart on lap 9, and that is all Hossfeld would need as he took the lead from Nye when racing resumed.
Hossfeld cruised to the victory followed closely by Nye. Neal Dietz, Jr. finished third followed by Mike Ramos and Owen Bednasz.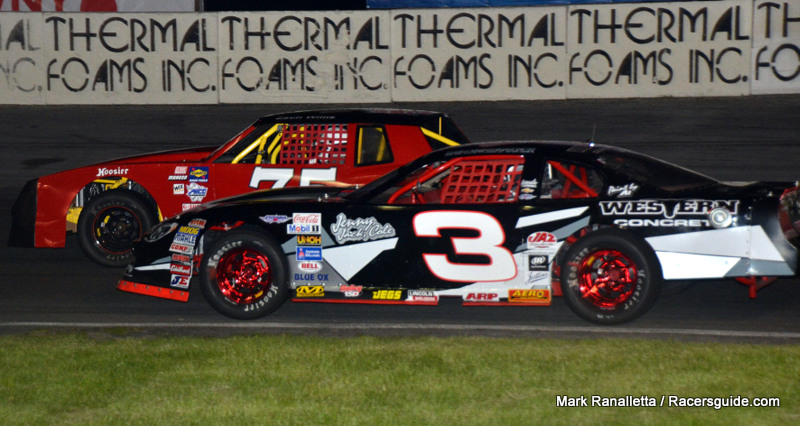 The New York Super Stock Series made their only Lancaster appearance of the season for a 50-lap race that paid tribute Mike Julicher. Julicher passed away this past offseason and was longtime supporter of racing at Lancaster National Speedway. John Lyon of TDH Refrigeration helped to raise bonus money for the drivers competing.
Scott Wylie and Zach Willis led the 27-car field to the green flag with Wylie jumping out to the early lead. Wylie led until lap 12 when he got a flat tire shortly after a restart. This handed the lead to Jim Steffenhagen, who had started third.
Steffenhagen had to then contend with another member of the Wylie family as Scott's brother, Jake, stepped up to challenge him. Jake Wylie took over the lead on lap 13, but it did not last long. One lap later Wylie's car slowed on the track with mechanical issues to hand the lead back to Steffenhagen.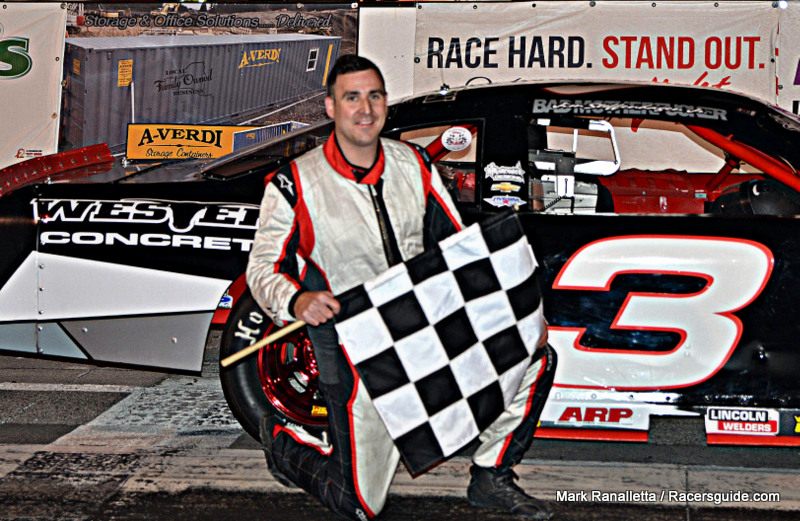 Steffenhagen led the remainder of the race for his second-straight NYSS win at Lancaster. Chris Finocchario finished second after battling back from a flat tire. He was running second to Steffenhagen when the flat forced him to the pits late in the race, but he came back through the field in short order. Tim Gullo finished third just two weeks after winning the Race of Champions Super Stock event at Lancaster. Zach Willis and Chris Vogler rounded out the top five.
Rich Sharpe returned to victory lane in the Advance Auto Parts Street Stocks after a thrilling last lap pass of Ken Maltby. Maltby had led the first 24 laps of the feature from the outside pole.
Sharpe spun out on the race's fifth lap after a flat tire. He pitted for new rubber and then came back through the field to pass Maltby in turn 3 on the final lap of the race. Max Northem also got by Maltby to finish second as Maltby settled for third. Tim Welshans and Mark Hoch rounded out the top five.
Bobby Woch led every lap of the Roaming Buffalo 4-Cylinder feature to score his first win of the year. He faced an early challenge from teammate Kevin Bainbridge, but Bainbridge nearly rolled his car over on lap 12 after wheel-hopping Woch's car.
Woch then held off teammate Dan Dressel to secure the win. Jason Anasiewicz finished third to end his two-race win streak. Bainbridge rallied to finish fourth.
Lancaster National Speedway's X-Press Signs Stock Car Series returns to action on Saturday, May 20 for Ladies Night. All women can get a general admission ticket for $5. There will also be a Ladies 4-Cylinder race open to any female competitor that does not have any recent racing experience. The Sunoco Sportsman, Advance Auto Parts Street Stocks and Roaming Buffalo 4-Cylinders will also be in action. Racing starts at 6:30 p.m.
About Lancaster National Speedway & Dragway: Founded in 1959, Lancaster National Speedway and Dragway is a multi-use facility located on 77 acres just outside of metropolitan Buffalo, N.Y. The facility features a 1/8-mile drag strip, a 1/2-mile oval track and hosts several non-motorsports events such as car shows and concerts. For the latest information on Lancaster National Speedway & Dragway check out our website www.lancasternationalspeedway.com. Additional information for racers and fans can be found on our Facebook page (www.facebook.com/LancasterSpeedway) and on Twitter (@LancasterSpdwy).
RESULTS
SUNOCO SPORTSMAN
Heat Winners: Chuck Hossfeld, Shawn Nye
Feature: CHUCK HOSSFELD, Shawn Nye, Neal Dietz, Jr., Mike Ramos, Owen Bednasz, Alan Bookmiller, Kevin Miller, Jayme Thompson, Matt Druar, Tony Carbone, Dave Koslowski, Mike Rogers, John Barber, Mike Meyers, Mark Pennell, Jake Lyon
NEW YORK STOCK SUPER STOCK SERIES
Heat Winners: Jake Wylie, Chris Finocchario, Jeff Whalen, Kevin Ide
Feature: JIM STEFFENHAGEN, Chris Finocchario, Tim Gullo, Zach Willis, Chris Vogler, Bobby Lippa, Jr., Terry Cheetham, Dylan Bancroft, Kevin Ide, Rob Miszczak, Ed Kelley, Todd Blair, Brianna Dinzler , Kyle Sharpe, Scott Wylie, Joel Gleason, Jeff Whalen, Matt Larrivee, Jason Dinzler, Josh Schoonamker, Zach Petrie, Kerry Atkins, Jake Wylie, Mike Hyman, Eric Hadley, Tommy Krawczyk, Scott Dinzler
ADVANCE AUTO PARTS STREET STOCKS
Heat Winners: Dave Wilson, John Carlson, Tim Welshans
Feature: RICH SHARPE, Max Northem, Ken Maltby, Tim Welshans, Mark Hoch, John Carlson, Trevor Pettit, Keith Flanigan, Jarrod Brown, Nik Welshans, Dave Wilson, Tommy Wentland, Garrett Cleversley, Jimmy Pierce, Randy Rogers, Dennis Londos, Lou Carbone, Frank Prell DNS: Tim Garlock, Tom Northem, Rob Pocobello
ROAMING BUFFALO 4-CYLINDERS
Heat Winners: Kevin Bainbridge, Jason Anasiewicz
Feature: BOBBY WOCH, Dan Dressel, Jason Anasiewicz, Kevin Bainbridge, Dave Milbrand, Jr., Joe Brunka, Chris Pennell, Alex Morris, Robert Palmer, Charles Palmer, Dave Brunka, Russ Hartke, Zach Cleversley DNS: Justin Johnson