Andrew Schartner Takes Dad's Home Built To Opening Night Victory
Story By: CANDEM PROUD / OSWEGO SPEEDWAY MEDIA
Photos By: CHRIS BURGESS / RACERSGUIDE.COM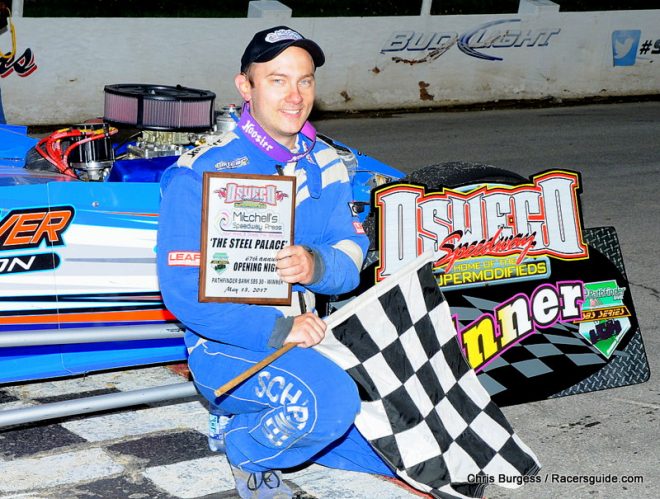 OSWEGO, NY –  May 15, 2017– The script could not have been written any better for Andrew Schartner at Oswego Speedway's 67th Annual Opening Night presented by Mitchell's Speedway Press this past Saturday.
Schartner, of Concord, NC drove his father Karl's brand new homebuilt racer to victory lane in just its first start, holding off series standouts Dave Cliff and Russ Brown for the eventual checkered flag in the 30-lap Pathfiner Bank SBS main event. Saturday's win was the 13th of Schartner's career at Oswego and his first in a family built ride. The former Mod Lite competitor now sits sixth on the speedway's all-time SBS win list.
"This is without a doubt my favorite win so far," Schartner commented. "The car was great. I cannot begin to tell you how proud I am of my father and this entire crew. It was very special to get not only a brand new race car, but a car he built me right into victory lane."
The driver of the No. 18 Beaver River Distribution machine stole the lead from polesitter Kreig Heroth with just under 10 laps to go and it wasn't long before Cliff, Brown, and Camden Proud followed suit, with Heroth falling back to bring the No. 04 home to a 5th place effort by the end of the night.
Matt Magner, Jack Patrick, Jesse Bearup, Dalton Doyle, and Barry Kingsley rounded out the top ten in the caution free main event.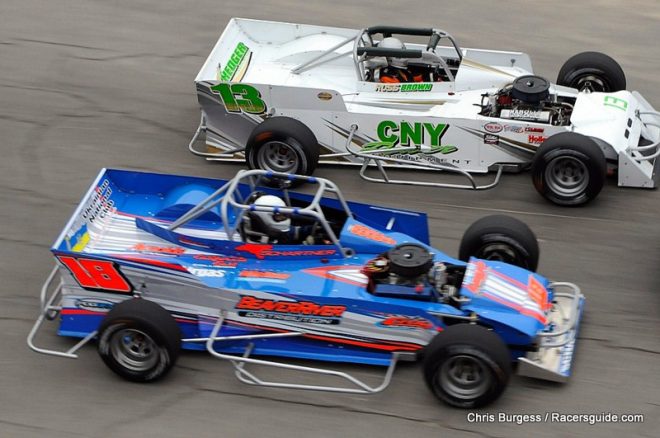 Heat race wins went to Cliff, Doyle, and Patrick.
Heroth was given the Sherwood Racing Wheels Lap Leader Award, Proud was the recipient of the White's Car Care 4th Place Award and Brown was awarded the D&S Landscaping Hard Charger Award after starting sixth and driving to third.
For more information on Oswego Speedway be sure to visit www.oswegospeedway.com. You can also FOLLOW on Twitter @OswegoSpeedway and LIKE on Facebook at www.facebook.com/OswegoSpeedway.