Feeling the Power: Team Penske Driver Wins INDYCAR Grand Prix
Story By: MITCH ROBINSON / INDYcar SERIES MEDIA
Photos By: CHRIS OWENS / INDYcar SERIES MEDIA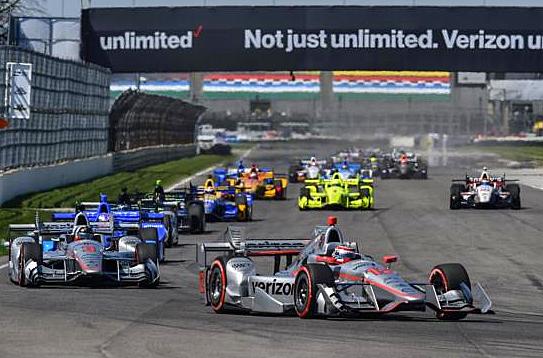 INDIANAPOLIS, Indiana –May 14, 2017- Team Penske's Will Power ended the weekend the same way he started it: in first place. The driver of the No. 12 Verizon Chevrolet capped off a flawless weekend at the INDYCAR Grand Prix with a dominating win today on the Indianapolis Motor Speedway road course.
After winning Friday's Verizon P1 Award with a new track record in qualifying and leading all three practice sessions on the weekend, Power led 61 laps en route to his 30th Indy car win, beating Chip Ganassi Racing's Scott Dixon (No. 9 NTT Data Honda) by 5.2830 seconds in a caution-free affair, the first such race since Long Beach in 2016.
"That was hard work," said Power, whose four-month-old son Beau was on hand in victory lane for Will's first win as a father. "Full green. I want to thank Verizon, all the guys, all the crew. The Chevy engine was mega today."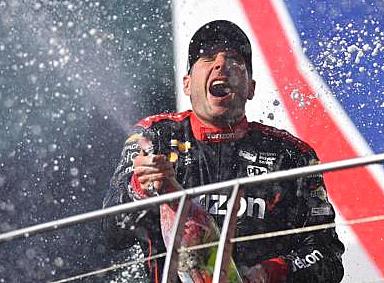 Power's win – which came in his 175th Indy car start – breaks a three-way tie with Rick Mears and Helio Castroneves for 11th on the all-time win list. It is Power's second victory on the IMS 2.439-mile road course and the 190th Indy car win in the history of Team Penske.
For Dixon, it was his 35th career runner-up finish, fourth all-time, coming on the day he passed Jimmy Vasser for second on the all-time list with his 212th consecutive start. Teammate Tony Kanaan (No. 10 NTT Data Honda) holds that title with 270 consecutive starts.
"It was definitely a tough day," said Dixon, the four-time series champion. "We couldn't really hold onto the rear tires. The Honda just had too much power there. We were spinning the rear tires. Good points there for everybody on the NTT Data car, great day for Honda. Obviously not a win, but very close."
Andretti Autosport's Ryan Hunter-Reay (No. 28 DHL Honda) finished third for his first podium of 2017, followed by reigning series champion Simon Pagenaud (No. 1 Menards Team Penske Chevrolet) and Castroneves (No. 3 Verizon Team Penske Chevrolet). Pagenaud and Dixon remain the only two drivers to score top-fives in every race of 2017.
Graham Rahal (No. 15 Soldier Strong / Turns for Troops.com Honda) and Max Chilton (No. 7 Gallagher Honda) came home with much needed sixth- and seventh-place finishes, respectively. Rahal advanced from a 20th-place starting spot and Chilton equaled his career-best finish.
"It was by far the best race I've had in the Verizon IndyCar Series," said Chilton, in his second season driving for Chip Ganassi Racing. "The team did a good job and we made a call to start on primary tires, and I knew within five or six laps it would pay off for us. Moving forward seven positions in the race was mega, and without any off strategies playing out, we got there on straight speed."
There is little rest for Verizon IndyCar Series teams, as on-track activities for the 101st Indianapolis 500 presented by PennGrade Motor Oil begin in two days. Opening Day practice on the Indianapolis Motor Speedway's hallowed 2.5-mile oval begins at noon ET Monday. All practice sessions during the week will stream live at RaceControl.IndyCar.com.
Indianapolis 500 qualifying begins May 20 at 11 a.m. ET on ESPN3, moving to ABC at 4 p.m. Pole qualifications begin May 21 at 2 p.m. on ESPN3, and ABC at 4 p.m. The Advance Auto Parts INDYCAR Radio Network will also cover practice and qualifying.
Live coverage of the 101st Indianapolis 500 commences at 11 a.m. ET May 28 on ABC and the Advance Auto Parts INDYCAR Radio Network.