Graham Rahal Completed a Near-Perfect Weekend at the Chevrolet Detroit Grand Prix
Story By: MITCH ROBINSON / INDYcar  SERIES MEDIA
Photos By: CHRIS JONES / INDYcar  SERIES PHOTO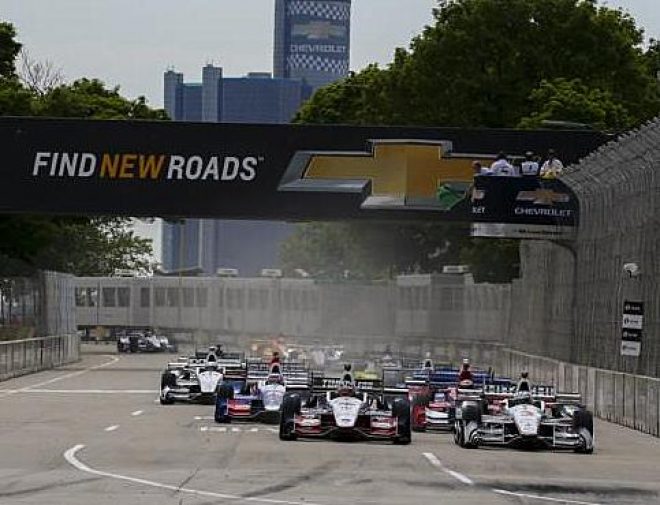 DETROIT  MICH.- June 5, 2017-  With his second win in as many days, Graham Rahal completed a near-perfect weekend at the Chevrolet Detroit Grand Prix presented by Lear. But it was no Sunday afternoon cruise.
After winning the opening race of the Verizon IndyCar Series doubleheader weekend front the pole position on Saturday, Rahal started third today in the No. 15 SoldierStrong / TurnsForTroops.com Honda. Rahal led 40 laps and beat Josef Newgarden to the checkered flag by 1.1772 seconds to claim his sixth career Indy car victory and the 25th for Rahal Letterman Lanigan Racing.
"Buckeyes like to win up in this state," said Rahal, a proud Ohio native and avid Ohio State University sports fan. "It was just a good weekend. Thanks to the crowd, thanks to (race promoter) Roger Penske, Bud Denker and everybody for putting this on. It's a tremendous event.
"It's a special day for us. We're the first one to win the double (in Detroit), it means a lot. It feels great, trust me. Any day you can beat a Penske driver, it means a lot."
Driving the No. 2 hum by Verizon Team Penske Chevrolet, Newgarden climbed from the 13th starting position to challenge Rahal late and post his best finish in 10 starts at Belle Isle.
"We tried to have the same strategy as (Saturday)," Newgarden said. "Three (pit) stops, running fast and the yellows worked out a lot better for us today. I think that second-to-last stint we lost too much ground when we got stuck behind Simon (Pagenaud) and Will (Power). We couldn't clear those guys and I think if we could have cleared them we could have had a better shot at Rahal."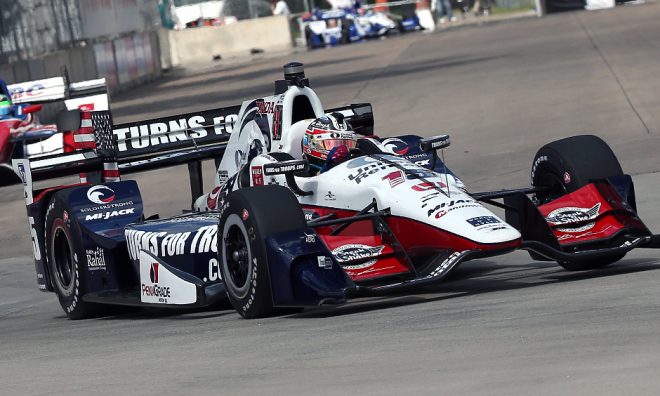 Power (No. 12 Verizon Chevrolet) rounded out the podium in third place, while Pagenaud (No. 1 DXC Technology Chevrolet) came home fifth to give Team Penske three of the top five finishers in the event operated by team owner Roger Penske's group. Takuma Sato, winner of the 101st Indianapolis 500 presented by PennGrade Motor Oil on May 28, sat on pole in the No. 26 Andretti Autosport Honda with a new track record of 1 minute, 13.6732 seconds and finished fourth for his second top-five finish in nine races on the island's 2.35-mile, 14-turn temporary street course.
"It was a solid result," said Sato, who remains third in points behind Scott Dixon and Helio Castroneves. "I think the team did a great job. We did everything we could and made no mistakes, but we just didn't quite have the speed today."
Rahal first led on Lap 23 when he stayed out a lap longer than Sato on the first round of pit stops. After reclaiming the lead following the stops on Lap 30, Rahal appeared uncatchable until late issues befalling two competitors put the outcome in jeopardy.
The lone full-course caution of the day came out on Lap 66 when James Hinchcliffe (No. 5 Arrow Schmidt Peterson Motorsports Honda) and Spencer Pigot (No. 20 Fuzzy's Vodka Ed Carpenter Chevrolet) stopped on track in separate incidents. INDYCAR officials brought out the red flag at the conclusion of Lap 67 to set up a green-flag finish. Following an 18-minute delay, the field re-fired the engines and the race restarted with two laps to go.
Rahal led the field back to the green. Despite the best efforts of Newgarden, Rahal held onto the lead to win his second race in as many days and become the first driver since Dixon (Toronto 2013) to complete a doubleheader sweep. It is the first back-to-back wins for Rahal Letterman Lanigan Racing since Kenny Brack won on the ovals at Motegi and Milwaukee in 2001. With the weekend sweep, Rahal jumped from 15th to sixth in the Verizon IndyCar Series championship standings after eight of 17 races.
Teams now pack up and head to the Lone Star State for the Rainguard Water Sealers 600 at Texas Motor Speedway. In 2016, Rahal beat Hinchcliffe by 0.0080 of a second in a thrilling finish that was closest in the track's 20-year history and the fifth-closest all-time in Indy car racing.
Practice and qualifying for the 29th Verizon IndyCar Series at Texas Motor Speedway takes place Friday. Single-car qualifying airs live at 3:30 p.m. ET on NBCSN and the Advance Auto Parts INDYCAR Radio Network.
Coverage of the 248-lap race begins at 8 p.m. ET Saturday on NBCSN and the Advance Auto Parts INDYCAR Radio Network.