Mahoning Valley Speedway Looks To Build Dirt Modified Division
Press Release By: DINO OBERTO / MAHONING VALLEY SPEEDWAY EDIA
Photos By: WALT SMITH / RACERSGUIDE.COM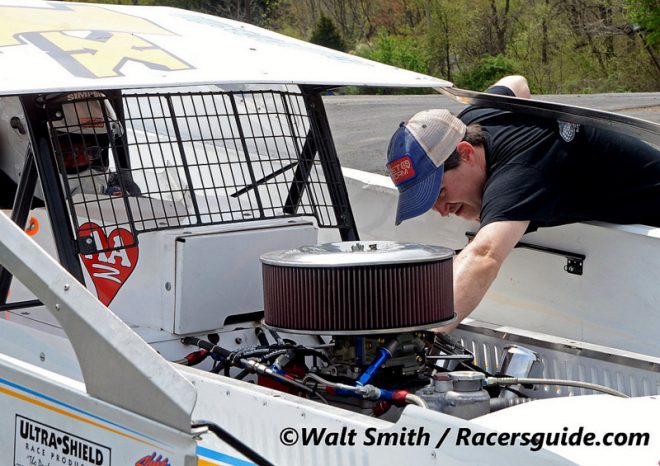 LEHIGHTON, PA. – May 26, 2017-  In an effort to help bolster car counts in the Dirt Modified division, Mahoning Valley Speedway promoter Floyd Santee has extended an open invitation at any and all Dirt Modified racers to come to his track and run their home track rules and tires.
If, after a two week period, they decide to stay on, drivers must them conform to Mahoning's Dirt Modified class rules and tires.
Watching Dirt Modifieds compete on asphalt produces some of the most exciting racing of its kind at the ¼-mile paved oval. Utilizing dirt tires to negotiate around the macadam track puts all of the racing in the hands of the driver as the big and burly machines use up as much race track as possible and it makes for a very thrilling show in the process.
The notion to run the dirt cars on pavement stemmed from a special year end show in 2005. It was well attended with a very respectable car count that numbered in the 30's. The 50-lap feature was competitive throughout and won by the late Doug Hoffman, who came from mid-pack. It was his very first time racing at Mahoning too.
Hoffman was at that time the promoter of Mahoning Valley and it was his idea to make them a weekly class starting in 2009. He felt that many racers who at times struggle to get into a starting field at their own dirt track could benefit from having plenty of track time running those cars at Mahoning instead.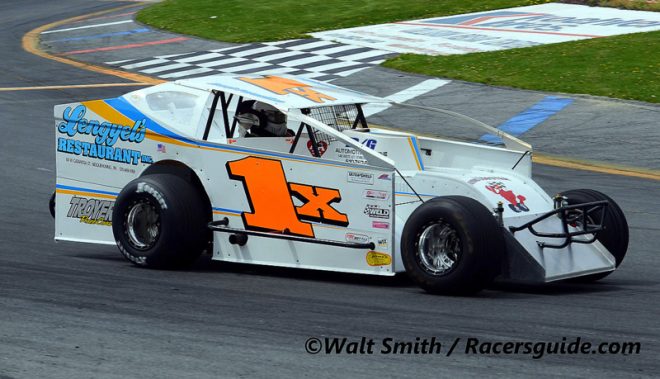 Hoffman was spot on too. The class took baby steps at first in growing but in short order cars began to appear and the division was solid.
This season, however, has been a bit rough in getting fields and with that Santee decided the open invitation was a good way to get class moving again. The class has always been popular with the fans and Santee has often noted how he enjoys the competitiveness of the races.
For further information about the invite please call Floyd Santee at 610-392-6665.
This coming Saturday, May 27 Mahoning Valley will present a six division show of Modifieds, Late Models, Street Stocks, Dirt Mods, Pro 4s and Hobby Stocks.
The Street Stocks will be racing for $900 to win in a 75 lap feature.
Kids Big Wheel races will also take place during intermission and are sponsored by Tiffany Wambold and Shayne and Cody Geist.
The grandstands will open at 4:00 pm. Adult general admission is $16. $2.00 off admission price for students, seniors 65 + and active Military. Children 10 and under are FREE.
Pits will open at 11:30 am for anyone who would like to partake in early paid practice which will run from noon to 3:00. Regular practice begins at 4:30. Sign-ins are from 3-4:15. Heats get underway at 6:00 pm.
For additional information log onto www.mahoningvalley-speedway.com or on Facebook at Mahoning Valley Speedway. Mahoning Valley Speedway is located on PA route 443 just a few miles west of Lehighton.
COMING EVENTS:
Saturday, May 27 @6:00 pm all regular track classes Street Stock 75-lap $900-to-win ($16 adult admission)
Saturday, June 3 @6:00 pm Brown-Daub KIA Fan Appreciation Night $8 admission all regular track classes + Micro Stocks
Saturday, June 10 @7:00 pm All regular track classes ($16 adult admission)
Mahoning Valley Speedway extends open invitation to Dirt Modified teams