Memorial Day Weekend 'Super Spectacle' featuring Novelis Supermodifieds, ISMA Supermodifieds and Pathfinder Bank SBS On Tap at Oswego Saturday, May 27
Press Release By: CANDEM PROUD / OSWEGO SPEEDWAY MEDIA
Photos By: CHRIS BURGESS / RACERSGUIDE.COM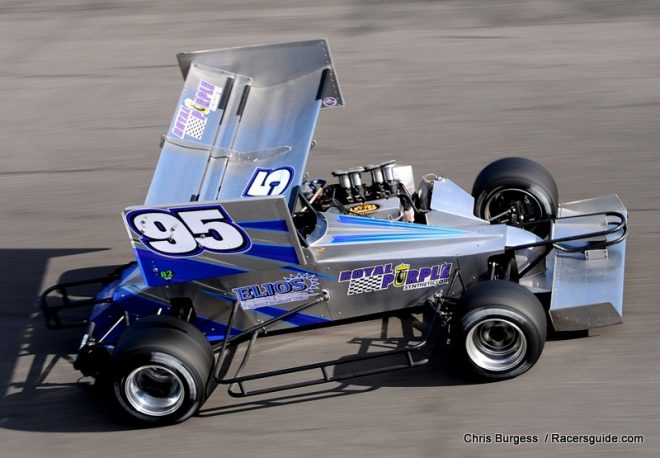 OSWEGO, NY -May 26, 2017 – For the third consecutive season, the Memorial Day Weekend Port City 160 'Super Spectacle' featuring Novelis Supermodifieds, ISMA Supermodifieds and Pathfinder Bank SBS returns to Oswego Speedway this Saturday, May 27.
In a very unique event, Saturday's action is the only time this season that you can see both the non-wing and winged Supermodifieds on the same surface, on the same night. This weekend's racing will also feature the Jim Shampine Memorial 75 for Supermodifieds, the Jack Murphy Memorial 50 for ISMA Supermodifieds and the Tony White Memorial 35 for Pathfinder Bank SBS.
To add to the excitement, the Jack Murphy Memorial will also serve as the eighth 'King of Wings IX' for ISMA Supermodifieds, with that show moving from its familiar July date up to May.
With championship battles already heating up after Opening Night on May 13, this weekend, Otto Sitterly joins the likes of Michael Barnes, Dave Danzer, Tim Snyder and more, chasing his Nicotra Racing teammate Dave Shullick Jr. for the Novelis Supermodified points lead.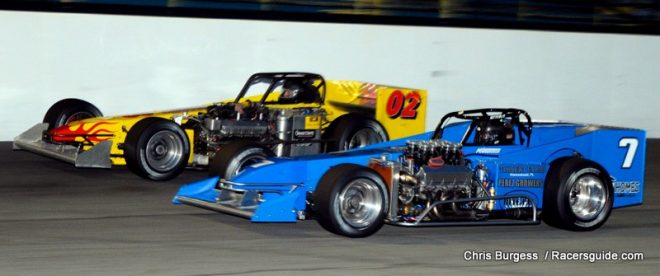 Sitterly has won the Jim Shampine Memorial seven times, more than any other driver in Oswego Speedway history while Danzer was last year's winner in dominating fashion. Dan Connors, Jeff Abold, Joe Gosek, Dave Gruel, Michael Muldoon, Brandon Bellinger, Keith Shampine, and more will join the list of drivers looking to taste the Memorial Day Weekend glory in Saturday's 75-lapper.
On the winged (ISMA) Supermodified, side of the ball, Sitterly has also been declared King of Wings champion. While Otto will not be behind the wheel of an ISMA machine this weekend, Mike Lichty sure will and with two King of Wings crowns, Lichty leads the very evened out list of winners. Charlie Schultz won the inaugural King of Wings event back in 2010.
Last season, Trent Stephens earned his first King of Wings championship in a surprising, head turning charge to the front of the pack. Bobby Bond, Dave Gruel and Dave Shullick Jr. are the other three drivers to pull the trick and wear the infamous cape and crown.
Saturday opens a brand new season for the International Supermodified Association, with defending champion Shullick, his rival Lichty, and ISMA regulars Timmy Jedrzejek, Mark Sammut, Mike Ordway Jr, Ben Seitz, Moe Lilje, Dan Bowes, Danny Shirey, Dave McKnight, Tim Ice, Kyle Edwards, Chris Perley, Robbie Summers, Jim Paller, Alison Cumens, Dave Duggan, Justin Belfiore, Jamie Timmons, Talon Stephens, Jason Spaulding and more all expected to answer the call come Saturday afternoon at the Steel Palace. Don't be surprised if Cumens becomes the first 'Queen of Wings.'
You'll also want to watch for regular non-wing competitors such as Shullick, Snyder, Danzer, and McKnight to do the double this weekend, running in both the Jim Shampine and Jack Murphy Memorials as a tune up for the first winged event of the Triple Crown Championship Series of Supermodified racing next Saturday, June 3 at the Lancaster Speedway.
Lichty has also won the Jack Murphy Memorial more than anybody else, but Perley was the first winner back in 2013. Fans will also recall Mark Sammut's final lap, final corner pass to win the 2015 running of the tribute event for the legendary driver of the shamrock No. 6.
The Pathfinder Bank SBS Tony White Memorial 35 has also had a history of being one of the most competitive SBS shows of any given Oswego Speedway season and 2016 was no exception to that as Mark Castiglia held off hard chargers Kreig Heroth, Anthony Losurdo, Dave Cliff and Jack Patrick for his first Memorial Day Weekend victory.
Previous Tony White Memorial champions include Chris Proud, Dave Gruel, Cliff, Steve Abt, Mike Bond, Cameron Rowe, Jason Simmons, Andrew Schartner and Losurdo and most of those drivers will be in action this weekend.
After a huge Opening Night win in the debut of his father's homebuilt Schartner Racing Chassis, Andrew Schartner is just one point behind current SBS points leader Dave Cliff and weekly contenders Russ Brown, Camden Proud and Kreig Heroth are all right behind him.
Throw in Mike Bond, who is at the bottom of the points race right now following mechanical issues last weekend plus veterans Jack Patrick, Matt Magner, Dalton Doyle, Jesse Bearup, Cameron Rowe, Mike Bruce, Barry Kingsley, and many more and the Tony White Memorial is anyone's race.


WHAT: Port City 160 'Super Spectacle' presented by Corr/Pak Merchandising and Shea Conrete featuring the ISMA Supermodified Jack Murphy Memorial 'King of Wings IX' 50, the Novelis Supermodified Jim Shampine Memorial 75, and the Pathfinder Bank SBS Tony White Memorial 35.
WHEN: Saturday May 27, at Oswego Speedway in Oswego, NY. Pit gates will open at 11:30 a.m., grandstands at 1:30 p.m., hot laps at 1:30 p.m., time trials at 4 p.m., racing at 5 p.m
.
WHERE: Oswego Speedway is located at 300 East Albany St. in Oswego, NY
TICKETS: Padded reserved seats $40, general admission $35, Pit Passes $40, VIP $90. Tickets can be purchased in advance by calling (315) 342-0646. Kids 16 and under are free with paid adult. Active military are free with proper ID.
ON THE INTERNET:
Oswego Speedway – www.oswegospeedway.com
Twitter – @OswegoSpeedway
Facebook – facebook.com/OswegoSpeedway
YouTube – OswegoSpeedwayOnline
Live Updates can be seen on Twitter, Facebook, as well as the Oswego Speedway website
ABOUT THE TRACK:
Oswego Speedway is a semi-banked 5/8 mile paved oval.  The non-wing Novelis Supermodified track record is held by Joey Payne with a time of 15.802 seconds at 142.397 mph, established on August 29, 2014.  The wing Supermodified track record is 14.730 seconds at 152.749 mph, set by Mike Lichty on May 28th, 2016.  The official SBS track record is held by Russ Brown with a lap of 18.504 seconds at 121.595 mph set on September 2, 2016.
UP NEXT at Oswego: Saturday, June 10th – Burke's Home Center and A&P Auto Parts Novelis Supermodified Twin 35's PLUS Autograph Night
For more information on Oswego Speedway be sure to visit www.oswegospeedway.com. You can also LIKE the Oswego Speedway page at facebook.com/OswegoSpeedway, or FOLLOW on Twitter @OswegoSpeedway. To purchase tickets or order merchandise please call the speedway box office at (315) 342-0646.
About Oswego Speedway: Oswego Speedway, a sports entertainment company, is a 5/8 mile semi-banked pavement racing oval located off the shores of Lake Ontario in scenic Oswego, NY. Oswego Speedway has been a continuously run weekly racing venue since August, 1951. The premier open-wheel pavement short track cars in the world, Supermodifieds, run weekly at Oswego Speedway making Oswego the only weekly Supermodified racing venue in the world. The Small Block Supermodifieds accompany the full blown Supers on a weekly Saturday night schedule which runs from May through September. Oswego Speedway is mentioned in racing circles as the "Indy of the East," as no fewer than a dozen past and present competitors have competed at the famed Indianapolis Motor Speedway including Mario Andretti, arguably the greatest driver of all time, two-time Indy 500 champion Gordon Johncock, along with former International Classic Champions Bentley Warren, Joe Gosek, and Davey Hamilton.