LANCASTER RESCHEDULES RAINED OUT MAY 6 PROGRAM FOR MAY 25
Press Release By: DAVE BUCHANAN / LANCASTER SPEEDWAY MEDIA
Photos By: MARK RANNALLETTA / RACERSGUIDE.COM
LANCASTER, N.Y. -May 9, 2017– Lancaster National Speedway & Dragway officials announced on Monday that the rained out X-Press Signs Stock Car Series program from May 6 has been rescheduled for Thursday, May 25 at 7 p.m.
"We owe it to our competitors and their sponsors to give them every opportunity to race as much as possible each season," said Tim Packman, Track President. "We can't control Mother Nature, but we can control the calendar and how we schedule events at our track and we hope the fans will like this event being rescheduled, as well."
Pit gates will open at 5 p.m. on May 25 for all teams with practice beginning at 5:30. Grandstand gates will also open at 5:30. All four divisions that were originally scheduled for the May 6 show will be in action on May 25, including the Race of Champions Late Models, Sunoco Sportsman, Advance Auto Parts Street Stocks and Roaming Buffalo 4-Cylinders.
The reschedule date sets up a busy week at Lancaster with Cruise Night on Wednesday followed by the stock car program on Thursday and Franco's Pizza IHRA Drag Racing on Friday featuring Al Hanna's Jet Funny Cars.
"The stock cars are already off on the Saturday of Memorial Day weekend, so putting this special mid-week show before the holiday gives everyone something else to look forward to in regards to kicking off the summer," said Packman.
Lancaster officials will attempt to run the weeknight event as quickly and efficiently as possible to get fans and teams back home at a reasonable hour.
"If anyone needs a note to get out of work early that Thursday or to take off Friday, I will gladly write it for them," added Packman.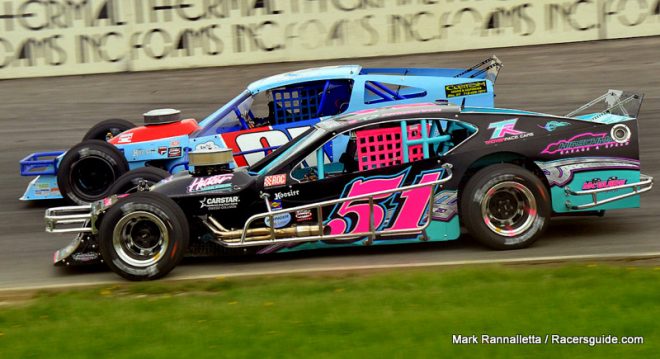 About Lancaster National Speedway & Dragway: Founded in 1959, Lancaster National Speedway and Dragway is a multi-use facility located on 77 acres just outside of metropolitan Buffalo, N.Y. The facility features a 1/8-mile drag strip, a 1/2-mile oval track and hosts several non-motorsports events such as car shows and concerts. For the latest information on Lancaster National Speedway & Dragway check out our website www.lancasternationalspeedway.com. Additional information for racers and fans can be found on our Facebook page (www.facebook.com/LancasterSpeedway) and on Twitter (@LancasterSpdwy).
 
Schedule for Thursday, May 25 X-Press Signs Stock Car Program
5 p.m. – Back Gates
5:30 p.m. – Front Gates
5:30 – 6:30 p.m. – Practice
No driver's meeting
7 p.m. – Opening Ceremonies followed by first heat race