Eric Beers Masters His way to 75-lap Mahoning Modified Win; Mike Sweeney Stays Undefeated in Late Models
Story By: DINO OBERTO / MAHAONING VALLEY SPEEDWAY MEDIA
Photos By: WALT SMITH / RACERSGUIDE.COM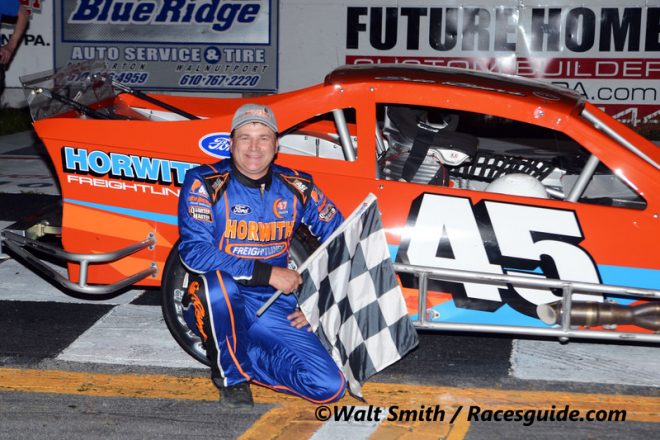 LEHIGHTON, PA. -April 30, 2017– After somewhat of a slow start to the 2017 season, defending Mahoning Valley Speedway Modified track champion Eric Beers got back to his winning ways and it couldn't have come at a better time as the "Master of Faster" showed his trademark grace and style in notching the first place tally in the extra distance 75-lap event that.
With the change to American Racer as the track tire, Beers had issues in finding a good set-up at first. The previous week he did come on late and recoded a solid runner-up to Bobby Jones. After watching his performance from last evening it is safe to say the team has go things figured out as it was classic Beers motoring his way to his 53rd career Mahoning win.
Beers needed nearly 50 laps to secure the lead as he had a thrilling duel with upstart Joey Jarowicz. But, once he landed the number one spot he was able to maintain a safe distance over those battling for second and would go on to a car length margin of victory over Brian DeFebo.
Austin Kochenash, Kyle Strohl and Kris Graver completed the top five.
"We struggled through pre-season practice and on Opening Night. We came back last week with a vengeance and got a little bit better and tonight we showed them what we had," said Beers, who pocketed $2500 for the victory.
At the outset outside pole sitter Jarowicz took the lead and was followed by Jack Ely and Don Wagner. Jarowicz was by far the show stopper as the sophomore driver was putting in his best run to date and never let Ely get close enough to make a serious challenge.
Beers was hanging back in fifth spot until a restart on lap 15. At that point he stepped past Lou Strohl, Wagner and Ely within a six lap run and was now focused on the leader.
However, Jarowicz proved himself well against the veteran. Over the next 25 laps it was an awe-inspiring battle between the pair with Beers doing everything possible to get by. Yet each time he was turned away as Jarowicz would not allow him access.
It wasn't until lap 46 that Beers finally slipped ahead for the lead. Unfortunately that would also be the end to Jarowicz's great run as he suddenly lost control and had his back end get out from under him in turn one and brought out a caution.
"Joey (Jarowicz) ran a heck of a race and he was tough. He was running such a good line and I tried him on the top and I tried him on the bottom and I just couldn't do it. The kid did a great job," said Beers.
When the race resumed Beers showed the way and while he would be in control the rest of the distance, second place was a different story as Kochenash, DeFebo, Graver and Kyle Strohl where in a tight pack.
Ten laps from the finish a caution was out and it was a final chance for those aforementioned to make a run at Beers. Kochenash tried as he may but Beers once again had the upper hand. DeFebo was hooked up on the outside lane and ran down Kochenash for second. He was able to get in behind Beers but time was not on his side and he settled for second. DeFebo and Beers are now sharing the point lead after three races.
"The car really didn't change from the beginning of the race to the end. American Racer has given us a decent product and I think we still have a little bit more work to make them a little better but overall we had a good car tonight," said Beers.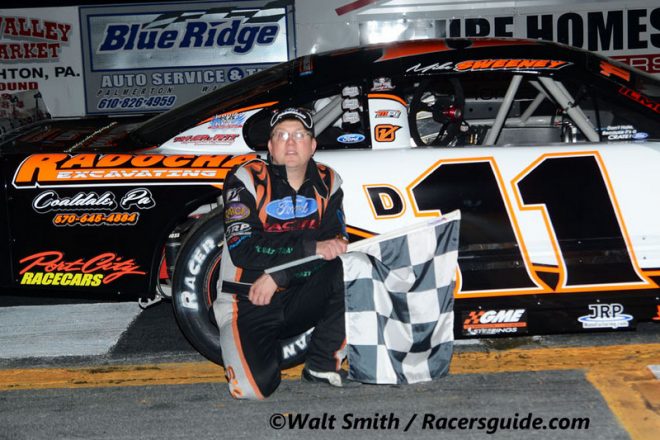 "Refuse to loose" has become all the buzz around the Mike Sweeney pits. Sweeney has stayed perfect thus far in 2017 and dating back to the final two races of last season, the defending Late Model champion has reeled off five wins in a row.
This time it took a bit of time and the help of a caution to aid Sweeney in moving to the lead and eventual win.
For the first 17 laps Lorin Arthofer II was making it his race, cruising nicely ahead with a sizeable lead. Jeremy Miller was second and fending off Sweeney.
Unfortunately for Arthofer his spread was wiped away when a caution bunched the field. When the race was restarted Sweeney was alongside, but not for long. Within one lap he was zipping by and heading on to familiar territory, Victory Lane.
"Luck was a big factor in tonight's win and that caution was a big help. These guys have been running me hard as could be and we need to keep doing our homework during the week because they're getting fast," said Sweeney.
"I don't know how long we can ride this streak but we'll keep it going as long as we can."
Arthofer settled for second with Miller third.
Although Jamie Smith was able to lead every lap of the Street Stock feature, it was by no means an easy task as the entire 30-lap distance he was under close pursuit by one after another, but despite the onslaught he stayed  the course.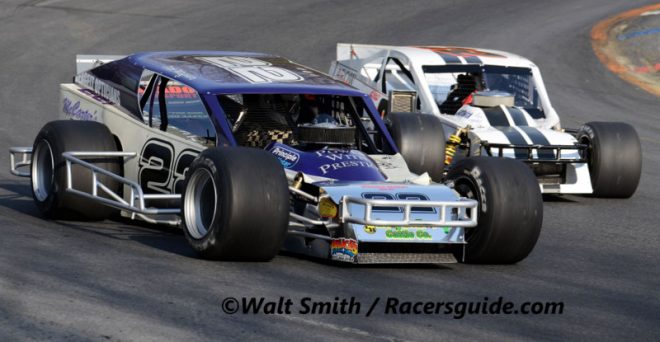 He may also be glad that the race didn't last much longer too as Jon Moser was powering in a hurry in the closing laps and was pulling alongside Smith as they dashed under the checkers.
Mike Stofflet picked up his second Dirt Mod win and he did it in much the same way as his first by easily overpowering his counterparts. Stofflet went to the lead on lap two and from there on he was in cruise control.
For the second time in three Pro 4 races Cody Kohler made the trip from North Carolina and stopped off in Victory Lane.
Kohler made a breathtaking three-wide advance into the lead over Jake Kibler and Johnny Bennett with five laps to go. He then held off Ken Reeder en route to making it two for two in 2017.
In the Hobby Stocks Tiffany Wambold had a very fast car as she thrust her way to the front of the pack with five laps remaining and scored her first win of the year.
Modified Feature Finish (75 Laps): 1. Eric Beers, 2. Brian DeFebo, 3. Austin Kochenash, 4. Kyle Strohl, 5. Kris Graver, 6. Jack Ely, 7. Nick Baer, 8. John Markovic, 9. Rick Kirkendall, 10. Bobby Jones, 11. Lou Strohl, 12. Josh Scherer, 13. James Prichard, 14. Joey Jarowicz, 15. Terry Markovic, 16. Don Wagner, 17. Ron Haring Jr.
Late Model Feature Finish (25 Laps): 1. Mike Sweeney, 2. Lorin Arthofer, 3. Jeremy Miller, 4. Frankie Althouse, 5. Jacob Kerstetter, 6. Geno Steigerwalt, 7. George Ramos, 8. Kenny Hein, 9. Robbie Kutz, 10. Broc Brown
Street Stock Feature Finish (30 Laps): 1. Jamie Smith, 2. Jon Moser, 3. Todd Ahner, 4. Shayne Geist, 5. Eric Kocher, 6. Alan Schlenker, 7. Corey Edelman, 8. Stacey brown, 9. Mark Deysher, 10. Jill Long, 11. Dan Freundt, 12, Jared Ahner, 13. Rick Reichenbach, 14. BJ Wambold
Dirt Mod Feature Finish (25 Laps): 1. Mike Stofflet, 2. Frank Parastino, 3. Bill Sittler Jr., 4. Larry Beers
Pro 4 Feature Finish (20 Laps): 1. Cody Kohler, 2. Ken Reeder, 3. Johnny Bennett, 4. Jake Kibler, 5. Jason Finken, 6. Kevin Stein, 7.Kailyn Beers, 8. Jeremy Guerra, 9. Tucker Muffley, 10. Ryan Graver
Hobby Stock Feature Finish (20 Laps): 1. Tiffany Wambold, 2. Jeff Biegley, 3. Avery Arthofer, 4. Rich Mutarelli, 5. Austin Beers, 6. Travis Solomon, 7. Nicholas Kerstetter, 8. Colton Perry, 9. Devin Schmidt, 10. Lyndsay Buss, 11. Brayden Spencer, 12. Carl Altemose, 13. Michael Wambold, 14. Kevin Behler, 15. Shawn Kistler, 16. Taylor Schmidt, 17. Paul Effrig, 18. Aton Snyder Jr., 19. Ryan Berger, 20. Justin Merkel, 21. Cody Geist DNS: Trisha Connolly DNQ: Jesse Strohl, Thomas Hunsicker Jr., Al Arthofer, Trisha Connolly, Travis Nothstein, Jay Visnosky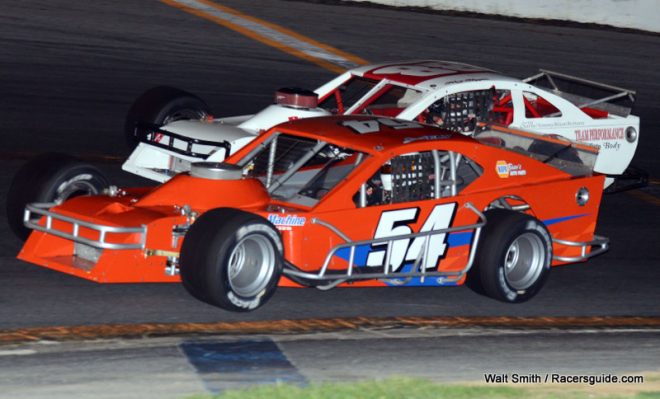 COMING EVENTS:
Saturday, May 6 @6:00 pm All regular track classes + Micro Stocks ($14 adult admission)
Saturday, May 13 @6:00 pm All regular track classes ($14 adult admission)
Saturday, May 20 @6:00 pm All regular track classes (Pro 4 feature only) + Big and Small Car Demo ($16 adult admission)