Strong Running Kris Graver Notches Second Mahoning Modified Win of '17
Story By: DINO OBERTO / MAHONING VALLEY SPEEDWAY MEDIA
Photos By: WALT SMITH / RACERSGUIDE.COM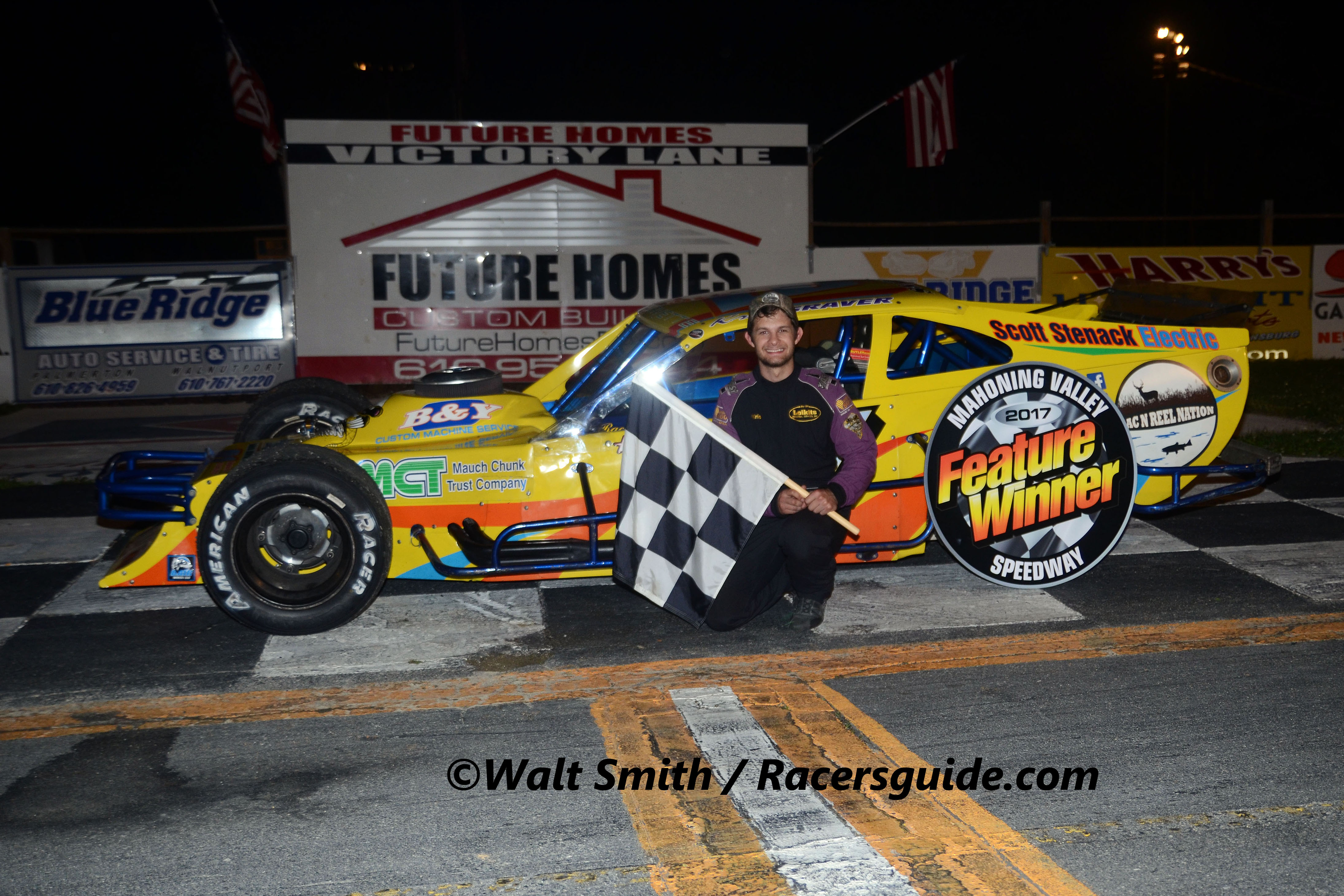 LEHIGHTON, PA. -June 12, 2017- In winning for a second time this season, Kris Graver enjoyed one of those finer nights of his career. Graver started ninth and within five laps was running third. Two laps later he checked into second and by lap 12 worked by then leader Kyle Strohl. Once at the front he as was able to outrun his competition by a significant margin, making it a race for second. His only worry came when a caution waved just prior to the final lap that put top guns John Markovic, Bobby Jones, and Eric Beers behind him but when the action resumed there was no problem in taking this 12th win in a Modified and 45th overall at Mahoning Valley.
"The car felt really good and we're still working in it to get better. I want to thank everyone for running me clean and the crew for giving me an awesome car tonight," said Graver.
Joey Jarowicz jumped to the lead at the outset but on the second go-around Strohl was in command with Markovic in tow.
On lap three the action came to a grinding halt when several cars got together on the front straight. Strohl was still in charge after things got cleared and ready to resume. Markovic was in a tight battle with Graver who unseated him for the spot in a few laps and then went after Strohl.
Taking the outside lane as his line of attack, Graver was alongside Strohl by lap nine and removed him from the lead three laps later.
"The longer he (Strohl) ran the tighter I could see he was getting. I was a little tight too and wasn't sure what to do at first but as we went on I knew it was time to go. I kept working at from the outside and it paid off. Kyle ran me very clean," said Graver.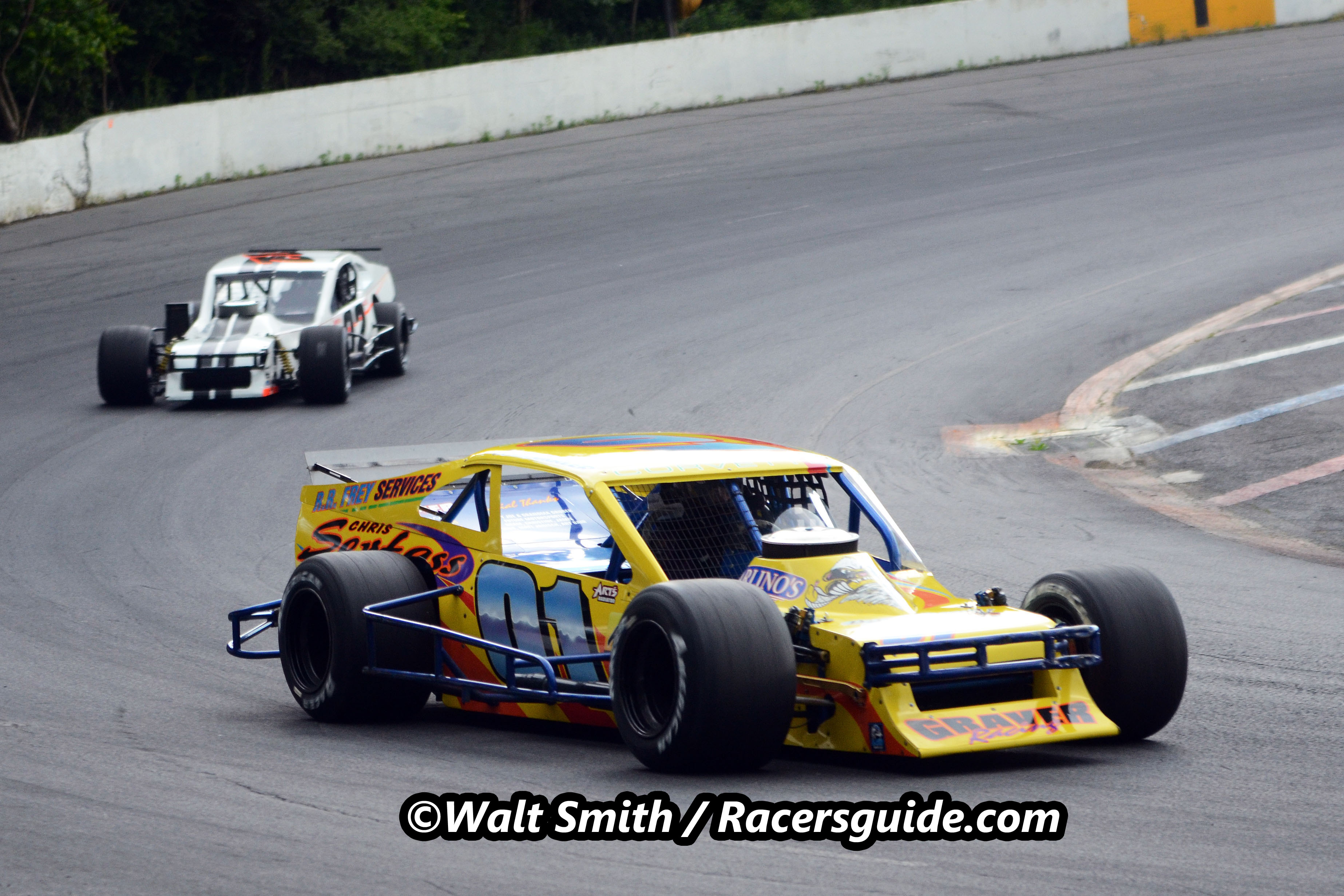 This also led to a long stretch of green flag laps which allowed Graver to flex his muscle. As he did the trio of Markovic, Jones and Beers waged a torrid dogfight.
Graver was on cruise control, however, until the late race caution put those aforementioned on his tail.
"You always have to worry when you got those guys behind you but like I said the car was so good tonight. You just have to keep that out of your head and focus on hitting your marks and do what you have to in order to get the job done," said Graver.
"I think some of was due to the American Racer tires. This was the second week we're running the same set and they've (American Racer) really given us a good product.
Markovic got second while Beers just nipped Jones at the line for third.
Since 2008 Graver has racked up 45 overall wins, placing him sixth all-time at Mahoning.
"It's very overwhelming to think that I've reached that many wins. I grew up here and have watched so many greats over that time. It's never easy at this place and it's an honor to know we've accomplished that against so many others," noted Graver.
Mike Sweeney got back to his winning ways as he notched his fourth win in seven starts this season but first since April 29.
Sweeney raced into the lead after escaping an opening lap melee just in front of him. On the restart he was lined up on the outside of Chris Anderson and would then out-power him once the first lap was scored. Afterwards it would be a smooth and steady run for the current point leader as he had very little trouble maintaining his lead.
There was some slight concern on the final lap when the caution waved and previous week winner Jacob Kerstetter was in second but once the race restarted there was no issue for Sweeney who eased into his 40th career Late Model win at Mahoning Valley
Jamie Smith is off to perhaps his best ever season as he won his second Street Stock feature in a month's time.
Smith took the lead on lap two and then withstood an onslaught of advances from Mark Deysher and Alan Schlenker. But despite the intense competition he remained solid en route to win number two.
Deysher continues to be force, notching his third runner-up in the last four races.
It has come as no surprise that Mike Stofflet won another Dirt Modified feature. This time may have been his best yet as he went to the lead on the opening lap and was approaching the second and third place cars until a caution put the halt to him lapping the field. Nonetheless he was again the top car, taking his sixth straight win.
Jason Finken may be a true blue rookie but watching his performances throughout the season would have one differ. Finken has been fast and strong from day one and on Saturday night he capped it all off with his career first win in the 20-lap Pro 4 main.
Finken went by Kailyn Beers and on lap eight and was perfect the rest of the way.
Paul Effrig has enjoyed a fair amount of success over the years in the higher classes but for 2017 he looked to have a more laid back season and thus joined the Hobby Stock division. He soon found out that the entry level class is anything but as the opposition is extremely tough.
But Effrig is a seasoned veteran who adapted to the change in short order and can now add a Hobby Stock victory to his resume. He grabbed the lead over Colton Perry on lap 10 and then held back a bevy of on-comers in scoring his first win since a Late Model victory in 2014.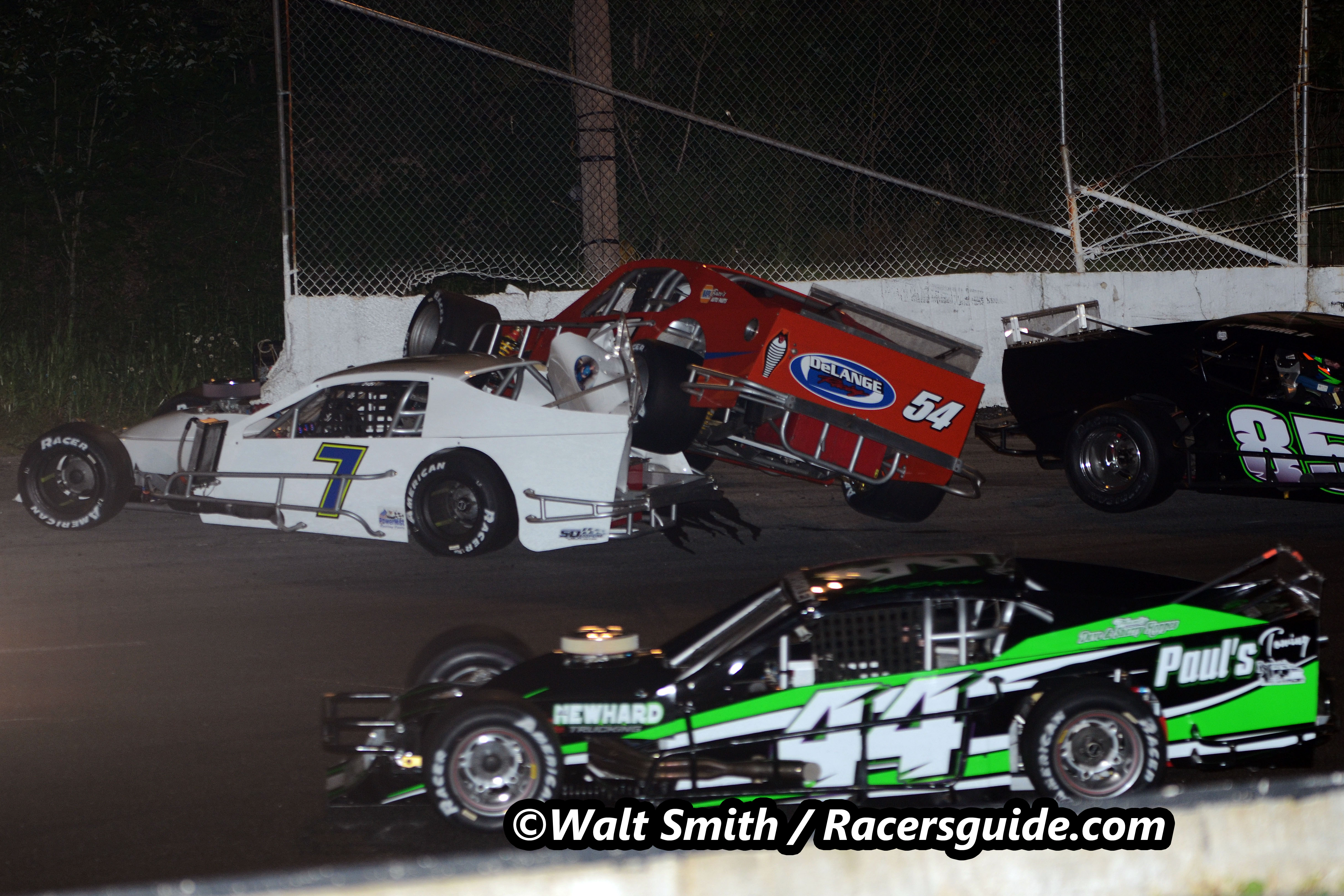 Modified Feature Finish (35 Laps): 1. Kris Graver, 2. John Markovic, 3. Eric Beers, 4. Bobby Jones, 5. Brian DeFebo, 6. Kyle Strohl, 7. Lou Strohl, 8. Don Wagner, 9. James Pritchard, 10. Terry Markovic, 11. Ron Haring Jr., 12. DJ Wagner, 13. Nick Baer, 14. Joey Jarowicz, 15. Brian Romig Sr., 16. Jack Ely, 17. Brian Romig Jr.
Late Model Feature Finish (25 Laps): 1. Mike Sweeney, 2. Jacob Kerstetter, 3. Frankie Althouse, 4. Lorin Arthofer, 5. Jeremy Miller, 6. Geno Steigerwalt, 7. Dylan Osborn,8. Chris Anderson, 9. Robbie Kutz, 10. Jacob Nemeth, 11. Eric Kocher, 12. George Ramos. 13. Broc Brown
Street Stock Feature Finish (30 Laps): 1. Jamie Smith, 2. Mark Deysher, 3. Alan Schlenker, 4. Jared Ahner, 5. Jon Moser, 6. Steven Steigerwalt, 7. Corey Edelman, 8. Rick Reichenbach, 9. Jillian Long, 10. Stacey Brown, 11. Todd Ahner, 12. Shayne Geist, 13. Lonnie Behler Sr., 14. Eric Kocher, 15. Bobby Kibler J., 16. BJ Wambold
Dirt Mod Feature Finish (25 Laps): 1. Mike Stofflet, 2. Frank Parastino, 3. Bill Sittler Jr.
Pro 4 Feature Finish (20 Laps): 1. Jason Finken, 2. Kevin Stein, 3. Jeremy Guerra, 4. Johnny Bennett, 5. Tucker Muffley, 6. Kailyn Beers, 7. Tanner Laybourn, 8. Ken Reeder DNQ: Jake Kibler
Hobby Stock Feature Finish (25 Laps): 1. Paul Effrig, 2. Kevin Behler, 3. Jeff Biegley, 4. Rich Mutarelli, 5. Avery Arthofer, 6. Trisha Connolly, 7. Tiffany Wambold, 8. Ryan Berger, 9. Colton Perry, 10. Lyndsay Buss, 11. Austin Beers, 12. Cody Geist, 13. Devin Schmidt, 14. Al Arthofer, 15. Michael Wambold, 16. Travis Solomon, 17. Jay Visnosky, 18. Nicholas Kerstetter, 19. Alton Snyder Jr., 20. Seth VanFossen, 21. Jesse Strohl DNQ: Colton Breiner, Todd Geist, Brayden Spencer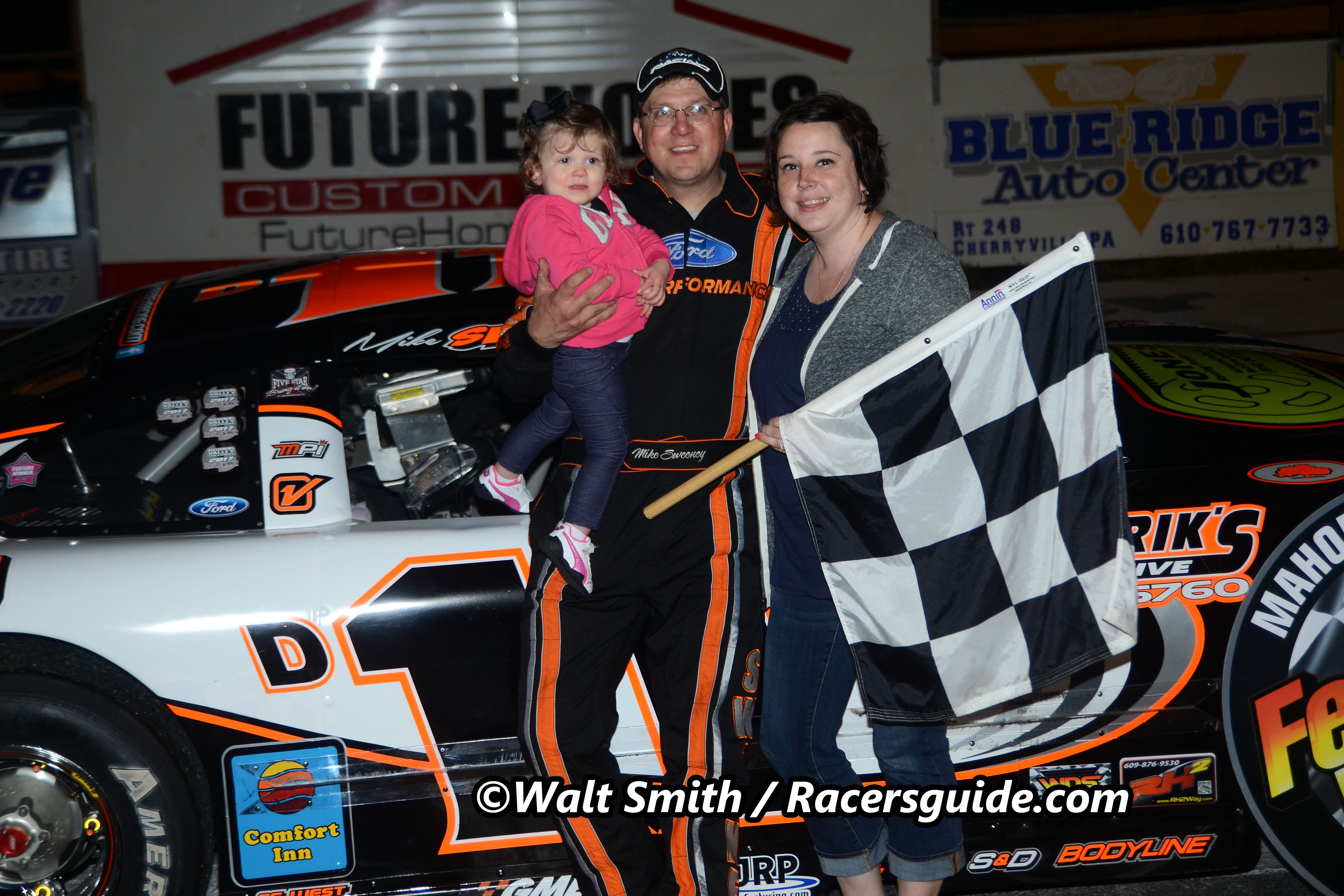 COMING EVENTS:
Saturday, June 17 @ 7:00 pm All regular track classes ($14 adult admission)
Saturday, June 24 @ 7:00 pm All regular track classes + ATQMRA ($14 adult admission)
Saturday, July 1@ 7:00 pm Late Model 50-lap $1200-to-win + all regular tracks classes ($16 adult admission)
Sunday, July 2 @ 2:00 pm Big/Small Car Enduro, Big/Small Car Demo Derby, Micro Stocks, Champ Karts ($10 adult admission)