Race of Champions Modified Series Added to July 8 Oswego Program
Press Release By: CAMDEM PROUD / OSWEGO SPEEDWAY MEDIA
Photos By: ALEX & HELEN BRUCE / RACERSGUIDE.COM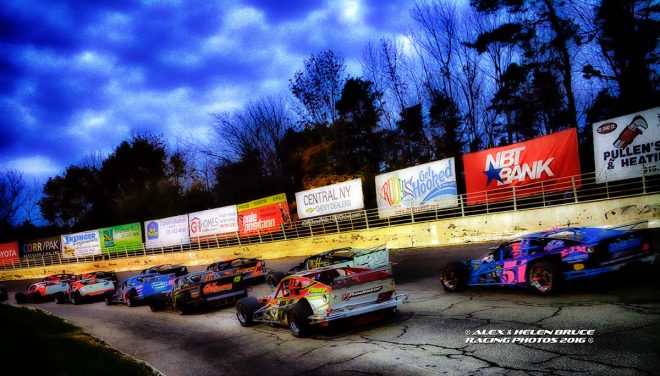 OSWEGO, NY – May 9, 2017 – The Race of Champions Asphalt Modified Series will return to Oswego Speedway for its second and final appearance in 2017 on July 8.
A full field of Ground Pounders is expected to join the already action-packed racing program with a 67-lap special presented by Century 21 Galloway Realty and Helena Chemical Company. Also on the card is a regular show for the Novelis Supermodified and Pathfinder Bank SBS, running 50 and 30 lap feature events.
Race of Champions action in July will follow this weekend's Richie Evans Memorial 61 for the Race of Champions Series as part of Oswego's 67th annual Opening Day.
Heading into Saturday's action, Andy Jankowiak is the current leader in Race of Champions standings following his win at Lancaster, with Patrick Emerling, George Skora, Chuck Hossfeld, Daren Scherer, Tyler Rypkema, Cam Barber, TJ Potrzebowski, Bryan Sherwood, and Mike Leaty trailing.
This is the 11th consecutive season that the Modifieds will appear at Oswego on multiple occasions.
Racing will begin at 6:45pm on July 8th with general admission tickets available for $35. Tickets can be ordered by phoning a speedway representative in the box office at (315)-342-0646.
For more information on the Race of Champions, visit RocModifiedSeries.com.
Oswego returns to action this Saturday, May 13 for the track's 67th season opener presented by Mitchell's Speedway Press featuring kick off events for the Novelis Supermodifieds, Pathfinder Bank SBS, plus the Richie Evans Memorial 61 for Race of Champions Modifieds.
The speedway's annual Open Practice session will kickstart the weekend's activities on Friday evening, with track testing set for 5-9pm. General admission into the speedway's main grandstand is FREE for practice.
For more information on Oswego Speedway be sure to visit www.oswegospeedway.com. You can also FOLLOW on Twitter @OswegoSpeedway and LIKE on Facebook at www.facebook.com/OswegoSpeedway.
About Oswego Speedway: Oswego Speedway, a sports entertainment company, is a 5/8 mile semi-banked pavement racing oval located off the shores of Lake Ontario in scenic Oswego, NY. Oswego Speedway has been a continuously run weekly racing venue since August, 1951. The premier open-wheel pavement short track cars in the world, Supermodifieds, run weekly at Oswego Speedway making Oswego the only weekly Supermodified racing venue in the world. The Small Block Supermodifieds accompany the full blown Supers on a weekly Saturday night schedule which runs from May through September. Oswego Speedway is mentioned in racing circles as the "Indy of the East," as no fewer than a dozen past and present competitors have competed at the famed Indianapolis Motor Speedway including Mario Andretti, arguably the greatest driver of all time, two-time Indy 500 champion Gordon Johncock, along with former International Classic Champions Bentley Warren, Joe Gosek, and Davey Hamilton.