WET WEATHER FORCES LANCASTER TO POSTPONE WEEKEND EVENTS
Press Release By: DAVE BUCHANAN / LANCASTER SPEEDWAY MEDIA
Photos By: MARK RANNALLETTA / RACERSGUIDE.COM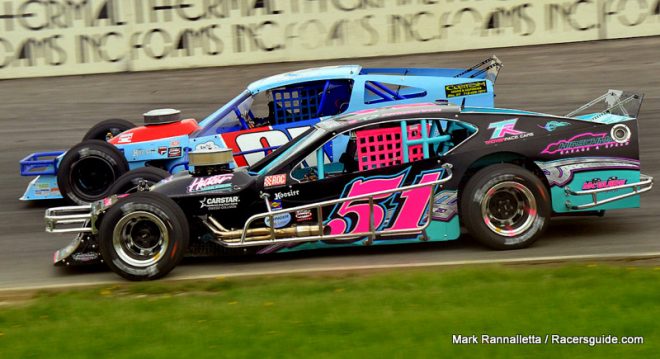 LANCASTER, N.Y. -May 5, 2017 – Lancaster National Speedway & Dragway has postponed all motorsports events for this upcoming weekend due to the heavy rains that have fallen at the facility earlier in the week combined with the additional rain and cold temperatures that are being forecasted for this weekend.
The wet weather that blanketed the Western New York area earlier this week left the facility water-logged with the parking lot and pit areas especially saturated. Any additional precipitation would make it even more difficult to get competitors in and out of the pits without getting their trailers and/or cars stuck.
Lancaster National Speedway & Dragway will resume activities on Wednesday, May 10 with the first Cruise Night of the season. Gates open at 6 p.m. Admission is free for all Wednesday Cruise Nights in 2017.
The Franco's Pizza Friday Night IHRA Drag Racing season will start on Friday, May 12. The show will feature all weekly classes, including Mallare Enterprises Top ET, McGard Mod ET, Hebeler's Sales Bikes & Sleds and Tread City Tire Street.
X-Press Signs Stock Car Series action will continue on Saturday, May 13 with the first Saturday night show of the season. The New York Super Stock Series will join Lancaster's three weekly home track divisions for the Mike Julicher Tribute Race. Racing starts at 6:30 p.m. May 13 is also 97 Rock Night at the races. Fans can get a general admission ticket for just $9.70, but they must pay with exact change.
About Lancaster National Speedway & Dragway: Founded in 1959, Lancaster National Speedway and Dragway is a multi-use facility located on 77 acres just outside of metropolitan Buffalo, N.Y. The facility features a 1/8-mile drag strip, a 1/2-mile oval track and hosts several non-motorsports events such as car shows and concerts. For the latest information on Lancaster National Speedway & Dragway check out our website www.lancasternationalspeedway.com. Additional information for racers and fans can be found on our Facebook page (www.facebook.com/LancasterSpeedway) and on Twitter (@LancasterSpdwy).
—