Shooting for Wins: Gullo Motorsports and Ithaca Gun Company"
Story & Photos By: CAROL HOUSSOCK / CHEMUNG SPEEDROME MEDIA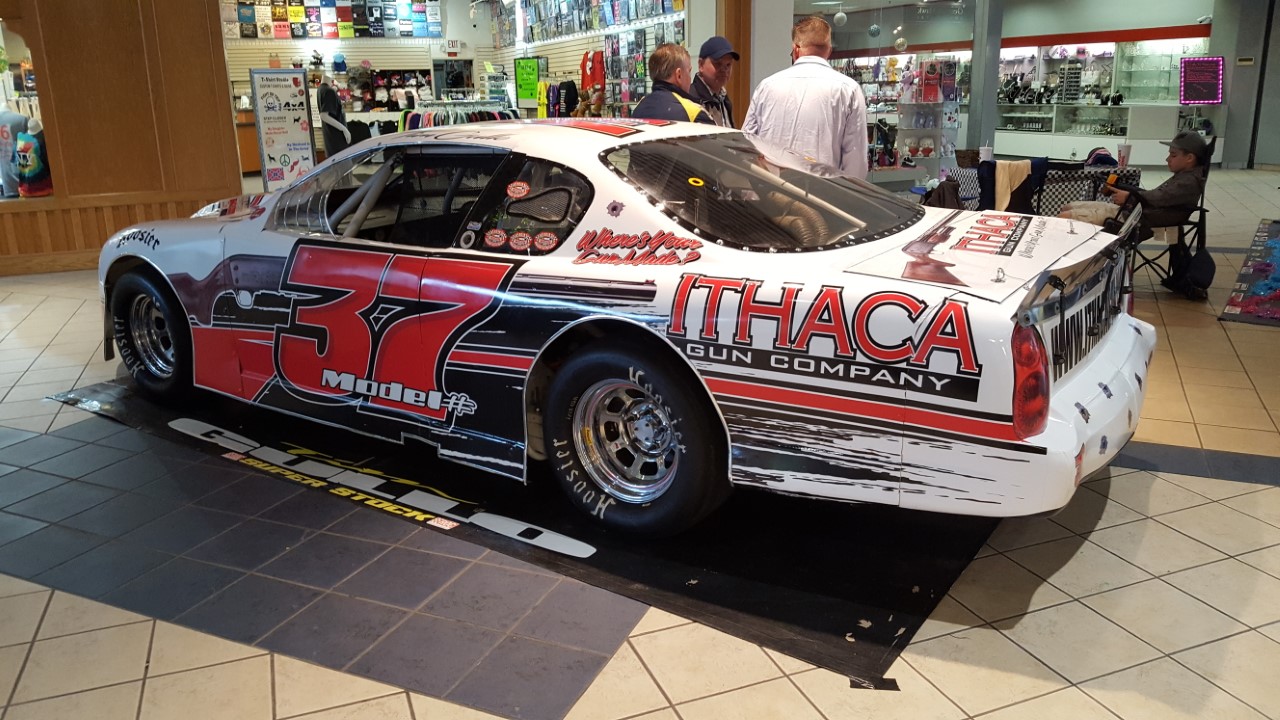 Elmira, NY- April 11, 2017-    NY's Arnot Mall was recently packed with beautiful dirt modifieds, 4 Cylinders, and street stocks shined up and ready to hit southern tier (NY) dirt tracks. But an interesting mix of race fans and casual shoppers huddled around the only asphalt car on display. What drew them there was the detailing on the car. What kept them there were the memories they shared, and they weren't all related to racing.
It was Tim Gullo's sharp #37 Ithaca Gun-sponsored Chevy Monte Carlo SS that brought all these folks together. Some recalled the last time they had seen Ithaca Gun on a race car.  Others leafed through the marketing materials on the table and shared hunting stories or mentioned they didn't know the company made hand guns now.
Back in 1995 Gullo's cousin, Ray Marshall, secured sponsorship from Ithaca Gun for his modifieds, driven until 2001 by TJ Potrzebowski and Dave Pecko. Over this past winter Marshall, who had teamed up with Gullo for his Super Stock efforts, acted on a whim. "I had a brainstorm looking at old pictures," Marshall stated. "I sent some pictures of my modifieds and the trailer to the new owners." That led to phone conversations with Mary Dlubak Pino, Chief Financial Officer of the company. Now located in Upper Sandusky, Ohio, it was a long shot as to whether the company would entertain an involvement with a NY-based race team. "She called and invited us out to meet. This is a first for them, but they were looking for new marketing opportunities and we were there to offer them that," Marshall added. "We worked out all the details and they're on board with an exclusive sponsorship."
While the sponsor and car number are new to Gullo, racing in a Super Stock is not. Since his humble start back in 1979, he's proven his versatility on dirt and asphalt, and in both open wheel and full-fender cars. The team, consists primarily of Gullo, Marshall, and Tim's wife Tara. Gullo won the Super Stock title at Chemung Speedrome in 2014, along with the Super Stock event at the Race of Champions (ROC). In 2015 he picked up 7 feature wins and scored the New York Super Stock (NYSS) title. This year's goals include wins and the ROC super stock title. "I'll be at Chemung and some other tracks too," he said. Gullo's debut comes at the end of this month at Lancaster Speedway, but fans near his Elmira base can catch him at Chemung Speedrome's opener on Saturday, May 6th in the NYSS race.
The fit is a natural. Tradition and true excellence are the hallmarks of Ithaca Gun Company. The same can be said for Gullo Motorsports. Sporting the 'Model #' 37, the car is sure to continue to attract hunters and race fans alike throughout the upcoming racing season. Even the legendary Annie Oakley would stop and admire such a well-crafted product.