After Daytona Disappointment, Elliott Still Waiting For His Day To Come
Story By: REID SPENCER / NASCAR WIRE SERVICE
Photos By: GETTY IMAGES / NASCAR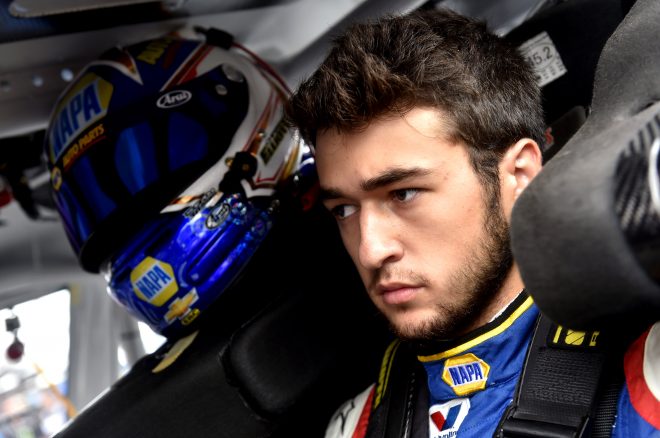 HAMPTON, Ga. –March 4, 2017-  Chase Elliott had seen that movie before.
Having qualified for the playoff as a Sunoco rookie last year, Elliott was leading the first postseason race at Chicagoland Speedway when Michael McDowell's spin in Turn 4 brought out the fourth and final caution on lap 263 of a scheduled 267.
Elliott lost the lead on pit road and lost the race in overtime to Martin Truex Jr.
In last Sunday's Daytona 500, it was a dry fuel cell, not an inopportune caution that cost Elliott a chance to win NASCAR's most prestigious race. Elliott, the pole winner for the second straight year, led 23 consecutive circuits before his car sputtered and ran out of gas on Lap 198 of 200.
Kurt Busch took the checkered flag, while Elliott suffered another disappointing close call that left him still in search of his first Monster Energy NASCAR Cup Series victory.
"Yeah, I mean had such a great car down there and a great start to the week, a great Thursday night (that brought a win in the Can-Am Duel), and I felt like for us, absolutely, sure very disappointing," Elliott said on Friday at Atlanta Motor Speedway. "That was a devastating way to end a good week, for sure.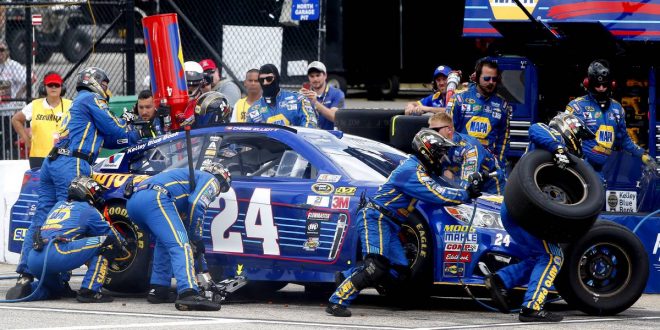 "There are two things, I think, to look at when you think about Daytona for us. A, we had to play the cards we were dealt. I felt like we planned to the best of our ability. I think that's something to be proud of. B, we ran out of gas. Yes, we were leading, and it's easy to say 'Ah, it was ours to lose.' In reality, there were still three laps to go and three laps at Daytona is a long time.
"So, I think for us to sit back and think that we had it locked down is kind of foolish. For us, it's disappointing for sure, but there are some positives to take from the day and again, we were faced with circumstances that we really couldn't control, and I felt like we played what we had the best we could. Some days that's all you can do."
Elliott may be winless in his 42 Monster Energy NASCAR Cup Series starts, but he can take solace from his father, Bill Elliott, who needed 116 starts to get his first victory and went on to fashion a NASCAR Hall of Fame career.
"Yeah, he's brought that up a couple of times," Elliott said. "He has mentioned that. It's one of those things where it's crazy. Obviously, that was back in the '80's and things were a lot different, but it kind of just goes to show you if it's not your day, it's not your day."
DANIEL SUAREZ STILL LEANS ON CARL EDWARDS FOR HELP WITH MONSTER ENERGY NASCAR CUP SERIES RACING
Back in January, Carl Edwards stepped away from Monster Energy NASCAR Cup Series Racing, but apparently it wasn't a giant step.
The former driver of the No. 19 Joe Gibbs Racing Toyota is still close enough to mentor his successor in the car. In fact, Edwards flew to Atlanta on Friday to offer some assistance and advice.
"He's a great guy, very good friend," Suarez said on Friday at Atlanta Motor Speedway. "He just asked me, 'Hey, Daniel, do you want me to go over there? Do you think it would be helpful?'
"I said, 'Man, to have a driver like you who has a bunch of wins here in Atlanta, it's a big deal.' Yeah, he's going to be here to help me out, help the team out. It's a team he knows very well. It's going to be good to have him just to watch and to tell us what's going on from his view."
Edwards said he enjoyed helping Suarez but wasn't sure how long he would be at the track.
"I guess just as long as they want me to be here," Edwards told reporters in the garage on Friday. "I flew the Cessna in this morning, and I could leave at any moment. So whenever they say they're done with me, I'll take off…"
It was clear, though that coming to Atlanta, where Edwards collected three of his 28 career Cup victories, got the driver's juices flowing.
"I love this place, and I miss driving while I'm standing here," Edwards said. "I admit I brought my helmet and driver suit today, just in case somebody needed something. But I'm having a lot of fun. I'm just so grateful to Coach (Joe Gibbs) and everybody for letting me make the decision I made. But it is cool coming back here and seeing everybody.
"It's really fun."
DOES KURT BUSCH WANT ANOTHER SHOT AT THE INDY DOUBLE?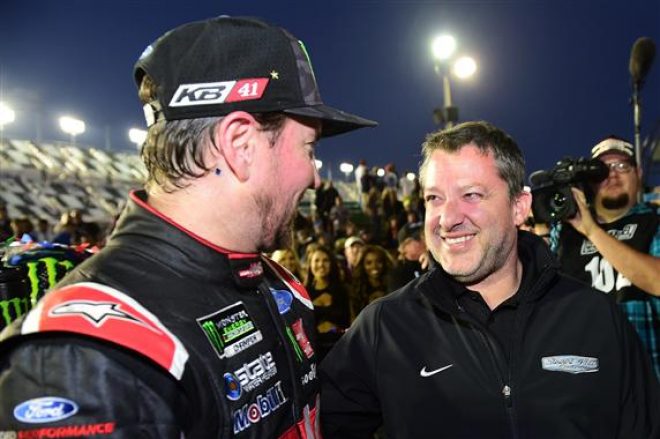 The club comprised of drivers who have won both the Daytona 500 and the Indianapolis 500 currently has two members – Mario Andretti and A.J. Foyt.
Kurt Busch, who won the Daytona 500 last Sunday, may have his sights set on joining that exclusive clique.
Three of the of the congratulatory texts Busch received after the Daytona win came from the Andretti clan – Mario, Michael and Marco. It was Michael, you'll recall, who fielded the Andretti Autosport entry Busch drove to a sixth-place finish in the 2014 Indianapolis 500 in his only IndyCar start.
"It's amazing to have the camaraderie and the ability to have open conversations with legends like Mario Andretti," Busch told the NASCAR Wire Service on Friday at Atlanta Motor Speedway. "I saw Mario's (text), because his came in early Monday morning. I haven't talked to Michael about things. I haven't talked to Marco.
"The emotions of this event, yes, it fits right in when I won in 2014 at Martinsville early in the year. It gives you that calm sense that I can go focus on other things and have the ability to go run theIndy 500. I haven't talked to Michael. I haven't reached out to any other team. My focus has been to settle in with Ford and get 2017 underway and to give my full focus to the Stewart-Haas race team.
Though Busch seems eager to try the Indy/Charlotte double again at some point in his career, scheduling obligations are likely to preclude the possibility this year.
"It will be difficult at this point, with a Daytona 500 win, and the emotions and the amount of responsibility that comes with it," Busch said. "The Ford executives called me and asked, 'What dates do you have available to come up to Dearborn, Michigan? We want to bring our winning Ford GT drivers from Le Mans and from the Daytona 24 Hours up for a big day at Ford.'
"The schedule is getting full. The month of March, we're on that West Coast run. I think my first day that anything isn't scheduled is April 5th or something like that, and that's on our way out to Texas. It's a busy time. I don't know if I'll be able to run Indy this year, but it's really neat to have the fraternity of IndyCar drivers reach out to me and celebrate with the 41 car."