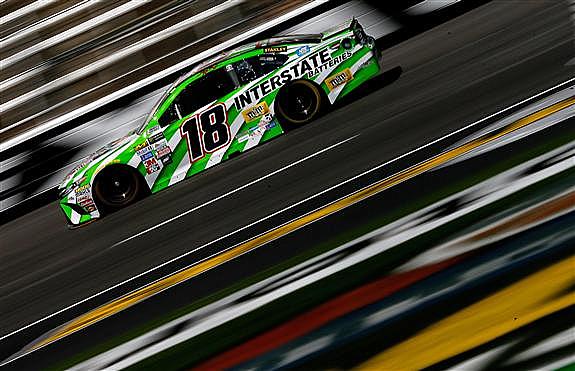 Drivers Challenged By New Surface At Texas
Story By: REID SPENCER / NASCAR WIRE SERVICE
Photos By: GETTY IMAGES / NASCAR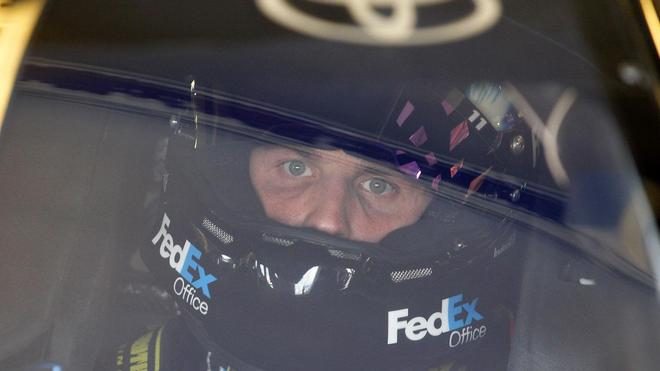 FORT WORTH, Tex. –April 8, 2017 –  Denny Hamlin's instant analysis was an omen of things to come.
"This baby is ice—no grip at all," Hamlin declared on his radio after spinning out on the new asphalt at Texas Motor Speedway just 2 minutes 23 seconds into Friday's opening practice at the 1.5-mile track. Hamlin was lucky. His No. 11 Joe Gibbs Racing Toyota escaped contact with the wall, and Hamlin had it back on the track shortly thereafter as teams prepared for Sunday's O'Reilly Auto Parts 500 at Texas Motor Speedway (1:30 p.m. ET on FOX).
Teammate Kyle Busch wasn't as fortunate. After running 49 laps in the session, the driver of the No. 18 Camry slid out of the narrow groove in Turn 1, fought the car through the corner and tapped the outside wall with the right rear in Turn 2.
The team debated whether to go to a backup car and ultimately decided to try to repair the primary.
"I just missed the entry going into (Turn) 1," Busch said. "My right rear was just hung over the black edge into the dirt. As soon as I turned off, it was gone. I was chasing it from entry. It was a really fast car. Oh, well."
There was no evaluation necessary after Erik Jones flattened the right side of his No. 77 Furniture Row Racing Toyota against the Turn 4 wall. Jones was trying to get everything he could out of a mock qualifying run and went over the edge on the newly-repaved track.
"I thought after the first run I felt pretty comfortable on our qualifying run and just thought I could get a little bit more," Jones said. "And coming up in speed I thought we could hold it wide open, and it just didn't have it in it, so I got up out of the groove and once I got up into the gray it just took off.
"It's unfortunate – the 5-hour ENERGY Camry had a lot of speed in it, but we'll just have get the backup out, and hopefully it will be just as good."
Toyota drivers were the victims of the first three major incidents, but other makes weren't exempt. Chase Elliott spun in his No. 24 Chevrolet, bouncing off the outside wall and slamming into the inside barrier and damaging both sides of his car.
Afterwards, he sounded a familiar refrain.
"Just got out of the groove there off (Turn) 2 and got too high and got the wall," Elliott said. "Then had too much wheel in it going the other way, so just a mistake on my end. I hate it. I thought our car was pretty good, so hopefully this one (the backup) will be just as good, if not better."
JUST HOW DIFFERENT IS TEXAS AFTER THE REPAVE?
Trevor Bayne wasn't among the casualties in Friday's opening practice at Texas, but his 41 laps on the newly paved, reconfigured track gave him an appreciation for just how tricky the surface is.
"It is a little treacherous," Bayne told the NASCAR Wire Service after the session. "You come in, and your crew chief wants feedback, and you're like, 'Man, I'm just trying to survive right now.' When you're on the race track, it requires every ounce of your focus and attention. It will bite you. We've seen that a lot today.
"If you miss the groove by a tire-width, you can be in trouble. On our last qualifying run, I got up kind of high. I can't wait until this place widens out. Obviously, we are already talking about that the first time here. That will happen over time. I would love to run a bigger arc into Turn 1, but where they put the rubber down you just can't do that yet."
In addition to the repaving, the first and second corners at TMS now are wider, with shallower banking than before. Coupled with the lower-downforce rules package introduced in the Monster Energy NASCAR Cup Series this year, the lower banking presents a major challenge.
"The banking not being there in (Turn) 1 definitely gives the car an uneasy feeling as you turn off the wall," said Bayne, who was 13th fastest in the opening practice. "You're working on 'loose in' (a loose handling condition into the corner) a little bit. It's going to be interesting. Dirty air is going to be tough when you're already loose like that.
"We have to be patient with repaves and understand in the future that the less banking and things like that are directionally correct to get corner speed and aero-dependence down. I think they're making good decisions. I've always loved Texas, but part of that was the worn-out pavement. Hopefully, I have a new reason to like it this weekend."
DON'T TELL JIMMIE JOHNSON TO GET A LIFE—HE HAS ONE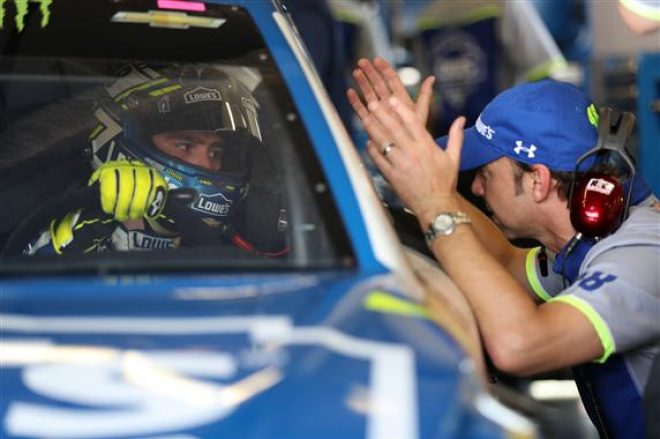 Just because Jimmie Johnson is a champion Monster Energy NASCAR Cup Series driver, that doesn't mean he's going to lead a cloistered, risk-free life.
The seven-time champion currently splits time between Charlotte and Colorado, and he's an accomplished skier—even though there are potential hazards involved.
"If I stay in this little quarantined area, I might go 'Carl Edwards,' and I don't want to do that," Johnson said, referring to the driver who stepped away from NASCAR racing. "I need to live my life, and this is the way I do it."
An aficionado mountain biking and iron man competitions as well as skiing, Johnson isn't unaware of the potential dangers.
"I think about it and I think I manage my risk," he said. "I know that my team owner (Rick Hendrick) is at least OK with me being out there. I look at the video I posted recently, and I'm on a very low pitch, very wide-open, powder snow. I mean it's the best conditions… and nobody around.  It was in this private area of the mountain we were riding in this CAT to get out to it.
"I felt like I was managing my risk pretty damn well to go into that environment. But you could get run over by a car cycling, running, you could step off the curb in front of a bus. Again, I feel like every driver is willing to take certain risk for their fitness and to live their life. Me being on those skis, it's more about living my life and doing something I enjoy."