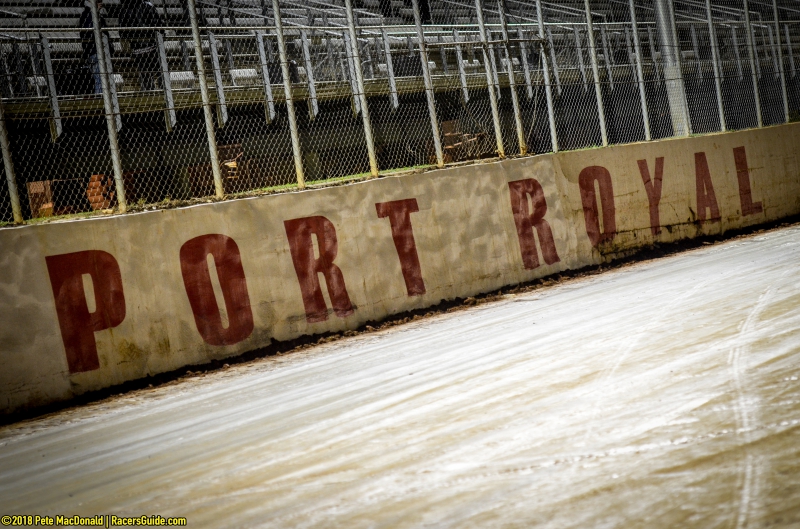 Justin Clark Scores Keystone RaceSaver Challenge Win While Dillan Stake Earns Limited Late Model Win
Devin Hart and Dave Grube Wrap Up Championship Seasons as Well
By- Justin Snyder
Port Royal Speedway – PORT ROYAL, Pa. (October 24, 2021) – Justin Clark capitalized on a pole position starting spot to capture the 10th Annual Keystone RaceSaver Challenge for the Penns Valley MeatMarket 305 Sprint Cars.
The 30-lap feature was Clark's first career victory at the Speedway and wrapped up the 2021 season for the division.
"I've been trying for four years to get a win at this place and I finally got it done," said Clark. "I can finally say I'm a winner at Port Royal and this is just awesome."
Clark and Buddy Schweibinz led the field of 25 cars to the green flag and it was Clark getting the early jump to lead lap one. Fifth-place starter Derek Hauck advanced one position and was in fourth as well.
Third-place starter Mike Melair got by Schweibinz for second on the backstretch the following lap, but a caution for debris negated the pass before a lap could be completed.
Clark again jumped out to a hefty advantage after the return to green and it was Hauck again on the move as he moved into the third position. One lap later he got by Schweibinz for the runner-up spot, while 16th-place starter Dave Grube had already advanced to eighth by the completion of lap three.
Grube entered the night holding a narrow five-point advantage in the point standing over 21st-place starter Garrett Bard and by lap ten Grube was battling inside the top five, while Bard was battling just outside the top ten.
Meanwhile upfront, Clark was burried in heavy lapped traffic, but he held a significant advantage over second-place Hauck.
Bard got by Austin Reed for the 10th position with 15 laps to go, while Hauck was closing fast on Clark in lapped traffic. With 14 laps remaining he was 1.319 seconds back and one lap later he cut the distance to close to half a second.
Hauck was running the high side, while Clark was running closer to the bottom of the speedway and the two raced a couple car length's apart over the next six laps. The caution then flew for a slowing car in turn's one and two to bunch the field back together. Grube was sitting in fourth at the yellow, while Bard was running in tenth.
Hauck threw a slider at Clark for the lead in turn's one and two, but Clark powered back around the top to take the top spot back. He tried again in turn's three and four, but Clark again proved to good and led the lap.
Meanwhile, behind the leaders it was mayhem. Drivers from fourth to tenth were shuffling positions left and right and with six laps remaining, only two positions separated Grube and Bard with the championship on the line.
Clark was on easy street with two laps to go, while 17th-place starter Kassidy Kreitz had moved into the fifth position.
With clean air ahead of him, Clark cruised home to the victory by a margin of 1.842 seconds over Hauck, Kevin Nagy, Schweibinz and Kreitz. Mike Melair, Grube, Doug Dodson, Bard and Jake Waters rounded out the top ten.
"It's been an amazing year and when I got to lapped traffic I didn't know how much room I had from second," said Hauck. "I needed that caution there to get clean air, but I've got to thank all my guys and my family for getting me to this point."
For Hauck, he believed he had a car capable of winning but needed more green flag laps.
"If I'm going to take second to anybody, I guess he's the guy to do it to," said Hauck. "If it would have stayed green I think we had something for him, but we'll taker a second and start looking at next year."
With Grube's sixth-place finish, he was able to lock up the 2021 Port Royal Speedway Penns Valley Meat Market championship by a margin of 15 points over Bard.
"I needed to just go out and do what I needed to do and keep the car in one piece," said Grube. 'This is the toughest part of the country to race in, so to win the championship is an accomplishment and I'm just really happy for my guys."
Nick Sweigart picked up the Founders Cup non qualifier race victory from the front row. Domenic Melair, Kenny Heffner, Mike Alleman and Roger Irvine rounded out the top five.
Branston Shue, Ryan Lynn, Dylan Smith, Nathan Gramley and Dustin Young completed the top ten.
305 Feature Results- 1. Justin Clark 2. Derek Hauck 3. Kevin Nagy 4. Buddy Scheibinz 5. Kassidy Kreitz 6. Mike Melair 7. Dave Grube 8. Doug Dodson 9. Garrett Bard 10. Jake Waters 11. Austin Reed 12. Dave Brown 13. Tim Tanner Jr. 14. Will Brunson 15. Drew Young 16. Fred Arnold 17. Erin Statler 18. Rod Hennig 19. Kristina Pratt 20. Robbie Bartchy 21. Jeff Geiges 22. Eddie Wagner 23. Jason Roush 24. Steve Kenawell Jr. 25. Scott Frack 26. Cale Reigle
Founders Cup Results- 1. Nick Sweigart 2. Domeic Melair 3. Kenny Heffner 4. Mike Alleman 5. Roger Irvine 6. Branston Shue 7. Ryan Lynn 8. Dylan Smith 9. Nathan Gramley 10. Dustin Young 11. Jarrett Cavalet 12. Andrew Boyer 13. Rick Stief 14. Zach Rhodes 15. Kruz Kepner 16. DJ Cassler 17. Rowdy Heffner 18. Cody Hackenberry 19. Austin Greenland 20. Todd Lynn 21. Dave Wickham 22. Croix Beasom 23. Logan Spahr 24.Owen Dimm 25. Cory Curnell
Dylan Stake scored his second Port Royal Speedway victory of the season in the Selinsgrove Ford Limited Late Model division, while Devin Hart picked up the series championship title as well.
Stake's victory was worth $15000 and came from the inside second row starting position.
Todd Snook and Shawn Shoemaker led the field of 20 Limited Late Models to the green flag for the 25-lap feature and it was Shoemaker getting the early jump off the outside of turn's three and four.
Hart, who simply needed to take the green flag to lock up the championship, went from sixth to fourth on the opening lap as well.
Stake used the bottom of turn's one and two on lap three to move into the runner-up position and he quickly started cutting into Shoemaker's lead. Within three laps, he was all over Shoemakers for the lead and he slipped by for the top spot on lap seven.
A caution for a slowing Curt Dunn regrouped the field with 16 laps to go, but Stake was too good up front. He again blasted out to the lead, while Hart quietly moved into the third position as well.
Andrew Yoder came to a stop on the track with a flat tire to bring out the second caution of the event and that wiped out more than a two second advantage for Stake over Shoemaker with 15 laps remaining.
Shoemaker tried the top entering turn one on the restart, but Stake continued to prove too good up front as he again jumped to a hefty advantage. The move opened the door for Hart to challenge for the runner-up spot, but Shoemaker was able to regain the spot on the backstretch.
One more caution flew for a stopped Chad Smith, but Stake proved dominant up front following the restart to pull away with ease. He'd go on to take the checkered flag by a margin of 3.136 seconds over Shoemaker, Hart, Snook and Casey Steinhoff.
Matt Parks, Dale Murphy, Kenny Yoder, Jared Fulkroad and Kyle Bachmn rounded out the top ten.
"I almost got beat earlier in a 25 lapper here earlier and we made sure that didn't happen again," said Stake. "I can' t do this alone and this is quite a good way to end the year on."
For Shoemaker, he felt he had a car capable of winning, but he made a bad choice on what tires to use.
"We put something different on there and we just chose wrong," said Shoemaker. "But honestly he was just better than us all around."
While Hart came home third, it was the joy of grabbing a championship after a grueling season that had him grinning ear to ear on the frontstretch.
"We had a really good year, but we kind of fell off a bit at the end of the year," said Hart. "I haven't been a round a whole lot during the week due to work, but my guys keep working hard and give me a car capable of running up front every week. I'm just so thankful for everyone involved with this deal and I'm happy to give them a championship for their efforts."
Limited Late Model Results- 1. Dillan Stake 2. Shawn Shoemaker 3. Devin Hart 4. Todd Snook 5. Casey Steinhoff 6. Matt Parks 7. Dale Murphy 8. KennyYoder 9. Jared Fulkroad 10. Kyle Bachman 11. Chase Bowsman 12. Curt Dunn 13. Randy Shaeffer 14. Zach Fedorchik 15. Andrew Yoder 16. Chris Leitzel 17. Chad Smith 18. Greg Brouse 19. Drew Weisser 20. Shaun Lawton
Adam Campbell won the 4-cylinder feature event after starting form the fourth position. The win was worth $1200 and came by 1.224 seconds over Eric Boozel, A.J Hoffner, Matt Worley and Matt Chronister.
Justin Oberlin, Shawn Stahl, Larry Bechler Jr., Ricky Weaver Jr.and Bill Hassenplug rounded out the top ten.
4 Cylinder Results- 1. Adam Campbell 2. Eric Boozel 3. AJ Hoffner 4. Matt Worley 5. Matt Chronister 6. Justin Oberlin 7. Shawn Stahl 8. Larry Bechler Jr. 9. Ricky Weaver Jr. 10. Bill Hassenplug 11. Clint Heimbaugh 12. Andrew Moist 13. Jeff Foster 14. Tim Campbell 15. Brandon Hoffner 16. Kolten Wagner 17. Lonnie Hobday 18. John Diehl 19. Tyler Stahl