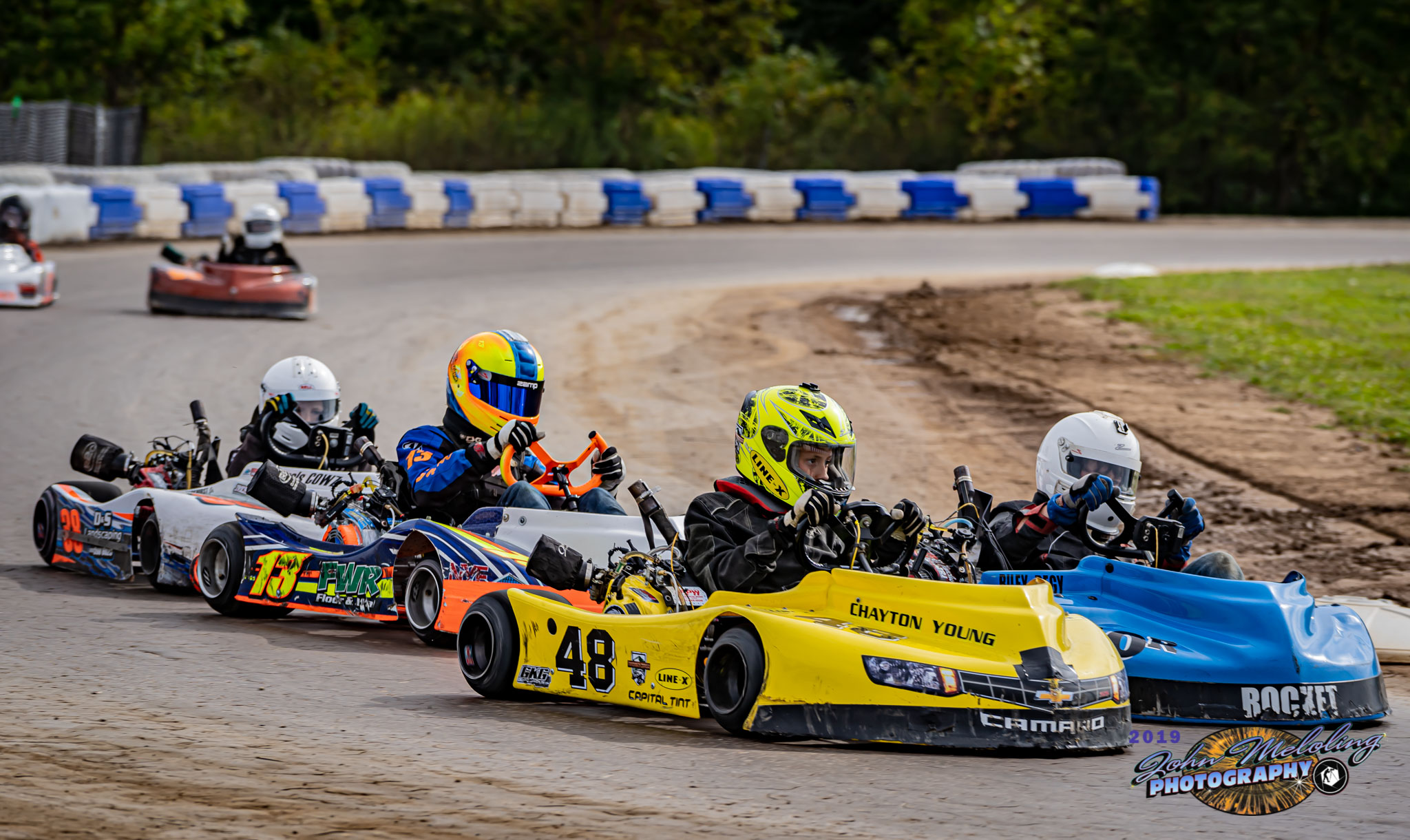 (John Meloling Photo)
Weedsport Kartway Roars to Life Sunday for 'Summer Fun Run'
WEEDSPORT, NY (June 24, 2020) – Weedsport Kartway will officially open its gates for the first time this season on Sunday, June 28 for a 'Summer Fun Run,' featuring extended hot laps and twin main events.
The 'Summer Fun Run' will be a non-point event for all standard Kartway classes including Jr. Red Clone, Jr. Green Clone, Jr. Purple Clone, Jr. Blue Clone, Jr. Unrestricted, Clone Light, Clone Heavy and Clone Super Heavy.
A special two-hour controlled practice session will open the day from 11 a.m. to 1 p.m. before twin racing events are held for all classes starting at 1:30 p.m.
Lineups for twin events will be determined by the order of online pre-registration. The first to register will start on the pole position for twin #1. The starting order for twin #2 will be reversed.
Online pre-registration for this event is required. No registrations will be taken in at the pit gate; only pit passes will be sold on the day of the event.
No spectators will be permitted on site.
Proof of age is required for junior participants. Registrations for juniors will not be approved until proof of age is submitted to info@weedsportspeedway.com.
Registrations and proof of age must be submitted by Saturday, June 27 at 11:45 a.m.
Weedsport Kartway will follow CDC guidelines and recommendations, including social distancing. Face coverings are required when unable to maintain six feet of social distance.
Upon arrival, temperatures will be taken prior to pit passes being purchased.
Concession stands will be open with a limited menu. New in 2020, orders can be made online for pick-up.
Pit gates will open at 8:30 a.m. with a driver's meeting to be conducted over the pit PA at 10:30 a.m.
Junior registration is $20, with senior registration set at $25. Non-participant pit passes are $15, driver pit passes will be $10.
Raceceiver one-way communication is required, with transponders mandatory in order to be scored. Transponders will be available for rent for a flat fee of $10.
All Kartway rules are posted at www.weedsportspeedway.com/kartway.
The link for required online driver registration is here: https://www.showclix.com/event/summer-fun-run-pre-registration-2020
If interested in camping, please contact the Weedsport Speedway office at (315) 834-3067.
Point fund checks, plaques and gifts from the 2019 season will be available at the pit window on Sunday.
For Weedsport Speedway news and schedule information visit www.weedsportspeedway.com.
About Weedsport Speedway: Officially opened for the first time on July 24, 1955 – the Weedsport Speedway 3/8 mile dirt oval has produced a legendary list of drivers and champions including Will Cagle, Danny Johnson, Bob McCreadie, Alan Johnson, Jack Johnson, and Dave Lape to name a few. In 2018, Weedsport introduced the all-new Weedsport Kartway, just outside of the Speedway's main pit area, to begin to foster the next generation of racers, crew members and race fans. Couple the racing with state-of-the-art camping and track amenities, unmatched on-site television production capabilities, plus the ability for large scale concert productions and Weedsport is one of the marquee entertainment venues in the country.
Event Details:
Sunday, June 28
Pits Open – 8:30 a.m.
Driver's Meeting (Over PA system) – 10:30 a.m.
Practice – 11 a.m. – 1 p.m. (Controlled by Class)
Racing: 1:30 p.m.

Proof of age required for Junior classes.
AKRA engine guidelines.
Small pipe, drum clutch for Junior classes (Jr. Unrestricted open clutch, big pipe)
Big pipe, open clutch for Senior classes.
Burris 33a tire rule for all classes.
One-Way Radio is mandatory – 454.0000.
AMB transponders required to be scored.

Controlled Practice Order (11 a.m. – 1 p.m.):
– Clone Heavy
– Jr. Blue Clone
– Jr. Purple Clone
– Jr. Green Clone
– Clone Super Heavy
– Clone Light
– Jr. Red Clone
– Jr. Unrestricted

Summer Fun Run (Non-Point Format Below):
– Twin #1 lineup based on order of pre-registration (Must pre-register to compete)
– Twin #2 lineup will be reverse order from Twin #1. Pole from Twin #1, starts last in Twin #2. Last from Twin #1, starts Pole in Twin #2)
– Finish Points will be awarded for each Twin – best overall finish is overall winner. Ties will be broken by fastest lap run across both features.
– Clone Heavy Twin #1 (15-laps | 20 karts)
– Jr. Blue Clone Twin #1 (12-laps | 13 karts, or Split Field)
– Jr. Purple Clone Twin #1 (12-laps | 11 karts, or Split Field)
– Jr. Green Clone Twin #1 (12-laps | 9 karts, or Split Field)
– Clone Super Heavy Twin #1 (15-laps | 20 karts)
– Clone Light Twin #1 (15-laps | 20 karts)
– Jr. Red Clone Twin #1 (12-laps | 9 karts, or Split Field)
– Jr. Unrestricted Twin #1 (12-laps | 15 karts, or Split Field)
10-Minute Break
– Clone Heavy Twin #2 (15-laps | 20 karts)
– Jr. Blue Clone Twin #2 (12-laps | 13 karts, or Split Field)
– Jr. Purple Clone Twin #2 (12-laps | 11 karts, or Split Field)
– Jr. Green Clone Twin #2 (12-laps | 9 karts, or Split Field)
– Clone Super Heavy Twin #2 (15-laps | 20 karts)
– Clone Light Twin #2 (15-laps | 20 karts)
– Jr. Red Clone Twin #2 (12-laps | 9 karts, or Split Field)
– Jr. Unrestricted Twin #2 (12-laps | 15 karts, or Split Field)

Racing Concludes by 5 p.m.

________________________________________________________

Summer Fun Run Entry Info:
Junior Division – $20
Senior Division – $25

Non-Driver Pit Pass
$15

Driver Pit Pass
$10

Weedsport Speedway
Contact: Dan Kapuscinski
dan@weedsportspeedway.com