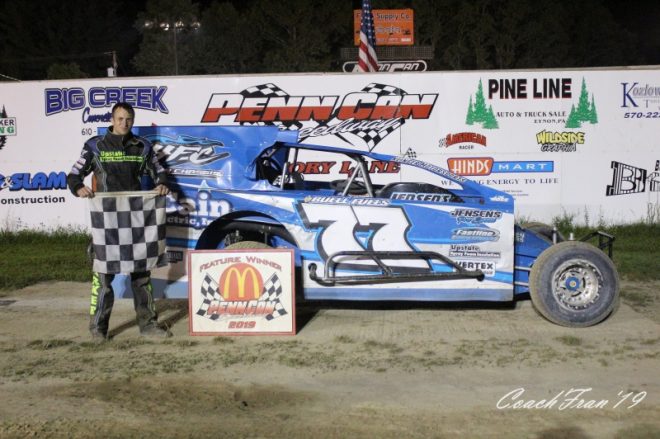 ALAN BARKER WINS PAPPY BEAVAN MEMORIAL AT PENN CAN SPEEDWAY
Story By: Ryan Lepre/Penn Can Speedway
Photos By: Fran Durso
SUSQUEHANNA, PA – Alan Barker charged by Joey Grammes just after the halfway point and cruised to his fourth win of the season at Penn Can this year in the Modified division.  Friday night was a packed night as it was the Pappy Beavan Memorial to honor the founder of the speedway as well as Legends Night and the 2019 Penn Can Hall of Fame Induction Ceremony.  Other winners on the evening were Ray Leonard (602 Sportsman), Dusty Decker (Factory Stocks), Shane Wolf (Street Stocks), Doug Lattner (600 Modifieds), John Smith (Wingless Sprints), Nick Kennedy (Four Cylinders) and Joshua Landers (Juniors).
Joey Grammes and Paul Rooney led the field to the green flag for the Modified main event. Grammes was making his season debut and took the initial lead over Rooney, Alan Barker, Nick Petrilak and Brian Malcolm. The best battle was just behind the race leader as Rooney and Barker battled for second. The only caution of the event flew when Rooney slammed the turn one wall the driver was okay but his No. 54 suffered extensive damage. On the restart it was Grammes leading with Petrilak challenging Barker for the second spot. After a few laps Barker left Petrilak and was tracking down Grammes for the top spot. At the halfway point Barker got a run in turns one and two and pulled alongside down the backstretch. Grammes came up the track and they made contact forcing Barker into the outside wall. Both continued on with Grammes still the leader. On lap 18 Barker got another run on Grammes and this time he had enough room to squeeze by on the outside line down the backstretch. Barker built up a sizeable lead in a few laps meanwhile Petrilak was starting to close in Grammes for the second spot. Barker of Norwich, NY took the checkers in his No. 77 McCain Gas Hig-Fab over a straightaway ahead of second.
"We made some changes this week after we struggled the last few weeks." said Barker "The car was a rocket ship tonight. It was a close call when we made contact but I'm glad he left the top for me because I was way better on the top. The 54 (Rooney) suddenly turned right I think he broke something on his front end."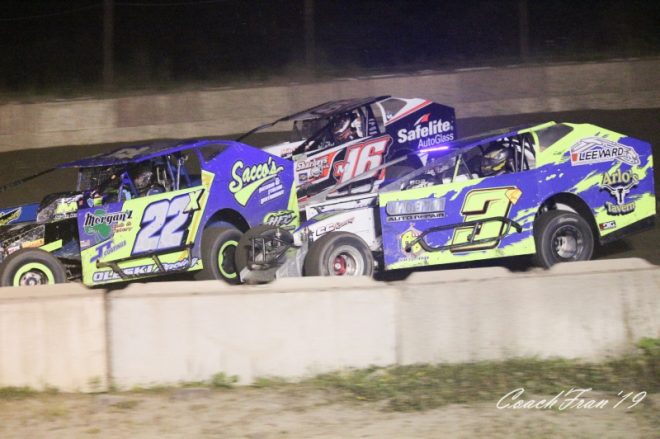 Grammes of Kunkletown, PA held on for second in the Slug N Slam Construction No. 5J. "We just decided a couple days ago to come race for the Beavan Memorial." said Grammes "For the first night it was good but second still stinks. When he (Barker) got outside of him I had no idea he was out there I don't like doing that since I've been squeezed into the wall like that many times."
Petrilak of Greenfield Township, PA rounded out the podium in his Morrison powered No. 72. "The car was good but I don't understand the no calls tonight." stated Petrilak "I feel like we should have won the feature."
Malcolm of Lake Ariel, PA and Nick Nye of Groton, NY completed the top five the rest of the top ten were Leo McGurrin, Brad Shaffer, Chris Hunsinger, Byron Worthing and Scott Landers. Heat races were won by Grammes and Rooney.
The 602 Sportsman event saw Tommy Oleski the race leader over Ray Leonard and Mike Schane on the end of the first lap. After a multi lap battle Schane pulled ahead of Leonard and set his sights on the No. 22 of Oleski. Schane stalked Oleski through lapped traffic. Oleski made a bobble and Schane pulled alongside but Oleski kept the power down and pulled back ahead. With just a few laps left Oleski bobbled again and Schane got into the back of him then Oleski spun drawing the caution flag. Schane was penalized by track officials to the tail of the field. This turn of events moved Leonard to the lead. Leonard grabbed his second win this year over Jim O'Hara in his best effort of the year, Mark Longstreet, Frank Payne and Randy Brokaw.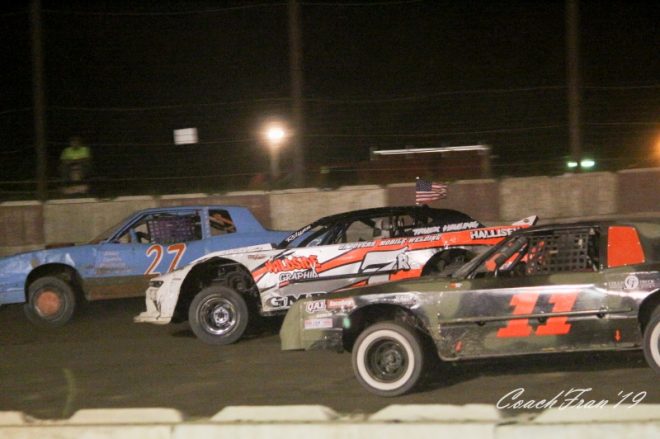 Shane Wolf used a power move on a lap 12 restart to take the lead in the Street Stock feature bypassing both Butch Green and Brenton Miller. Wolf won his sixth of the season over Miller, Green, Rich Sharpsteen and Dan Force.
Dusty Decker dominated the Factory Stock feature he took the win over a hard charging Tommy Groover, Nate Hill, Cyrus Homer and Sheldon Whitman.
Doug Lattner put his season of motor woes behind him as he won the 600cc Modified feature. Lattner snatched the lead in the first half of the event and rolled to the victory over Chace Scutt, Dana Davis, Tyler Smith and Ali Scutt.
Nick Kennedy became a seven time winner this season in the Four Cylinder division. Kennedy bested Devon Bailey and Mike Ferris on Friday night. Joshua Landers took his third win this season in the Junior class over Avery Decker. John Smith was a first time winner in the Wingless Sprint Class he bested Larry Ricci and Bruce Evans Jr.
Notes: Many former racers turned out for Legends night at the track. The 2019 Hall of Fame class was recognized in front of the grandstand the new inductees were Doug Worthing, Dave Kneisel, Gordy Isham, John Parks, Jack Wanett, Cyndi French, Al Wilcox, Reed Miller, Red Wayman and Bruce Evans Sr. Motor Racing Network's Steve Post helped current Penn Can announcer Craig Hawley with the induction ceremony.
Following the first 600cc Modified heat race while heading into the pit area Will Eastman's car burst into flames which were swiftly extinguished. Eastman quickly exited the car but suffered severe burns and was transported to the hospital and onto the Syracuse burn center. Please keep the Eastman family in your thoughts and prayers.
Penn Can Speedway 7-26-19 Results
Sunoco Racing Fuels Modified Feature Finish: Alan Barker, Joey Grammes, Nick Petrilak, Brian Malcolm, Nick Nye, Leo McGurrin, Brad Shaffer, Chris Hunsinger, Byron Worthing, Scott Landers Paul Rooney, Mike Nagel DNS Alex Stanton.
Stone Bros. Automotive 602 Sportsman Feature Finish: Ray Leonard, Jim O'Hara, Mark Longstreet, Frank Payne, Randy Brokaw, Gene Beadle, Mike Schane, Anthony Recchio, Tony Frable, Brad Weaver, Tommy Oleski, Brandon Oleski.
Insinger Performane Street Stock Feature Finish: Shane Wolf, Brenton Miller, Butch Green, Rich Sharpsteen, Dan Force, George Miller, Kyle Stark, Paul Conklin, Jim Sykes, Ned Fitch DNS Nate Shay.
Factory Stocks Feature Finish: Dusty Decker, Tommy Groover, Nate Hill, Cyrus Homer, Sheldon Whitman, Alecia Towner, Phil Burns, Charlie Towner, Jordan Towner Rich Wagner Kevin McDonald.
Leeward Construction 600cc Modified Feature Finish: Doug Lattner, Chace Scutt, Dana Davis, Tyler Smith, Ali Scutt, Travis Rooney, Nolan Smith, Jeff Baldwin, Brett Gray, Ayden Morgan DNS Paul Deruyter, Will Eastman.
4 Cylinder Feature Finish: Nick Kennedy, Devon Bailey, Mike Ferris, Andy Bolles, Rich Wagner, David Fox, Josh Wilder, Jason Colwell Jr., Steve Motichka, Lynn Highhouse, Ronnie Welch, Brian Salmini, Cory Brown, Jason Colwell, Tyler Vaughan.
Wingless Sprints Feature Finish: John Smith, Larry Ricci, Bruce Evans Jr., John Hrinko, Brandon Clapperton.
Cobble Creek Landscape and Florist Juniors Feature Finish: Joshua Landers, Avery Decker.