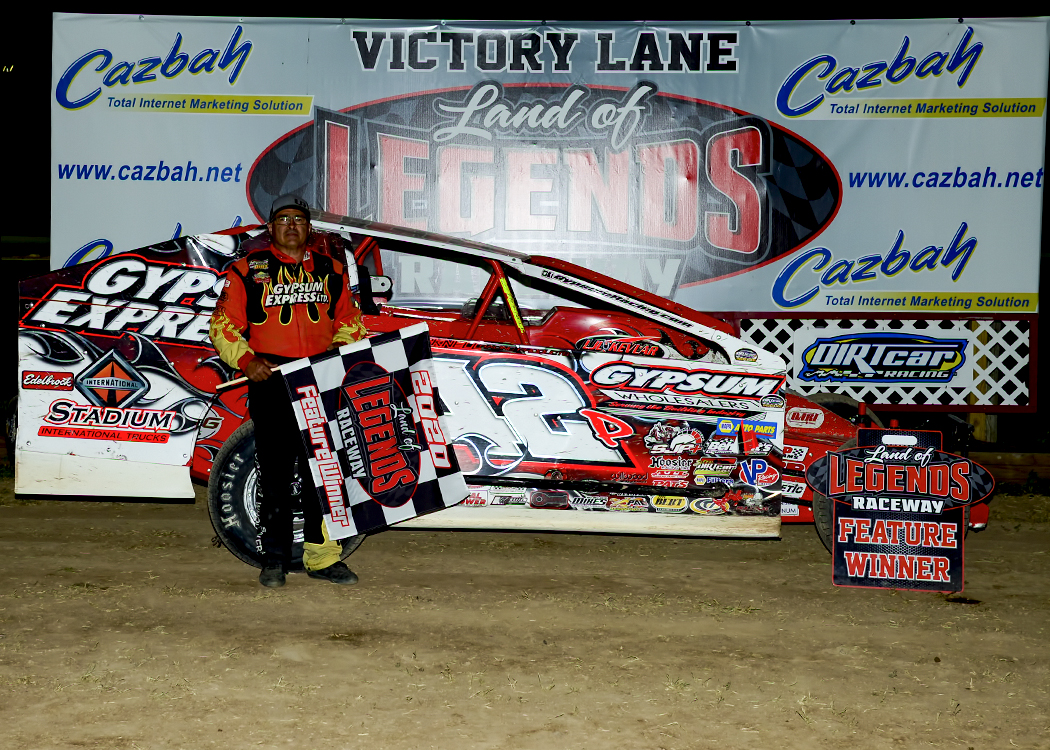 57th Land Of Legends Open-Wheel Openers To Ward, Guererri & BayWelch & Lloyd score full-fender firsts to launch 2020 race season at Ontario Co. Fairgrounds

*Pat Ward victory lane photo by Don Romeo
Canandaigua, NY – June 6, 2020 – Tom Skibinski, Land of Legends Raceway PR
With the coronavirus prevalent, spectators were not allowed in the grandstands yet plenty of race teams still signed in pitside, and in the end Land Of Legends Raceway opened in dramatic fashion with a light shower only wetting the appetite in anticipation of a 57th season of motorsports at the historic Ontario County Fairgrounds oval.
Veteran Pat Ward thwarted a late-race rally by Peter Britten to capture the headline 35-lapper for Pepsi Big-Block Modifieds while Matt Guererri (Speed Connection Sportsman Modified) outlasted Kevin Root and Alysha Bay (Mike Emhof Motorsports 305 Sprint Car) dominated the wing run to claim trophies in the companion open-wheel main events, both completed caution-free.

Mike Welch (Street Stock) and Brian Lloyd (Hobby Stock) kicked off the first Saturday Spectacular with checkered flags in the 'afternoon matinee' full-fender portion of the program to officially christen Promoter Paul Cole's third campaign in Canandaigua.
"Feel pretty bad about the deal with Peter but that was a lot of fun," said Ward, 63, a former LOLR regular who scored his last win on the fairgrounds 20 years earlier. "I moved up (lane) because I saw he was coming but didn't realize he was coming through then and we got together pretty good."
Ward rallied from ninth starting position to grab the top spot from Kyle Coffey on lap 17. Britten filed in eighth on the 26-car starting grid and moved into second with 10 laps to go. After showing his nose on occasion, Britten swept high out of turn four on lap 32 but contact with Ward's red no. 42P Gypsum Express-Gypsum Wholesalers entry pinned his mount against the outside front concrete retaining wall and the high-flying 'Batman' was suddenly grounded for the night.
"I saw Peter again coming on the top so I moved up the next lap," noted Ward, last cracking Canandaigua's elusive victory circle in August of 2000. "Feel bad about (contact) but this car was super duper. I was a little nervous with all the rain, don't like running on fast muddy tracks but it came in good. Track was actually really racy, both bottom and top, and it was a lot of fun."
After the Top-4 from a trio of heat race qualifiers redrew for the feature, second-generation driver Coffey led early from his pole-position start. North country invader Tyler Trump pulled ahead the second time around yet Coffey regained the top spot following the fast high line around the smooth half-miler. Coffey and Trump swapped the point twice more before Ward worked his way into contention and overtook Coffey for what amounted to the final lead change just shy of the halfway mark.
Gypsum teammate Larry Wight charged from last to third after looping on lap two yet a second mishap exiting turn one ended his valiant effort with less than 10 laps to go. The ensuing lap 28 restart put Britten on Ward's rear bumper followed by all-time Canandaigua winner Alan Johnson, 13th starting Justin Haers and second-year standout Dillon Groover, who began 17th in the feature field.
Back under green the lead duo pulled away from the hungry pack, with Erick Rudolph, who pitted following a lap six caution, closing in on the front-five as the laps dwindled. The late-race incident dumped Britten to 20th on the final scoresheet, yet ultimately elevated Groover to a career-best runner-up finish just a tenth of a second behind Ward under the final checkered flag.
Johnson settled for third ahead of Haers, Coffey and Rudolph, with successful Canandaigua Sportsman pilot Dave Marcuccilli, Chris Hile, Matt Farnham and Trump tallying Top-10 finishes.
"The car was real good on the bottom and the middle early on," assessed Ward, after the Genoa pilot collected $2,500 for his seventh career Big-Block triumph in Canandaigua. "I think Trump and Alan got held up (traffic) and I split them and Peter. Once I got in the lead, felt I was pretty good. But the bottom began slowing down on me and when you're leading and running down there and pulling away at the beginning, you just don't know where the fast groove is."
"Its good to get back racing, haven't been in the car since Florida (February). Scott Jeffery and Brandon Ford put this car together for me over the winter and its a coil-over Bicknell. Really fun to drive, can't wait to come back here Tuesday," Ward added.
After capturing his third season-opening feature in the past four years, Guererri might be looking forward to a return trip to the fairgrounds on Tuesday even more.
"To come out of the gate with a win is great, gives us a lot of momentum, certainly a big boost of confidence," remarked Guererri, 30, matching Ward with seven career wins on Canandaigua's most cherished clay oval. "Probably the best I've seen this track (surface condition) in a long time, you could run anywhere."
A solid field of 46 Sportsman entries was reduced to 28 come feature time, with timed hot laps setting the four heat race line-ups before the Top-3 qualifiers from each redrew for the main event. With Sportsman finally hitting the track at 8pm following a brief shower at 6:15, Guererri timed second-best for the initial heat and that's where he finished behind second-generation traveler Zach George, yet he selected #1 to begin the feature from the point.
Guererri paced the pack early with LOLR regulars Kane Bristol, Kevin Ridley and reigning points champion Kevin Root riding just as quick. It took the leaders only ten times around in the 25-lap finale to reach traffic and without a yellow flag to catch a breath there was no holding back.
Storming into second with five laps complete, Root forced a bold three-wide maneuver down the back chute under Guererri with young Alex Payne sandwiched between. And seconds later after brief contact with Rick Martin on the frontstretch in another three-abreast run, Root crossed the line first with 13 laps complete.
Root was well on his way to mirroring Wednesday's victory lane romp at Utica-Rome Speedway as he built a 3.1-sec. advantage with just a handful of laps to go. Suddenly on lap 24, contact with Troy Sperring in turn two cut a right front tire and Guererri closed in quickly as Chief Starter Scott Hixson waved the white flag.
It was a gift that Guererri couldn't give back as his no. 12G Tradition Automotive Group-Pruduct 9-Mohawk Northeast/Bicknell mount easily rolled around a limping Root in turn one while the closest challengers scrambled in traffic further back. Ridley dropped Root to third at the stripe ahead of '19 opening day victor Bristol and WNY invader Scott Kerwin.
"Last year was tough, always had a Top-5 car, just not good enough to win," added Guererri, who went winless in 2019 yet still climbed to third on the final points chart. He was the first to venture trackside in Tuesday's season-opening practice session which most fittingly paid dividends as the Waterloo wheelman notched the first Sportsman victory of the new year.
"This is definitely satisfying after struggling so much last season. Can't thank everybody enough on the crew that has been busting their hump, hopefully the success can continue. But to beat these guys all year you have to stay out of trouble and be really consistent. Its such a strong field here every week any small mistakes turn out to be big at the end," added Guererri, who collected a $1,000 paycheck for nine minutes of work.
Bay had less patience, needing just five minutes to get the job done in the MEM 15-lap A-Main. While the DIRTcar Modified and Sportsman features came down to the wire, the gal from Gorham never gave her fellow wingmen a chance, blasting by Brandyn Griffin on lap five and extending the margin to a straightaway at the stripe.
"The last week has been crazy," understated Bay, 26, on the heels of garnering her 11th career sprint car win at the fairgrounds. She scored three wins last season en route to third-place in the final point standings. "Blew a motor Tuesday in practice so we had to put in a back-up. I guess I'll keep it now."
Not only did Bay face mechanical issues throughout the week, her father Darryl Ruggles survived a potentially fatal crash in round two practice on Thursday. A broken torsion bar stop at speed forced Ruggles to lose all control of steering in his own no. 48jr. Eagle machine. After ramming the turn four cement wall with the sprinter flopping over on its side, LOLR's defending 305 points champion was later transported to Strong Memorial Hospital suffering from a concussion, two broken ribs, fractured right thumb and an undisclosed left knee injury.
"Dad is right here (victory lane) with a big smile on his face, he even wants to race in a couple weeks. Its nice to be able to show that all the hard work paid off. Had to bring one home for the team," added Bay, posing alongside her familiar 'hot pink' Mike Mastin-powered no. 48A Batzel's Auto Service-Danny Willmes Enterprises-Ruggles World of Auto Body/Eagle entry.
Outside pole-sitter Griffin sped past front row partner Trevor Years when the green lights came on, with Bay improving from third to shadow him at the start. She ducked under Griffin out of turn two a third of the way through and never looked back as the final event of the night concluded with checkers falling at 11 o'clock.
Dan Craun edged Years for third with veteran Bobby Parrow, teenage rookie Ethan Gray and Kyle Pierce making up the final scoresheet.
Opening day oval track activity actually began in the afternoon with near 80-degree temperatures greeting 24 full-fender race teams; 19 Street Stock entries and a handful signing in for the Hobby Stock debut.
Welch finished behind perennial favorites Josh Pangrazio and Glenn Whritenour in the first of two qualifiers yet the redraw (Top-4 from each heat) put the Lyons driver's black #00 Dobbers Sports Bar & Grill-TLC Trips-Champion Power Chevrolet Camaro on the pole for the 20-lap finale.
On the opening lap Welch managed to fend off Pangrazio, who scored two wins last summer at Canandaigua along with another 9 triumphs at Genesee Speedway in Batavia where he was crowned division points champion, yet the Oakfield hotshoe rim-rode from sixth to first in just two laps and cruised out to a 10 car-length lead with five complete.
Slippery track conditions soon became apparent as the field tracked down Pangrazio and Whritenour edged ahead on lap seven. Welch followed suit, disposing of Whritenour low out of turn two on the next circuit and at the halfway mark Pangrazio, Quinn Sutherland and Marc Minutolo comprised the front-five.
Minutolo quickly knocked off the front runners by lap 10 leaving only Welch in his way. But the distance between was nearly a half straightaway and an ever-slickening surface created plenty of uncertainty the remainder of the way.
Twelfth starting Jared Hill joined the fray breaking into the front-five a dozen laps in, then overtaking Pangrazio for fourth on lap 14. With Welch well in command separate battles between Minutolo and Whritenour for second and Pangrazio and Sutherland for fifth kept scorers in the tower reeling.
Whritenour secured runner-up laurels on lap 17 while Canandaigua pre-season points favorite Jimmy Grant overtook both Pangrazio and Sutherland to earn a Top-5 finish at the stripe.
"Track experience definitely helped out today," figured Welch, 54, after extending his track-best stock car win total to 81. It was the fifth season-opening victory for the 10-time Canandaigua points king, although his last came in 2013 en route to the track title. "I lost my brakes on lap four and was gonna pull in the pits but I just stayed with it after that restart with Josh. Glad I didn't now."
"Pretty much left the car alone after Tuesday practice, thought the track would be about the same condition today with a little less dust and it was. The track turned out to be just great today. Didn't feel like I was going very fast, guess I don't really care since we won. I just tried to stay down low all race, saw a strip of brown with a little water but kept hitting that uke tire in turn one and it slowed me down. We're just real happy, ecstatic, right now able to come away with this win," said Welch, firmly gripping his first commemorative Land of Legends 'checkered flag' trophy.
Only five cars registered for the speedway's Hobby Stock division debut yet a broken rear axle for heat winner Justin Eldredge and mechanical issues for Casey Wagner in hot laps reduced the starting field to just three in the 15-lap feature. And every single one was needed as the outcome wasn't decided until the final turn of the final lap with all three drivers sharing the lead during the last four laps.
Race-long leader and teenage rookie Tyler Burnell was well in command until a flat right-rear tire sent him pitside for the final three laps. Brian Lloyd inherited the lead for the lap 13 restart but cousin Shawn Lloyd fueled a family feud by slipping past on lap 14. Brian matched the turn four move as Shawn drifted high the next time around, putting the blue no. 13B Lloyd's Contracting-Fox's Auto Chevrolet Monte Carlo in the winner's circle for the very first time.
"Just crazy, don't know what happened to Shawn there at the end, think he got loose or something," stated the Branchport driver in his first year of competition. "I was praying and boy I got it done today."
"I saw him bobble there a little in turn three, thought boy I hope you don't go any higher. But he did and I just rammed her home. Got in a little tangle at Outlaw (Speedway) last night and had to change a rear axle. I'm just glad to be here and thrilled to get a win in the first race," Lloyd added.
LEGEND LEDGER
Alan Johnson extended his streak to 46 consecutive seasons with a Modified feature win Friday night at Outlaw Speedway in Dundee. 'A.J. Slideways' outlasted all-stars Matt Sheppard, younger brother Danny Johnson, Rudolph and Justin Wright to garner a documented 556th career victory and pocket the $2,000 winner's share. He remains Canandaigua's winnngest driver with 126 Modified victories including a pair in Small-Block competition.
MID-WEEK MAYHEM
With the unprecedented COVID-19 pandemic forcing cancellation of a half-dozen early season shows, LOLR Promoter Paul Cole promptly added a pair of mid-week specials to help off-set the lengthy loss.
On Tue., June 9 an open-wheel doubleheader fills the bill with the mighty Big-Block Modifieds in a $2,500-to-win 40-lapper and DIRTcar Sportsman chasing the $1,000 winner's share in a 30-lap finale.
A 360 Patriot Sprint Tour special headlines the Wed., June 17 card with the 30-lap A-Main victor pocketing $2,000 while Sportsman return for another shot at the $1K top prize in 30 laps of feature racing.
Pit gates open at 4:00pm and race time for both new shows is 7:00pm. With grandstand attendance not yet permitted due to the social distancing mandates currently in place, LIVE video coverage will be provided for each scheduled race date and can be viewed on Land of Legends TV for $15.